Your makeup brushes guide: How to use the different types of brushes.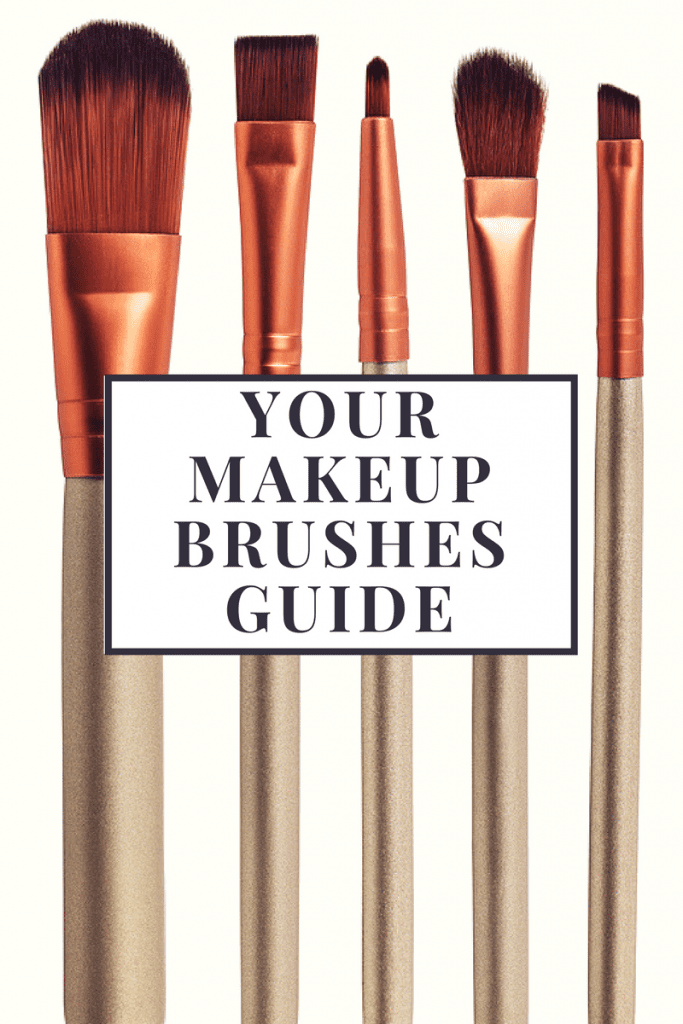 In the world of makeup, there is something for everything. If you have a problem, there is a product for it. It's the exact same thing with makeup brushes. For each product, there is a brush, or several brushes, that go with it.
Unfortunately, with the number of different brushes there are nowadays, this can get overwhelming and confusing. But not to worry! Today I'm going to give you the lowdown on what each brush is and what it's used for.
Here are 7 different types of makeup brushes and what they do.
Your Makeup Brushes Guide: How to Use the Different Types of Brushes
1) Foundation Brush
This is arguably the most important brush in a makeup lover's collection. It's used to apply liquid foundation.
Your foundation is what your entire face depends on. If your foundation has full coverage, is all the same texture and color, and is blended well, you're on your way to beautiful makeup. However, if the foundation is streaky, blotchy, and not blended, this could pose several problems.
That's why a foundation brush is incredibly important. Luckily, you don't have to spend a fortune to find a great one.
I use Real Techniques Expert Face Brush for my foundation. It's a firm, good sized brush that won't flop everywhere while you're trying to apply your foundation.

If you're in the market for a high end foundation brush, I recommend the Sigma F80 Kabuki brush, which won a Best of Beauty award from Allure in 2016. This is a flat head brush that will leave you with a flawless liquid foundation application every time.

2) Powder Brush
This brush is used to distribute loose powders all over your face. This could include setting powder, which keeps all of your makeup in place with a matte finish and also powder foundation if you're not a liquid foundation type of gal.
It's important that these brushes are large and fluffy so the powder is spread all over the face and not in a few concentrated areas.
For a drugstore option, I recommend Wet n Wild's Powder Brush. It's giant, fluffy, cruelty-free, and gets the job done perfectly.

If you would like a more high-end brush, I recommend IT Brushes for Ulta Love Beauty Fully All Over Powder Brush #211. This brush is available exclusively at Ulta. It's incredibly soft and gives an even and smooth application.

3) Blush Brush
This brush is used to apply blush to your cheekbones. This type of brush actually comes in several different shapes, including tapered, full, and angled.
The tapered style is designed to just put color on the apples of your cheeks. It is very precise and concentrated.
The Real Techniques Instapop Cheek Brush bristles have a unique tapered design so that blush applies evenly with one stroke. You get the perfect amount of color with no mess.

It Brushes for Ulta Love Beauty Fully Flawless Blush Brush #227 is a little different, as it has an angled brush head. This brush is designed to place blush not just on the apples of your cheeks, but your cheekbones as well.

4) All-Over Eyeshadow Brush
This brush is used to distribute eyeshadow over your entire eyelid. Apply your eyeshadow base, and then use this brush to apply your base eyeshadow color over the whole lid.
The NYX Pro All Over Shadow Brush is perfect for applying the base eyeshadow color. It's soft, applies evenly, and can even be used to blend eyeshadow in a pinch.

For a more high-end option, I recommend Clinique's Eyeshadow Brush. It's the perfect size for all-over eyeshadow application and provides a clean and even application.

5) Contour Brush
Contouring is a pretty recent obsession with the makeup world, and there are lots of people who haven't quite mastered the contouring technique. Luckily, there are brushes to help with that.
Contouring adds dimension to the face and a contour brush is meant to distribute bronzer across the cheekbones and jawline.
For a drugstore option, try elf's Contouring Brush. Its flat, straight top makes it easy to create sharp lines under the cheekbones and jawline.

Real Techniques also just released a new line of brushes, including this Blend + Blur Contour Brush. This brush's dense head makes it perfect for either powder or cream contour.

6) Eyebrow Brush
This brush is a super tiny, angled brush used for filling in eyebrows.
Brows can be filled in with either a gel pomade or a powder, but either way, the angle makes it much easier to fill in every little bit of the eyebrows.
The goal is for eyebrows to look neat, but natural, and this Anastasia Duo Brush #12 does just that. On one side is an angled eyebrow brush, and on the other is a spoolie. This is used to brush through eyebrows to make them look neat and tidy.

For a drugstore option, try elf's Eyebrow Duo Brush. It's the exact same design as the Anastasia one, with the angled brush and the spoolie, but this one is only $3!

7) Lip Brush
A lip brush may seem a little strange, but it actually serves a very important purpose. A lip brush can either be used to apply lip color or to outline your lips with the same lip color you're using for perfectly lined lips.
This Lip Color + Duo Pack from Real Techniques has a brush for each! Use the lip brush to line your lips and the blur brush to blend your liner into your lips, just in case it's a little too dark.

This Retractable Lip Brush from IT is also wonderful. Its tapered top delivers perfect lines and leaves no streaks.

I hope this makeup brushes guide helped eliminate some of the mystery surrounding all the different types of brushes and what they're used for.
If you liked this article about makeup brushes, here are a few more posts I think you'll enjoy:
PIN THIS TO SAVE FOR LATER