STARTING A LIFESTYLE BLOG:
A STEP-BY-STEP GUIDE
Blogging has been central to helping me create the life I truly want to live. I believe it can do the same for YOU.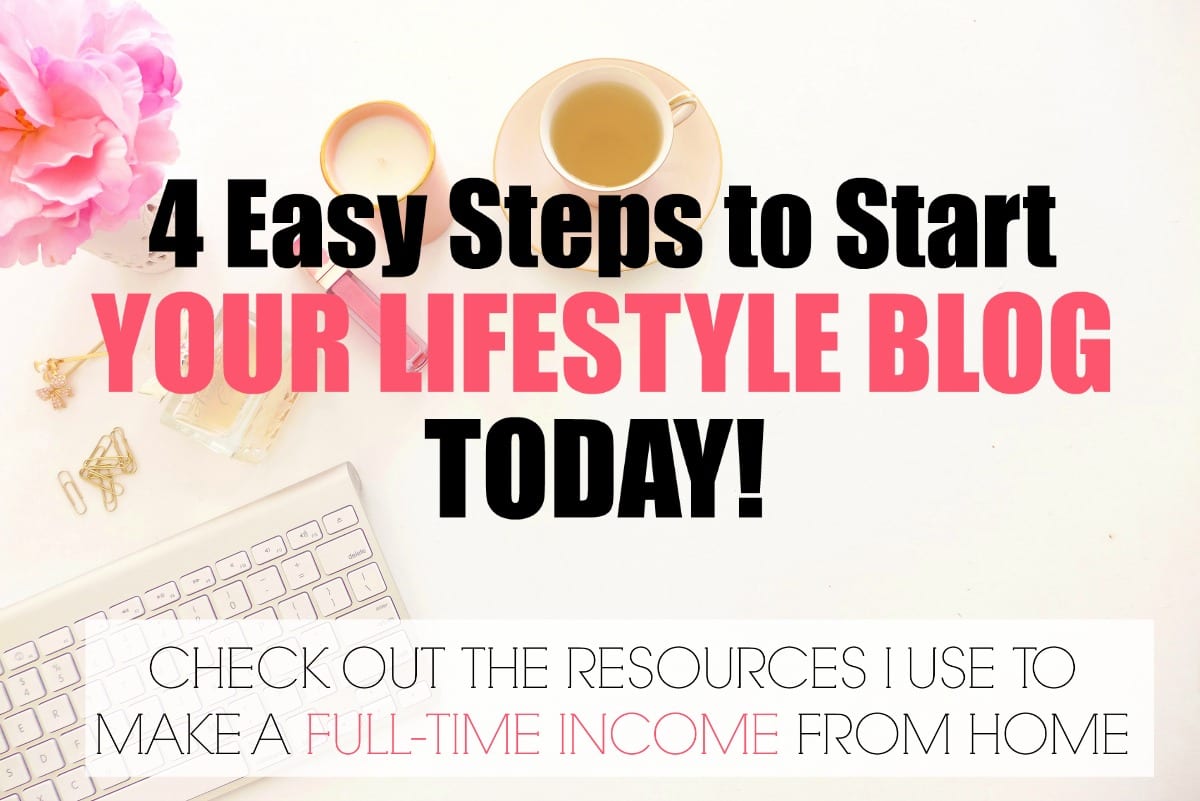 If you have a PASSION for writing, if you have a TOPIC (or topics) that you could learn about and talk/write about until the cows come home, and if you have a BURNING DESIRE to create more freedom in your life through building an online income that can supplement (or replace) your current income…then maybe it's time you got this blogging ball rolling.
Now, if your heart is beating a bit faster right now, if you are getting some butterflies in your stomach at the thought of using your talents and skills and knowledge to build a profitable and incredible business online, I want to hold your hand and move you toward the starting line.
Here is what we will cover in this step-by-step guide to starting a Lifestyle Blog:
Step 1 — Choose and Register a Domain Name
Step 2 — Choose a Hosting Provider to Host Your Blog
Step 3 — Make Sure Your Domain is Connected to Your Hosting Account
Step 4 — Install WordPress Blogging Platform
(NOTE: Some of the links in this guide are affiliate links, which means I will receive some compensation from the company when you buy…but without YOU being charged any more money. It's just each company's way of saying 'Thank You' to me for recommending their outstanding product or service.)
Okay, enough of that mess…on to the Guide!
Step 1 — Choose and Register a Domain Name
(PRO TIP: If you sign up with Bluehost for a 12-month or longer website hosting package, which we will talk about in Step 2 of the guide, you actually get a FREE DOMAIN NAME. A domain name will normally cost you $12-14 extra, so be sure you are NOT interested in using Bluehost for hosting your website before you purchase a domain name from another source. No sense in wasting money!)
Having a blog without your own domain name is kind of like owning a store in your town…but without a street address OR a sign out front. Not the best idea, since it would be a complete waste of time and money.
Your domain name gives your blog a strong identity and also helps people find you more easily. It's pretty important stuff, but it should not take you 2 weeks to choose one either.
Here are a few questions and guidelines to help you choose a strong business name and, of course, domain name (adapted from 7daystartup.com list):
• Is it taken?
– Check www.uspto.gov/trademarks to see if anything similar has been registered
– Go to www.knowem.com to check on social profiles using the name you are considering
– Of course, you should also check if the .com domain is taken already at a site such as Bluehost.
• Is it simple?
– Less than 12 characters if at all possible
– Try to avoid making up words (it's confusing and not memorable)
• Is it easy to say out loud?
– Make it easy for people to talk about you
• Do you like it?
– You will live with this name for quite a while, so make sure you "feel" it.
• Is it connected to the actual topic of your blog?
– Always best if the name really communicates the essence of what you will cover on your blog. But this is not an absolute necessity.
• Is it broad enough so that you can grow and morph with the same name?
– For example, don't choose a name with "fashion" in it if you feel that you might want to expand beyond just fashion at some point.
If you have decided not to use Bluehost and get the Free domain name, you can register your new domain name at GoDaddy.com or any other domain registrar you are comfortable with.
Step 2 — Choose a Hosting Provider to Host Your Blog
BlueHost – The Best Web Hosting-Starting under $4.00 per month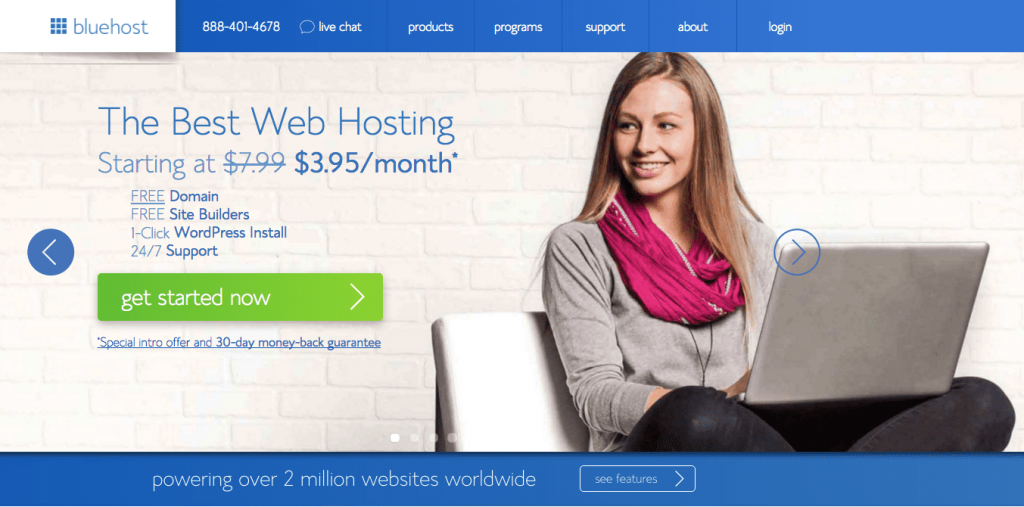 If you have spent any amount of time talking to anyone that has built any type of website, you've heard nightmare stories about issues they ran into with their hosting company. (*A hosting company gives your blog a place to "live" so that it can be seen by the rest of the world. If your site isn't hosted somewhere, it doesn't exist.*)
Stories about a blog being offline and unavailable on a frequent basis, or about customer support that is laughable, are just about everywhere in the online world. They're not lying, because there are more hosting companies that you should completely avoid than there are truly reputable hosting companies that you should even consider using as a new blogger. (Trust me, I know. Some providers can make your set-up and learning process VERY stressful.)
I'm not sure there is a hosting company with a better reputation than Bluehost, especially among bloggers just starting out. They simply GET IT, and they offer the new blogger exactly what they need:
– FREE Domain
– FREE Site Builders
– 1-Click WordPress Install (priceless)
– 24/7 Support (also priceless)
– Plans starting under $4.00 per month! (ridiculously good, and this Basic plan is what you need to start)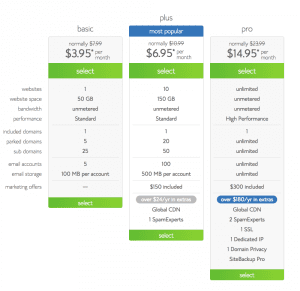 The sign up process is very simple and straightforward for Bluehost after you select which package you want to purchase. The Basic plan is best for the vast majority of people starting out, but they also have Plus and Pro plans with more features and benefits for an additional cost.
If Bluehost.com does not meet your needs for some reason, you might also consider HostGator.com as a beginning option. We have used them in the past and have had a positive experience overall.
Step 3 – Make Sure Your Domain is Connected to Your Hosting Account
(Note: If you chose to use Bluehost for hosting your blog, the Free domain that you got with that purchase will already be connected with your hosting account. How cool is that?! One less thing you have to mess with.)
If you decided to purchase your domain through GoDaddy.com (most popular registrar), then you will just need to follow these basic steps to get your domain "pointed" to your hosting account (you can check out GoDaddy's official support page for this task also):
• Log into your GoDaddy.com account with the login credentials you set up
• Click on the "Manage" option in the "Domains" section of your account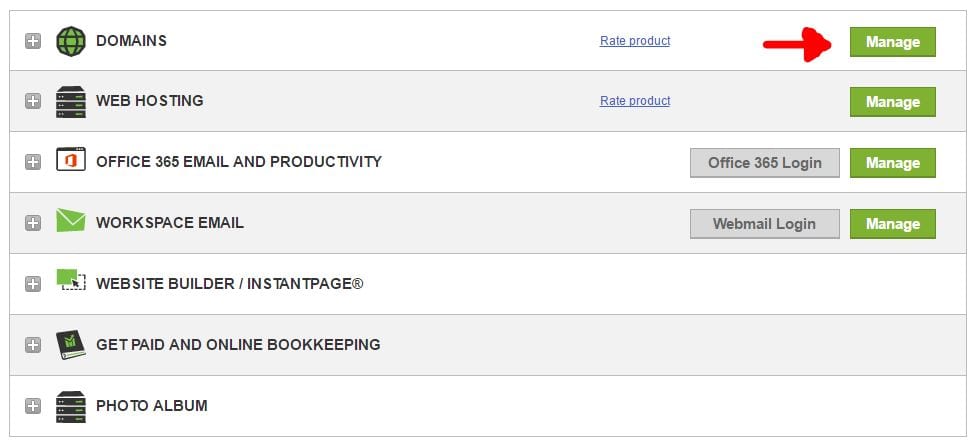 • Click on the Domain name (blue link) that you want to make changes to
• Under the Settings tab, find the Nameservers section and click "Manage" (blue link)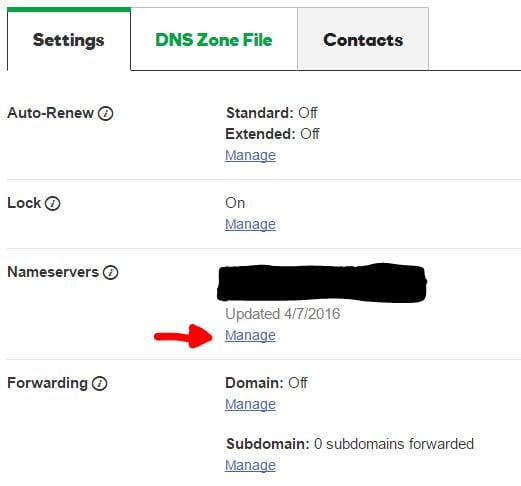 • Select "Custom" as your Set Up Type, and then click the big green button below that that says "Add Nameserver".

• Just click 'OK' after you have typed in the correct nameservers, and then click "Save" back on the settings screen, and you are done! Not too bad, right?
Now that you have your domain name and your hosting, and you have the two of them connected, there's one task left that will allow you to actually start writing content for your blog…
Step 4 – Install WordPress Blogging Platform
For this step, I am only going to be able to cover what the task looks like with Bluehost. Each hosting provider will have a slightly different process for installing WordPress, and we obviously can't cover all of them. With Bluehost, it is a VERY simple process that looks like this:
• Log into your cPanel page (link provided in Bluehost welcome email)
• Look for the section called "MOJO Marketplace"
• Click on the "One Click Installs" icon in this section, then choose WordPress on the next screen.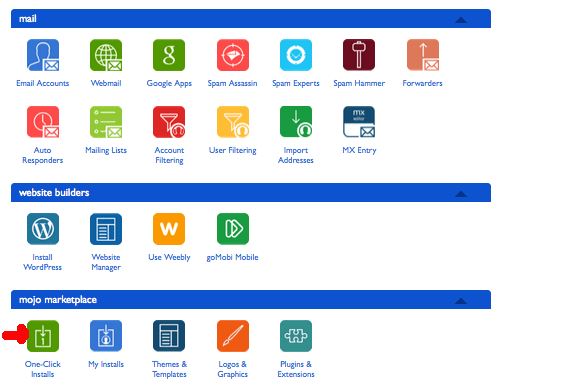 • When you click the "Start" button, it will automatically begin installing WordPress…but you will also have to choose the correct domain that you want to install it on from the dropdown menu.

• Choose a secure username and password for your blog (hackers are busy these days!). (PLEASE remember to save this information when you set it up.)
• Be sure to check the box that says "Automatically create a new database for this installation".
• Finally, just click "Install Now" and watch the magic happen!
And there are your four basic steps for getting yourself up and running with your very own blog…the CHEAP and SMART way.
From here, you will continue to take things one step at a time as you:
– Choose your theme for the blog and make changes to the look and feel until it is perfect for you.
– Explore different training opportunities (such as www.eliteblogacademy.com or www.foodbloggerpro.com, discussed in detail below) to get you moving forward with your blog as quickly as possible.
– Choose graphics tools (such as PicMonkey or Canva, discussed below).
– Consider when is the right time to start building your email list
But the important thing right now is just to GET STARTED. Everything else will come together as you continue to bring your best to your blog each day.
Let me leave you with a list of other recommended resources you can take a look at as you continue to learn and grow in your blogging journey. These are all resources that I have paid my hard-earned dollars for because they are SO worth it. If you have any questions about any of these resources, feel free to shoot me a message and I'd be glad to help out in any way that I can.
___________________________________________________________________________________________
Other Resources and Services I Highly Recommend
1. Elite Blog Academy (EBA) Training Course – www.eliteblogacademy.com – STARTING FALL 2017
I cannot recommend the EBA course enough. It's what helped me double my pageviews pretty quickly, and also 10X my income and finally turn blogging into a full-time passion. The course closed for registration on Feb 26, 2018 but will re-open for registration in Fall 2018. You can get on the waiting list now, which I strongly recommend. I'll be going through the course again when the new class starts up in 2017, because there is always more I can learn. Once you're in, you have lifetime access to all new course materials as they are released. How cool is that?!
2. FoodBloggerPro Blog Training Course – www.FoodBloggerPro.com
An outstanding and comprehensive collection of training and resources for just about any lifestyle blogger, but especially for the food bloggers (obviously). My husband and I have come back to this great resource again and again as my site has continued to grow. They will be opening up their course again in Spring 2016, so get on their waiting list now if you plan to have a blog that even partially focuses on food (like mine). Much of their information is applicable to any blog, not just food blogs. This husband and wife team built their own site (www.pinchofyum.com) from the ground up and now help others create their own fantastic success stories. They are the real deal!
3. Aweber Email Auto Responder Service with 30-Day Free Trial – www.aweber.com
I have been with Aweber pretty much since the beginning of my blogging days. This is an established company that has built a top-notch platform that helps you gather a list of subscribers that love what you share and then share more of it with them. Their platform makes the process of staying in touch with your readers as seamless and simple as possible. You will not be disappointed with their product nor with their fantastic customer support as you learn the ropes (when you are a bit lost…which can happen). Start your Free Trial today!
4. Theme Forest – www.themeforest.com
Theme forest is the de facto resource for any bloggers theme. They have thousands of custom themes to choose from. The site is easily searchable and you'll have no issue finding a theme that fits your niche and or style. See what they have to offer!
5. PicMonkey Photo Editing Tools – www.PicMonkey.com
Look, this photo editing service is $5 per month to get your hands on all kinds of great material and tools for really amping up your blogging image game. Once you learn how to really get around in there, you can take your images from novice to NO WAY! in just a few minutes. Not even joking folks…you owe it to yourself to take a peek.
6. Canva Graphic Creation Tools – www.Canva.com
7. PR Photos Celebrity Photo Service – www.PRPhotos.com
8. Big Stock Photo – www.BigStockPhoto.com
And a few Blogging Books I recommend to top things off:
How to Blog for Profit: Without Selling Your Soul
Problogger: Secrets for Blogging Your Way to a Six-Figure Income
Listen, you can do this. Seriously. Bring your passion, bring your persistence, bring your hard work, and bring your heart to it.