Get Holiday ready with these two Christmas outfit ideas!
Do you usually think about your Christmas outfit a few days in advance or the day of? Whether you're a planner or ended up on this post the day of, I have two easy and festive outfit ideas for you.
Holiday Ready: Two Christmas Outfit Ideas
Both of these outfits feature jeans, but if you need to dress it up a bit more, you could easily swap out black slacks, but they would need to be black slacks fitted like these and not a bootcut style. Why? Because with flowy tops and tunic styles, you want your pants to be fitted or you'll end up looking like you're wearing a potato sack.
You could also wear leggings with both of these, which would be super comfortable and cute!
Outfit #1: Gingham Top + Denim Jacket + Black Jeans + Ankle Boots
Outfit details:
Denim Jacket (A few seasons ago, but similar here)
Ankle Boots (Last season, but similar here)
Every month, I receive a few selections from J. Jill, a brand I have come to know well and love over the last few years. This top is one of my favorite items yet!
It's 100% rayon woven, so it's extremely comfortable. I love the 3/4 sleeve design and peplum style, as it adds a fun element to the shirt. Plus, you can't go wrong with gingham!
Outfit #2: Chenille Tunic Sweater + Denim + Scarf + Boots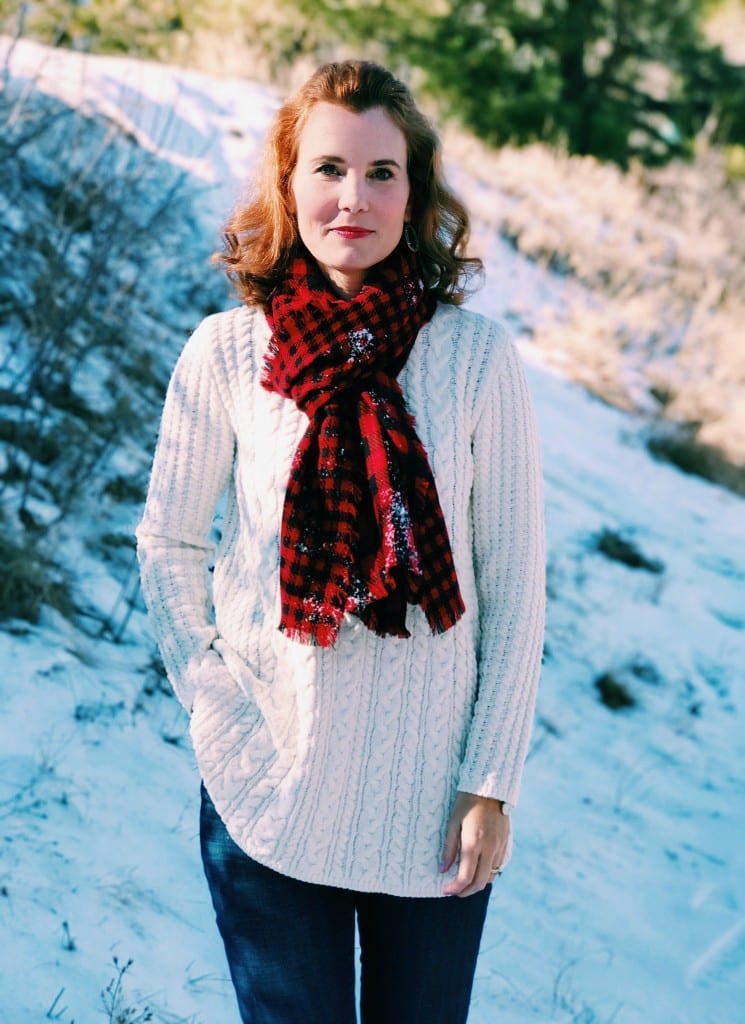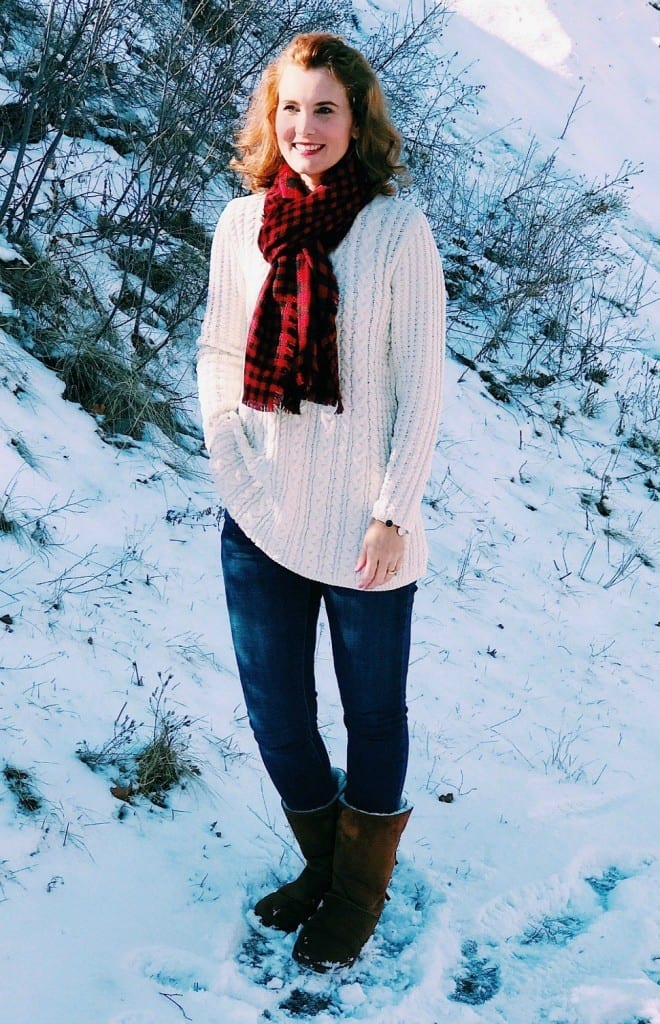 Outfit details:
This is my third chenille sweater from J. Jill and they just keep getting better and better. This one is so soft and has a beautiful mix of cable stitches. Plus, you can machine wash and dry it, which is always nice and convenient.
I always order the ivory one, but when I saw this outfit featuring the black sweater, I've added it to my wish list. I love how it looks with the red vest, leggings, and boots.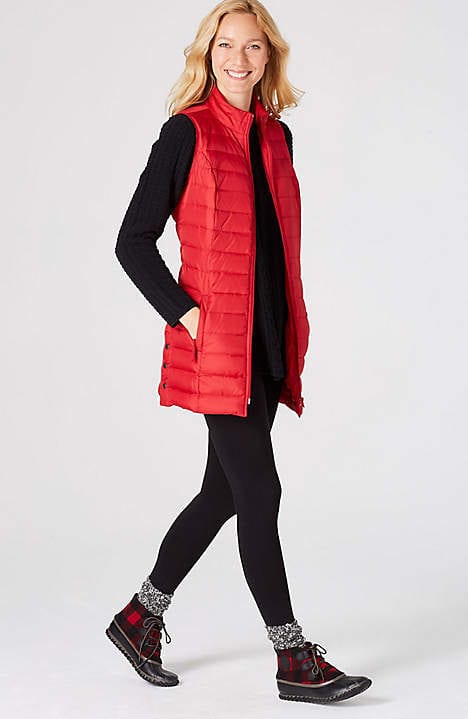 My scarf is also from J. Jill. It has large checks on one side and small on the other. It's super soft and adds the perfect finishing touch to your Holiday outfit.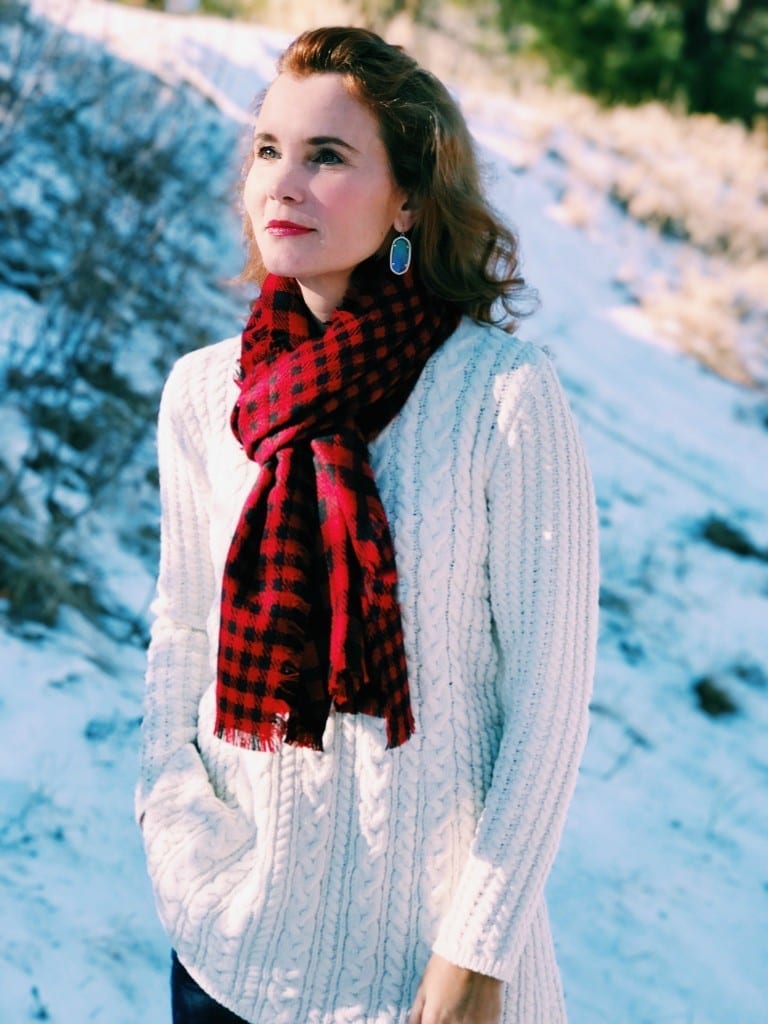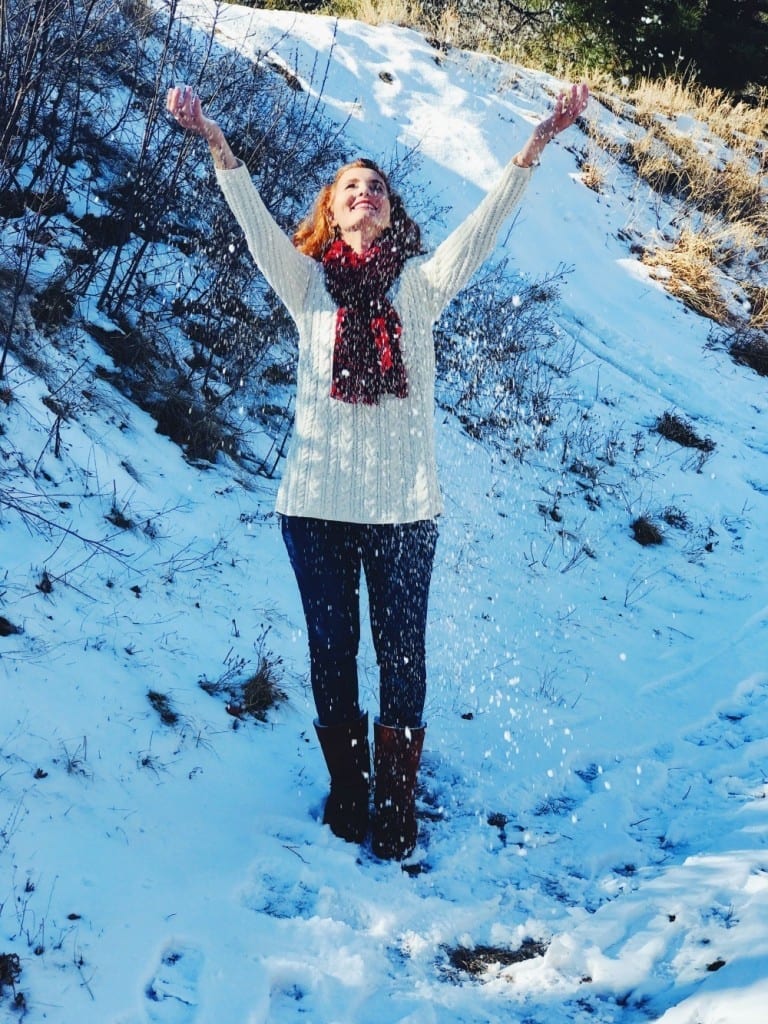 As you can see, it snowed the day we shot these pictures. We're spending Christmas in Colorado and have loved the snow so far!
Do you need more Christmas outfit ideas? Check out my Holiday Style for Moms Pinterest board.