Inside: So you want some style in your short hair but without the heat right? These heatless curls for short hair tips will give you volume and beautiful curls without the damage.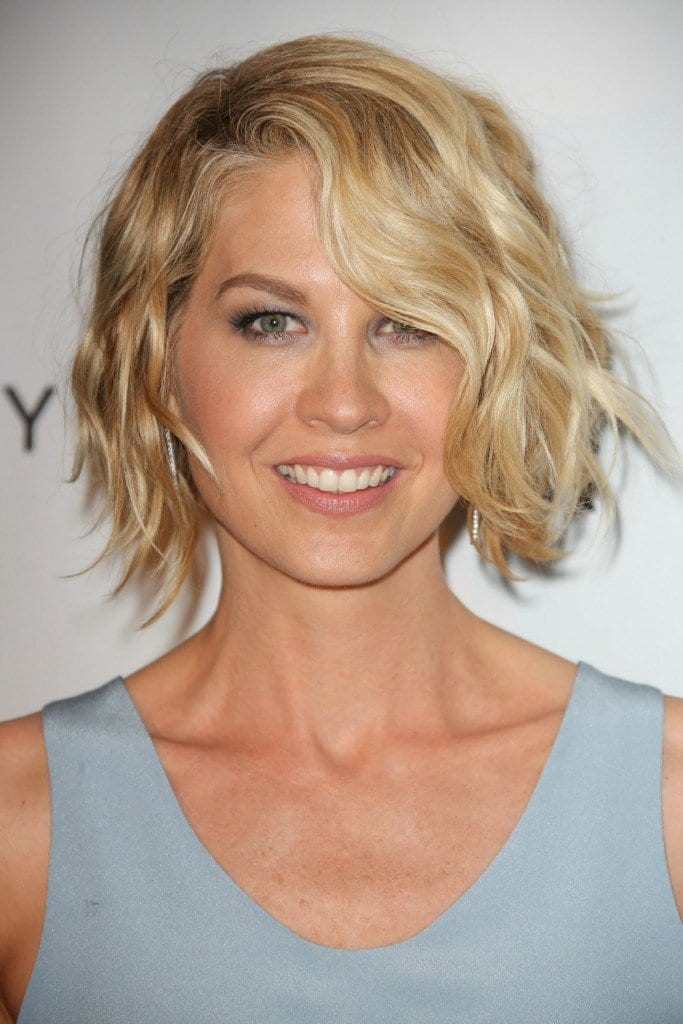 I love this short hairstyle on Jenna Elfman
I'm not even sure I can count on one hand how many times I've chopped my hair off because it was damaged. I'm one of those gals whose hair isn't necessarily curly and definitely isn't straight. It's wavy. And not that "I just got back from the beach wavy." Nope. It's frizzy wavy.
What does that mean?
It means that if I want my hair to look decent, I pretty much have two choices: style it or throw it up in a messy bun. For years I have put my hair through the ringer with curling irons and straighteners and hairspray.
Can you relate?
Well, if you recently chopped your hair off because it was damaged or you did it because it's freeing or you did it just for a change…you might be looking for ways to add some curls to your short hair. I have an entire article dedicated to how to curl short hair, but today we'll go into more depth on heatless curls for short hair. Because once you learn how to curl short hair without heat, you might never go back.
Okay, get ready to have some fun because you're about to learn how to curl your short hair with everything from a headband to pins. Some of these are done overnight and some instantly. Or, almost instantly.
Headband Curls for Short Hair
When my daughter had long hair, she tried the headband curls technique a few times. It turned out really cute and she loved being able to wake up in the morning, take out the headband, shake her head upside down and voila, her hair was done.
But can this technique be done with short hair? According to One Little Mama (who has the best short hair on the internet), it can!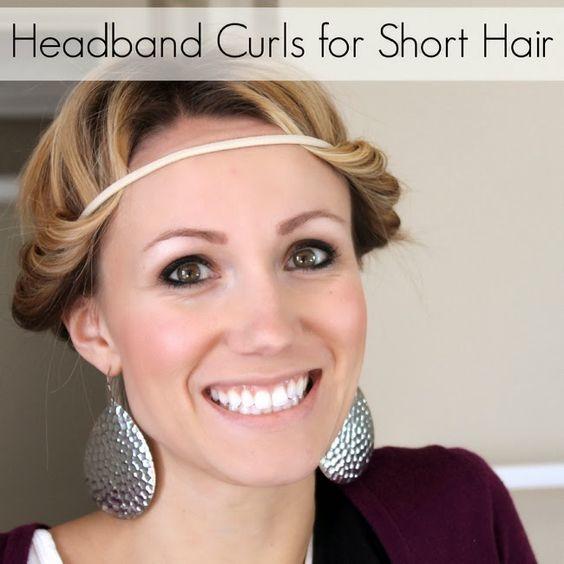 She left hers in for 2.5 hours instead of leaving it in overnight. You can leave it in overnight if you don't have 2.5 hours to wait in the morning for curls. I'll link to some more tutorials below.
One thing I noticed in her tutorial and she commented on it too, was the line the headband left on her forehead. In this video from Camille Collazo, she put the headband farther up on her forehead and I didn't see a line. You also might try using a wider headband than One Little Mama used.
Here's what you'll need to achieve this look:
More tutorials for heatless curls with a headband:
Pin Curl Technique for Short Hair
Another popular and effective way to get no heat curls for your short hair is with pin curls.
PopSugar has a step by step tutorial on how to do pin curls for short hair from hair pro Gina Schiappacasse of Hairstory.
She recommends starting with damp hair because if it's too dry, the style won't stay. She also gives you several options for drying your hair: air dry, diffuser or wrap it in a scarf and sleep on it overnight.
Here's what you'll need to achieve this look:
Here are a couple more tutorials on how to pin curl your short hair:
Best No Heat Curlers for Short Hair
Another way to get curls for short hair without heat is with certain types of curlers. From the pink foam curlers I grew up with to a product that has caught my attention, Curlformers, here are some fantastic ways to get heatless curls with curlers.
Curlformers
Have you heard of these? I've heard these are some of the best curlers to use if you want some curl, but want to give your hair a break from heat styling.
Just know that there are different sizes for different lengths of hair. This package is perfect for short hair up to 8 inches long.
Here's a great (and funny) Curlformers tutorial for short hair:
Pink foam rollers
Are you looking for a classic and inexpensive way to curl your hair with curlers? Pink foam rollers to the rescue! I grew up putting these in my hair almost every night for awhile.
The size of pink foam rollers you want to purchase depends on how tight you want the curls and how long your hair is. There are sizes ranging from 5/8 to 2 inches. The 2 inches obviously won't work well for short hair, so I'd recommend using the 5/8 toor 3/4 sizes.
Here's a tutorial from Classically Contemporary showing you how she twists, wraps and clips her hair for gorgeous long-lasting heatless curls.
So whether you decide to get heatless curls for your short hair using the headband technique, the pin curl technique or rollers, you can bet your hair will thank you for giving it a break from the heat.
Do you need some inspiration for your short hair? Check out these articles on Mom Fabulous:
PIN THIS TO SAVE FOR LATER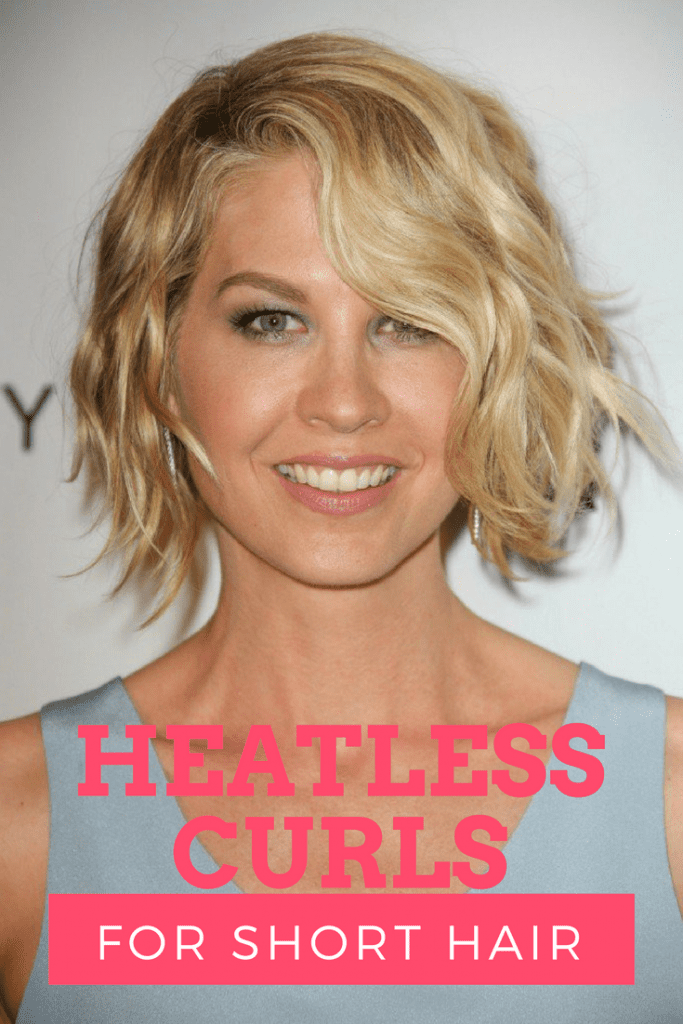 Image source: PR Photos.com