This Layered Cherry Angel Food Cake requires 3 ingredients and about 15 minutes of your time. It's easy, delicious and a crowd pleaser.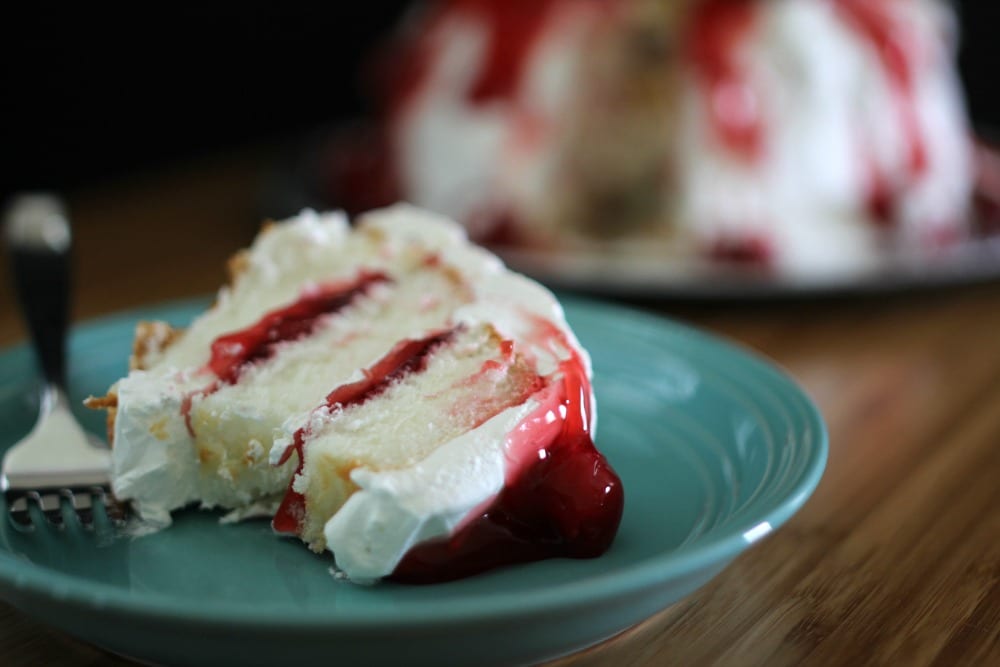 I took a cooking class about 19 years ago and walked away with a ton of recipes and tips, which made this newlywed very happy. It also helped me feel more equipped for cooking meals for my husband and I, as well as having company over.
One of the things I was taught in this class was to be prepared for the unexpected. From things like unexpected company to a friend in need who could use a good meal or dessert. I definitely have not always done well in sticking to this advice for meals, but when it comes to desserts — I'm pretty much always prepared. (I know where my priorities are — in dessert.)
One ingredient I try to keep on hand for spur of the moment desserts is cherry pie filling. It's magic. It can help you throw together (or dump — hence the name) a cherry dump cake, ready and on the table with a heaping scoop of vanilla ice cream in less than an hour. (This dessert is perfect for fall and winter because it warms your tummy like you would not believe.) Or a beautiful and delicious Layered Cherry Angel Food Cake which requires absolutely no cooking and about 15  minutes of your time (if you use a prepared angel food cake that is). This is a dessert perfect for those hot summer days.
If you like cherry pie filling, Cool Whip and angel food cake – this dessert is for you.
Watch this video which takes you step by step through the process; or keep reading for the written recipe with step by step pictures.
Step one: Cut the angel food cake into three even  layers.
Step two: On the bottom layer, spread Cool Whip and Cherry Pie Filling.
Step three: Place second layer on top of first; spread more Cool Whip and Cherry Pie Filling on second layer.
Step four: Place third layer on top of second layer and ice entire cake with Cool Whip. (Side note: You could just ice the top and leave the sides 'naked'. It still makes a pretty and tasty dessert with less Cool Whip.)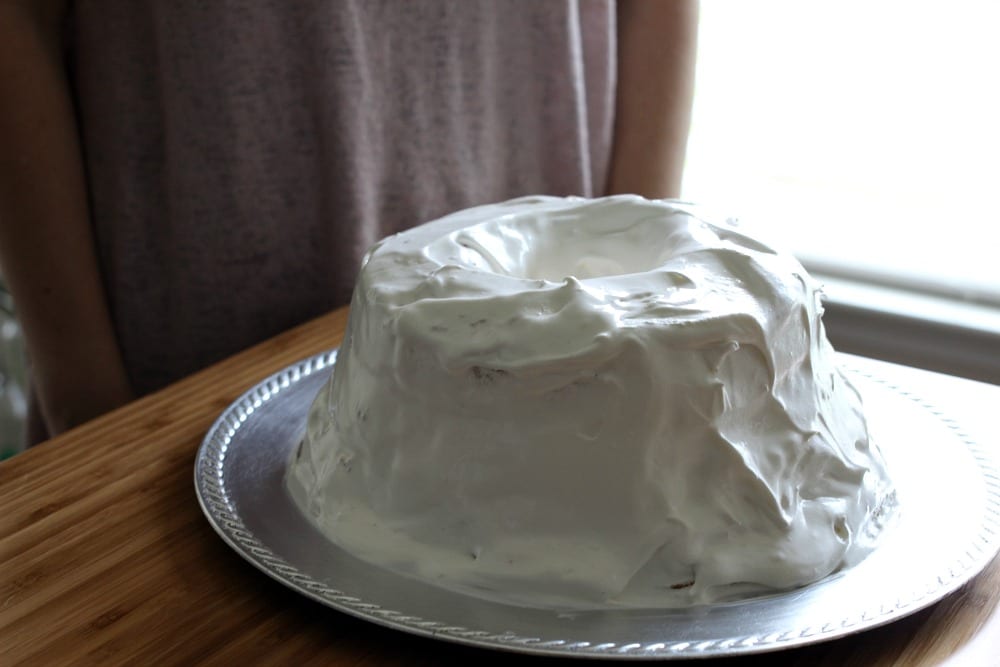 Step five: Spoon cherries on top; and drizzle down the side if you'd like. (For some odd reason we did not get any pictures of this step or the finished cake. I think I was in a hurry to finish so I could eat the dang thing. 😉 )
Slice and enjoy.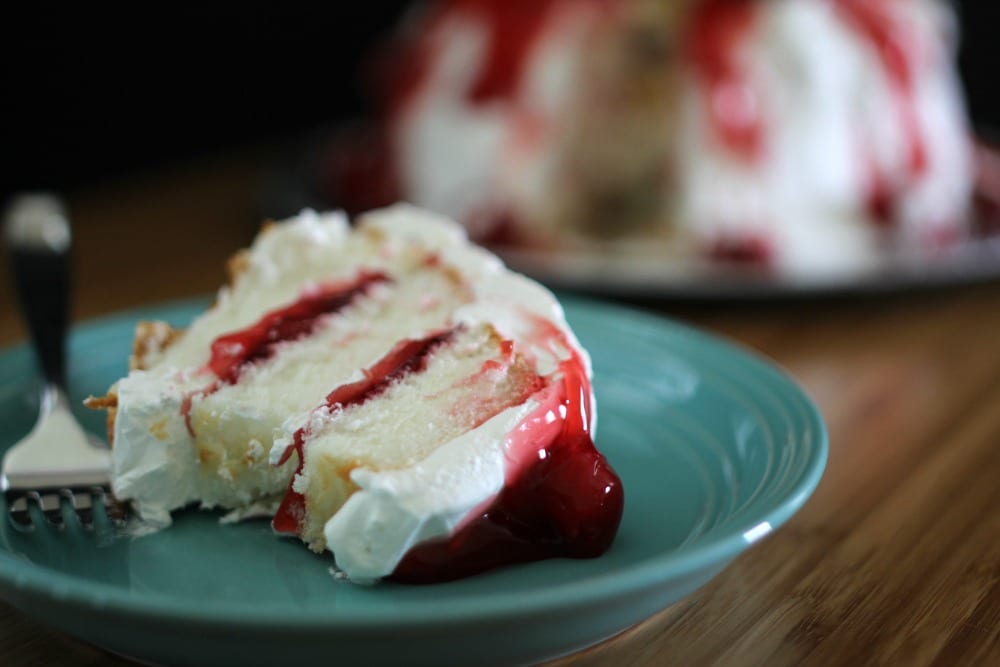 If you need to prepare a dessert in a hurry or you need something very easy to make for guests, this is perfect. The mixture of the light angel food cake, the creamy Cool Whip and the tang of the cherry pie filling go together perfectly.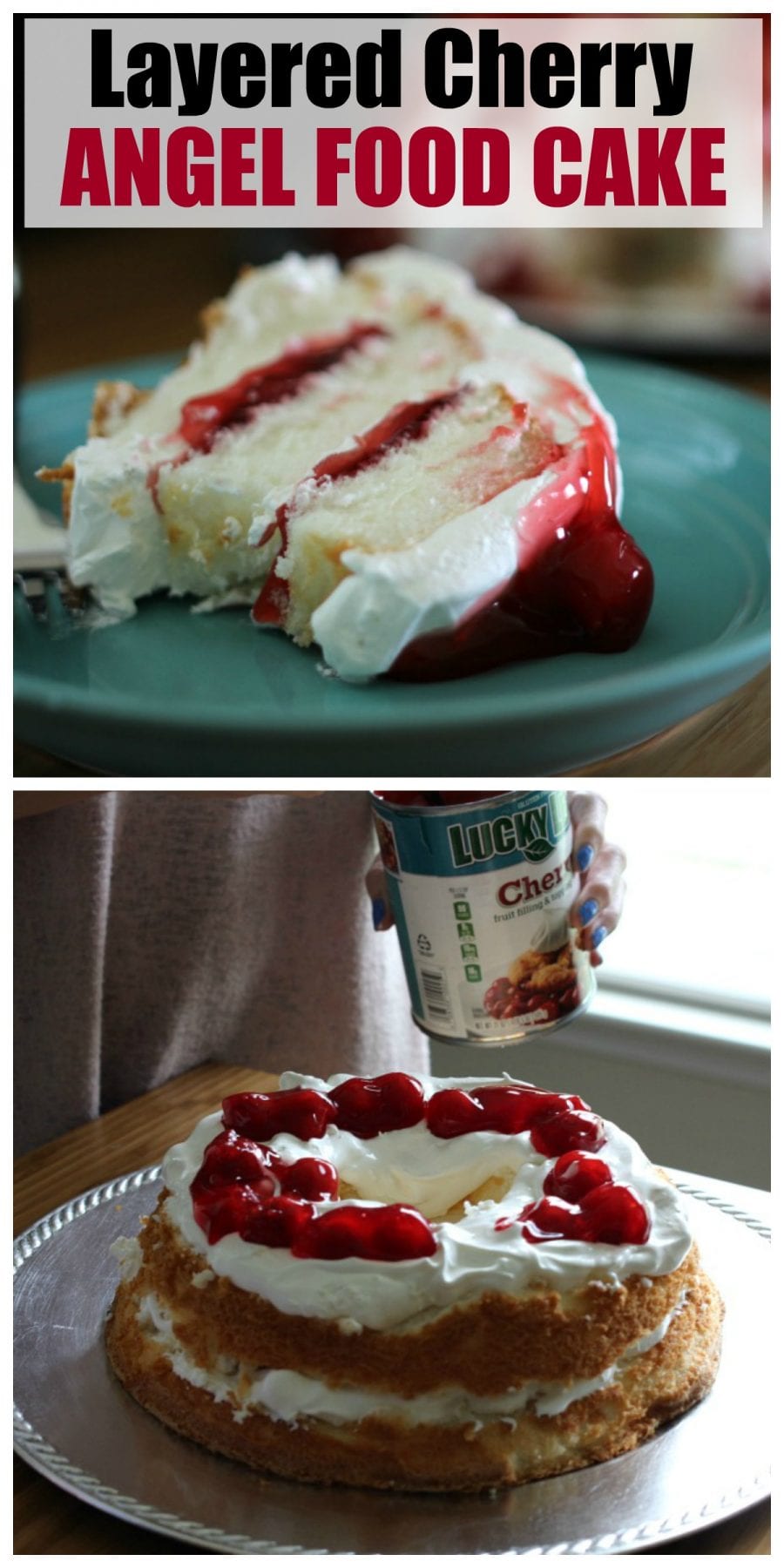 Have you had this before or something similar? Also, what's your go-to dessert when you're in a hurry?