Do you want a summer tan without the sun? Read on to see how sunless tanning products can give you a gorgeous glow with some of my best sunless tanning tips and hacks.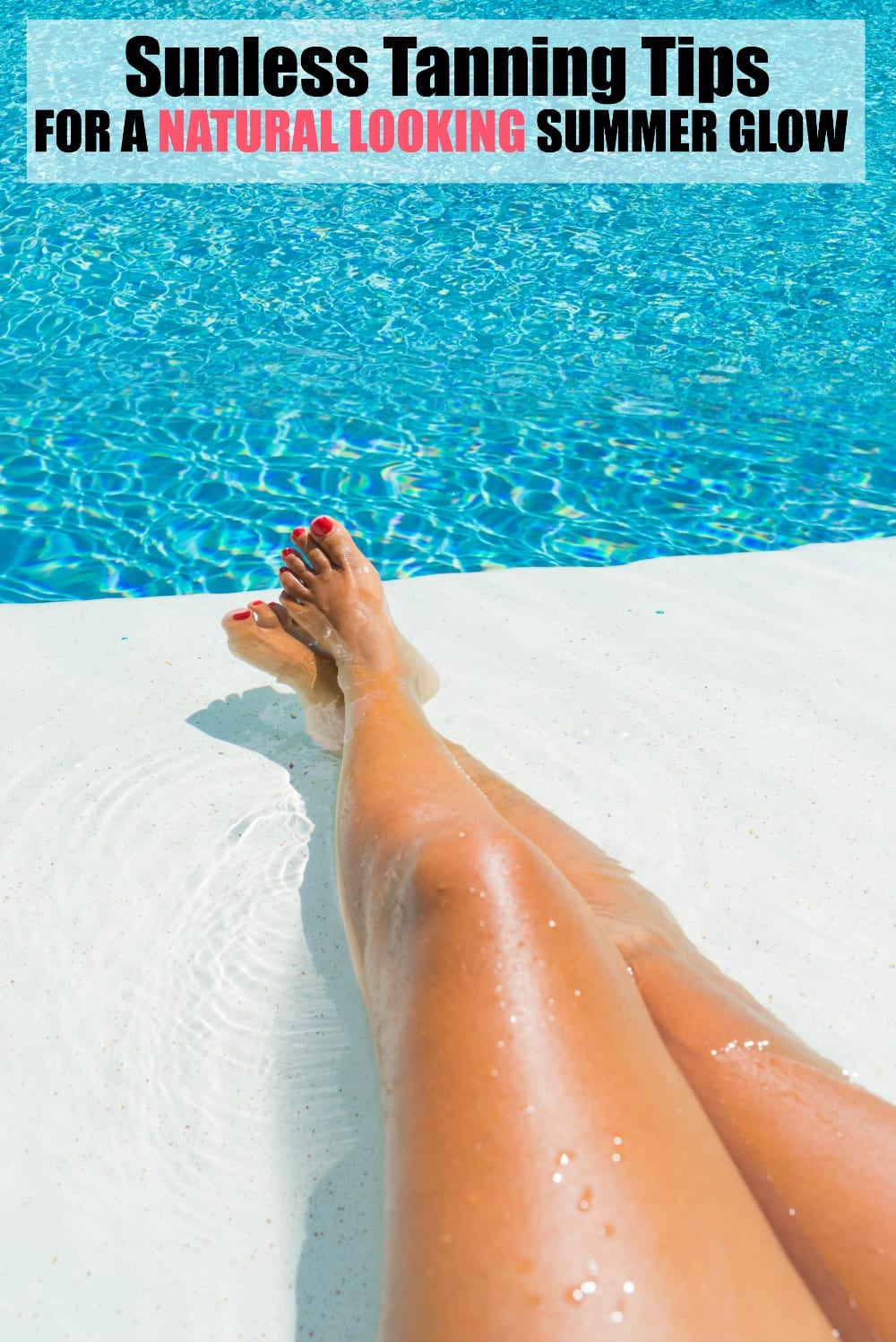 I can't remember the last time I sun bathed. I was recently chatting with some friends about the days of our youth and how we would slather ourselves with baby oil, suntan oil all while thinking "what's SPF?" Thankfully those days are long gone and I do everything in my power to take care of my skin. I wear sunblock everyday on my face, slather it on from head to toe when I'll be outside for awhile and I no longer worship the sun, trying to get that tan at any cost.
Although my sunning days are over, my days of a summer glow are not; all thanks to sunless tanning products.
I have used sunless tanning products for years and have learned exactly how to get a natural summer glow without the harsh effects of the sun. Here are my top sunless tanning tips and hacks.
Sunless Tanning Tips and Hacks
1. Shave your legs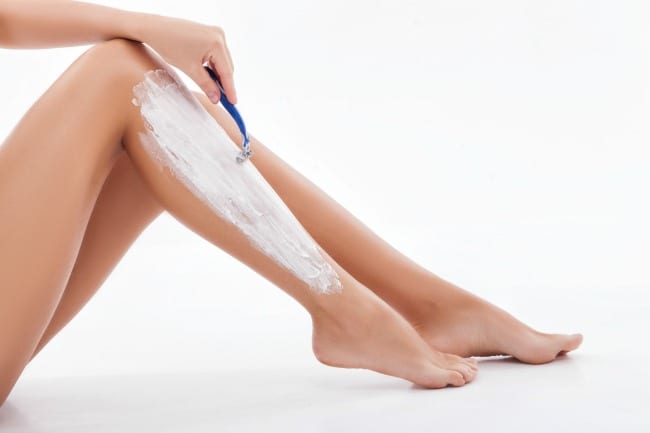 This may seem like a no-brainer but you'd be surprised how many ladies skip this step, trying to apply sunless tanning lotion as they're about to head out the door. You'll regret it if you don't shave first! (Yes, I'm speaking from experience.) Shave with a new razor, and I even recommend using a shaving gel to prevent bumps.
2. Exfoliate
I'll never forget when I first starting experimenting with sunless tanning products. I excitedly applied the product, following the directions on the bottle correctly and guess what? My dreams of a gorgeous tan without the sun were shot down when I looked in the mirror and an orange splotchy girl looked back at me. Ugh.
So I did some research and found that exfoliating first is key. And it really is. I use a shower poof and a scrub to set the stage perfectly for the sunless tanning product.
3. Apply an oil-free and fragrance-free lotion to your dry areas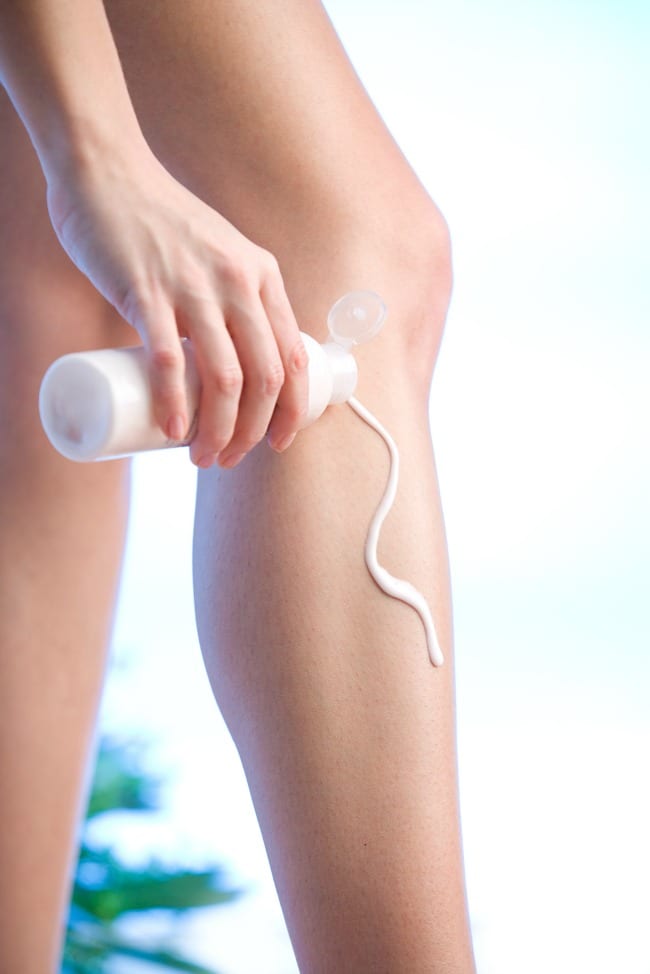 There's nothing more telling of a fake tan than elbows and knees that appear darker than the rest of you. Dry areas like these will absorb more of the product pigment giving you a nice (or not so nice) uneven tan. So lotion up those knees, elbows, hands and feet!
4. Apply your tanner carefully and evenly
Focus on one body part at a time, evenly distributing the tanning product. You can use your hands or a mitt, if you prefer. The mitt is created to give you a more even distribution, while also protecting your hands from turning color. If you would rather use your hands, then you'll want to take note of this next tip.
5. Use a body scrub to wash your hands when you're done applying the product
Washing with soap and water is not the way to go when you're done applying your sunless tanner, for a number of reasons. One, it isn't as effective and two, submerging your hands into the water can completely mess up the sunless tanning product you just applied to your arms.
Squirt a little bit of a body scrub into your hands and rub your hands together, focusing on the creases. Remove the scrub with a makeup wipe.
Do you feel armed and ready with the right tips to get a sunless glowing tan? Great! But remember, not all sunless tanning products are created equal. Do you research before you purchase any products.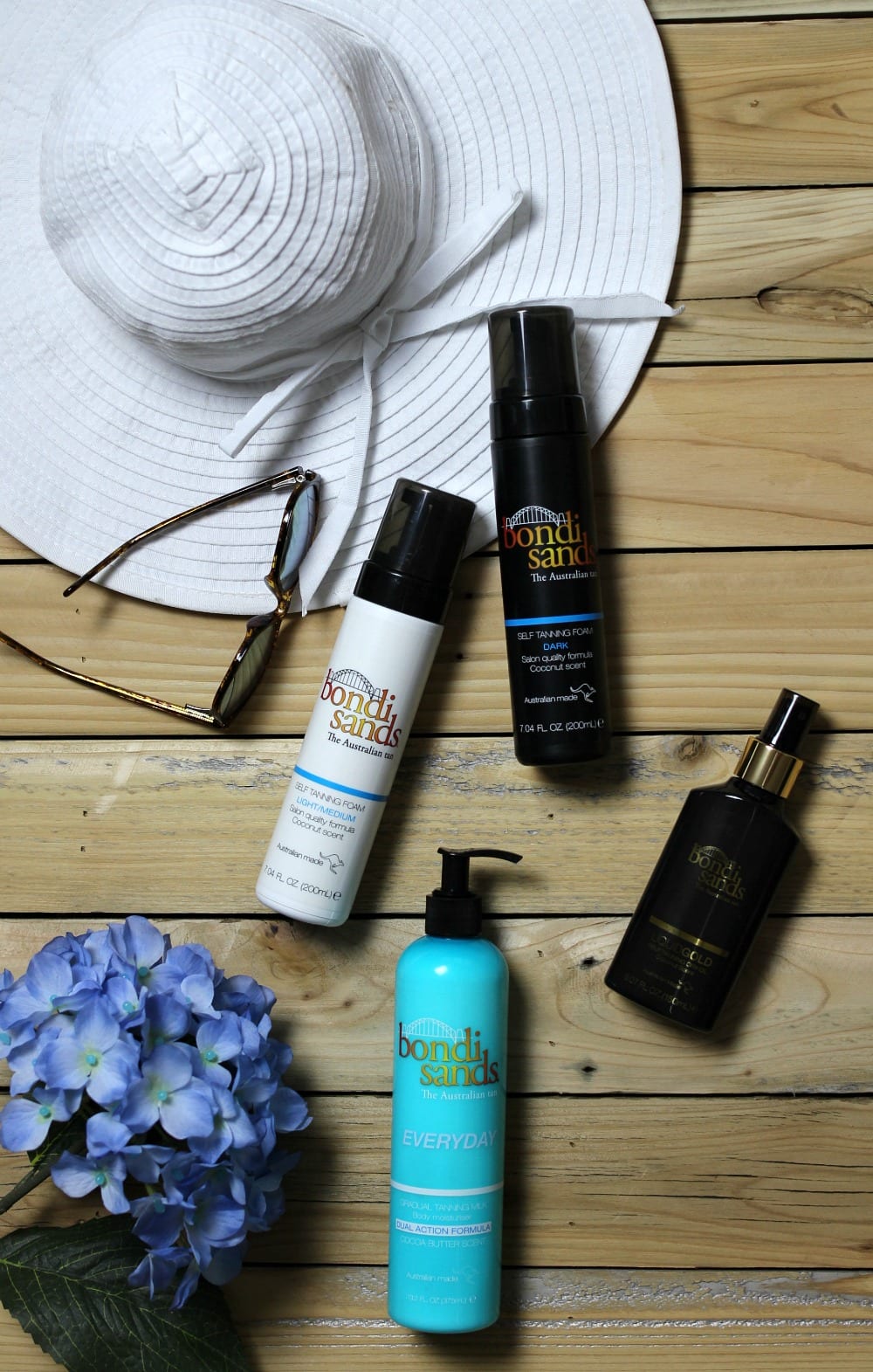 I recently tested out the Bondi Sands line and I must say, I'm impressed.
Here's their product line with descriptions:
My daughter used the tanning milk and it was perfect for what she wanted. It's very gradual and gives you more of a soft glow, instead of a dark tan. I usually prefer products like this because it leaves less room for application error. (Or applicator error.)
I used the tanning milk as well and really like it. I also gave the tanning foam a test-run and liked how easy it was to apply. Make sure you get the right one for your skin color: dark for olive complexions and light/medium for lighter tones.
I also have the liquid gold, but haven't tried it yet. I'm waiting for my current (sunless) tan to fade a bit, and plan on using it a couple of days before my daughter and I head down to the beach for a girls' road trip. Her best friend and my best friend are coming with us…so it should be a blast!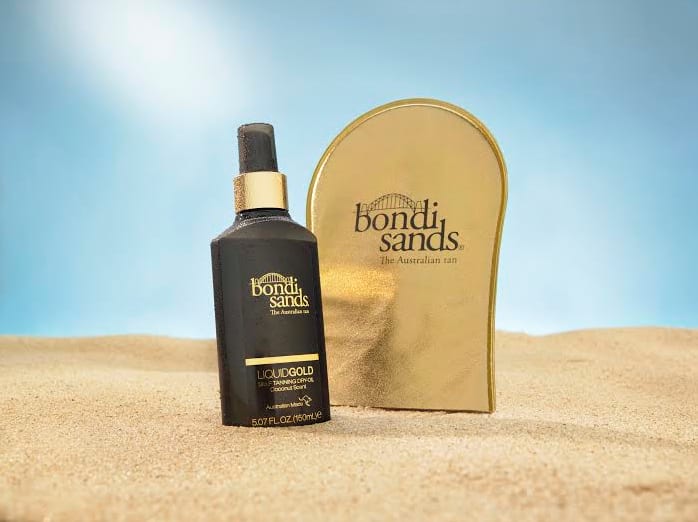 If you would like to try the Liquid Gold, for the next week or so all orders of Liquid Gold come with a free gold application mitt when you order through BondiSands.com.
Happy tanning!
Disclosure: Mom Fabulous was sent samples in order to facilitate this post. All opinions are my own.