Welcome to Day 29 of 31 Days of Fashion – Tips, Tricks & Outfit Ideas
I had so much fun putting together the outfit ideas for today's post. One of the questions I seem to get asked the most is how do I dress up a t-shirt and jeans because I love my t-shirt and jeans! This is actually one of my favorite topics. Taking basics and adding on to them with layers and accessories. I gave myself only one minute (yes, I actually set a timer on my iPhone #imweird) with each of these t-shirt outfits I created, to prove to myself it can be done in a snap. If you love your t-shirt and jeans, but are looking for ways to spruce them up, I hope these ideas help!
T-Shirt Outfits
Here are 7 different t-shirt outfits. They all started with the same exact gray t-shirt and jeans.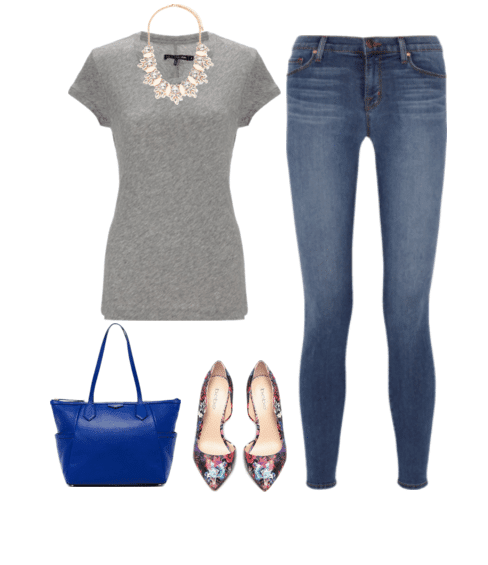 Break out that statement necklace! These fashionable necklaces aren't just for dressy occasions. Pair a statement necklace with your favorite printed flats and a handbag with a pop of color.
Shop more statement necklaces: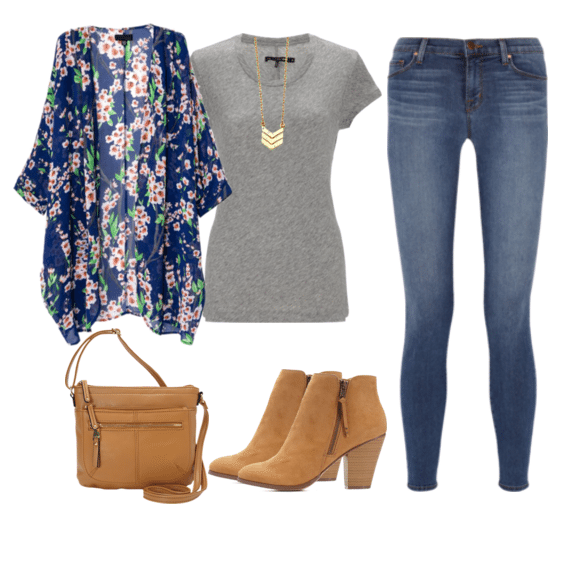 You know I like my kimonos. This is one of my favorite t-shirt outfit ideas and one you'll see me in a lot in the spring and early fall. For fall fashion, I wear it with a pair of ankle boots.
Shop more kimonos: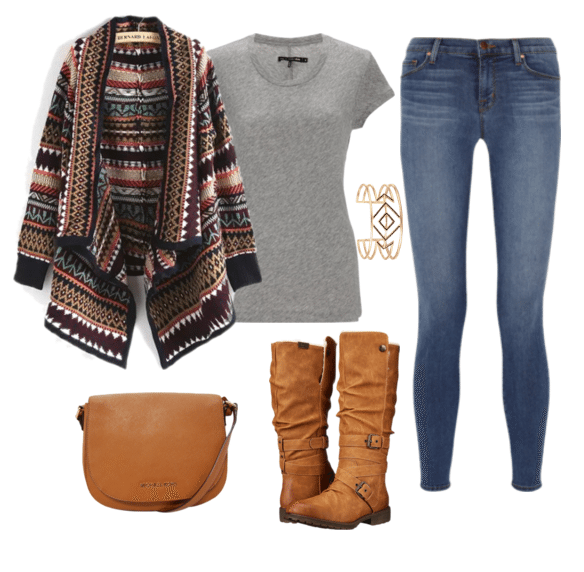 You also know I love my cardigans! Most of my cardigans are solid color, so I am drooling a bit over this one. (And this one.) I have one coming from J. Jill's November collection that I can't wait to show you. The colors are stunning and it would go great over this grey t-shirt. Add a pair of tall boots and a great handbag, and you're good to go.
Shop more printed cardigans: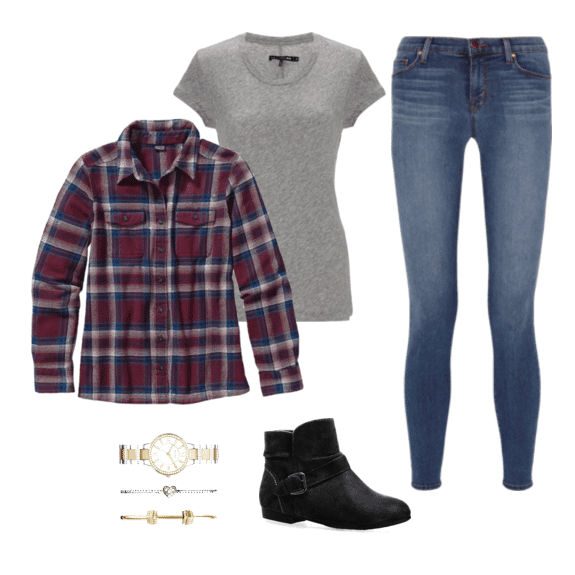 I picture myself in this outfit curled up in a cafe with a cup of steaming hot coffee and my Kindle. I have and will always love a good flannel. Throw it over your grey tee and either leave it unbuttoned, or button it up. The choice is yours.
Shop more flannel shirts: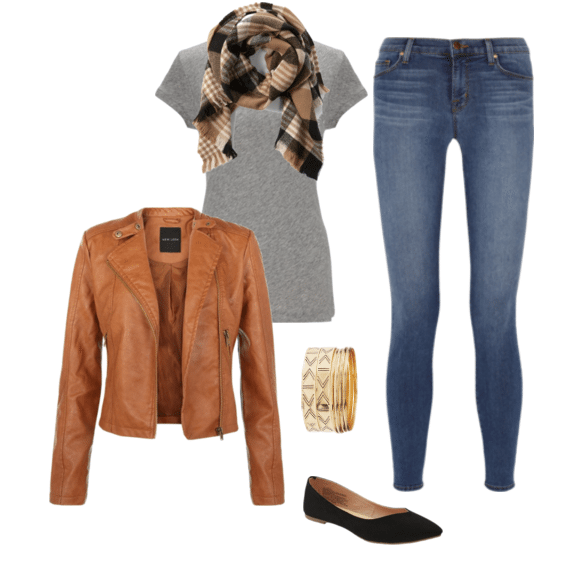 Last month a leather jacket similar to this one came in my LeTote and am kicking myself that I didn't keep it! It's so perfect to throw over a casual outfit like this. It instantly ups the style game. For chillier days, add a scarf. Such a great look!
Shop more leather jackets: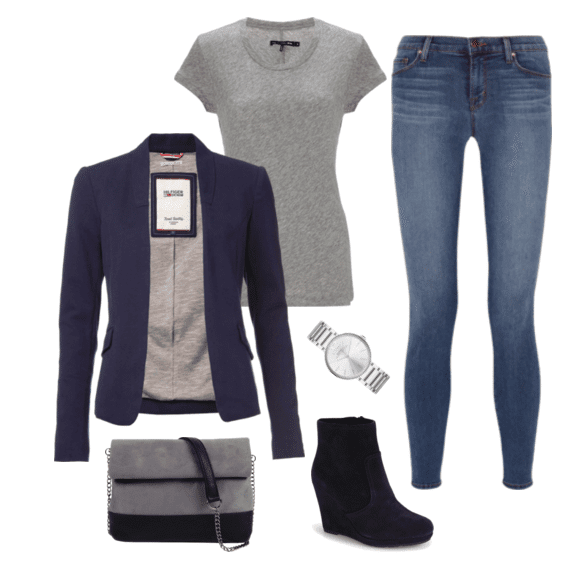 Yesterday I posted a blazer outfit idea that was so easy to put together. I just wore it over a lightweight sweater (one of the cutest sweaters on the face of the planet) and added heels.A blazer is a fantastic piece to add to your wardrobe if you don't already have one. Go with a classic color such as navy blue, black or brown.
Shop more blazers: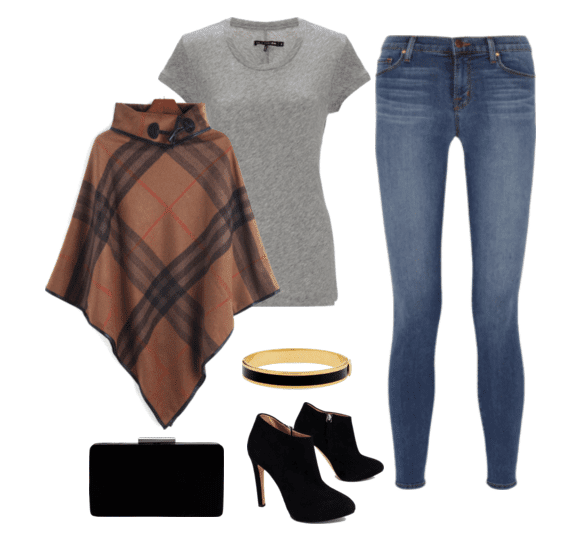 I love that ponchos are so big this season. I have three I'll be rotating quite a bit this fall. They are perfect to wear over a t-shirt and this plaid one is stunning. Add a pair of ankle booties and a clutch, and you've just turned an ordinary t-shirt outfit into something super classy.
Shop more ponchos:
Did you get some good ideas to implement in your wardrobe? Which t-shirt outfit was your favorite?
We're almost done with 31 Days of Fashion! It's been fun. I would love to know what other 31 days series you would like me to do. Pray tell…..