Welcome to Day 30 of 31 Days of Fashion – Tips, Tricks & Outfit Ideas
I used to talk about celebrity moms on here quite a bit, but then I just stopped. I'm not exactly sure why. Maybe I got bored with it, ran out of material or (most likely) just plain forgot. There are several celebrity moms who I admire their style: Jessica Alba, Angelina Jolie, Katie Holmes, Jada Pinkett-Smith and Sarah Jessica Parker – just to name a few. I've most recently really admired Reese Witherspoon's on-the-go style, plus the fact she's launched her own fashion line; Draper James. Her looks are doable and realistic; outfits I would actually wear.
As we're winding down on these 31 Days of Fashion, I thought it would be fun to share some of Reese Witherspoon's latest looks, what they can teach us fashion-wise and a few pieces from her new line.
Mom Style with Reese Witherspoon
Tip #1 Wear your jeans well
Reese knows how to take a pair of denim and kick them up a notch. She'll pair them with a cute shirt, a great pair of shoes and a jacket. Plus, she's always wearing that killer smile, even when the paparazzi are in her face.
Tip #2 A great bag is necessary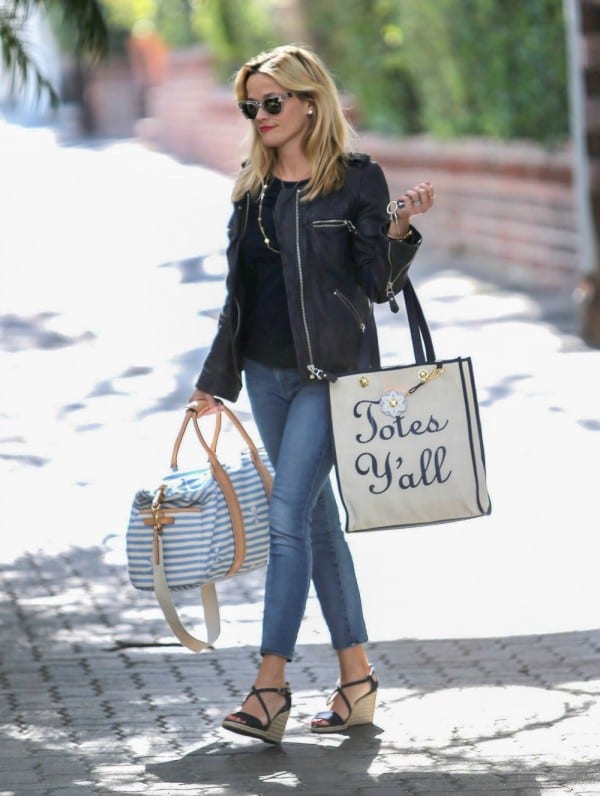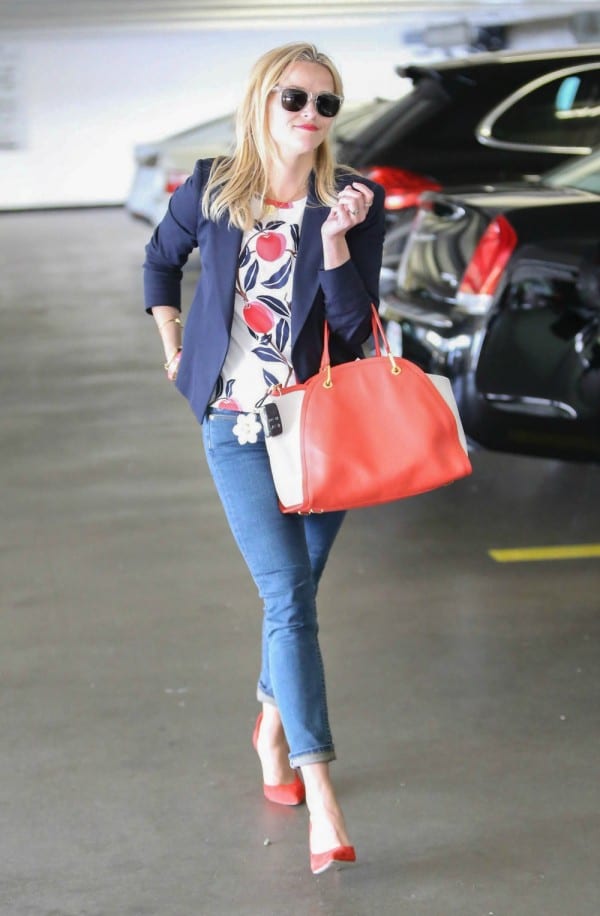 I think she is the queen of great bags right now. In almost every picture I've seen of her in the last couple of months, she's carrying a gorgeous bag like this red one or a cute tote like this Totes Y'all one. Um, I need that bag.
Tip #3 Top it off with a hat
I still haven't been able to pull off the hat look, but she does it so well. You can see how she styled it with two completely different outfits and it just works. That first outfit is absolutely adorable.
Tip #4 Dress it up
Reese also knows how to dress things up and put on something really feminine away from the red carpet glam. She looks dressed up, but comfortable all at the same time. The last dress (blue and brown) caught my eye big time! I like the style, the colors and the bold pattern.
Now, about her fashion line. I recognized at least two of the pieces she was wearing in the photos above are from Draper James: the top under her blue blazer and the black top with white flowers. Here are a few items from her line that caught my eye as I was browsing.
See the entire Draper James collection here.
Who's your favorite when it comes to celebrity mom style?
Images: PRPhotos.com & DraperJames.com