These four cardigan outfit ideas will help you pull together something to wear this spring in a jiffy!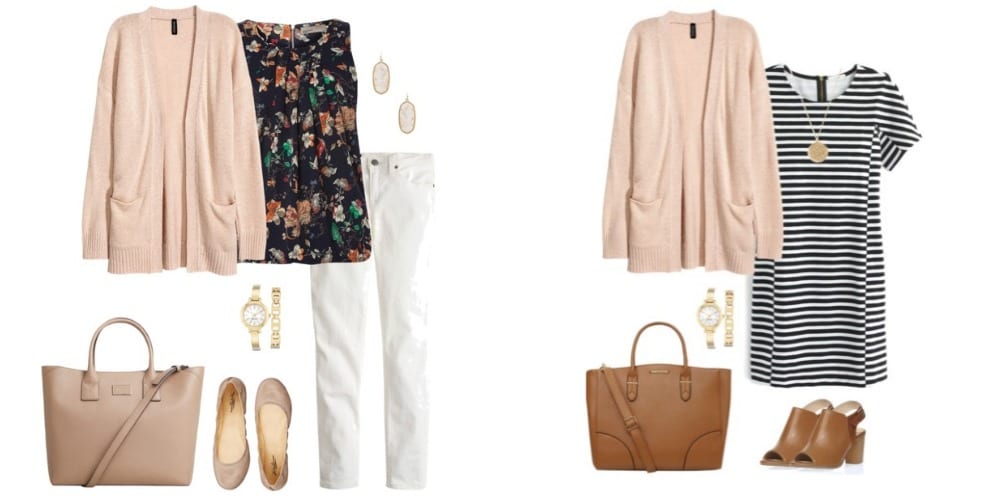 If you were to ask me some of my top go-to pieces for putting together endless outfit ideas for spring, a cardigan would be at the top of that list. With temperatures usually all over the place, layering is key. And with one simple cardigan, you can create so many different outfit ideas. It just takes some experimenting to see what you like and what works best for you.
Now, there are many different types of cardigans – from waterfall, long, boyfriend and cropped. But for today's outfit ideas we're sticking with, what I like to call, an open knit cozy cardigan. It's on the casual side, but you can dress it up a notch. I wouldn't wear it to a business meeting, but as you'll see, I'd wear it with a dressy top and jeans.
Four Cardigan Outfit Ideas for Spring
With a striped shirt
Cardigan + Striped Shirt + White Denim + Sandals + Tote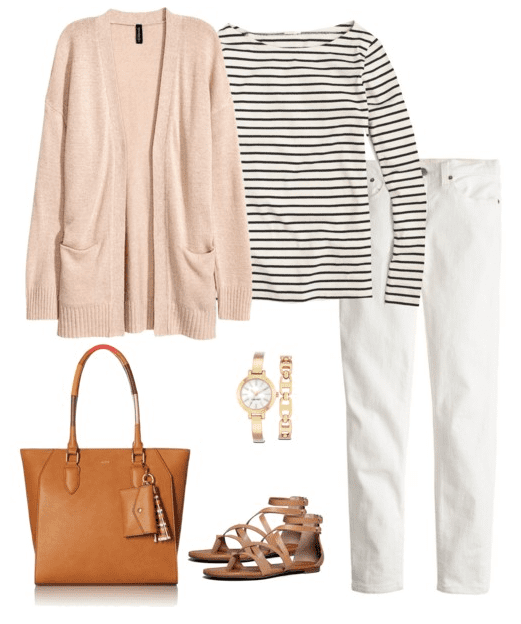 This is such a classic outfit idea and perfect for the weekend out and about with the family, or if you're home during the week, it's great for every day. If you're traveling and planning on doing quite a bit of walking, swap out the sandals for a pair of Converse or your favorite comfortable shoes.
If you wanted to dress this outfit up more, you could wear a pair of wedge sandals and add in a long necklace, earrings, plus the watch and bracelet combo. If the weather is a little chilly, a floral scarf would make a nice contrast with the stripes and it would keep you warm.
When you start with a basic foundation outfit like this, there is so much you can add to make it your own.
With a floral blouse
Cardigan + Floral Blouse (similar)+ White Denim + Ballet Flats + Handbag + Watch + Earrings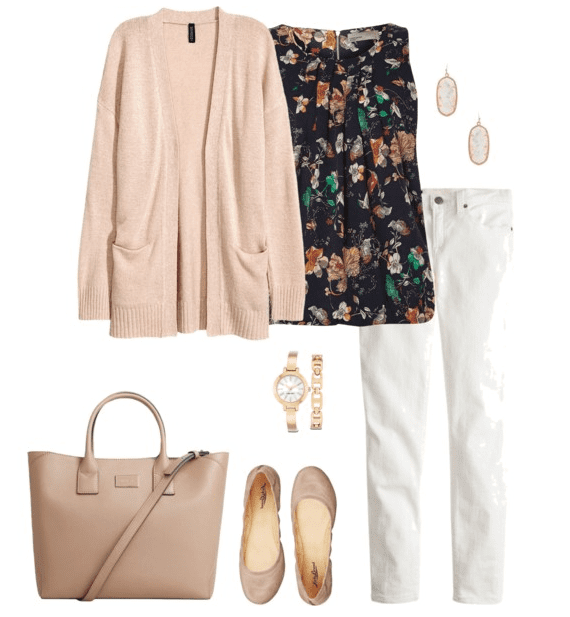 If you have casual Fridays at the office, this outfit would take you from day to night easily. Before you head out for dinner, switch out the ballet flats for a pair of nude heels or wedge sandals. Add a bracelet and/or necklace for a little more bling and you can skip having to stop off at home to change.
If florals aren't your cup of tea, any patterned top would look really pretty. You could also swap the white denim for dark, which is dressy enough for the office and a night out.
With a classic white tee
Cardigan + Your Favorite Tee + Denim + Sandals + Tote + Watch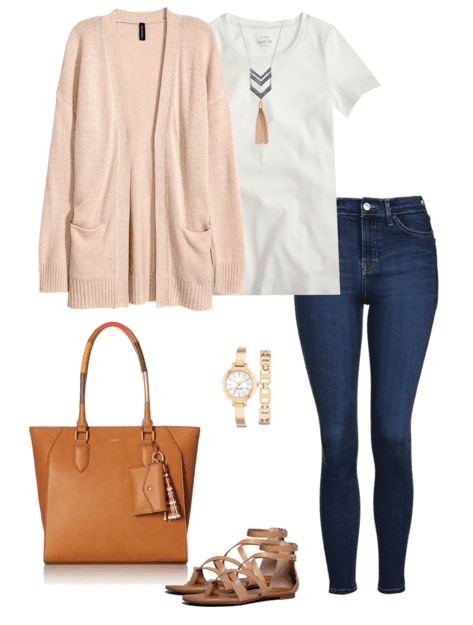 One of my favorite challenges is to take a t-shirt and jeans outfit and see how many ways I can dress it up and change it. When you find that perfect pair of jeans that fit you just right and that perfect t-shirt that feels like it was made for you, it makes for one comfortable outfit. Add on a few key elements to dress it up and you have outfit ideas for days.
For this outfit, simply layer with the cardigan, add a long necklace with some color and throw on your favorite pair of sandals for a casual weekend outfit.
With a t-shirt dress
Cardigan + T-Shirt Dress + Peep Toe Booties + Handbag
There's something about the combination of a cardigan and t-shirt dress that I just love.
Let's talk about t-shirt dresses for a minute, shall we? Have you tried a t-shirt dress? If not, do me a favor and try one on. It's one of those dresses I find myself living in come spring and summer. It's easy to dress up or down. You can wear leggings with it if you want. I can't think of a shoe that won't work with a t-shirt dress. Maybe duck boots? Even those would probably end up looking cute. Anyway, what I'm getting at is a t-shirt dress is a fun, versatile item to have in your wardrobe.
I like it paired with a cardigan, a long necklace, peep-toe booties and my favorite handbag. (Side note: it also looks great with a denim jacket.)
—
Let's wrap this up:
Four Cardigan Outfit Combinations:
Cardigan + Striped Shirt + White Denim + Sandals
Cardigan + Floral Blouse + White Denim + Ballet Flats
Cardigan + Your Favorite Tee + Denim + Sandals
Cardigan + T-Shirt Dress + Peep Toe Booties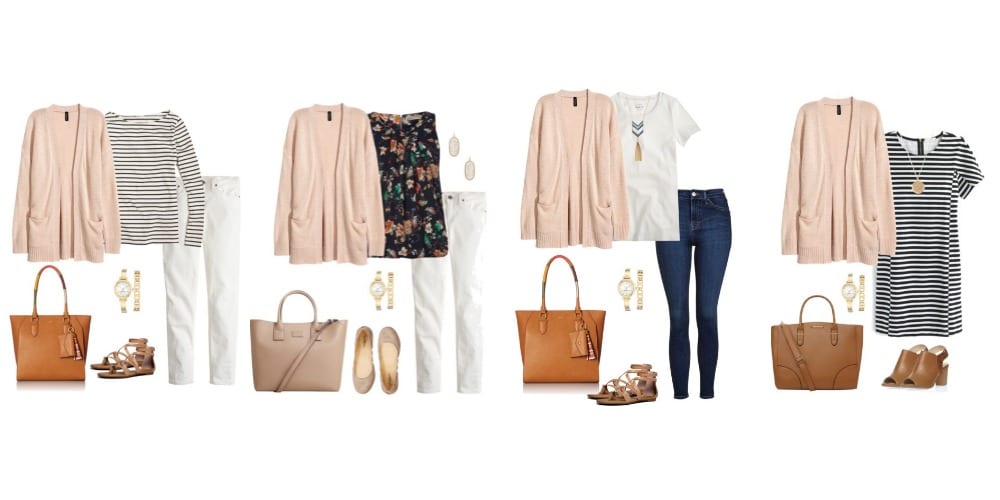 Which outfit was your favorite?
If you liked this post on cardigan outfits, here are a few more articles on Mom Fabulous you might enjoy: