Have you ever typed 'how to eat healthy' into your search bar? I'll confess. I have and there have been many, many times in my adult years when I've been at my wits' end with trying to get on board with healthy eating.
But I've finally realized something. I've been sabotaging any chance at success. How? By making it as easy as possible to eat junk and in turn, making it as hard as possible to eat healthy.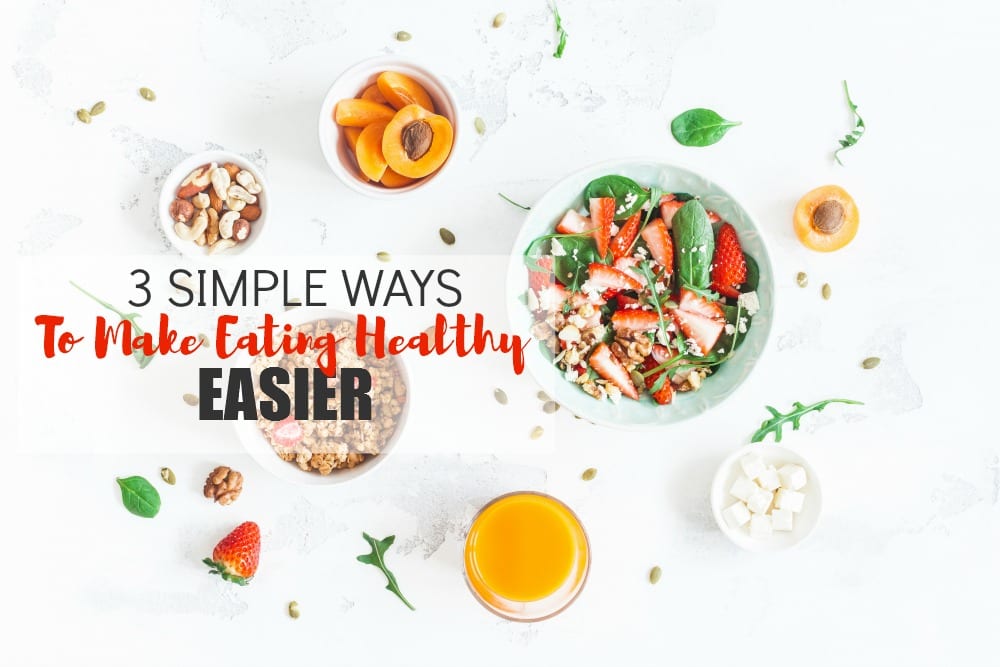 Here's how the scenario has gone in the past when it comes to eating. See if you can relate.
I wake up hungry. The last thing I feel like doing is cooking, so I grab what's convenient and fast. Oh hi, sugary cereal! Nice to see you.
Around 10:00 a.m. I get hungry because the sugary cereal and two cups of coffee have worn off. In fact, I feel quite dizzy. Whoa! I need to grab the quickest thing to eat so I can get back to work. Oh, and my body is craving sugar so…oh hi sugary protein bar that says it's good for me.
It's now lunchtime. Have I had any water to drink today? Good grief! I need some water. I am so freaking thirsty! I wish I would have fixed a healthy lunch but I had zero time this morning. I'll either snack on this package of crackers and this cheese or spend money, yet again, grabbing something to go. Crackers and cheese it is.
It's 3 p.m. and I am dead beat tired, cranky like nobody's business and if that clock doesn't go any faster I'm going to bite someone's head off. Coffee. I need coffee.
It's 6 p.m. and everyone is hungry. How long can I stand here with the refrigerator door open waiting for magic ingredients to come together and create a meal? Didn't I just go to the grocery store? What the heck did I buy? What's the pizza delivery number? UGH.
If you can see yourself in this example, know you're not alone. Eating junk is easy. It's convenient. We become addicted to it and out bodies crave it. It's the same with caffeine. So how do we break the cycle and make eating healthy a bit easier?
Here are a few simple ways to kick-start making eating healthy more convenient and easier for you.
3 Simple Ways to Make Eating Healthy Easier
HAVE HEALTHY FOODS PREPPED AND READY
When I started doing this in my own home, it was a game changer for all of us. Growing up, my mom would have the refrigerator stocked with cut up carrots and celery in containers of water so they would stay crisp and fresh. They were so easy to grab and eat, which made snacking on them enjoyable. So I started doing the same thing in my home and we immediately started eating more vegetables and fruit.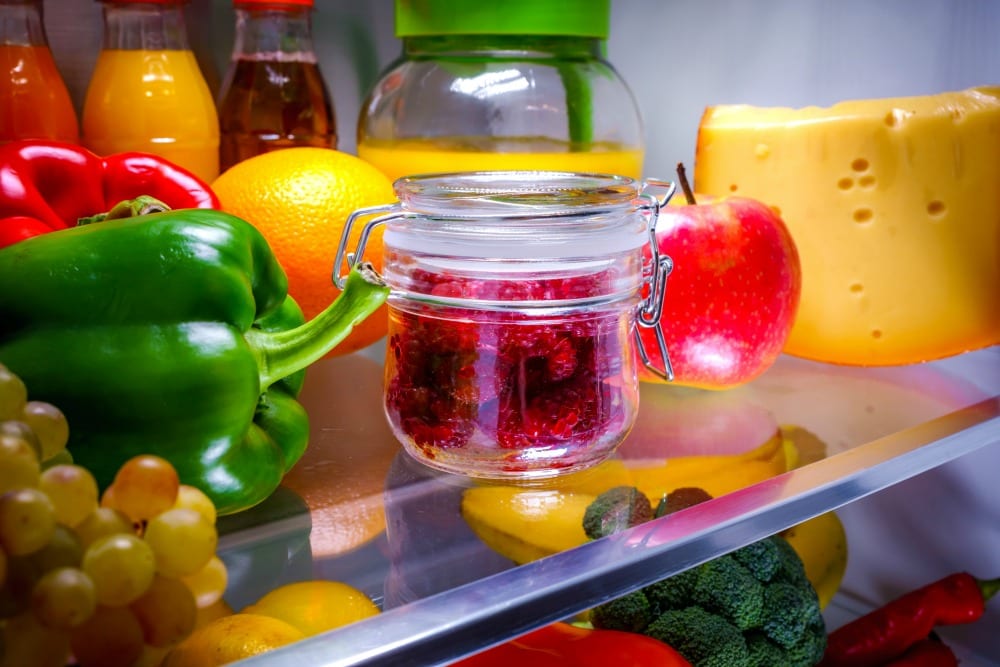 Here's what I have available in containers and at eye level in the refrigerator:
Sliced up bell peppers
Baby Carrots
Sliced Cucumbers
Celery
Broccoli
Tangelos, Plums & Apples in a Bowl (not in the fruit drawer where they hide)
Having these prepped and ready made choosing them as a snacking option easier. It made adding them to lunches easier. It also makes taking them with us when we're on the go easier.
It only takes a few minutes of prep work at the beginning of the week, but it pays off knowing that the entire family has healthy snacking options available.
WAKE UP TO A HEALTHY BREAKFAST
Since most of us either don't have time to cook in the mornings or we just don't feel like it, the easiest way to handle this is to wake up to a healthy breakfast already done for you. And no, I'm not talking about hiring a personal chef.
I'm talking about trying something like an overnight oatmeal recipe or make ahead egg muffins. If warming up eggs aren't your thing, try some other make ahead breakfast dishes like these Pumpkin Breakfast Cookies or Protein Packed Breakfast Bites.
Again, it takes some pre-prep work, but it's worth it!
FIGURE OUT YOUR MEAL PLANNING STRATEGY
I know, I know. Me saying 'Figure out meal planning' is all nice and dandy but it's hard, right? I get it. I really do. And I get it because this is the hardest area of my life right now. I'm all kinds of busy with work and I would really like my refrigerator to figure out how to create meals out of the random things I buy, from the random list in my mind, as I'm randomly walking the aisles of the grocery store.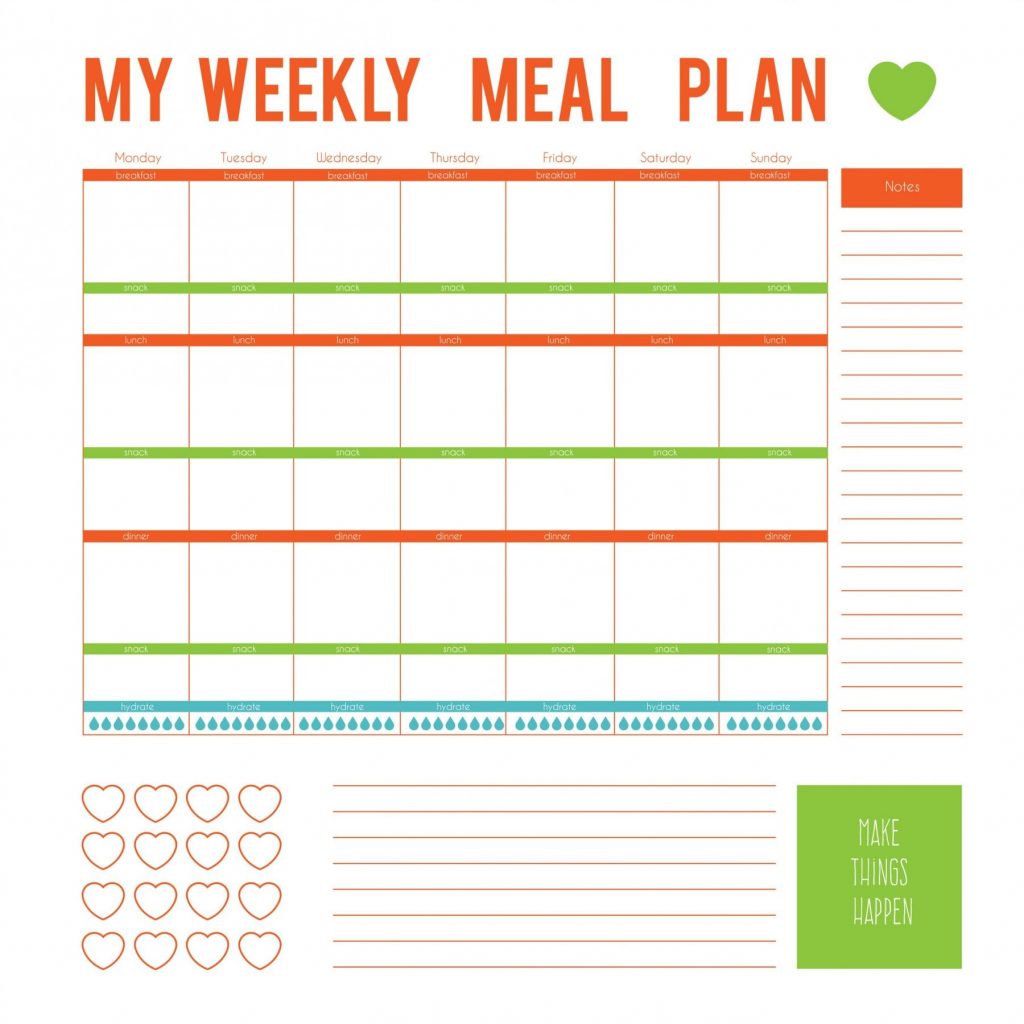 I have it together in other areas of my life (like my outfit right now – so cute) but this is not one of them. But on the weeks that I'm all that at meal planning, we eat better and generally feel better.
Here are some ideas and resources for meal planning:
Use a meal planning service
If you don't mind grocery shopping and cooking, but you despise the meal planning process, a meal planning service might be exactly what you need. The gist of a meal planning service is they provide you with the plan for the week, complete with a grocery list. You print out the grocery list, head to the store, shop and you're done. The week's meals are planned for you and all you do is come home and prepare what's assigned for that day.
The pros of a service like this are it eliminates the timely part of looking up recipes, choosing which ones you want and then figuring out what ingredients you need.
The cons of a service like this are if you don't like all of the meals and you have to fill in with some of your own.
Here are some of the best and most popular meal planning services:
$5 Meal Plan – Download your Plan. Print the Shopping List. Cook the Recipes. Enjoy the Savings. With this meal plan, you get weekly meal plans delivered every Friday morning to your inbox, which means you don't have to worry about going to find new recipes for your meal plan each week. Find out more here.
eMeals – Their weekly meal plans offer variety and flexibility allowing you to pick the recipes that best fit your needs that week. Select the meals you want for the week, and our app will do the rest for you. Add your odds and ends for the week and you are all set!
MyFreezEasy – MyFreezEasy Freezer Cooking Meal Plans will help you prepare 10 delicious meals to load into your freezer in less than an hour.
Use Pinterest as Your Meal Planner
If you don't mind the meal planning part, but you just need an organized and digital way to do it, set up a board on Pinterest called 'Weekly Meal Plan' or 'Menu Plan Monday'. Browse through Pinterest at the beginning of the week and pin the recipes you want to make that week. When it's time to sit down to make your grocery list, open up your Pinterest board to click through the recipes for the ingredients.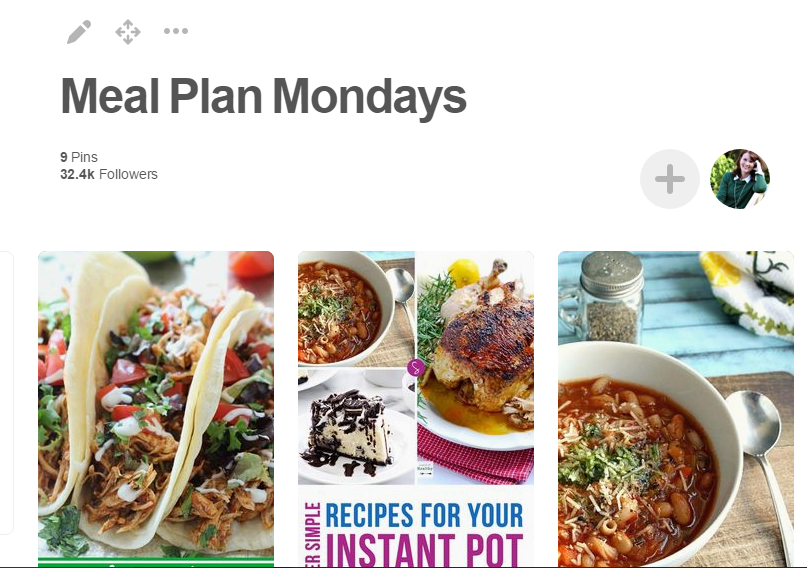 The convenience of doing it this way is you can plan your meals on the go from your phone and the Pinterest app. A lot of the recipes on Pinterest have the ingredients listed right there, without even having to leave the app, so while you're waiting in the car line or at sports practice, you can even whip up your grocery list.
Use a Meal Delivery Service
If you need a couple nights a week (or more) where the ingredients for a full meal are delivered to your door, a meal delivery service might be exactly what you need. These have become incredibly popular among everyone from busy singles and working moms, to people who are just wanting to learn to cook better with fresh ingredients.
Here are a few to consider:
HelloFresh – You can get up to 50% off your first box from HelloFresh, which is the perfect way to try it out for yourself. They shop, plan and deliver step-by-step ingredients to your door. You choose from 10 easy-to-prep healthy recipes each week that are ready in 30 minutes.
Blue Apron – Choose personalized menus based on your dietary preferences and receive free weekly delivery of farm-fresh ingredients to your door. Their ingredients come with a Freshness Guarantee. Get your delivery when it's convenient for you. You may skip or cancel at any time.
Plated – Let Plated know how often you'd like to cook and what you like to eat. Choose from their 11 recipes they put out each week. Receive everything you need to cook your chosen recipes delivered to your door in an insulated box packed with care.
Home Chef – Let their chefs do the shopping for you. With ten dinner options, new breakfasts, a fruit basket, and a fresh smoothie every week, Home Chef has something to delight everyone around your table. From hearty meat & seafood options to gluten-free and low-carb dishes, there's a dinner option that's bound to work for you.
Use a Grocery Delivery Service
This has become my favorite convenience when it comes to planning meals. I don't necessarily mind planning the meals or making the grocery list, but when it comes times to head to the grocery store, some days I'd rather have a root canal. Okay, maybe not – but fighting the crowds at the store and the time it takes isn't always at the top of my list – so using a grocery delivery service has been a sanity saver for me.
The pros of using a service like this are all you have to do is make the list and they do the shopping, which obviously saves a lot of time.
The cons are you don't always get exactly what you want and sometimes the choices are limited. I'll go more into depth on this in another post, but lately, the pros have outweighed the cons for me.
Here are a few grocery delivery services:
InstaCart – This is the only one I have used and so far it's been wonderful. All of the delivery people have been so nice and have been very diligent while shopping to let me know when they needed to substitute something on my list. From the time I order to the time my groceries are delivered in my area, is usually about two hours and I order my groceries on Sunday. So while someone else is shopping for my groceries, I'm getting my kitchen ready for a batch of fresh groceries.
There is also Favor, TaskRabbit and Shipt.
—
Do you have any tips that make eating healthy a bit easier? If so, please share in the comments section below because we all want to know how to eat healthy for ourselves and out families.
If you enjoyed this post, please share it on social media or pin it on Pinterest to save for later.