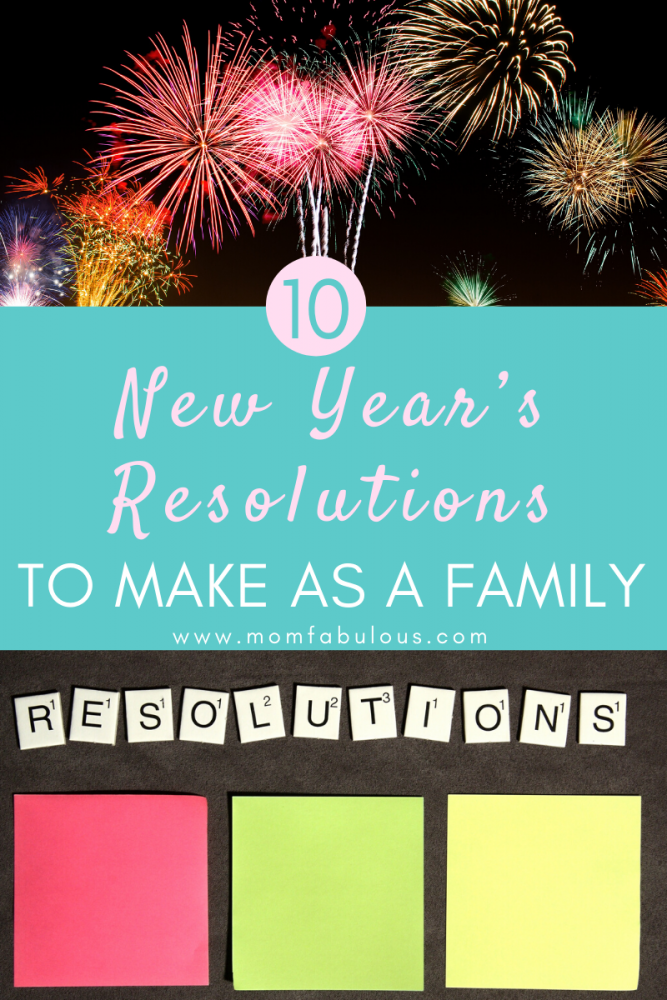 Did you know that families who make New Year's resolutions together are more likely to actually achieve their goals? It's worth the time and effort to have each person in your family create a realistic goal, share it with the family, and then hold one another accountable. 
Let this New Year be a turning point for your family, a split in the road where you go from good to great. Here are 10 New Year's resolutions to make (and keep) as a family this year.
New Year's Family Resolution #1 – Instill a family bedtime
Most families enforce a bedtime for school-aged children, but that gets wishy-washy for older kids and teens. You've heard the benefits of getting enough sleep: boosted immune system, higher brain functioning, slower aging, better moods, etc. Over the next year, make a bedtime plan for everyone in the family (parents included). 
This might look like:
everyone getting ready for bed at the same time

turning off electronics

stopping play time

or reading together. 

Plus, mornings will be much smoother if everyone goes to bed at a reasonable hour. 
New Year's Family Resolution #2 – Read together
Speaking of bedtime, nothing says sweet dreams better than a bedtime story. Begin the art of reading together as a family. 
Read together before bed. Shorter books are perfect for little kids, but chapter books are a fun way to help your children look forward to this family time. Don't underestimate the power of curiosity. What will happen next in the story?

Listen to audiobooks in the car. Do your kids have a long drive to school every morning? Planning a road trip to visit family? Taking a vacation? These longer stents in the car are a great time to listen to audiobooks. Check your local library's website or app for free audiobook downloads, or subscribe to a service (there are so many to choose from, including Amazon and Audible).

Read the books before you watch the movie/television show. This one is simple to do. Read the book as a family, then plan to go see it in theaters or rent it at home. Think about Harry Potter, Disney movies (since many of the original cartoon classics are currently being remade with live actors), Little House On the Prairie, Winnie The Pooh, etc. Again, don't forget to check your local library for DVDs and chapter books!

Pick one time every week to snuggle up with a good book. Maybe that's Sunday night to foster a good start to the week. Or perhaps Friday night you can read a few chapters of a story before watching a family movie or playing a game.
New Year's Family Resolution #3 – Family game/movie night
If you're reading together, then planning a family movie night is a natural progression; once your finish a book, watch the movie! Or pick one night per week (or month, depending on your calendar) to play a game or watch a movie with just your family. 
Make this time special with snacks, treats, or a picnic on the living room floor. 

Borrow movies or board games from other families to stick to a budget. 

Plan to go to the theater together at least once during the year. 

If applicable, go to a live play in your community instead of watching a film.

Allow each person to take turns selecting the movie or game.

Ask for new family games on your Christmas list.
New Year's Family Resolution #4 – Have a weekly night of rest
Mama, you don't need anyone to remind your about the busy-ness of life. Calendars are full, weekends are packed, and memories are being made everyday. But sometimes a chill evening is exactly what your family needs. This year, implement a night of rest into your routine.
Plan one night for your family to stay home and "do nothing." 

Pull out games or movies, bake a treat, take a walk, or play outside together.

End with a soothing bath, family conversation, or whatever else feels restful to you!
New Year's Family Resolution #5 – Family dinner
This is probably a common New Year's resolution, but it deserves the repetition. Invite your spouse and kids to enjoy dinner together as often as possible. Perhaps this is five nights a week, or only once. But, whatever the frequency, set a goal to have dinner around the table.
Dinner can be a gourmet meal you all helped prepare, or takeout from a neighborhood restaurant.

Eat outside when the weather is nice, or dine by candlelight for added ambiance. 

Ask your children to create name cards or handmade placemats to use on this night.
New Year's Family Resolution #6 – Unplug technology
Technology is a blessing, especially when your kids watch movies all day long when they're sick, or when they play games on a tablet to stay entertained on your 8 hour car ride. But excessive technology use can be detrimental. 
Challenge your family to unplug from technology this year. Maybe this looks like:
No devices at the table during meals.

No technology between 7pm and 8am.

No technology in bed.

All devices are charged overnight in the parents bedroom.

No technology one night per week (or one day per week, or one weekend per month)
Read more about the 8 reasons why you should limit screen time.
New Year's Family Resolution #7 – Save money together for a family experience
Money can be a burden, yet it's also a generous blessing. Take this next year to teach your children about the value of money. Plan a fun experience or family vacation as a family, and save together for that experience!
Keep a jar for loose change or donations.

Have your children complete chores or tasks to earn money toward the trip.

Encourage your kids to sacrifice one gift at Christmas or their birthday in exchange for money toward the experience.

Update your children monthly on the financial progress. (Note: You can ask your kids to collectively raise $100 or $500 toward the vacation, but you do not necessarily have to share that you're saving $300 per month for the trip.)
New Year's Family Resolution #8 – Call or FaceTime family weekly
Grandparents despair at the distance between them and their grandchildren. Aunts and Uncles wonder what their nieces and nephews are up to. Cousins wish they could play with each other every week. Deepen your bonds with family by establishing weekly calls this year.
Schedule a weekly time to call family. Most people allot Sunday afternoons and evenings for this.

Nothing beats a good old fashioned phone call. But you can also video chat using Skype or FaceTime. The

Marco Polo app

is also a great option.

Suggested list of family members to call: grandparents, Aunts/Uncles, cousins, godparents.
New Year's Family Resolution #9  – Volunteer together
Find a local organization that your family supports. Volunteer or donate items once a month as a family.
Paws and animal shelters often strike compassion in young children.

Food pantry or donation centers can have tangible tasks for children while also broadening your child's worldview.

Teens and older kids may want to help at a family or pregnancy center, foster organization, or adoption agency.

Buy water and healthy snacks to keep in your car; pass them out to homeless people in town as you drive by them.

Sort through old clothes, toys, and books. Donate to a charity in your community.

When in doubt, pick up trash at the local park.

Raise money by asking for donations to a charity instead of birthday gifts.
New Year's Family Resolution #10 – Family exercise 
Make this next year's resolutions about family time and fitness! Family exercise means everyone is moving, everyone is being active, and everyone is accountable. 
Like to run? Have your kids ride their bike next to you.

Walk to a nearby park and play together for an hour.

Visit a national park once per month for a family hike.
Visit every "fill in the blank" in your state (waterfall, gorge, national park, cave, etc.).

Search Youtube for silly exercise videos. Think

kids animal yoga

,

Bollywood dancing

,

kickboxing

,

ballet

, or a

silly family workout

.
Make this a year to remember
By setting New Year's goals as a family, you're holding each other accountable and spending quality time together on a regular basis. Everyone wins!
Curious to read more about New Year's Resolutions?