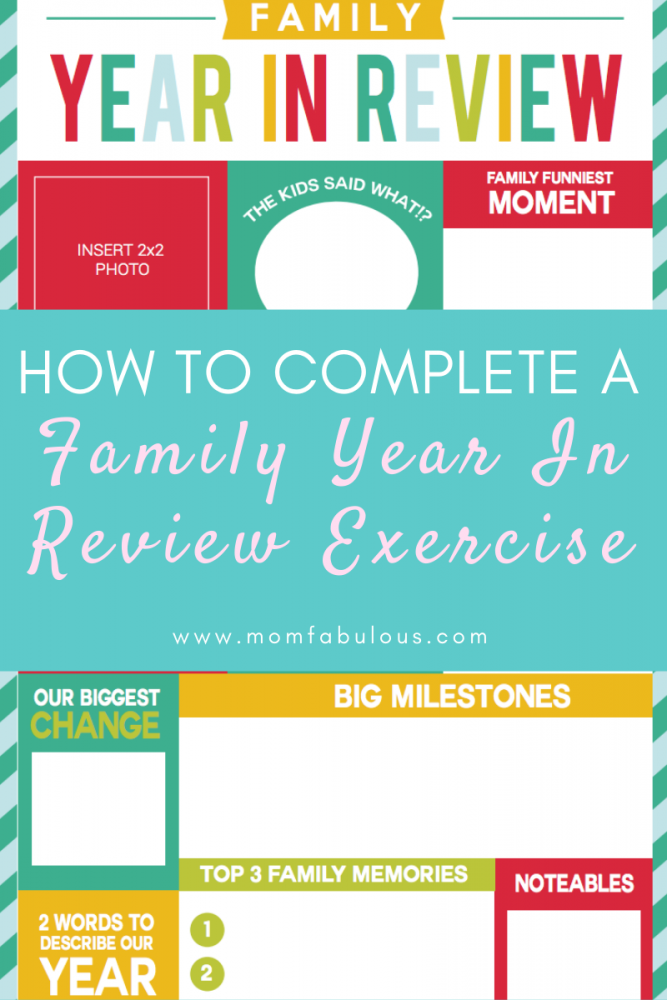 Have you noticed the popular introduction in this year's Christmas letters? "Wow, this year has flown by!" or "We can't believe Christmas is already here!" or "Where has the time gone this year?" 
That points out two things: 1. We need to diversify our Christmas card greetings. 2. The past year tends to blue together. Let's elaborate on that second point. We need to learn how to review the past year so that we're ready to embrace the new year.
Let's hold onto the cherished moments, reflect on the happy seasons and grieve the tough times. Let's remember the moments that brought us to tears of joy, the simple things of daily life, and the experiences we are glad to leave behind us. Let's look back so we can move forward.
What is a Family Year In Review exercise?
This is a worksheet or journal that records the memorable things from the past year. You complete the worksheet or fill out the journal as a family so that everyone can share what was important to them. Over the years, you'll gain papers full of memories, a tool to help you look back on the gifts of life, and a marker to chart your maturity and growth through life. Plus, this would make a great gift to your adult children when they first become parents!
How to complete a Family Year In Review
This exercise for your family is easy, thoughtful, and the perfect way to end December and launch into January. Plus, it's a habit you can establish every year between Christmas and New Years.
Gather your family together for an hour.

Fill out one of the following worksheets or create your own.

Set New Year's goals.
1. Gather your family together.
Ask your family to be thinking about the highlights from the past year. They can remember funny moments, scary things, jokes, experiences, or trips – whatever stands out to them. Then, schedule at least one hour to sit down, discuss, share, and record those special memories.
2. Write down the memories.
This is the fun part: recording all of the details! There are multiple ways to do this:
Print and fill out a worksheet (see below).

Record everything in a family journal.

Have each person record their memories in their own journal.

Set up a video camera and record your memories! (It's probably best to talk about them before and narrow down each person's list to a few key events.)
If you're searching for a ready-to-go worksheet, try one of these printables:
If you want to fill out your own journal, be sure to include:
The year, and names next to each item.

Top 3 best and worst memories

Something that was hard

What you learned

Where you traveled

Favorites (book, movie, game, day, experience, etc.)

Hilarious moments

Funny quotes someone in your family said

Goals for next year

For kids: their favorite toy, what they want to be when they grow up, best friends, favorite show/movie, best thing they learned, scariest moment
3. Set New Year's Resolutions
After taking the time to reflect and record monumental moments from the past year, look ahead. What do you hope to accomplish or learn? Where do you want to be one year from now? Write down goals and an action plan to make it happen. As a family, hold each other accountable. Or, set family New Year's resolutions!
Looking back
As the years progress, it's fun to look back on previous year in review worksheets or notes. Save these precious memories so you can reread the stories, watch the videos, or reminisce on those sweet days of old. Gift your children their memories when they graduate from college, get married, or have their own children. But don't forget to keep up the family tradition every Christmas!