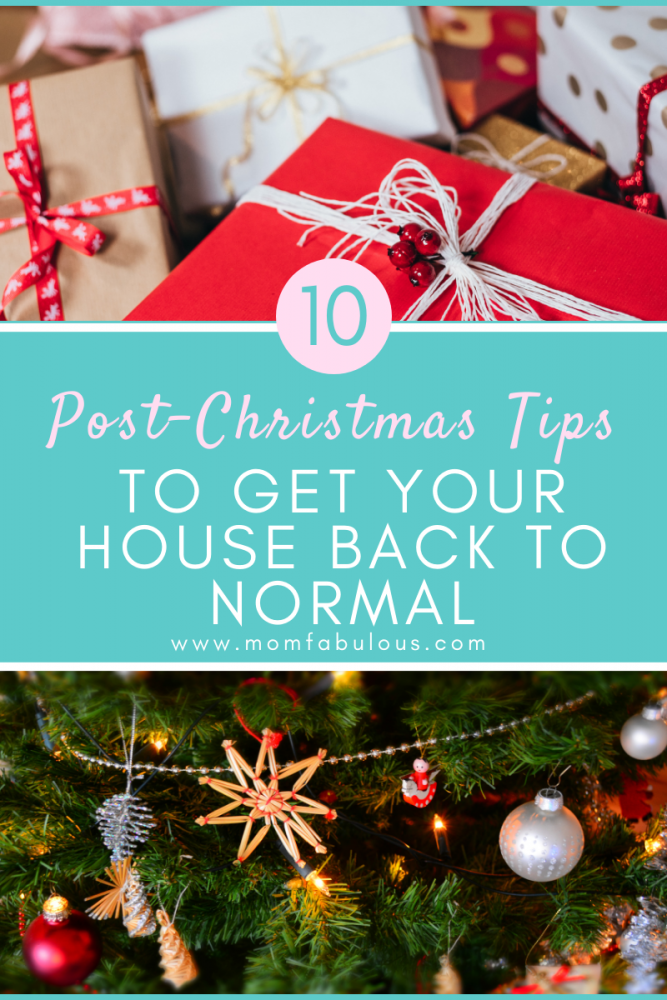 Gifts were given. Cookies were consumed. Time was well spent with family and friends.
But now you look around and realize that Christmas is over. Well, the day has passed but the house looks like a holiday tornado has ripped through it. 
Presents strewn in every room. Bows and ribbons collected under the furniture. Cookie crumbs decorate the floor. And there are dishes galore from the festive meals.
Here are 10 post-Christmas tips for getting your house back in order!
1. Find a home for everything
Everyone in your family has more possessions now than they did last week. Although gifts bring joy and memories, they also take up space in your home. Take the time to find a home for all of your new items. If necessary, get rid of old items to make more room. 
This is the best time to purge old toys! For young children, make an even trade. If they received 12 new toys, they must choose 12 old toys to get rid of. (Mama, you don't have to throw away those old toys! Either store them in the attic for the next child, donate them to needy families, or keep them for your future grandbabies!)
2. Recycle the boxes, bags, ribbons, and bows 
Before you throw away all of that wrapping paper, check for bows and ribbons that can be reused. So many times we toss out perfectly good bows that can be taped on new packages next year! 
The same is true for gift bags. Tear off the label, or stick a new one over it next year. Fold them up and store for future gifts. Is there a gob of tissue paper inside the gift bag? Smooth it out, fold it up, and stash it inside the bag. Your gift wrapping will be much faster (and cheaper) because your supplies are all ready!
Also, don't throw away the wrapping paper. At least gather it into a garbage bag and set it aside for recycling.
3. Pack up your Christmas lights
It can be a nightmare to wrap up strands of lights and keep them organized for next year. Here's the best way to pack up your Christmas lights:
Don't remove any lights yet (inside or outside). Keep them hung where they belong.

First, wrap a 6 inch piece clear masking tape around both ends of each light strand, folding the sticky ends together so you have a "flag." Write where this end is located. For example, "garage corner, near plug" or "front porch column." Do this for both ends of every strand.

Now, remove the lights. Wrap each strand around a paper towel tube to prevent tangles, and place each one in it's own grocery bag.

Store all of your lights in one box.
4. Store your Christmas ornaments
You want all of your ornaments to survive the years and create a lasting legacy, whether it's your grandmother's glass bauble or your child's handprint. Securely storing your ornaments will keep them in tip-top shape from year to year.
Wrap delicate ornaments in old socks, newspaper, tissue paper, or paper towel.

Place each ornament in its original box, a disposable plastic cup, or an egg carton.

Empty liquor boxes are perfectly divided for ornaments!

Group like ornaments together. For example, have a small box of all wooden ornaments. Have another box of plush fabric ones, etc.
5. Store your decorations
Does your entire home transform for the holidays? Then you must have plenty of decorations! This year, pack up the decorations based on what room their in. For example, have a box labeled "living room Christmas decorations" and another labeled "kitchen Christmas decoration," etc. Make a list of everything inside of that box, and place it on top just before you close the lid. Next year, you will be able to find everything you're looking for!
6. Clean your dishwasher
Most families consume extra doses of sugar over Christmas. Which means your dishwasher gets extra amounts of sugar, too. Now is the best time to do a quick dishwasher deep clean. 
 Pour 1 cup of white vinegar into a dishwasher safe measuring cup. Place this on the top rack (with the vinegar still inside). Run an express cycle with hot water.

Sprinkle 1 cup of baking soda along the bottom of your dishwasher. Run an express cycle.

Your shiny, clean dishwasher is prepared for the new year!
7. Remove stains from your China dishes
Speaking of dishes, your China shouldn't be run through the dishwasher. Which means that it's easy to leave the dishes piling up for later so you can enjoy time with your family. Unfortunately, doing that sometimes leaves stains on your delicate dishes. 
Try rubbing nail polish remover over the stain with a microfiber cloth, and then hand washing the dish. The stain should fade away!
8. Scrub your cookie sheets
Cookies are made in large batches for the holidays, and your cookie sheets get used over and over. Revive your cookie sheets by scrubbing with baking soda and steel wool. If necessary, allow to soak for one hour before scrubbing.
9. Move furniture
It will be Christmas all over again when you deep-clean under your furniture! There's sure to be stray pieces of ribbon under the couch, and a lost lego under the bed, and enough crumbs to feed a mouse for a year under the dining room hutch. 
Move all of your furniture to vacuum and mop underneath: couch, chairs, television, bookshelves, kitchen table, dining hutch/buffet, beds, refrigerator, oven, etc.
10. Think ahead
What stressed you out this Christmas? What do you wish was better prepared? Plan ahead for next year!
Make an event on your calendar to write Christmas cards, and another date to mail them out on time.
Organize your Christmas decorations so you can be more efficient with your decorating next year.
Think through you menu, grocery list, and cooking schedule from this year. Write it down with modifications so it will be pre-planned for next year.
What could have made this holiday better? Aim to improve it next year!
A fresh start for a new year
Ahhh! The holidays were a buzz of joy, and now your home is refreshed and prepared for a new year. 
How do you handle the aftermath of Christmas? Do you freeze leftover cookies? Do you donate old items to the impoverished in your community? Do you write thank you notes to relatives? Do you look through Christmas cards one more time? Share your post-Christmas traditions in the comments below! We may feature your ideas in a future blog!