This is a sponsored post written by me on behalf of Campbell Soup Company. All opinions are 100% mine.
There's a chill in the air finally here in Texas and that means something very important. It means it's time for soup! I've already made some vegetarian taco and potato soup, and they were welcomed with open arms, er mouths, from my family. Soup is one of our favorite weeknight meals, because it satisfies our tastes-buds and warms us from the inside out.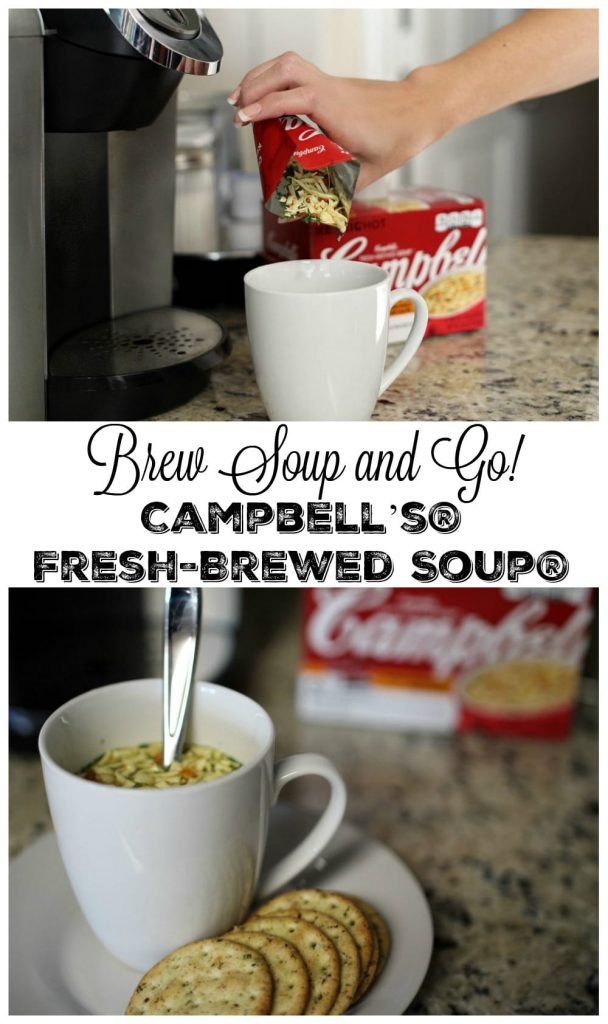 So far this month, I've introduced you to two of Campbell's new products – their line of Kids Organic Soup and one of their new Oven Sauces. Today I'm excited to share with you another new product I'm sure will be a go-to for snack or paired with something for a light lunch, when I need something fast and something warm. I'm talking about Campbell's® Fresh-Brewed Soup® Broth and Noodle Mix.
I am really bad at eating lunch and I've narrowed it down to two reasons: I'd rather keep working than eat and if I'm going to take the time to stop for lunch, it needs to be something quick to prepare and very light. Campbell's® Fresh-Brewed Soup® Broth and Noodle Mix is an easy way to enjoy a quick snack or light lunch, by adding something like crackers or a sandwich. Here's how easy it is:
Step 1: Open the noodle packet and pour it into a mug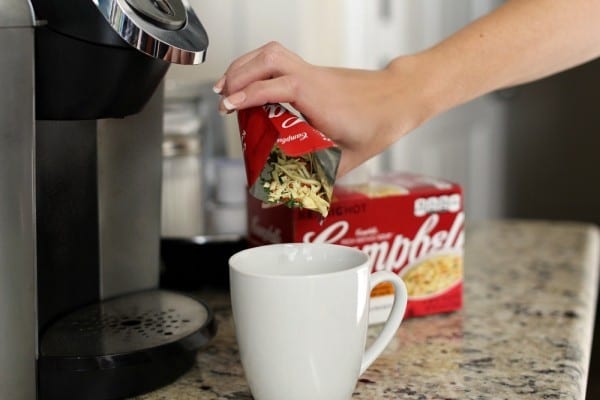 Step 2: Insert broth K-Cup® pod and press 8 oz BREW button
Step 3: Stir Soup and let is stand for 2 to 3 minutes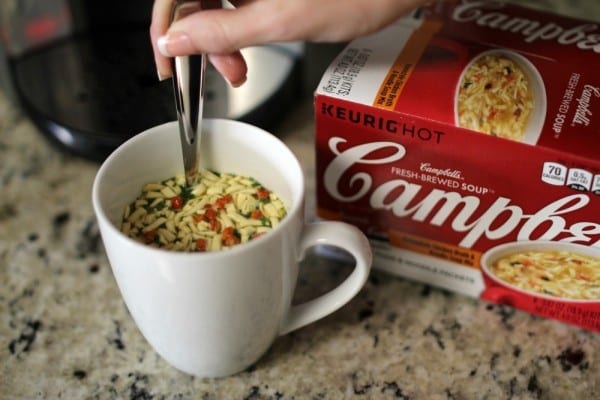 It's perfect as a snack, with only 60-90 calories or as a light lunch by adding crackers or a sandwich. You get a great tasting soup from a trusted brand, Campbell's®.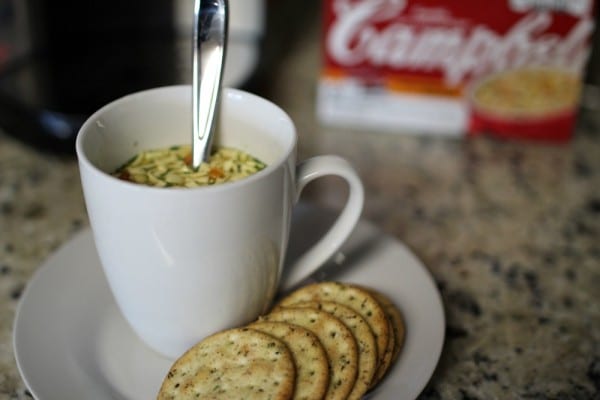 My youngest son was watching as I was making this and he said exactly what I was thinking. "These soups would be perfect for Hannah to take to college." And he is very right! My daughter has already asked for a Keurig to take with her next year to college, and I already knew I'd be sending a variety of coffees, teas, hot cocoas…and now I can add soup to list. I love that she can prepare a snack like this, right in her dorm room. One of the first questions she asked as we were touring a college was "Can we bring a Keurig". 🙂
One question I had and I'm sure it's on your mind as well is, will my soup taste like coffee and will my coffee taste like soup? The answer is no. Your soup will be fine. Your coffee will be fine. All will be fine with the world.
Have you tried these yet or seen them at your local store? If you need a hot snack for the office or home, Campbell's® Fresh-Brewed Soup®is a great solution. Visit their website for delicious Campbell's recipes and find them on social media @Campbells.