This is a sponsored post written by me on behalf of P.F. Chang's Home Menu for IZEA. All opinions are 100% mine.
Now that our kids are older (and I guess that means we are too), my husband and I find ourselves home alone a lot more. When the kids were little and went to bed early, a lot of our date nights consisting of ordering in, renting a movie and staying at home. It was easier than finding a babysitter, as well as better for our pocket book. So, you would think given the fact that our kids are older we would feel free to go out on the town for a date, right? Sometimes we do, but most of the time we'd just rather be at home. Especially on a weeknight.
So here we are, on a Wednesday night, chilling on the couch. The kids are gone. We're hungry and we don't feel like going anywhere. What's the plan? A date night! Or #WokWednesday to be exact, with P.F. Chang's new home menu frozen meals for dinner. It's easy to prepare, has quality cuts of beef, white meat chicken breast and succulent shrimp paired with crisp colorful vegetables and tender noodles, topped off with signature sauces.
Are you hungry yet?
We set the table for a romantic dinner for two. (After we cleared it off that is. It's crazy how messy the dining room table can get, right?) I went very simple, but elegant with the table setting. One way to make the table look fancy and like you tried hard, is by using chargers under your plates. I purchased these silver ones for just under $2 and they look so nice against our black table. I use any excuse possible to use our Chinese to-go containers, which I put some chopsticks in, as well as served rice in. To finish it off, we lit a candle, dimmed the lights and were ready to enjoy our meal.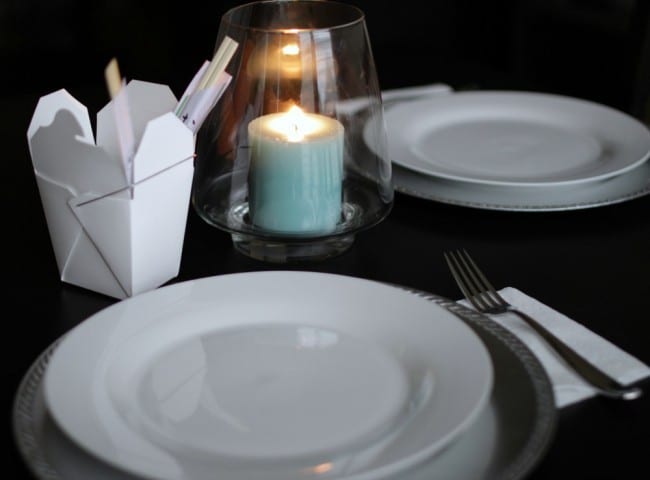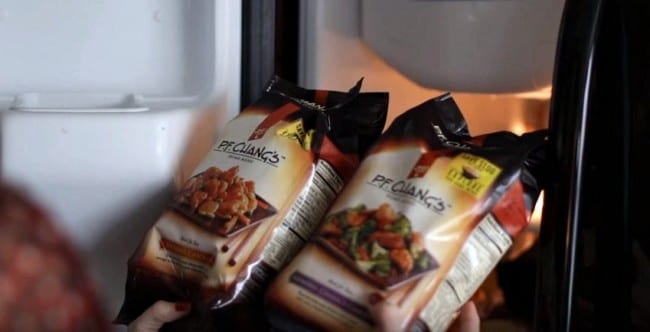 I chose orange chicken from the P.F. Chang's Home Menu frozen items. (I also had Honey Chicken and General Chang's Chicken to choose from in my freezer.) Preparation is fast and easy. Open the bag, pour it into your wok or skillet, put the lid on and cook for 12 minutes, stirring occasionally. The sauce thickens and it's ready to eat. Both the authentic Aisan ingredients and cooking techniques were designed by P.F. Chang's founder Philip Chiang himself. The aroma coming from the orange chicken filled or house and made it smell oh so good.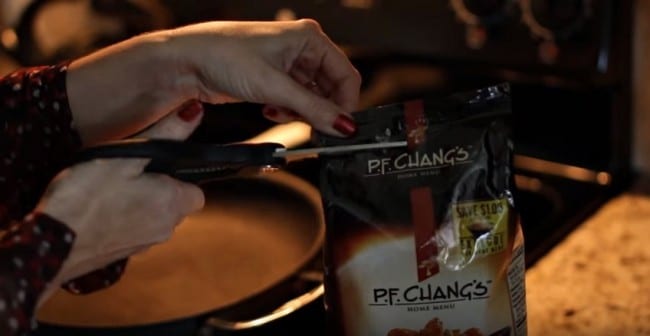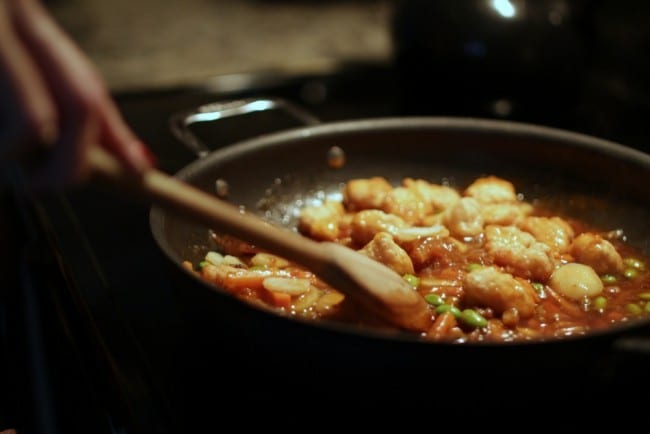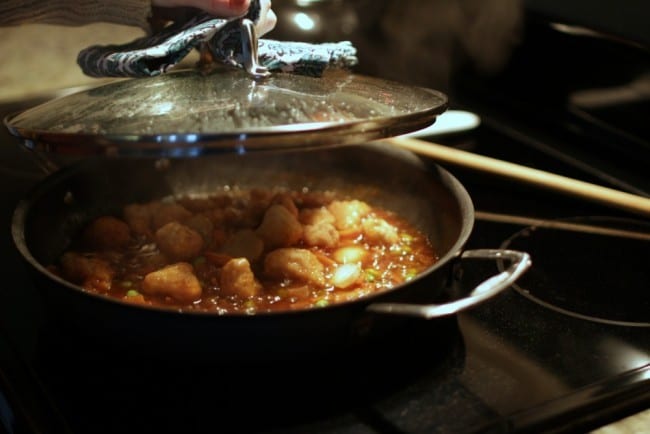 This was the perfect amount for the two of us, when served with rice. The only thing I wish we had (which I looked for everywhere) was fortune cookies. That would have been a fun way to end our date!
Check out our date night video, from preparation to sitting down and enjoying a meal together. A special guest, who was not where he was supposed to be, appears in the video.
What a perfect way to break up the week! I declare hump day to be #WokWednesday from now on. You can pick up P.F. Chang's Home Menu in your grocer's frozen aisle nationwide. Believe me when I say you'll want to pick up more than one.
In fact, how would you like the chance to win a Wok Wednesday Kit for yourself so you can enjoy a P.F. Chang's Wok Wednesday meal? Giveaway details below:
One winner will receive a Wok Wednesday kit which includes branded woks, chopsticks, tableware and more
U.S. resident only may win
Must be 18 years of age of older
Giveaway starts today (November 18th) and ends November 23rd
Winner has 48 hours to reply back with their mailing address
TO ENTER: LEAVE A COMMENT SHARING YOUR #WOKWEDNESDAY CELEBRATION IDEAS. FOR EXAMPLE: DECORATION IDEAS, FOOD PAIRING, DRINK PARINGS, ETC.
Good luck!