This is a sponsored post written by me on behalf of Sunsweet Growers. All opinions are 100% mine.
Do you have an on-the-go lifestyle? From getting the kids to and from school and activities, to work and running errands in-between all of this; do you find yourself in the car more than you're home?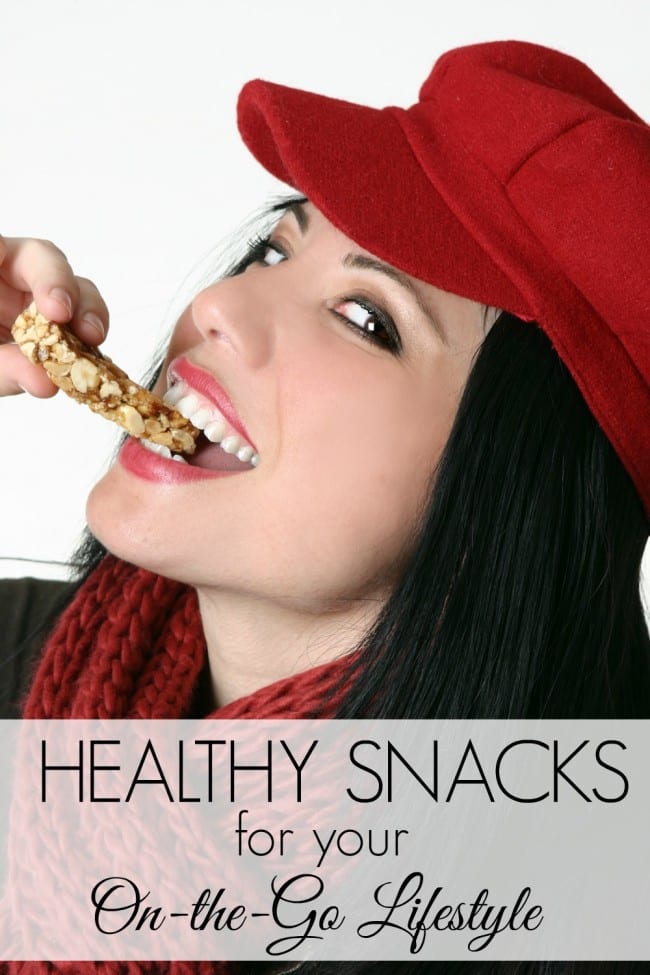 If you're a busy parent, I'm sure the answer to that question is a resounding and exhausting YES. And if your answer is yes, I imagine you find yourself and your kids snacking on-the-go quite a bit. It sounds like you could use some healthy snacks to have options you feel good about. Well, let me offer up some ideas because I can definitely relate!
5 Healthy Snacks for Your On-the-Go Lifestyle
When it comes to making healthy eating choices for my family, the one area I am lacking in is our snacks. It's also one area that can kill our budget and I've been working on ways to offer healthier snacking options.
I know myself and if my snacking options are cookies or a bag of carrots I need to peel, wash and chop; I'm going for the cookies. Every.single.time. In order for the healthy snacks to win out, I need options that are already prepared and ready to go.
Here are some ideas:
1. Cut up veggies
Having washed and cut up veggies in containers and ready to go, has been one of the best things I've done for my family. Lately I've been out of the habit and it's showing in our food choices. I like to have carrots, celery, cucumbers and peppers washed, cut and in the refrigerator on the top shelf. It makes it convenient and it's eye level, so we're more likely to grab those for a quick snack.
We can also throw some in baggies and head out the door in a jiffy.
2. Cheese sticks
I buy these in bulk when they go on sale. There's something about a mozzarella cheese stick and veggies that is extremely satisfying when the afternoon slump hits.
3. Granola
Whether it's homemade or store bought, I am a granola crazed person. I just love it. I sometimes keep a container of it in my purse and snack on it when I'm away from the house. I also eat it for breakfast every morning with some Greek yogurt. It's filling and satisfying and definitely a go-to snack .
4. Nuts like almonds or cashews
This is a favorite snack of ours because of the protein it offers and we just like the taste! Two of my kids are vegetarians and my husband and I don't eat a lot of meat as it is, so we look for ways to add more protein into our diet. Almonds, walnuts and cashews are a great way to get that.
We can also pair it with dried fruit like these from Sunsweet…
5. Sunsweet Philippine Tropicals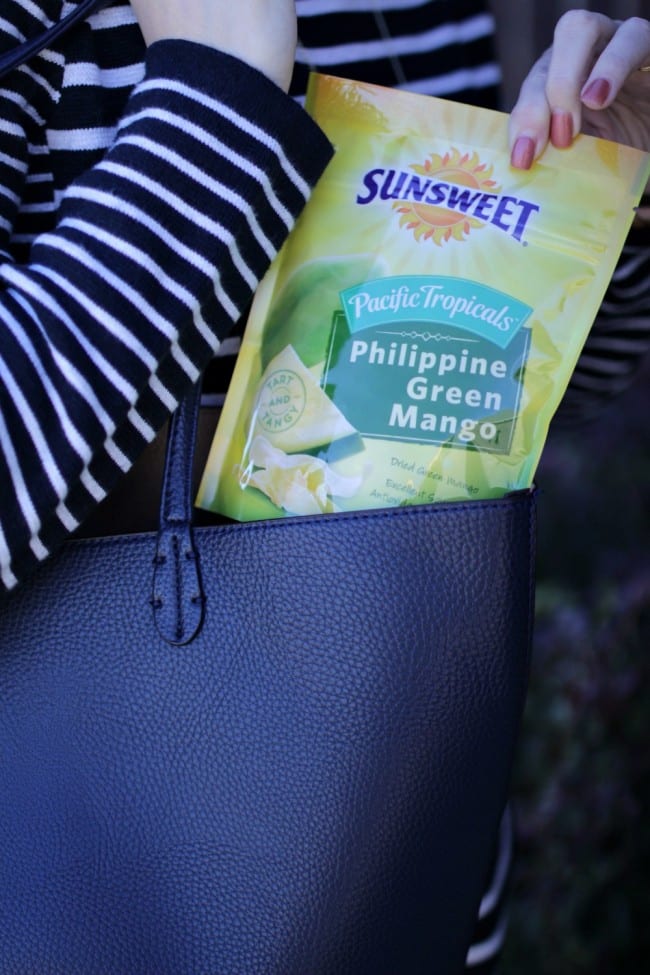 This snack is new to me and I'm excited to share it with you. I love snacking on dried fruit both at home and away from the house. Sunsweet's bags of fruit such as mango and pineapple are packed with flavor and perfect for throwing in your handbag as you head out the door. I had the chance to try four of their flavors: Thai Coconut Chip (New!), Philippine Green Mango (New!), Philippine Mango and Philippine Pineapple.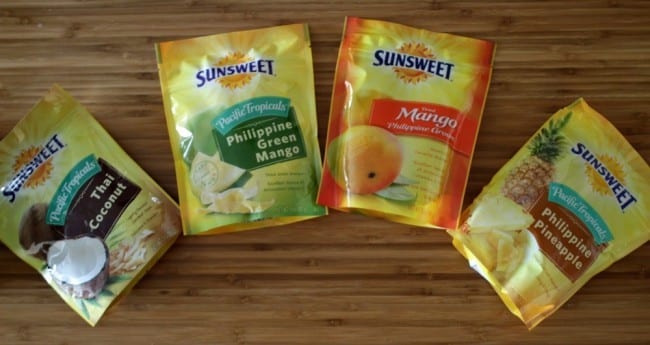 Not only are these packed with flavor, but they're guilt-free, sweet treats that make me feel like I've been whisked away to some tropical island. (This would be a dream come true.)
Their two new flavors, Coconut and Green Mango are quite the nice addition to the line. The green mango has just the right amount of tanginess and the coconut is sweet, crunchy with a little hint of vanilla.
Not only are these great snacking options, but something I would also put in my kids' lunches. Fresh fruit doesn't always hold up well in their lunch boxes.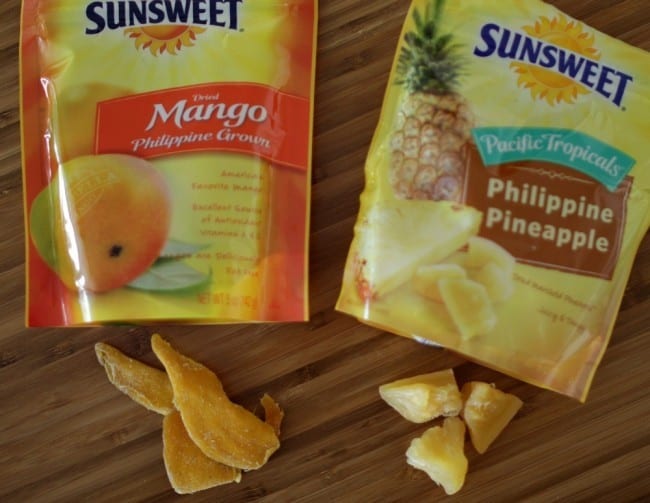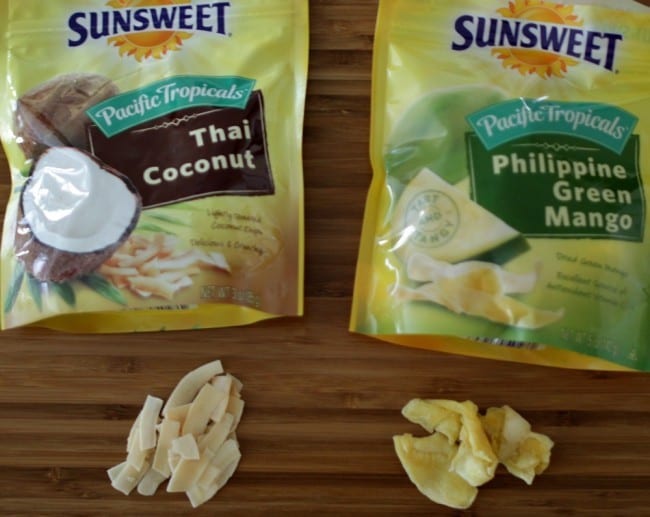 Speaking of tropical destinations…where is your dream destination? I've always wanted to visit Puerta Vallarta, Anguilla or The Bahamas. I grew up taking vacations to the beach every summer, so the love of all things tropical is in my blood.
Sunsweet has a fun sweepstakes going on called the Sunsweet Find Your Paradise Sweepstakes. Just vote for your favorite tropical destination and be entered to win a trip or a Sunsweet gift basket. You can vote daily for even more chances to win. I voted; so while I'm stocking up on sunscreen and designer sunglasses, you should head over and vote as well.
Good luck! Before you go, share with me where your dream tropical destination is, plus what your go-to healthy snacks are.