Welcome to Day 24 of 31 Days of Fashion – Tips, Tricks & Outfit Ideas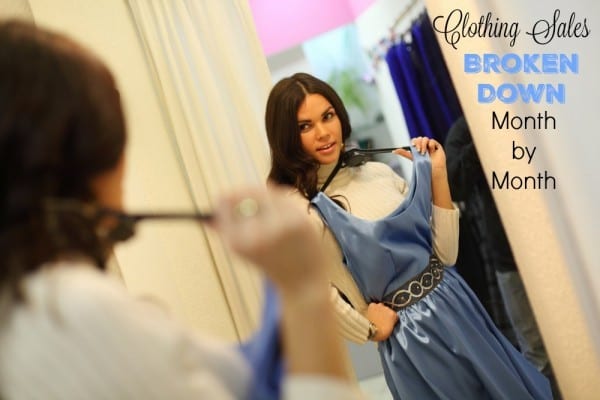 I love a good deal don't you? When I walk into a store, I make a bee line to the clearance rack. Sometimes I find a gem, sometimes I don't – but I always check there first. I've also learned over the years to shop for particular items during their sale month. I used to despise buying winter fashion in March because I wanted to wear that piece now and not have to wait. I wanted instant gratification! I've since realized that succumbing to instant gratification doesn't allow me to add to my wardrobe in a financially smart way.
When do certain apparel items go on sale you ask? Here's a basic list for you to follow. I guarantee you if you purchase that winter coat in March and save a bundle, once winter comes and you get to break out that new item…saving money will have never felt better.
January: Winter clothes and accessories always go on sale (big time) after the Holidays
February: The month of love…this is when you want to look at purchasing jewelry and lingerie
March: Rock-bottom sales on winter apparel
April/May: Athletic wear and the beginning of summer sales (stores like to give a preview of summer items and will generally have a sale along with it)
June and July: Swimwear, sandals, sunglasses + towards the end of July summer items are drastically marked down
August: Back to school clothes + office apparel
September: Look for Labor Day sales, previews of fall pieces and check the clearance rack for drastically marked down summer apparel
October: After Halloween is the perfect time to purchase next year's Halloween costume (but not for the kids because they'll change their mind on what they want to be by next year!)
November: Yep, Black Friday sales. If you don't mind the crowds, this is a chance to shop for winter coats and boots. I've long given up on Black Friday and either shop online that day or wait for Cyber Monday.
December: Holiday shopping sales galore! Winter apparel will be on sale, but January is when you'll see those rock bottom prices. The closer to the end of December you wait, the better the deals usually get. I usually don't purchase apparel or accessories in December, except for gifts.