This linen shirt dress is comfortable, looks great on everyone and can be worn many different ways. See how I styled it to create three different looks.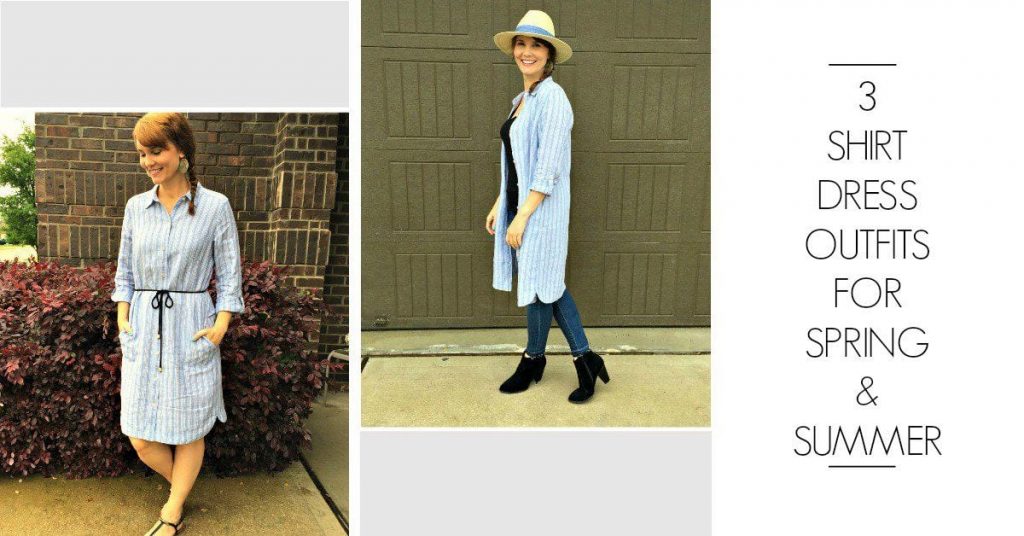 3 Shirt Dress Outfit Ideas for Spring & Summer
When I purchase a new item of clothing, one of my favorite things to do first is to experiment with all of the different outfits I can create. If it can't be worn in more than one way, I usually won't keep it, unless it's for a special occasion. But for everyday wear items, styling it to create several different outfits is a challenge I like to give myself.
I received this linen shirtdress from J. Jill to help promote their new spring line. I've really come to love their clothes over the last few years. They are well-made and have a simple, yet classic vibe I enjoy. The minute I put this new dress on, I knew it would be a staple in my wardrobe.
But can a shirt dress be worn in more than one way? It can!
Wear a Shirt Dress with a Belt
This dress didn't come with a belt and looks great without one, as you can see on their model here. But if you like a little more definition to your waist, belting it is the way to go.
I tried it with several different belts and ended up liking it best with this thin rope belt I could tie. The thicker belts made the fabric bunch up on the sides and back. The dress has thin black lines on it, so it ties in well with the black belt and black sandals. This outfit is so comfortable, I could see myself wearing it just about anywhere.
One thing I always get asked when I'm sharing a new dress is if it has pockets. And as you can see from the pictures above, it does. There's just something fantastic about a dress with pockets isn't there?
How to Dress Up a Shirt Dress
One way to dress up a casual shirt dress just a bit is by adding a denim jacket, cardigan or even blazer as a second layer. I opted for denim because I love denim jacket outfit ideas. It's one of my favorite items in my closet at the moment.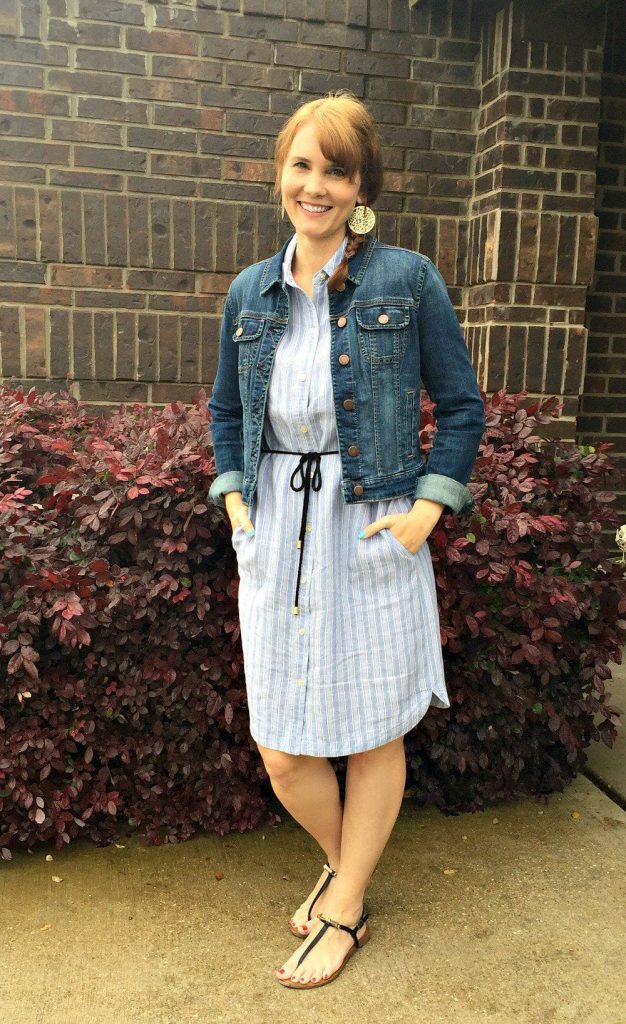 To dress it up even more, you could switch out the sandals for a wedge or short heel. Add some more jewelry and a cute clutch and you have an outfit that would work for dinner out somewhere not too fancy, but not too casual. 🙂
How to Wear a Shirt Dress with Jeans
This third shirt dress outfit is a little out of the box and I love it. Last fall I saw quite a few pictures of women wearing shirt dresses with jeans or leggings. I really like the look with leggings, but I wasn't so sure about jeans. I decided to try it myself, but to leave it unbuttoned. What do you think?
I styled the shirt dress with my new favorite cropped denim I haven't stopped talking about, a simple black tank, fringe boots and my new chambray hat. I could see myself wearing this while on vacation or out and about touring art galleries and sipping on a glass of red wine. I feel very artsy in this outfit, can you tell? Ha!
So there you have it – one shirt dress styled three different ways. Which outfit idea was your favorite? Let me know in the comments below or reach out to me on Facebook or Instagram.
For daily outfit inspiration, follow me on Pinterest and if you liked this outfit idea, save it on Pinterest to refer back to later!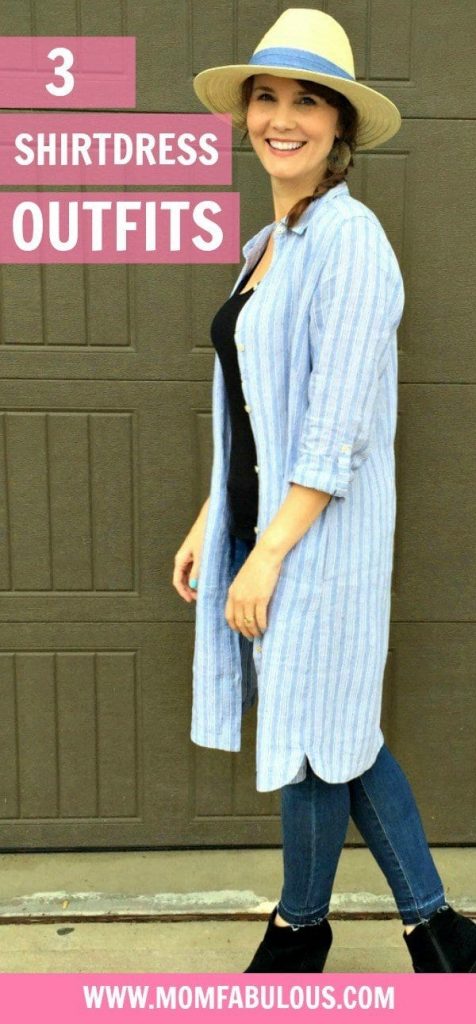 Disclosure: Mom Fabulous received samples in order to facilitate this post.