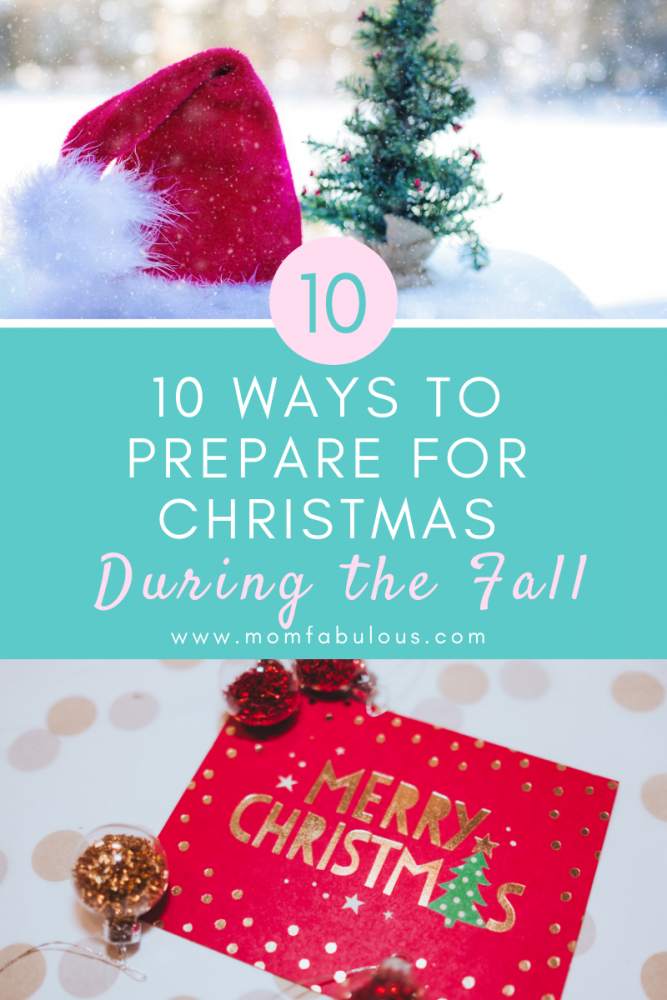 Tis the season to be jolly! Help yourself fully cherish the moments of the Christmas season by preparing in advance. You can begin these tasks in September or October so you aren't squeezing them in during the month of December.
Here's an outline of 10 things you can do this Fall to prepare for Christmas!
October
Compile a list of gifts. Who do you need to buy a gift for this year? Make a list, divided into appropriate categories (family, friends, neighbors, teachers, coworkers, etc.). Beside each name, list how much money you have budgeted to spend on that person. In another column, note ideas you have for gifts. You don't need to finalize the idea, but jot down anything you think that person may enjoy.
Create a list of card recipients. Christmas cards a part of the Christmas spirit! But they can be a time consuming burden. Alleviate that load by making a list of everyone you give a Christmas card to.
It's helpful to list addresses next to each name so you don't have to hunt down that information in December. If necessary, have one list for cards that you mail out and another list for cards that you hand deliver. This is also helpful to calculate how many stamps you need to purchase!
Plan your shopping. October means that Autumn is in full swing, which is also an opportune time to look ahead to Christmas! Now that you've listed who you will buy gifts for, consider where you will purchase those gifts from. 
Do certain stores have sale seasons? Do particular places have multiple gifts that you need to buy? Plan when and where you will do your shopping. Don't forget about the fantastic deals around Black Friday and Cyber Monday! 
As always, your gift list will be a helpful place to take notes. If needed, create another list based on what you need from different shops. (Amazon: yearly planner, water bottle. Target: blanket, kids clothes, bookshelf. Bass Pro Shop: winter jacket, backpack, sleeping bag.)  
November
Start shopping. Your gift list and shopping lists are complete. Now it's time to actually go shopping! Helpful advice:
Place your online orders in advance to avoid delayed shipping.

Don't forget to request gift receipts!

Ask if the store offers free gift wrapping.

Check items off of your list as you buy them.

Find a hidden spot in your home (or attic) to store these gifts.
Order/buy your Christmas cards, and begin addressing them. This one may seem premature, but it's honestly never too early to begin your Christmas cards! Because you know what happens…it's December first before you know it, and you haven't even considered your cards yet!
Save time by creating a digital Christmas postcard that includes photos and notes about your year, which can be printed in bulk and don't need to be stuffed into an envelope. Another option is to type a Christmas letter that can be stuffed into a traditional Christmas card. Either option works well.
Create your own card using a free platform like

Canva

.

Purchase a

return address stamper

that you can use for years.

Print all of the recipient addresses onto

stickers

to reduce the time you spent handwriting the addresses. (Yes, there is a computer program that makes sure your text exactly aligns with the stickers!)
Decorate! This is where the Christmas season launches…when you begin to decorate your home! After the Thanksgiving festivities have ended, pull out your Christmas tree and get decorating! Here is how to keep your Christmas decor organized:
Place a piece of paper on the top of each box that contains a list of contents. That way, when you pull a box down from the attic, you can quickly read what's inside. It also helps when you re-pack after Christmas because all of the items will fit back into their boxes and paper and attic totes.

Use clear packing tape and a permanent marker to label where your Christmas lights are hung. For example, next to the wall plug add a piece of tape that reads "plugs into the front porch." At the other end of that same strand, write "over front bedroom window." If that connects to another string of lights, also write "over front bedroom window" on the end of that strand. No more wondering how the lights fit together for the precise length of your house!

Change out your dishes, glasses, tablecloth, side table scarves, rugs, or wall art for Christmas with seasonal designs.
Plan your Christmas calendar, and finalize holiday plans. Things are getting real. It's time to fill up your December calendar with parties, events, cookie swaps, and festive activities! First, block off time for your kid's school parties, corporate work events, and church activities.
Next, decide when you will bake cookies and share them with your neighbors.
Add when you will take your kids shopping so they can buy gifts.
Lastly, finalize your holiday plans with family. Who will host Christmas morning to open presents? Who will make that breakfast? Who will host Christmas dinner? What do you need to cook for that? Are you going somewhere for Christmas Eve? Be sure all of these important dates are arranged and added to your family's calendar.
December
Mail out your Christmas cards. December is here! Use the first week of December to mail out your Christmas cards. Buy stamps and seal those envelopes. Mail them out within the first week to ensure they arrive to their destination before Christmas.
Bake! Baking and cooking are threaded into the culture of Christmas. Who doesn't love Grandma's original cookies, or the family heritage sweet treat that was brought to America from another country long, long ago? Grab your kids and spend a day in the kitchen baking sweet treats that make everyone's belly rumble for a taste. 
Wrap presents. Remember all of the presents that you bought last month and hid in a super secret hiding spot? It's time to get those gifts wrapped all pretty in paper and bows. Take some time when your family is busy (to avoid their curiosity) to wrap the presents. Curling ribbon in a variety of thicknesses and colorful foil bows liven up the simplest of packages! Gift bags and boxes also look stunning under the Christmas tree.
Celebrate! You've been preparing for months…literally. But hopefully your hard work paid off, allowing you the freedom to celebrate every month that December has to offer for you and your family!
Want more Christmas ideas?
Christmas can be addictive – we understand! Here are more Christmas ideas to feed your love of the holidays!