Ten Things Tuesday features 10 items I have found, tested, laid eyes on, and just fell in love with.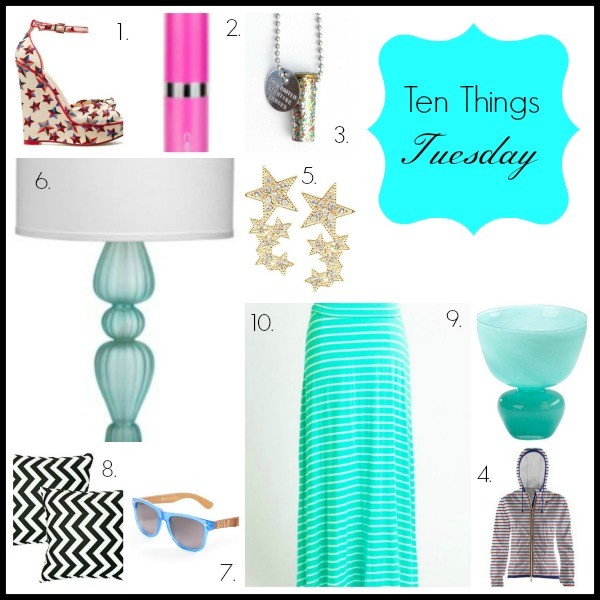 I have a lot of things on my mind for this Ten Things Tuesday. From the fact that we are supposed to be moving this week (aren't waiting for house closings FUN?) to July 4th and summer, today's list is very eclectic. Enjoy these 10 things that caught my eye this week.
1. BETSY Wedge – American Style
This summer's all about seeing stars. Betsy is a spirited wedge sandal with bow detailing and a cheery star-studded treatment.
2. Cenoire Eluo Ultra Sonic Toothbrush
I had the chance to test out this toothbrush and I absolutely love it. I'm a little obsessed when it comes to brushing my teeth and have often needed to while out and about away from the house. This electric toothbrush fits perfectly in my purse and it's also very stylish, which I love of course. Here's a little more about Cenoire…
Introducing the Cenoire Eluo Ultra designed to provide individuals on-the-go with fashion and oral hygiene while discretely disguised in a mascara style compact sonic toothbrush. The Cenoire Eluo Ultra now includes 2 speed variation selection allowing you to select from a low frequency tongue cleaning at up to 18,000 brushstrokes a minute and a high frequency deep cleansing teeth brushing at approximately 30,000 brush strokes.
The Cenoire Eluo Ultra now also includes a much fuller brush head with tongue massager. The Cenoire Eluo Ultra is a versatile, compact and fashionable sonic toothbrush allowing you to carry along with you in your pocket, bag or case anytime, anywhere while you work, travel or play.
3. Glitter FIGHTING HUNGER Necklace
Do you love fashion for cause? So do I. These Fighting Hunger Necklaces from Half United feature a ball chain with your choice of charm color. Half United is a fashion accessories line donating 50 percent of all proceeds to fighting world hunger.
Did you know that one in eight people go to bed hungry every night, and it is the number one health risk in the world. It's also as designer Michael Kors said, "the world's most solvable problem."
Take a look at all of the fashion accessories Half United has on their website. We can all do something to help fight hunger.
4.K-Way's red, white and blue striped jacket
The Claudette Klassic Printed is a waterproof jacket that can be transformed into a packable pouch on a hot summer day or worn layered with your wardrobe during the fall.
It's perfect for July 4th isn't it?
You'll thank your lucky stars for this cluster of celestial studs. Stargazer's surface gets extra shimmer from a bevy of inset gemstones.
6. Deauville Sea Glass Jamie Young Table Lamp
As you may know, I am completely redecorating our house with new colors. I've always decorated with warm tones like greens, reds and browns. But I'm moving on to blues and yellows with lots of black. We have a large black leather couch on its way and I would like to add some blue lamps to the accent tables. This sea glass lamp is absolutely stunning.
From Jamie Young, this table lamp design features an elegant candelabra silhouette in green sea glass. Topped with a simple white linen drum shade, this piece is offers a charming elegance with a slight vintage appeal.
7.  SOLO Eyewear – Bamboo Sunglasses with a Vision to Give
Sunglasses and summer – they just go together. I've never been a sunglass snob so to speak, but I am starting to see the reason to invest in a good pair. From the right protection and comfort to finding the right shape sunglasses for you face, I have definitely gotten pickier over the years.
So when I heard SOLO Eyewear was now available in my home city of Austin, Texas I was quite excited! Not only are they a great design and feature recycled bamboo temples, but SOLO has restored vision for over 3,000 people across 19 countries. Another company doing fashion for a cause. Love it.
For those of you living in the Austin area, you can find SOLO sunglasses at Altar'd State at 11410 Century Oaks Terrace. You can also order them online via their website.
8. Black and White Zig Zag Pillows
I have two of these pillows on my wish list to purchase soon. I love the design and the crisp black and white together. Won't these look great on my black leather couch with some other pops of color pillows? I'm sure they'll be good for pillow fights too, which often happens around our house.
9. Turquoise Glass Contemporary 8-Inch-H Bowl Vase
I am absolutely drooling over this vase! And I have just the spot for it. Our entryway! Did you know this about turquoise…
Said to have healing powers, provide serenity, and a positive aura, turquoise is a color that naturally occurs in nature. This vibrant and distinctively shaped vase evokes calming vibes with it cool turquoise hue. Turquoise surprisingly pairs well with many color schemes. Pair with deep browns for a pop of color, neutral tones, or even reds for a lively combination.
10. Mint and White Maxi Skirt
The maxi dress is obviously a summer must-have, but have you tried a maxi skirt? Pair it with a simple tank or other top and you're good to go. This mint one from bohme is oh so cute!