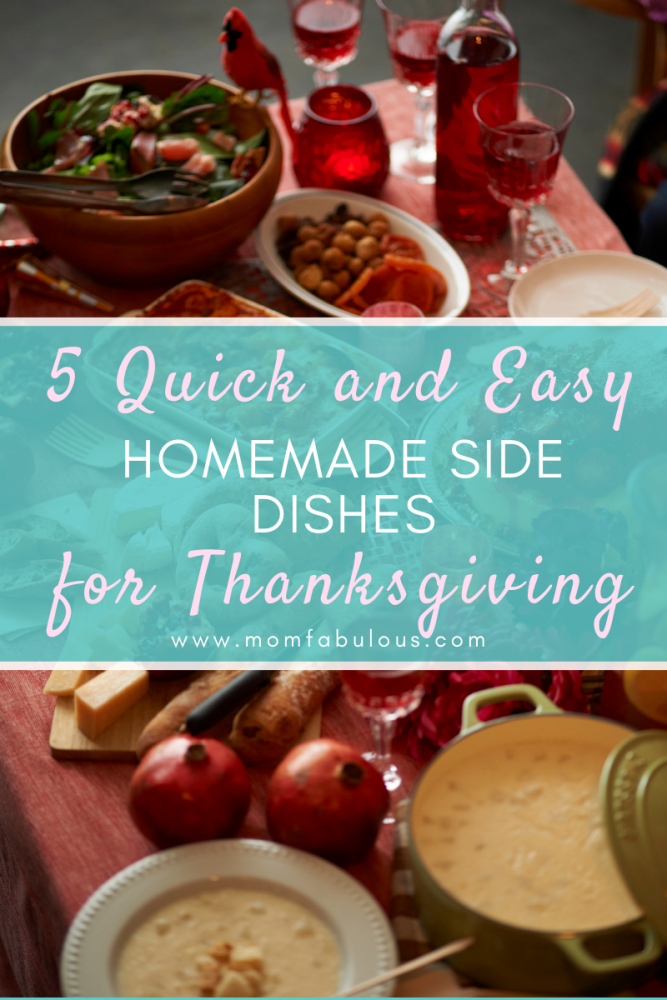 There's always a crowd at the table for Thanksgiving, and plenty of food. But this holiday is about spending time with the people you love, not slaving away in the kitchen to feed the collection of hungry folks.
This year, serve amazing and delicious (and relatively healthy) side dishes at your table without excessive prep work or cooking time. Here's a roundup of the quickest and easiest homemade side dishes for your Thanksgiving meal!
Honey Orange Roasted Carrots
If you haven't had the pleasure of enjoying carrots with the flavors of orange or the sticky sweetness of honey, you're missing out! Purchase a bag of peeled and washed baby carrots. Toss them in 1 tablespoon of honey and 2 tablespoons of orange juice. Bake at 350F until the carrots are fork tender! 3 ingredients and less than 30 minutes means these are perfect for your Thanksgiving table.
1 bag of baby carrots

1 Tablespoon honey

2 Tablespoons orange juice (either freshly squeezed or from a jug)
Whisk together the honey and orange juice in a bowl.

Add the carrots and mix until they are well coated.

Bake at 350F for 20-30 minutes until the carrots are fork tender.

Optional: For added color, sprinkle with parsley before serving.
Quick Biscuits
Bread is a staple side dish over the holidays. And it's often one of the only sides that get completely eaten (among a Thanksgiving table laden with at least a dozen options). But when it comes to baking, bread can be a time consuming task. Nevertheless, these quick biscuits actually take 5 minutes to prep and 12 minutes in the oven – less 20 minutes total!
2 cups app-purpose flour

4 tsp baking powder

4 tsp sugar

½ tsp salt

½ cup butter, softened

? cup milk
Preheat oven to 450F.

Combine the flour, baking powder, sugar, and salt in a bowl.

Using your hands, combine the softened butter with the mixture until coarse crumbs form.

Make a well in the center of the mixture. Pour in the milk. Using a fork, gradually incorporate the milk until moist.

On a floured surface, gently knead the dough until it holds together. Pat into an 8 inch square and cut into 12 pieces.

Place on an ungreased baking sheet, allowing 1 inch of room between biscuits. Bake at 450F for 10-12 minutes.
Roasted Asparagus with Balsamic Glaze
Asparagus has a refined reputation, so serving it for a holiday makes sense. Find the thinnest stalks in the store; the thicker ones are often too tough or stringy. After washing them, take one of the thickest stalks and grab the "head" with your left hand and the other end with your right hand. Gently bend the stalk until it naturally snaps off the bottom end. Now, use this length as a guide to snip off the bottom ends of the other stalks. Hint: rubber band them together to make it easier to cut the entire bunch at once! Then, coat with olive oil, drizzle with balsamic glaze, and sprinkle with salt for a perfect balance of flavors. 
1 bunch of asparagus

1 Tablespoon olive oil

Balsamic glaze
Wash and dry the asparagus. Bend the thickest stalk to see where it naturally snaps. Use this as a guide to trim the other stalks in the bunch.

Coat the asparagus in olive oil, then lay out on a greased baking sheet.

Drizzle with the balsamic glaze (approximately 1-2 Tablespoons) and sprinkle with salt.

Bake for 15-20 minutes at 375F.
Dale's Green Beans
This recipe couldn't be tastier or easier! Steamed green beans simmered in butter, garlic, and Dale's Steak Seasoning. The best part is that you can let the green beans simmer as long as you need to…which could be a long time on Thanksgiving!
2 cans of green beans, drained

2 Tbsp butter

2 cloves garlic, minced

¼ cup Dale's Steak Seasoning (

homemade recipe

)
Melt the butter in a skillet over medium heat. 

Add the garlic cloves and simmer for 2-4 minutes until browned.

Mix in the green beans and Dale's sauce. Stir, and simmer on low for at least 15 minutes (or as long as you need). 
Secret Ingredient Mashed potatoes
Mashed potatoes are always a crowd pleaser. It does take time to wash and peel every single potato. But did you know that you can peel them ahead of time, diced them, and add them to a pot of water? They can sit like that for a few hours until you're ready to boil. And these special mashed potatoes have a secret ingredient: Papa John's garlic butter sauce!
6-8 potatoes, peeled (any kind)

½ cup milk (or more, if needed) 

1-2 Papa John's garlic butter sauces
Boil the potatoes until the are fork tender. Drain. Add the Papa John's garlic butter and milk, then mash with a hand masher or whip with a hand blender.

Serve with a sprinkle of fresh chives or parsley on top.
Another reason to be thankful
With these quick, easy, and delicious side dishes, you can spend more time with your family and friends on Thanksgiving instead of being secluded in the kitchen.
What are you favorite holiday dishes? 
Looking for more recipes? You may also like:
Here's even more inspiration for your Thanksgiving: