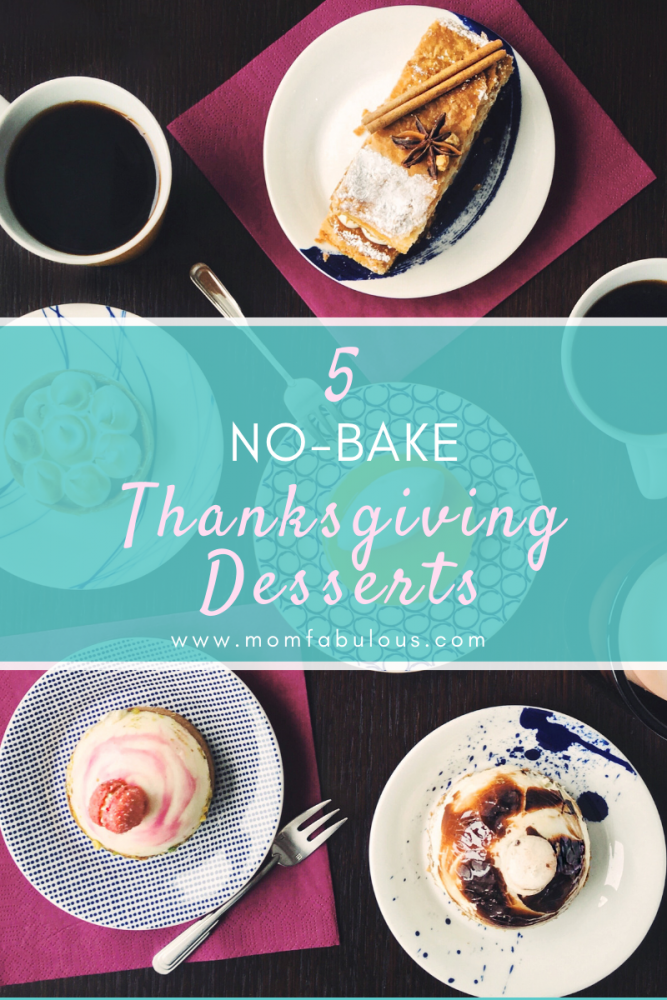 The table is always full for Thanksgiving: turkey, mashed potatoes, green bean casserole, stuffing, sweet potato casserole, rolls, and more! Everyone gathers around for a delicious meal and grateful conversation…and to completely stuff their bellies with mouth-watering food. 
After the meal, everyone cleans up the dishes and puts away the leftovers. Some families play football in the backyard, or take a walk in the neighborhood, or plan their Black Friday shopping expeditions.
After a few leisurely hours, it's once again time to gather around the table (even if your belly is still full)! This time it's for dessert. Thanksgiving is known for its decadent pies: pumpkin, pecan, or apple. 
Mama, I trust that you love dessert. But maybe you're running short on time to bake a pie from scratch, or have little ones who want to help in the kitchen, or just don't have a knack for baking. Whatever your story, here are 5 no-bake desserts that you can quickly make for Thanksgiving!
No-Bake Dark Chocolate, Sea Salt, and Coconut Dessert
You won't be able to exercise self-control once you take a bite out of these dark chocolate and sea salt bars! The salt captivates your taste buds, while the coconut adds crunch, and the cocoa powder adds a rich depth of flavor. Not to mention the nutty addition of nut butter! But here's a wise bit of advice for the no-bake Mama: use a wooden spoon and a sturdy bowl for this recipe…you'll get a mini arm workout stirring these ingredients together!
? cup cocoa powder

½ cup all-purpose flour

1 tsp salt 

3 cups unsweetened coconut flakes

2 Tbsp coconut oil, softened or melted

? cup honey/agave nectar

½ tsp vanilla extract

1 cup peanut butter (or another nut butter)
Using a hefty wooden spoon, mix together the cocoa powder, flour, salt and coconut flakes.

Mix in the coconut oil, honey and vanilla.

Stir in the peanut butter and mix mix until thoroughly combined. Scrape the sides of the bowl as needed.

Press into an 8×8 glass dish. Refrigerate for at least 1 hour, or until ready to serve. Store in the fridge for up to 2 weeks. 
No-Bake Yogurt Pie
If you're a fan of fruity desserts, you must try this no-bake yogurt pie! With only 3 ingredients, it's a light and healthy options (which is welcome after a Thanksgiving feast). Experiment with different berry flavors of yogurt, like blueberry, mixed berry, or strawberry banana.
2 8oz containers of fruit yogurt

1 8oz package of cool whip

1 graham cracker crust
Combine the fruit yogurt and cool whip. 

Pour into the graham cracker crust and freeze overnight.

Thaw in the refrigerator for 45minutes before serving.
No-Bake Peanut Butter Cornflake Cookies
Most people associate cornflakes with breakfast, but they are a great base for a no-bake cookie. They bear a crispy crunch without added sugar. Plus, they hold up well when you stir them to combine with the melted topping. This recipe calls for corn syrup, but you can easily substitute that with honey or maple syrup. After you combine the ingredients, dollop a spoonful onto wax paper to dry. Be sure to form the ball into a cookie-shape or you'll be left with a blob! Mama tip: your kids will get very sticky if they help you make this no-bake dessert! 
1 cup sugar

1 cup corn syrup (sub with honey or maple syrup)

¼ cup butter

1 cup peanut butter

6 cups unsweetened Cornflake cereal
Boil the sugar and corn sugar until the sugar is melted. 

Remove from heat and add the butter and peanut butter until combined.

Pour over the corn flakes and mix together well.

Spoon a heaping tablespoon onto wax paper until hardened.
No-Bake Chocolate Peanut Butter Oatmeal Cookies
If you've ever enjoyed a no-bake cookie, it was probably this classic recipe. Instant oats combine with peanut butter and cocoa powder to form the traditional flavors of the holidays. Your little helpers can stir the "sauce" together, or shake everything together in a zippered bag. Plus, who cares how many little drips form on the wax paper as your helpers spoon the mixture into cookie balls…they can eat the crumbs as payment for their hard work! 
½ cup cocoa powder

½ cup milk

½ cup unsalted butter

1½ cup sugar

1 tsp vanilla extract

½ cup peanut butter

3½ cups uncooked instant oats
Combine the cocoa, milk, butter, and sugar in a pot. Bring to a boil until thoroughly combined. 

Remove from the heat. Stir in the vanilla and peanut butter, or shake everything together in a large zippered bag.

Then stir in the oats.

Drop onto wax paper in heaping tablespoons. Let cool.
No-Bake Chocolate Peanut Butter Bars
Layered dessert bars look elegant on a Thanksgiving table. Don't shy away from this recipe for fear of it being too involved. In fact, you can easily combine the base layer ingredients in a stand mixer! It turns out like play doh so it's easy to press into a pan Then, you simply melt the remaining two ingredients together and pour it over the top. The people at your Thanksgiving table will be grateful for this rich dessert!
For the base:
¼ cup butter, softened (or coconut oil or vegan butter)

1½ cups creamy peanut butter

1 tsp pure vanilla extract

1 cup powdered sugar

1 cup graham cracker crumbs*

¼ tsp sea salt
For the topping:
1 cup semi-sweet chocolate chips

1 Tbsp creamy peanut butter
Cream the butter, peanut butter, and vanilla until combined.

Beat in the powdered sugar, graham cracker crumbs, and salt.

Pour into an 8×8 glass baking dish and press firmly to fill the pan.

Next, melt the chocolate chips and peanut butter until combined. Pour over the peanut butter base. 

Refrigerate for at least 1 hour, then cut into squares.
Take your time for what you love
If you love baking, your Thanksgiving guests will surely find your pies and cakes to be divine! But for the Mamas with limited time, minimal baking skills, or an excessive amount of little helpers, these 5 no-bake Thanksgiving dessert recipes are perfect.
What is your go-to Thanksgiving dessert? We'd love to try out your recipe!
Want more holiday recipes? 
Read more articles for Thanksgiving inspiration: