*Thank you to Lay's for sponsoring this post. All opinions are my own.
Alright, ladies! It's time for some serious bonding over holiday movies, with food and drinks, while wearing our pajamas. I'm talking about a pajama party for us women. So politely ask the husbands, boyfriends, and kids to leave and invite your girlfriends over for one very fun night! Don't worry; this pajama party is low prep and low stress but high on fun. I've got the printables you'll need, the food suggestions you'll want (no cooking involved my friends) and the holiday movie list prepared for a night to remember.
Are you ready? Perfect. Let's do this!
And remember….NO BOYS ALLOWED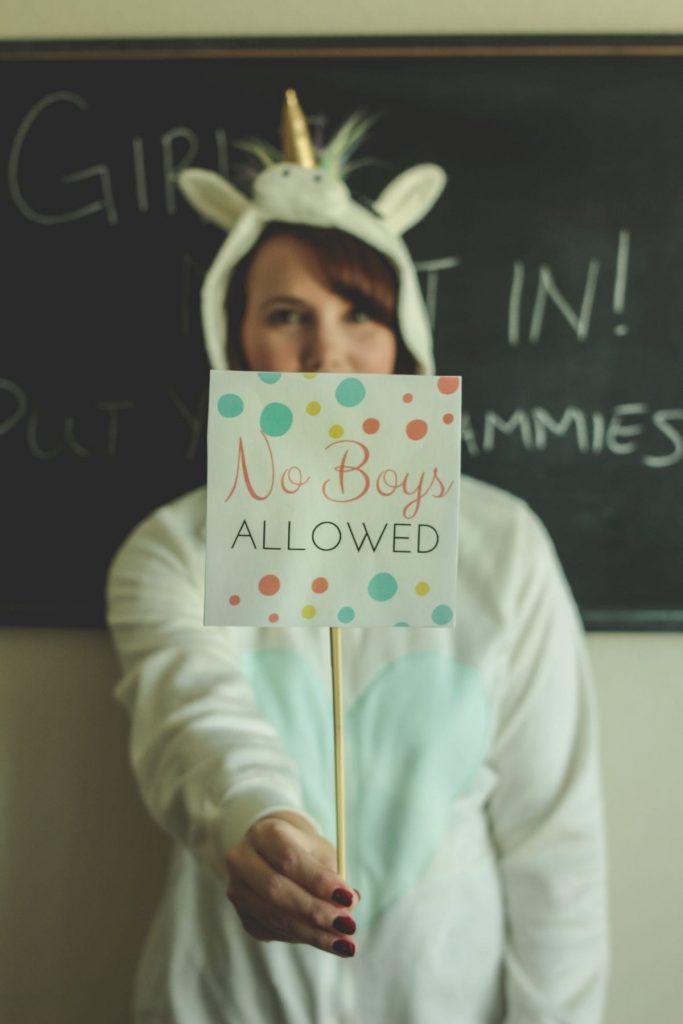 The Invitations
Since it seems most invitations are done digitally these days, it makes things a little easier on us busy gals. I created this Keep Calm invitation that you can either send digitally with the party information attached, or you can print it and write the party information on the back if you decide to mail it. To send digitally, just right click and save to your computer. To print, just click on the "click to print" link below the picture.
The Table Décor
I went very simple with the table décor and love how it turned out. I am all about using what you have when it comes to entertaining. So I created this Keep Calm printable, grabbed a frame I already had and created a cute table display with it. I went with a gold and black theme and used some plates and napkins I had leftover from my daughter's graduation party. After a trip to the local store, I had some holiday trees and ornaments for the table and we were good to go! Here's the Keep Calm Printable. Right click to save or click on the link below
Here's the Keep Calm Printable. Right click to save or click on the link below.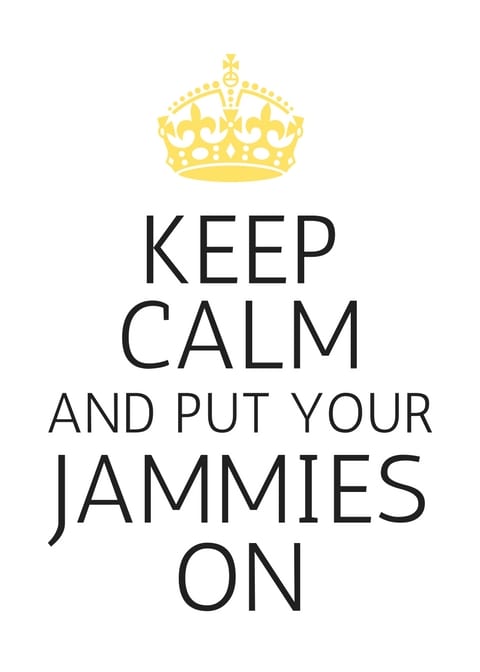 Goodie Bags
I'm a sucker for sending my party guests home with a little something, so I created these very simple goodie bags. I put lotion, body wash, a pouf and candy in a cellophane bag with shredded paper that matches the party colors. Just tie up the bags and place them on the table to use as décor.
The Food
I love to entertain and have people over, but if you work full-time like I do (or if you're chasing kids around all day) and you want to host a get together on a Friday night, preparing a bunch of hard to make appetizers is not happening. But what is happening is a fun girls' night with yummy food featuring items like Lay's Kettle Cooked Chips, Lipton Peach Iced Tea, and Shock Top. Plus some Smartfood Indulgences Raspberry & Dark Chocolate Popcorn! Oh, my.
Since this was a movie themed pajama party, I decided it would be fun to serve the food in trays us girls could just take to the couch. I picked up black storage trays and taped a piece of paper with our names written on them to the front of each. I used some takeout boxes I had left over from another party I hosted and filled one with Lay's Kettle Cooked Chips and one with the Smartfood Indulgences Raspberry & Dark Chocolate Popcorn. There was enough room for a cup and drink as well.
As soon as we were ready to watch the movie and eat, we could grab a tray and head to the couch.
For a fun dessert, I used disposable champagne glasses and put gold candy in the bottom and set a cupcake on top. I thought it looked super cute, plus the girls could grab the cup whenever they were ready to dig in. I also had extra Shock Top and Lipton Peach Iced Tea on the bar cart with a bucket full of ice. I made sure no one would go hungry or thirsty and that they knew could help themselves at any time.
The Photo Booth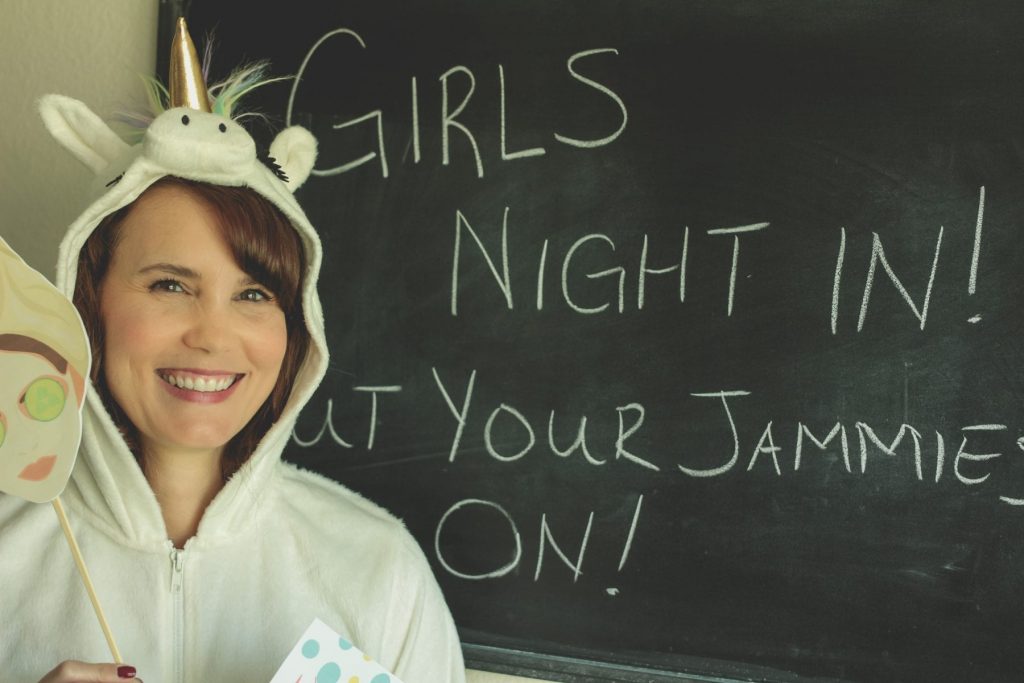 When you get a group of girls together, it's important to have photo opportunities right? I have a chalkboard on the wall in my kitchen, so whenever we have parties I write something on it and create photo props for pictures. Since this was a Girls' Night In, I created a couple of spa themed and one "No Boys Allowed" printable.
• Print Girl with Cucumbers & Face Mask
Also, make sure the girls wear photo ready pajamas like the unicorn onesie I'm wearing. Does it get any better than a unicorn onesie? No, no it does not. "Be yourself. Unless you can be a unicorn, In that case, you should always be a unicorn."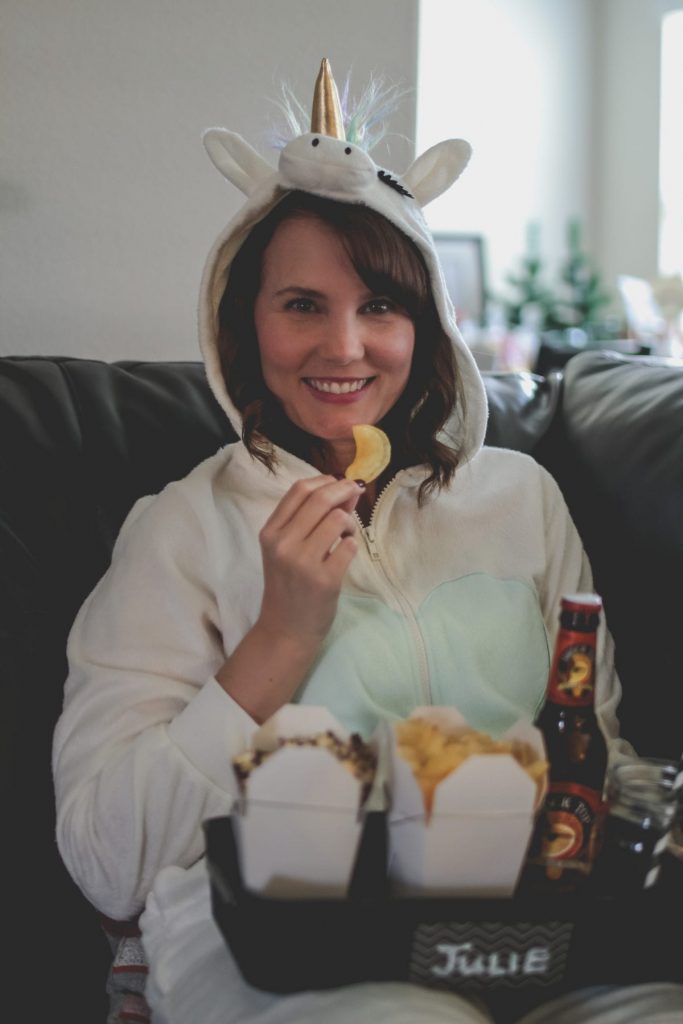 Are you ready to get the girls together for a Holiday Pajama Party? I hope you enjoyed these ideas and find them easy and stress-free. Because really, it's all about having fun and enjoying each other's company. Be sure to visit Fritolay.com to choose your snack time. They have a little something for every occasion.
See more tips and tricks for your holiday parties at www.pinterest.com/fritolay.