Let's face it: If you work outside the home, your work wardrobe is incredibly important.

But if you're a simple gal who would rather not really think about your clothes, but you want to look the part and be taken seriously, you know you need to put some effort into your wardrobe.
I love clothes, but I don't like to shop. Meaning, I like to look nice and I like putting outfits together, but throw me into the mall and my eyes glaze over. Just ask my kids and husband.
That's why I like to build my wardrobe off good quality foundation pieces that all work together. Some might call it a capsule wardrobe. I like to call it how I've been dressing (without realizing it or calling it anything) since my teens.
Think about this: If I asked you to go into your closet right now and pull out the items you've worn in the last month, most of you would pull out the same 10 to 15 items. We naturally reach for the same things to wear day in and day out.
Why? Because they make us feel good. Because they fit us well. And because we know they work for us. (Whether you actually think you know that or not.)
Even if you think you have no style whatsoever, there's something to be said about that favorite blazer you keep wearing. It could be that someone complimented the color on you. It could be the fact that it's a blazer and it makes you feel kind of like a boss woman. Or it could be that it's very comfortable and needs just a few adjustments.
I promise you there's something about it that's right, and there's a reason it's in your clothing rotation. You know more about your style than you're giving yourself credit for!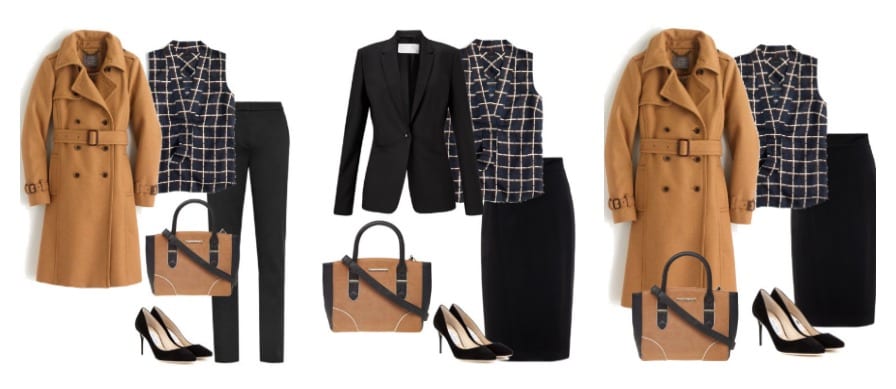 Okay, so let's dig into these 13 workwear essentials.
Let me preface this by saying this is a very basic and very simple wardrobe for the working woman. I am not saying, "This is all you should ever own so don't you dare go out and buy another handbag". The purpose of this guide is to give you a fabulous foundation for a wardrobe that all works together. Also, I hope it can show you how amazing 'purchasing with intention' can be.
This is my goal with these 20 outfit ideas from only 13 pieces of clothing. It's also my new motto for Mom Fabulous:
To help busy women with daily life solutions so they can free up mental space and reduce daily decision stress.
I want to help you figure out solutions for things like your wardrobe (home, schedule, and meals coming soon!) so you can have the time and energy to focus on the things in life that really matter the most to YOU.
Whether that's really being able to focus on the job you love or the job that's necessary for you to have so you can provide a roof over your family's head. Or maybe you'd like to spend some time volunteering somewhere. Or maybe you'd like to take a cooking class.
Whatever it is, I'd like to help give you some space in your mind and maybe even your schedule.
*If you would like a printable version of these outfit ideas, including a shopping list you can take with you to the store, please sign up via the form below to immediately receive your copy. I like to pin up printable outfit ideas in my closet for inspiration when I get dressed in the morning. When I'm in a rut, I just look over at the pages on my wall and I have instant, easy outfit ideas!
13 Workwear Wardrobe Essentials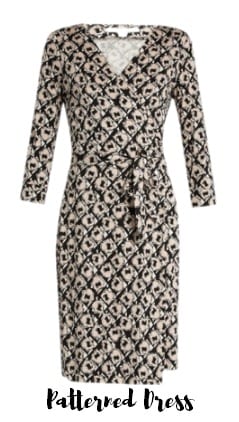 20 Workwear Outfit Ideas
SHOPPING RECOMMENDATIONS
(*Prices subject to change)
TRENCH COAT:
Under $100: Zulily
Under $200: London Fog at Nordstrom | Jessica Simpson Fit & Flare | Tommy Hilfiger Faux-Sherpa | Calvin Klein at Zappos
Under $300: Kate Spade at Nordstrom | Tweed Coat | Zulily
BLACK BLAZER:
Under $50: H&M Fitted Blazer
Under $100: Maison Jules Two Button Blazer | Liz Claiborne Two Button Blazer | H&M Tuxedo Blazer | Tommy Hilfiger One Button Blazer | Kasper at Macy's
Under $200: Vince Camuto One Button Blazer | T Tahari Suit Jacket | J. Crew Wool Blazer
CREWNECK SWEATER:
Under $50: Croft & Barrow in Many Colors at Kohl's | Worthington Striped Sweater | L.L. Bean | Napa Valley in Several Colors | ASOS Small Striped Sweater
Under $100: Brooks Brothers Striped Sweater | Dark Navy Striped Sweater | Cashmere Sweater at Bloomingdale's in Many Colors | Neiman Marcus Cashmere Sweater in Many Colors
CARDIGAN:
Under $50: Macy's | Target | Macy's in Many Colors | Calvin Klein Zip Front | H&M Knit Cardigan (very low price) | Kohl's in Many Colors | New York & Co. in Many Colors
WHITE LONG SLEEVE BUTTON UP SHIRT:
Under $50: Liz Claiborne at JCPenney | Charter Club at Macy's | Ruffle Collar at LOFT | Style & Co at Macy's
Under $100: Cotton Poplin at LOFT | BCBGeneration
PATTERNED BLOUSE:
Under $50: H&M Patterned Blouse | Lands' End Patterned Bow Blouse | H&M Sleeveless Blouse | Kohl's Sleeveless Blouse | Old Navy V-Neck Blouse
Under $100: Nine West Sleeveless Plaid Blouse | Sleeveless Floral Blouse at Macy's | Houndstooth Blouse at Talbots | Sleevess Petal Cascade Blouse
LIGHT DRESS PANTS:
Under $50: Straight Pants from Dress Barn | Liz Claiborne Ankle Pants |
Under $100: Talbots Ankle Pants | Calvin Klein Madison Pants | Lee Natural Fit Trousers at Macy's |
Under $200: Cigarette Pants from J. Crew
BLACK DRESS PANTS:
Under $50: Worthington Modern Fit at JC Penney | Apt 9 at Kohl's
Under $100: Talbots Windsor Pant | The Drew Collection The Limited | Nine West at Macy's |
Under $200: Eileen Fisher at Macy's | Elie Tahari at Neiman Marcus | Ankle Pants at Nordstrom
BLACK PENCIL SKIRT:
Under $50: Alfani at Macy's | Vince Camuto at Macy's | Alfred Dunner at JC Penney | Apt. 9 at Kohl's
Under $100: Anne Klein at Nordstrom | Calvin Klein at Macy's | No. 2 at J. Crew
Under $200: J. Crew No. 2 Wool Pencil Skirt | Eileen Fisher at Neiman Marcus
PATTERNED DRESS:
Under $100: Shelli Segal Wrap Dress | Lauren Ralph Lauren Wrap Dress at Macy's | Liz Claiborne Wrap Dress at JC Penney | The Limited Sheath Dress | Ellen Tracy Sheath Dress at Nordstrom |
Under $200: Betsey Johnson Floral Print Sheath | Lily Pulitzer Bay Sheath Dress | Emerson Rose Lace Sheath Dress at Nordstrom | Karen Kane Wrap Dress at Bloomingdale's
TOTE BAG:
Under $50: Colorblock Faux Leather Tote | Rosetti Tote at JC Penney | Black Faux Leather Tote at Target | Dorothy Perkins Tote | Reversible Tote at Nordstrom
Under $100: Urban Original Tote Bag at Neiman Marcus | Braided Handbag at Nordstrom | Tote with Chain Links Only at Macy's |
Under $200: Emma Satchel at Fossil | Michael Kors Signature Tote | Stone & Co. Satchel at Kohl's | Millie Tote at Macy's | Calvin Klein Reversible Tote at Macy's
BALLET FLATS:
Under $50: LC Strappy Flats at Kohl's | Halle at Saks Fifth Avenue | Tahari at Lord & Taylor | Diba London at JC Penney | Style & Co at Macy's
Under $100: Bandolino at Macy's | Sam Edelman at Shopbop | Michael Kors at Lord & Taylor
BLACK HEELS:
Under $50: Mid Heel Pump by Sole Society | Pointed Toe Heel by Sole Society | Peep Toe Heels By Boohoo | Ankle Strap Heels at Forever 21
Under $100: Strappy Heels by ASOS | Michael Kors T-Strap Heels | Classic Pointed Toe Pumps | Head Over Heels at Dorothy Perkins | Michael Kors Kitten Heel
Under $200: Cole Haan Sling-Back Pump | Mira Midi Heel by Madewell | Sam Edelman Mid Heel Pump