There's just something about a pair of white jeans in the winter. It's a little unexpected, and a lot of fun, to create different white jeans outfit ideas and I think you will enjoy these.
*This post contains some affiliate links for your convenience. Click here to read my full disclosure policy.
Whether you want to add a bright pop of color like this gorgeous red sweater or go more neutral like I did with a light pink sweater, your options with white denim are endless.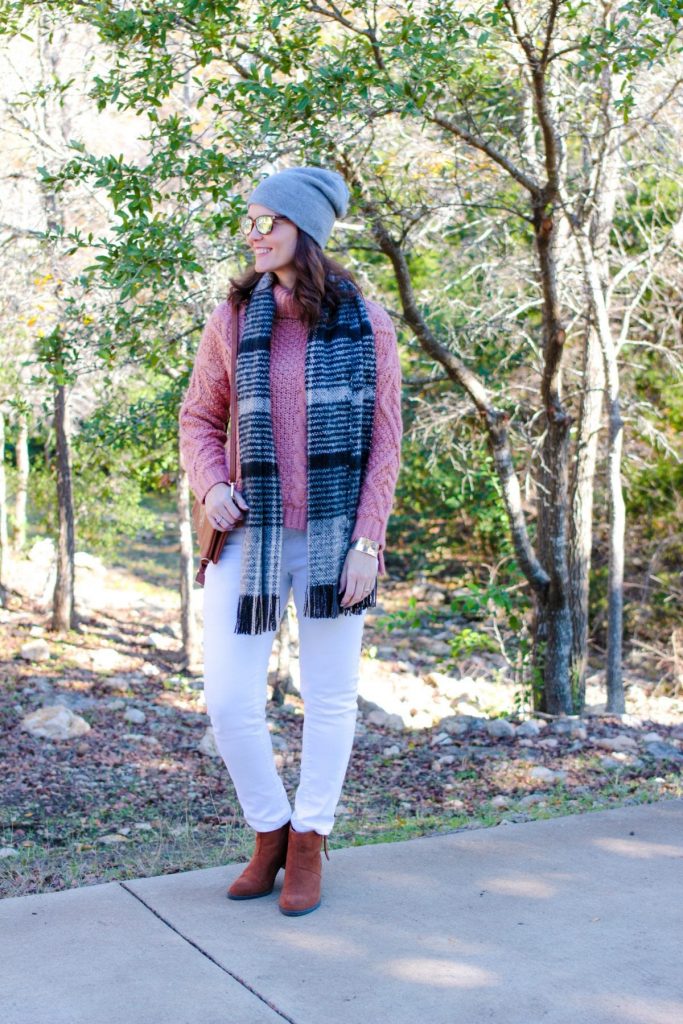 I changed my mind over and over again on what shoes to wear with this outfit and finally settled on these darker brown boots. I'm on a bit of a clothing spending freeze because a) it's Christmas and I'm spending money on gifts and b) I started up Stitch Fix again and my new box will be here any day.
If you've never heard of Stitch Fix, a super quick description of it is it's an online subscription and personal shopping service. You keep what you like and send back what you don't. Imagine being assigned a personal stylist who gets to know you and your style + what fits your needs. I'm really looking forward to seeing what comes in my box, plus my son is trying out Stitch Fix Men and I can't wait to see what they send him.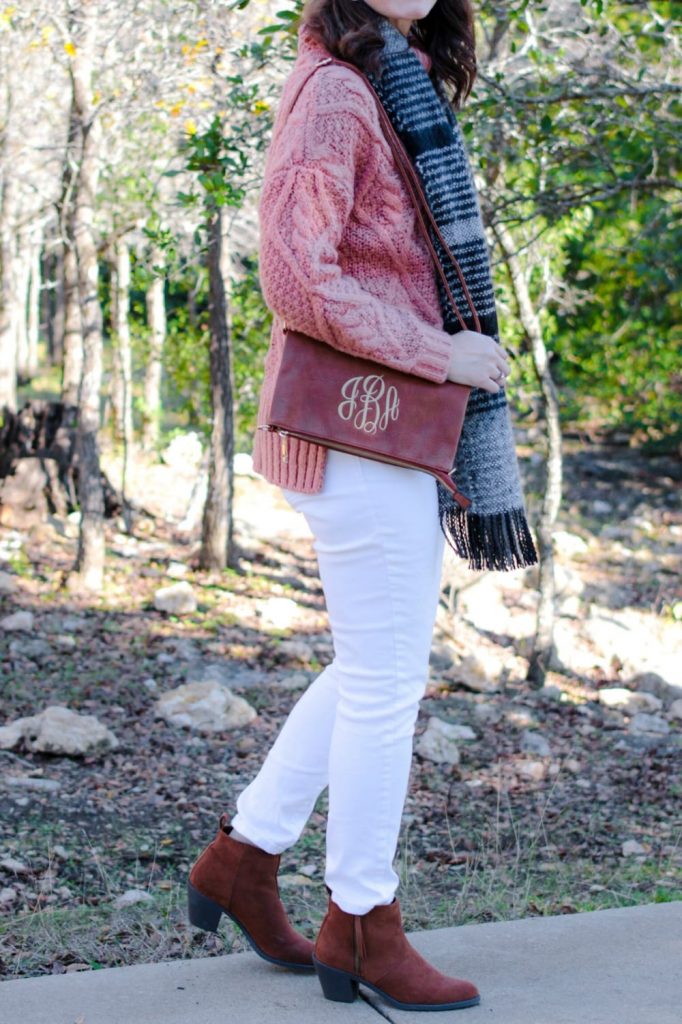 Back to why I changed my shoes so many times…I seriously need new white jeans. The ones I'm wearing don't quite work with ankle boots and they also don't work with tall boots since they scrunch up at the knees when I put the boots on. I need a pair of white denim that are little tighter at the ankles so they'll roll properly with ankle boots or stay put for tall boots. I also tried on this outfit with a lighter pair of boots and they looked really nice.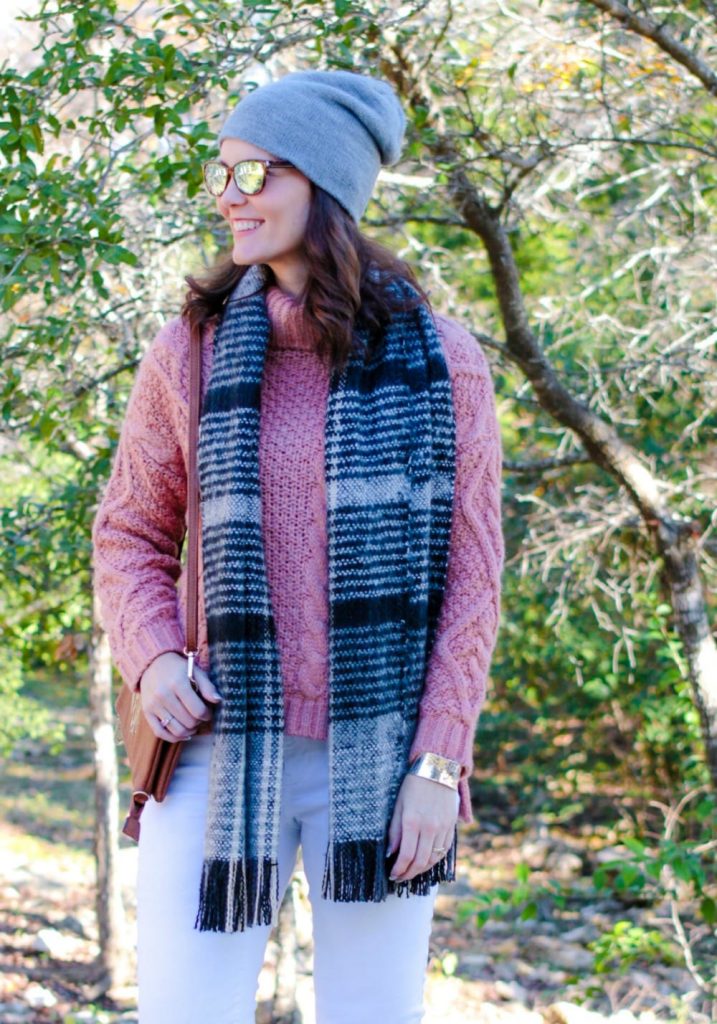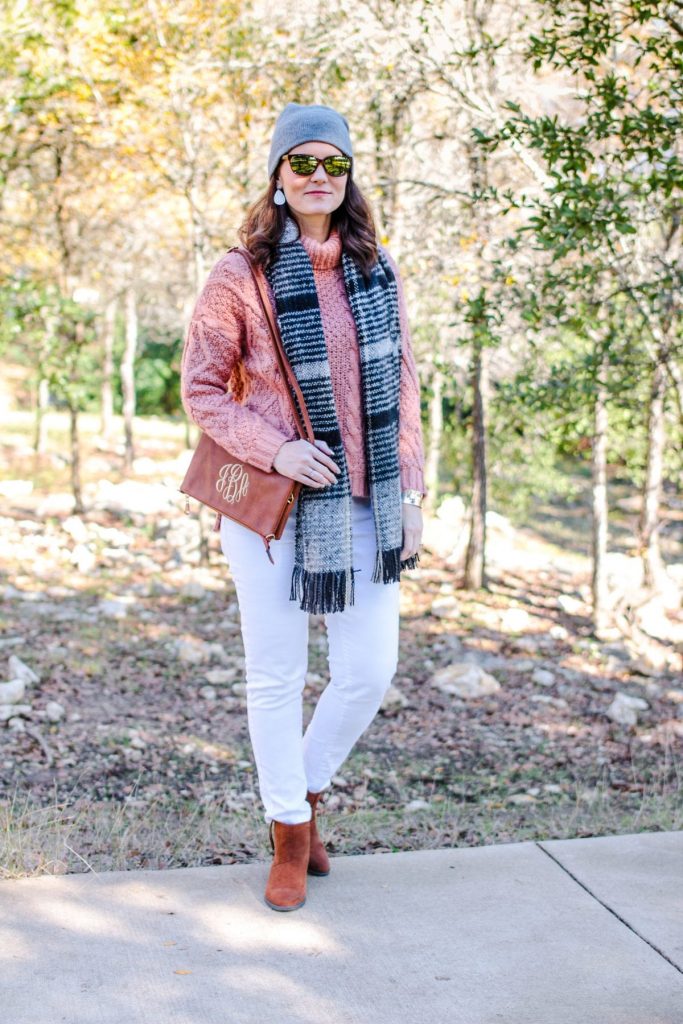 My sweater is from my daughter's closet, but it was purchased from Forever 21 last year. It's such a pretty sweater and I love the color. I'm not sure why she didn't bring it with her to college. I guess she wanted me to have it. Thanks, girl!
My silver cuff is from Lucky Brand, a store I have started falling in love with. I purchased a red shirt from them and it's become one of my favorite blouses in my closet. Especially during this Holiday season. I'm excited to head a Lucky Brand store next and try on some of their jeans next. White denim perhaps?
Outfit details: White Denim (similar) | Pink Sweater (similar) | Ankle Boots (similar) | Plaid Scarf (similar) | Silver Cuff
MORE GORGEOUS SWEATERS & WHITE JEANS