I'll never forget one of my favorite Thanksgivings spent with my husband's family. We were living in Colorado at the time and decided to host that year. Family from California and Washington made the trip to be there and given the fact we all don't see each other very often, it was a Thanksgiving to go down in the record books. We had my husband, his two brothers and sister – plus their families – all under one roof, and it was so much fun.
As a thank you gift for hosting, one of his brothers gave us two really nice knives. He was responsible for the turkey and took on quite a bit of meal prep in my kitchen. So he learned first hand just how bad my knives were. I didn't realize how bad they were until I used the new ones. That's when I realized how having the right tools in the kitchen makes all the difference in the world.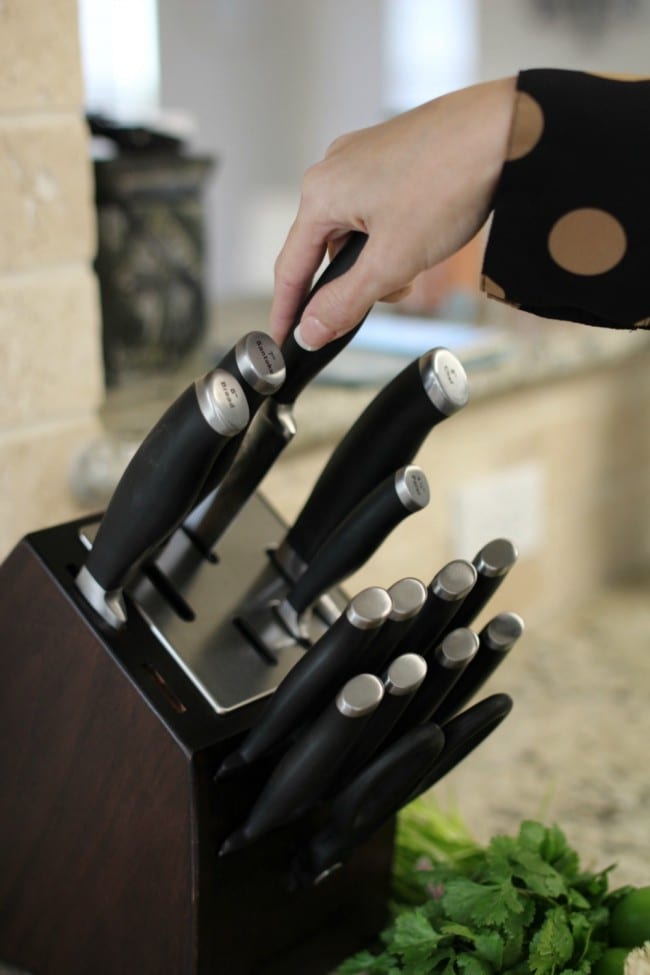 Since my two sons have become vegetarians, I have chopped more vegetables in the last two months than I think I have in the last year. I've realized a couple of things since being on this adventure of preparing and eating vegetarian meals: one, good knives make all the difference in meal preparation and two, vegetables are incredibly filling!
I was recently sent the Calphalon Self-Sharpening Cutlery set and have felt like an absolute whiz in the kitchen. Because of the ceramic sharpeners built into the storage block, they are sharpened automatically with every use, which means the knives are ready for me and at their peak performance every time. Dull knives in my kitchen are a thing of the past.
Now that I have high quality, high performing knives, I need to sharpen up (pun intended) on my knife handling skills. Calphalon has an excellent set of videos to help us better get a handle on (sorry, couldn't resist) our chopping, slicing and dicing skills. We eat a ton of bell peppers and this video shows the best way (and which knife is best to use) for slicing and chopping red peppers.
I wanted to test out my knives on a recipe that required quite a bit of chopping. So, I decided on a Veggie Faijta Salad. It's healthy. It's filling. It's fantastic tasting. It's fast. It's beautiful. We've been eating quite a few smoothie bowls with fruits, so why not a bowl of different veggies for dinner?
Veggie Fajita Salad Recipe
Slice the onion and peppers.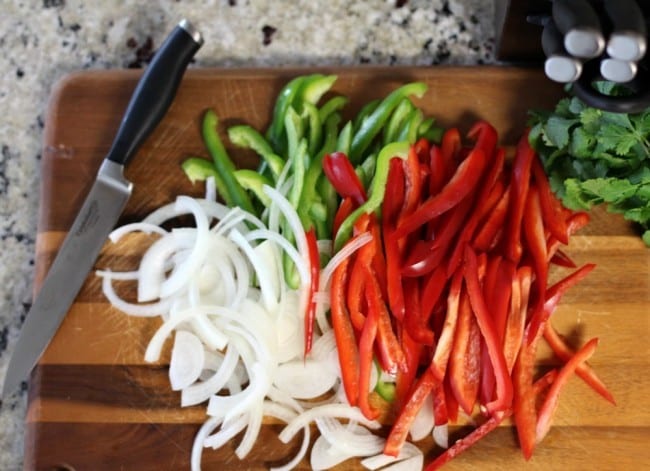 Cook them in a cast iron skillet with some vegetable oil, to get that nice black char restaurant fajitas have. Add the spices and a squeeze of lemon juice (or lime), mix then let them sit for a few minutes to blacken and caramelize the onions a bit. Stir and cook a few more minutes until they're done to your liking.
While the peppers are cooking, warm up some refried beans. I did 1/2 a can for four of us. Place a handful of salad into each bowl. Chop the cilantro.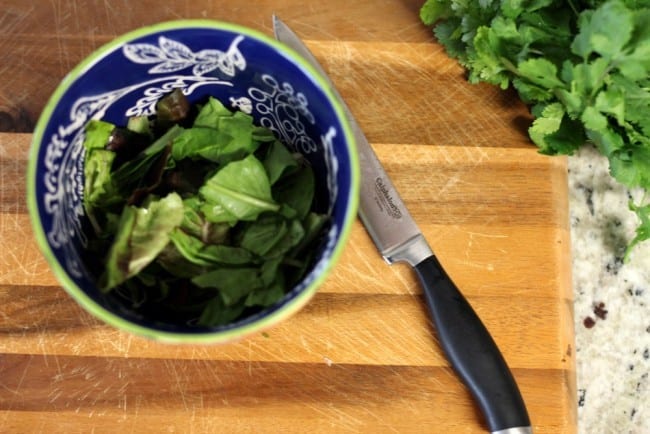 After the peppers are finished cooking, divide them up among the four bowls.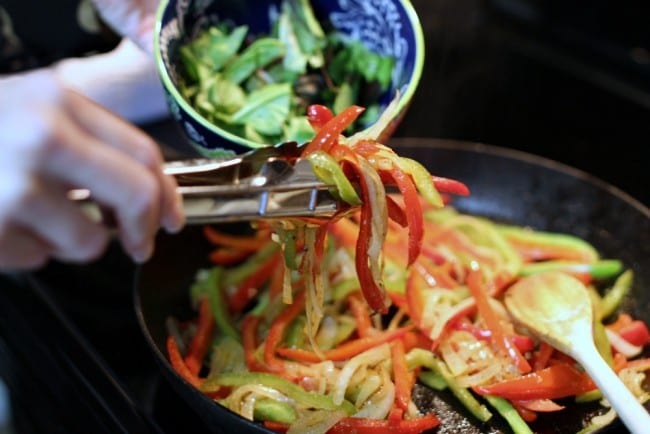 Spoon in a dollop of refried beans, sour cream and picante sauce. (Also guacamole if you like.) Add some tortilla chips (we used blue corn) and sprinkle with the chopped cilantro. Dig in and enjoy!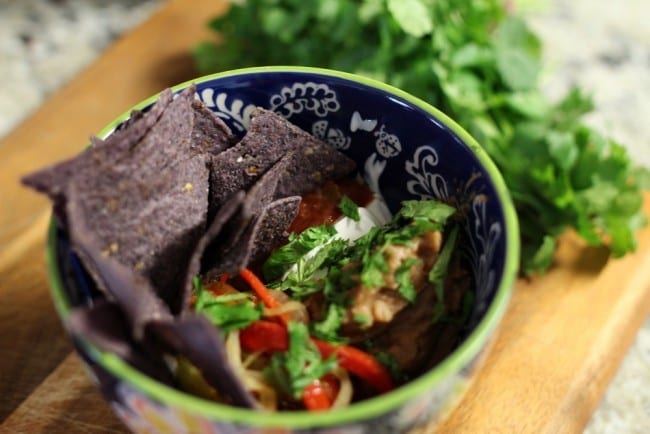 Here's the printable recipe for this super easy meal idea. Enjoy!