*This is a guest post by Brooke Chaplan
Seems like we all end up spending a fortune on new clothes each year. Apart from normal wear and tear, the simple act of cleaning our clothes takes a heavy toll on them. Needless to say, there is more to laundry room mastery than knowing the secret to whiter whites. If you want to get more out of your wardrobe investments, follow these five laundry room secrets that even your own mother may not be aware of.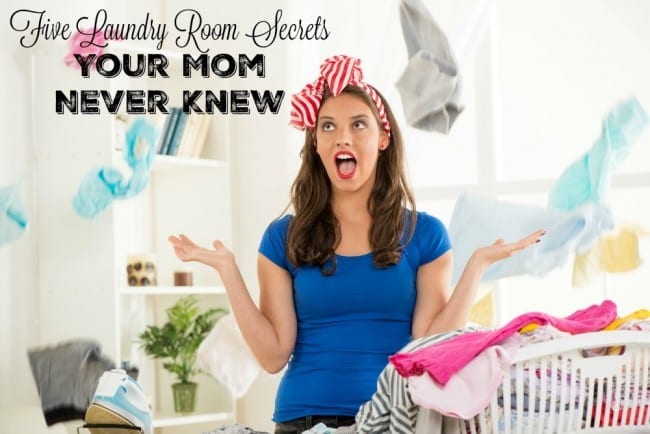 The Power of Mouthwash
Battling odor-causing bacteria is the key to a better smelling laundry basket. To help with this, use a cup of alcohol-based and sugar-free mouthwash. Simply pour it into your machine along with your regular laundry detergent. This will freshen up your gym clothes and socks that tend to hold onto smells. Find a cheap brand at places like Target and save money by using online coupons at sites like discountrue.com. This way you don't have to spend a lot to keep clothes (and your mouth) smelling better.

The Value of Baking Soda
Baking soda (sodium carbonate) is a safe and environmentally friendly way to get stubborn stains out of your clothes. When added to the wash, it can remove oil, wine, and other stains. It also works to soften your machines' water and makes your detergent work better. To save money, purchase baking soda in bulk and use it everywhere from cleaning to cooking.
Soak Stains Immediately
Getting your shirt into the sink as soon as possible after you drop some food on it is the key to getting the stain out. After it dries, a stain will likely become a permanent mark. Soak your shirt in a sink full of warm water with just a few drops of laundry detergent added. Often, a few hours in the sink are all that is needed to keep an important shirt looking new.
Soften Fabrics with Tennis Balls
Fabric softeners work by coating clothing fibers with a chemical film, but you don't have to stick to a regular fabric softener. In its place, throw a couple of brand new tennis balls in your clothes dryer the next time you do a load of wash. The gentle bouncing action of the balls will dry your clothes faster and fluff them up, making them naturally softer to the touch.
Leave the Washer Door Open after Every Use
Dark, wet environments encourage the growth of mold and mildew which is why your washing machine may be suffused with an objectionable odor. By leaving the washer door open when not in use, residual water has a good chance to air out and evaporate. If your washer is a breeding ground for mildew, just run your empty machine with a cup of white vinegar added to the detergent dispenser. When done, simply leaving the door open will cause the machine to thoroughly dry out.
We all crave knowledge to help solve life's daily problems, even when it pertains to the most mundane. Thanks to the above list of laundry room tricks we can at least rest easy knowing that we can have cleaner and better smelling shirts, pants, socks, jackets and linens.
Brooke Chaplan is a freelance writer and blogger. She lives and works out of her home in Los Lunas, New Mexico. She loves the outdoors and spends most of her time hiking, biking and gardening. For more information contact Brooke via Twitter @BrookeChaplan.