I love it when I find a pair of dress pants that are affordable, flattering, incredibly comfortable and help with problem areas. These Black Tummy Control Ankle Pants from Chadwicks are the perfect addition to my wardrobe. Not to mention that ankle pants are a big spring trend for 2016!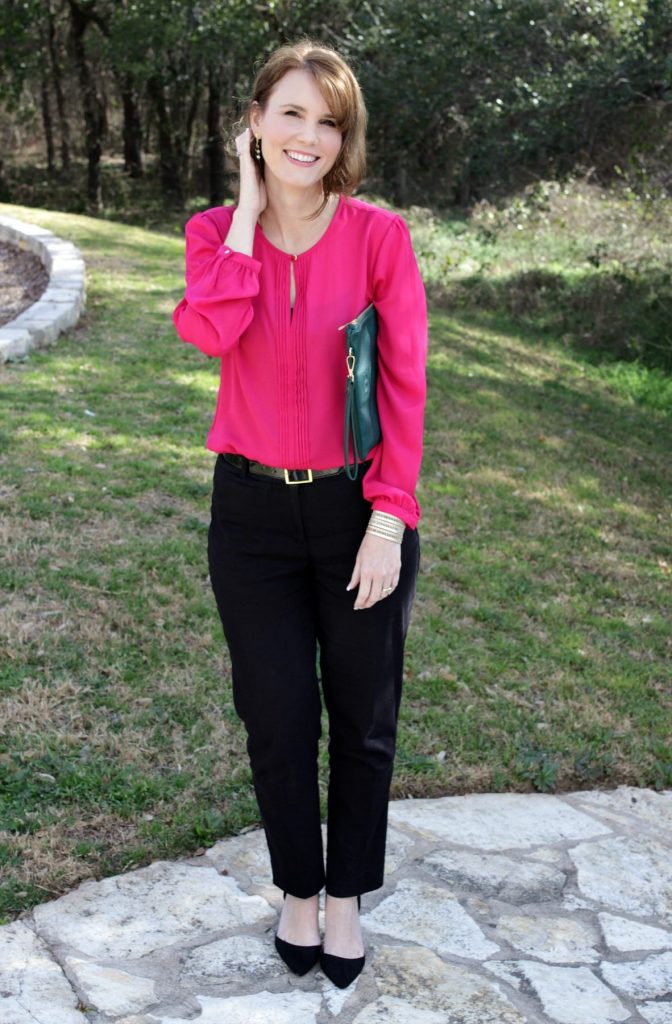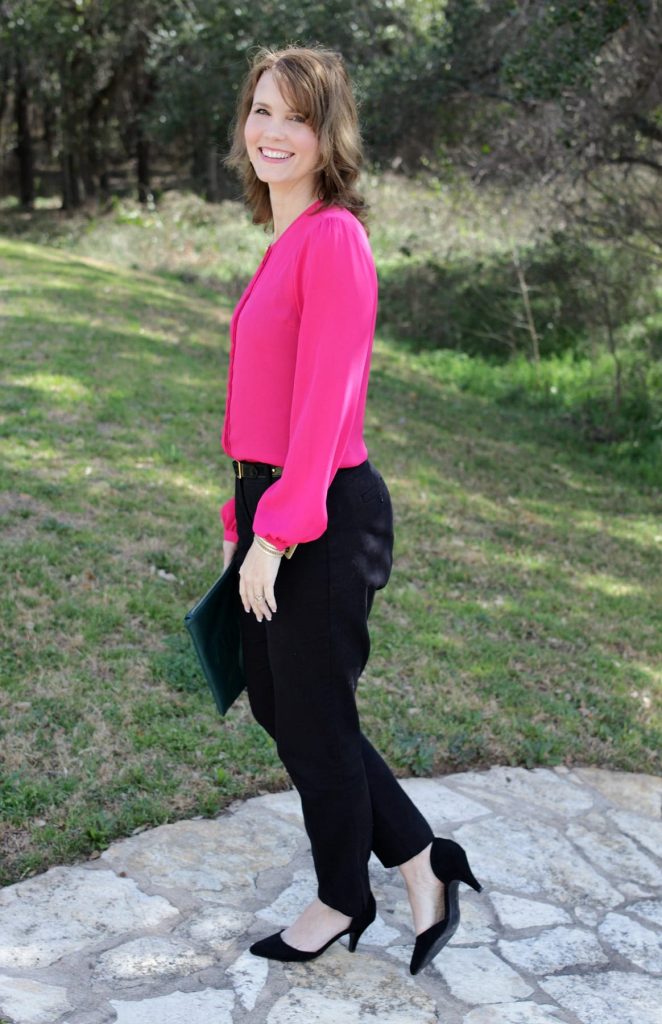 I decided to get these pants in black because I needed a good pair of dress pants that went with everything. My last pair of black pants needed to go because of fading. But I'm tempted to also order these pants in white and blue because I love the fit, and the colors are absolutely perfect for spring.
Here's a look at the Day Break color.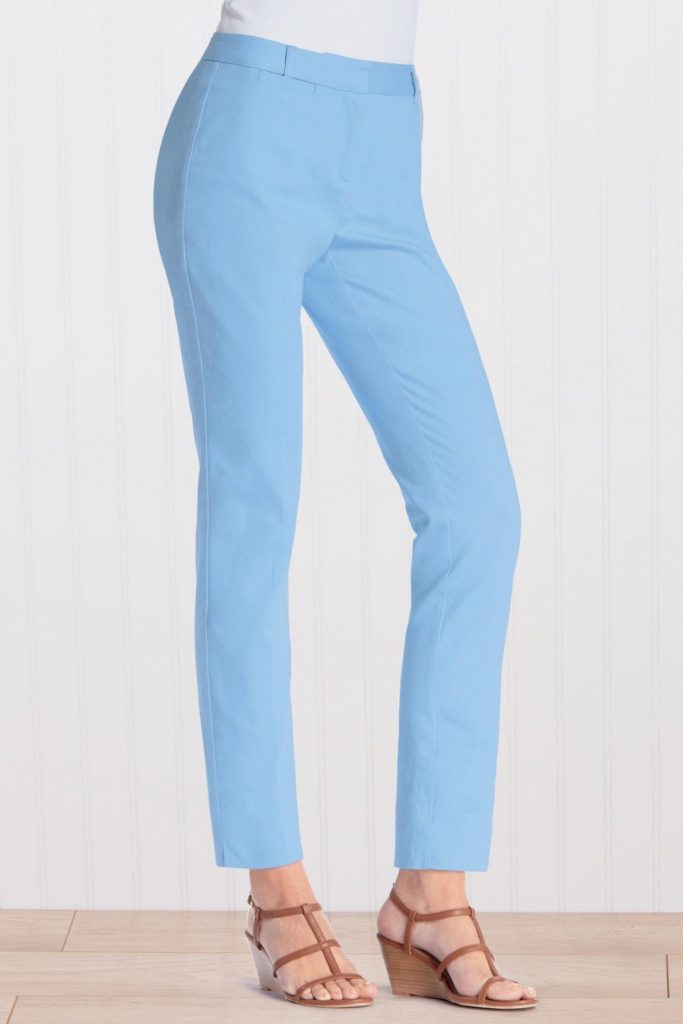 And the black ones I have.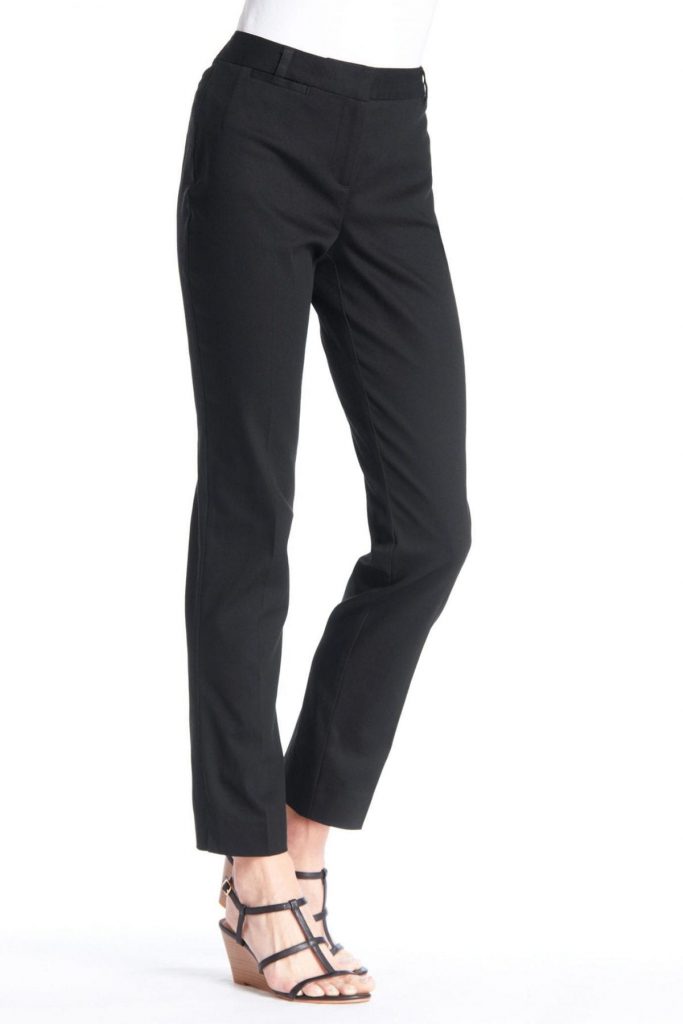 Although I went with a dressier look for something you could wear to work, I've also dressed these pants down and worn them with a basic white t-shirt and sandals. They are perfect for casual and dressy, which makes these a very versatile pant to have.
So, what's with the tummy control part and how does it work? These pants feature a hidden tummy-control panel that slims, helping out with a problem area most women seem to deal with. The pants are very well designed to be slimming, with the contour waist and the small coin pocket on the front. I've had black pants in the past where the side pockets added extra material I didn't want or need.
They're also made with a cotton/spandex blend so they have a nice stretch to them.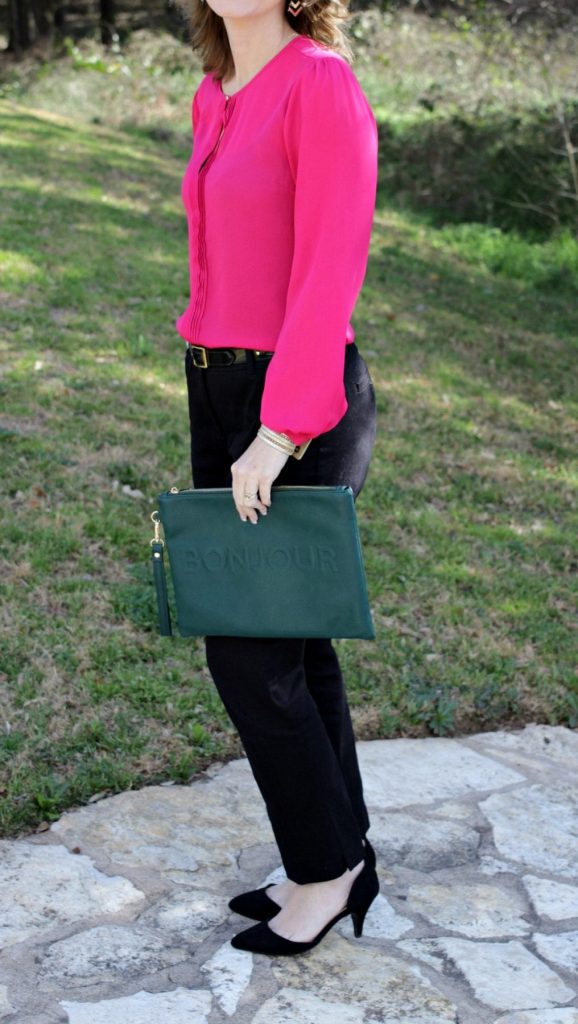 Now let's talk about this pink blouse and handbag shall we? They both came in my LeTote and I think I've decided to keep them both. If you're not familiar with this service, here's how it works:
You select styles you love and add them to your virtual closet
A LeTote box comes to your door with 3 garments and 2 accessories
You keep them for as long as you want
If you decide you want to purchase a garment or accessory, you just keep it
Send the rest back in the pre-paid package
And you're good to go!
They have well known brands such as Anthropologie, Nordstrom, ShopBob and Lord and Taylor — just to name a few. I've been with them for about six months and have been really pleased. I've purchased several items from them and have added only the things I can't live without and feel good in to my closet.
It's so much fun and almost like Christmas to receive that box full of clothes and accessories for me to try. It's a great investment to me to try items first for a few days and then decide if I like them enough to keep them. It also helps me add variety to my wardrobe.
If you're interested in always having something new to wear, give them a try! You can sign up with LeTote here.
Now about that handbag…it says Bonjour and one side and Au Revoir on the other. How cute is that?! And the color is stunning! I've always been a big fan of emerald green and this will be a fun handbag to have.
Chadwicks has added quite a bit to their new arrivals and I've been eyeing several of them. I already have this Lace Trim Tunic Blouse and can't wait to share it with you next week. It is officially now one of the most gorgeous tops I have in my closet. I want to add a few more dresses to my wardrobe for spring and am considering this black floral sheath one.
Get ready for an onslaught of all things spring here on Mom Fabulous! The weather has warmed up and I'm in the mood for spring clothes, desserts and cleaning. 😉
Disclosure: Mom Fabulous received samples to facilitate this feature. All opinions are my own. This post also contains affiliate links, and when you click on them and purchase, Mom Fabulous receives a commission. Thank you so much for your support! It is truly appreciated.