I never thought I would wear Birkenstocks or Boyfriend jeans ever again. I loved and wore them both in the 90s and was sure that's where they would stay. But oh how I'm glad these two styles are back and I've decided to embrace them wholeheartedly.
I'm wearing three items from J. Jill's February collection and I'm so happy to have added these pieces to my spring wardrobe: Slim Boyfriend Jeans in white, Birkenstock Mayari Sandals in toffee and Open Stitch Long Cardigan in Caper.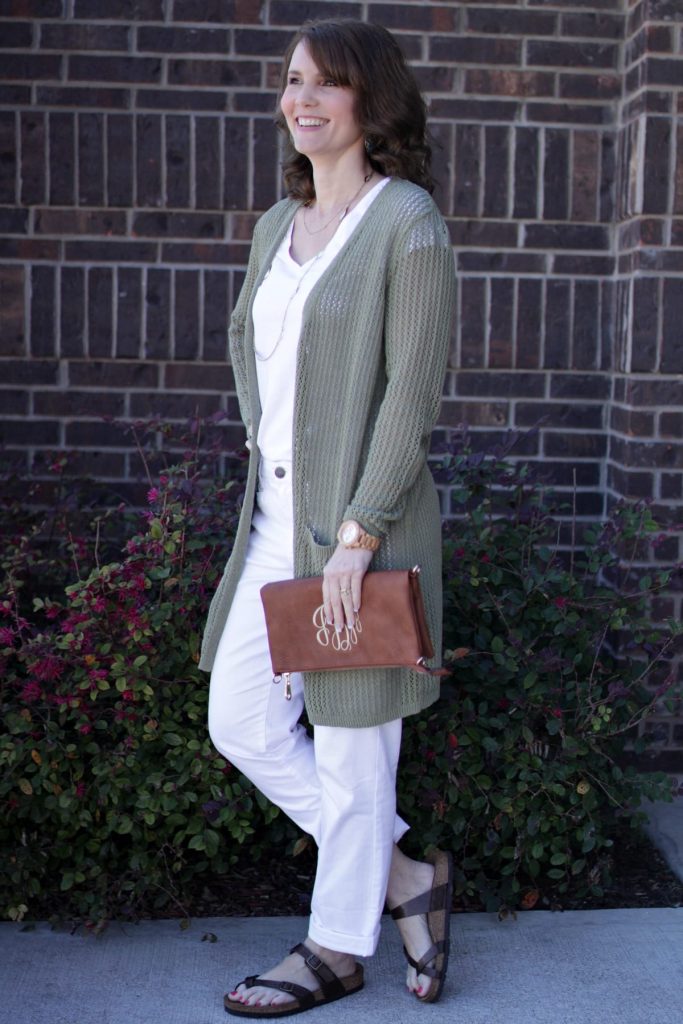 When  I first walked downstairs in this outfit, my youngest son said 'well that's a different look for you mom' to which I replied with 'is that good or bad?' He said good. He liked it, it just wasn't something he was used to seeing me wear. This isn't my first rodeo with boyfriend jeans, but it is my first pair of Birkenstocks since my young adult years. 🙂
I've been experimenting with white on white lately and have decided I like it on me, but only if I break it up with a cardigan. This open stitch cardigan is very lightweight and could easily be worn in warmer temperatures. I love how it looks with the white jeans and will have to play around wearing it with different colors.
You can see that I got my outfit inspiration straight from the J. Jill website.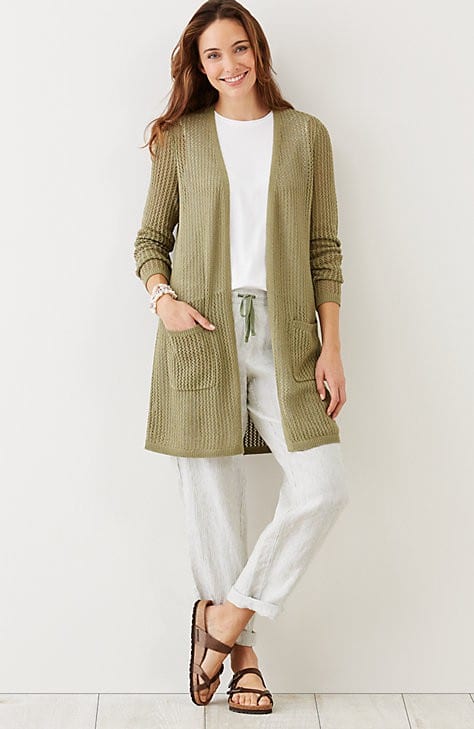 The model above is wearing J. Jill linen drawstring pants with the Birks and open stitch cardigan. If I lived on the beach, or if we go to the beach this summer, this is exactly something I would wear walking along the surf or even eating out at one of their casual restaurants.
J. Jill's February and March collections (which I've seen and it's beautiful!!) has so many amazing pieces to pair together for soaking up the sunshine, whether on vacation at a resort or for your everyday wear.
So why boyfriend jeans and what's the secret to making them look right? I believe anyone can wear boyfriend jeans, I really do. I love them for the comfort, style and how it shakes up my outfit selection. If you've been wanting to try the boyfriend jean trend but you're just not sure, here are a few tips for how to wear the trend:
(Side note: when I first saw this trend on Katie Holmes back in 2008, I was sure it wouldn't last. And it did go away for a little while, but started getting super popular again a few years ago.)
If you're unsure, opt for a slimmer cut
I have one pair of boyfriend jeans that are just enormous in the hips. Guess how many times I've worn them? Once. I didn't feel good in them at all and literally felt like I was trying to wear a pair of men's jeans. The J. Jill slim fit boyfriend jean is baggy enough to get the look I'm going for, but not too baggy that I feel ridiculous.
Pair them with a structured top
If you're going to wear boyfriend jeans, it's not the best idea to wear it with a big flowing top. If you wear a structured top it makes your outfit look more polished. If you wear a flowing top, it makes it look like you're wearing an outfit that's three sizes too big for you. Wearing loose pieces with structured pieces is a good rule of thumb.
Now, you can wear a structured top like a t-shirt and then wear a cardigan over it like I did.
Try a dark wash first
If this is your first time trying boyfriend jeans, I definitely recommend going with a dark wash first. Darker jeans are more flattering the older you are.
When in doubt, wear flats
If you're just not sure what shoe to wear, go for a flat. You can definitely wear all kinds of different shoes with boyfriend jeans — from Converse to heels — but for a style you're not quite comfortable in yet and are experimenting with, wear a cute flat. It's a fool-proof look!
Now tell me, have you tried this style and if so, what's your favorite way to wear boyfriend jeans?
Disclosure: Mom Fabulous received samples to facilitate this post. All opinions are 100% my own.