Ten Things Tuesday features 10 items I have found, tested, laid eyes on and just fell in love with.
From fashion, gadgets and a cleaning schedule – here are 10 things that caught my eye this week.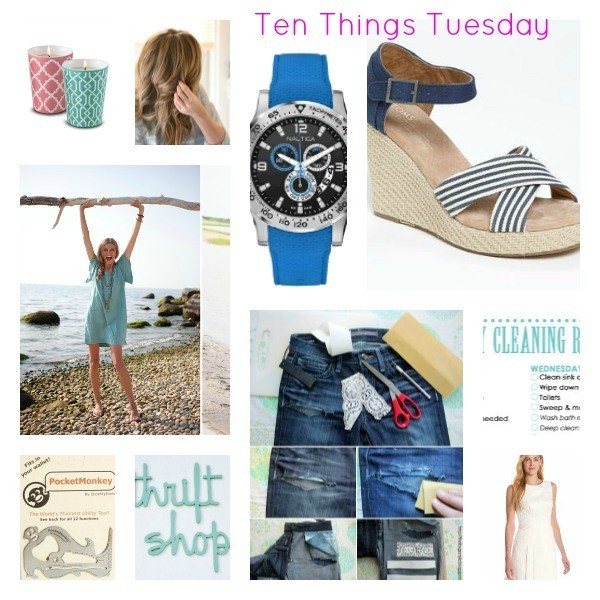 Candles | Loose Curls | Nautica Watch | TOMS Sandals | Pink Chicken | Pocket Monkey | Thrift Stores | DIY Lace Inset Jeans | Cleaning Routine | The Little White Dress
Ten Things Tuesday
No, it's not a real little monkey I carry around in my pocket. (Although how cool would that be?) It's an all-in-one tool I carry around in my wallet. It has become my favorite gadget and the uses are endless. Use it as a: Bottle Opener, Phone Kickstand, Flat head screwdriver, Micro-flathead screwdriver, English Ruler, Letter opener, Orange peeler and banana nicker – just to name a few uses.
The Pocket Monkey retails for $12, and is available online at www.zootilitytools.com.
Do you just want a list that tells you exactly what to clean every day in your home? Here's a free cleaning schedule you can print out. This is going in my household notebook.
Here's a fantastic how-to on getting gorgeous loose curls. If only I could just wake up with these every day.
Hello summer. Hello to the Little White Dress. Check out some gorgeous dresses (some under $100) on Amazon.
5. Find a Thrift Store Near You
Do you love to shop at thrift stores or maybe you would like to start seeing what you can find at them? Just enter your zip code on this site and it will tell you where all of the nearest thrift stores are in your city.
I love these candles found at TJ Maxx. Not only do they have some incredible fashion steals, but their home decor items are not to be ignored. Check them out!
Sigh. I have been eyeing a pair of these TOMS sandals since last summer, but have yet to add a pair to my wardrobe. Why? I have no idea!
8. Pink Chicken
I'm obsessed with this clothing line for kids and women. It's described as bohemian chic and includes breezy summer tunics, pants and dresses that are perfect for the beach or everyday wear. You can purchase items on their website, at their stores (located on Amagansett and on Madison Ave), as well as  top retail stores like Barneys New York, Neiman Marcus and Fred Segal/Ron Robinson.
9. The NST 600 Chrono Watch from Nautica
This is one of Nautica's newest watch styles and perfect for summer. It comes in fun, bright colors and has subdials that indicate day, seconds and 30-minute chronograph. Plus, it's water resistant to 100 meters.
I absolutely love this idea for so many reasons. One, I love lace. Two, both my daughter and I have some jeans that have rips in them and this would be a way to make them stand out. This is definitely something we are going to try!
—
Which Ten Things was your favorite? Have you found anything you fell in love with this week?