The Biggest Loser host, Alison Sweeney, covers the June issue of Ladies' Home Journal, on newsstands May 14th. I grew up watching Alison on Days of Our Lives and it has been amazing to watch her transformation both on the outside and the inside. My 15 year old daughter loves The Biggest Loser and looks to Alison as a role model…and that makes me a happy mama.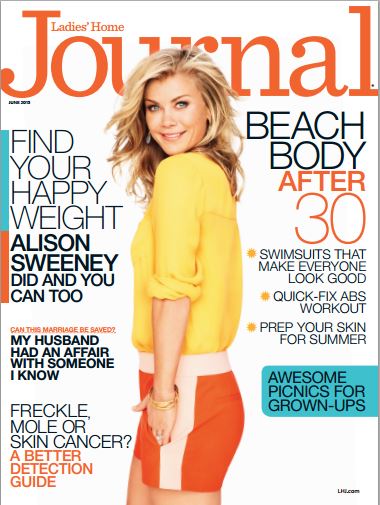 In her interview, she talks about not being the most popular mom when it comes to her snack choices for the kids, being skinny in the crazy world of show business, how she stays motivated to go to the gym and much more. Here are a few excerpts from the magazine article:
On maintaining a positive body image in a profession that values being skinny: I was on an airplane and the flight attendant was surprised that I said yes when she offered me a meal. She was like, "Oh, I didn't think you'd eat." I was so happy to say to her, "Actually, I don't believe in starving myself. That's really not good for you." So I believe in championing a healthy lifestyle. Being overly skinny is out of style. People are much more attracted to someone like Jennifer Lawrence, who's thin but healthy. She can kick anyone's butt any day of the week.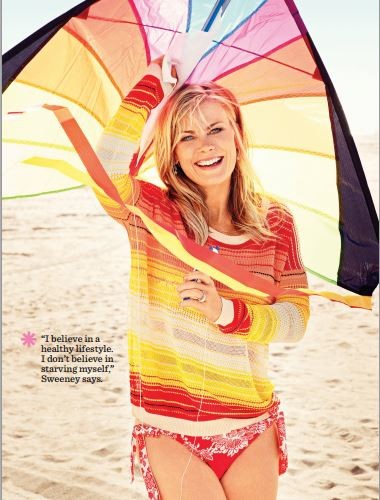 On staying motivated to go to the gym, even when she doesn't feel like it:  I try to work out four or five times, mixing it up between spin classes, running, and yoga. But some weeks I don't have time to work out at all. If you don't work out four days in a row, going back on the fifth day is especially hard. If you work out most days it's a lot easier to stick with your routine. So when I don't have time to work out, I at least try to do something physical, like 10 push-ups. It helps get my muscles burning and blood circulating.
On what to do when craving something sweet:  If I'm really craving chocolate I'll break off a little piece of dark chocolate and take some almonds and make a dark- chocolate crunch. One of my favorite treats is Greek yogurt with a handful of blueberries, agave nectar, and a sprinkle of cinnamon. It tastes sort of sweet because of the agave but it's full of protein and the blueberries give you an energy boost. I allow myself treats all the time, but I use portion control. My husband gave me chocolate-covered strawberries the other day and I had one. It was delicious. I loved it. I just didn't have six.