Back Yard Ideas…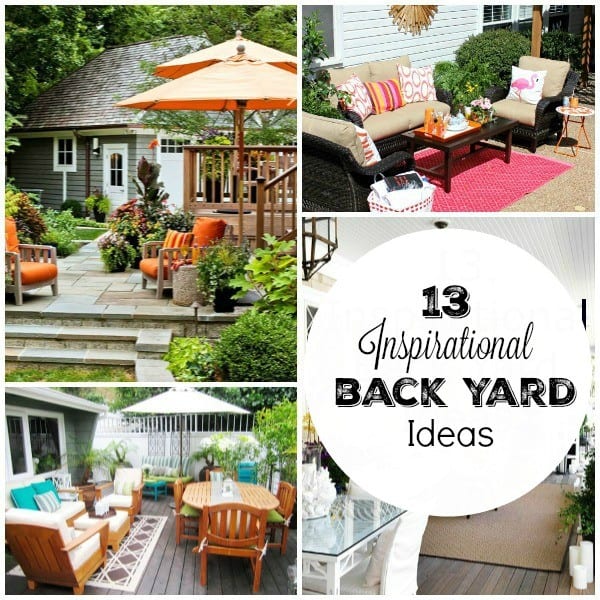 Inspiration. It's what I am all about right now as we get ready to move into a new house towards the end of June. This will be the first time we've moved into a brand new house that is a clean slate. Even the backyard is a clean slate, so I've been doing some digging around to see what ideas I can come up with for the space. The backyard to me is another living space and it's important for it to look and feel good.
I have some furniture already to work with. So really all I need to do is freshen up the space with some cushions & pillows and add some accessories. I have a yellow umbrella I bought last summer that I adore, so I'll be pulling that out again. Would you like to see some inspirational back yard ideas? I thought you'd never ask!
13 Inspirational Back Yard Ideas
1. Not only did the deck grab my attention, but the two orange umbrellas and wooden furniture. Our furniture is similar to this, but in red. I would also love to surround the backyard in potted plants with some color.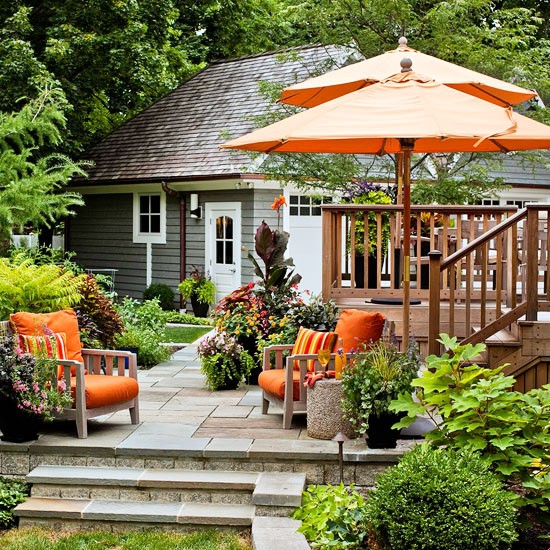 Image: BHG
2. This Five Piece Dining set from Target adds style and comfort to your backyard. it also adds convenience. The small cushions can be moved around the yard easily for an impromptu get-together.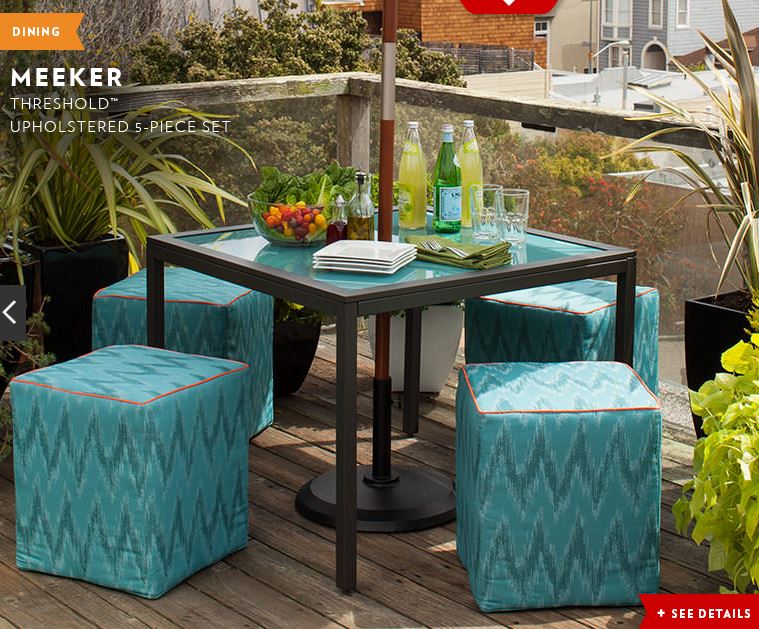 Image: Target
3. There are a couple of items that stuck out to in this picture. The ceramic side table and the container chilling the drinks. I love the idea of having a container ready to go with cold drinks for our guests. They can grab them as they please and not have to ask the host for something to drink.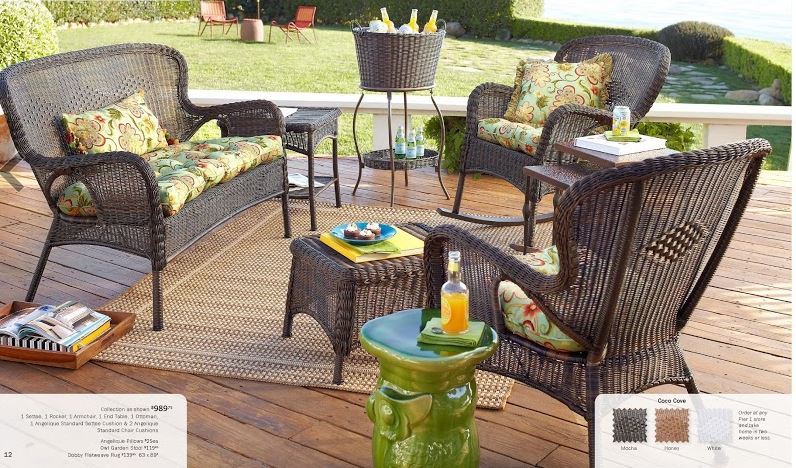 Image: Pier 1
4. This truly looks like another room of the house, but just located outside. With the hutch, coffee table and added accent table, I can see a few members of my family curling up on that couch and reading for hours on end.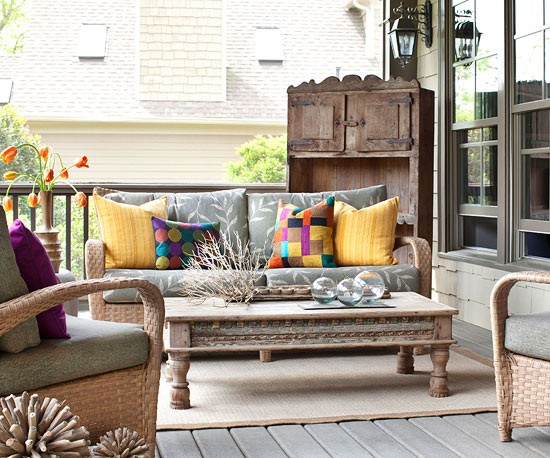 Image: BHG
5. The patterns on these pillows are stunning. And of course the unique table in the middle and  topiary caught my eye as well. It's amazing how you can really change the look of a space with just the right pillows, isn't it?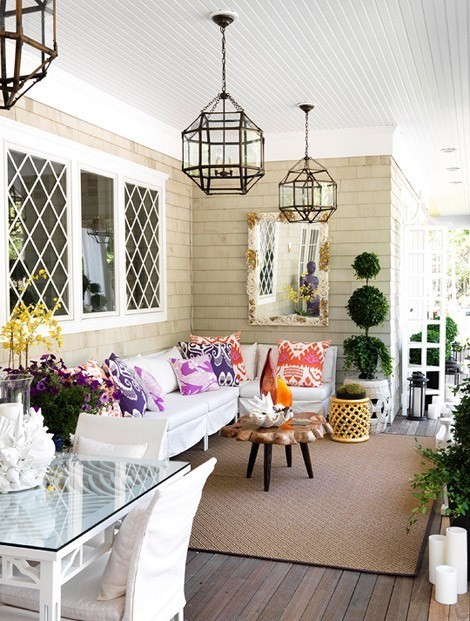 6. You can also go with neutrals if you want the space as relaxing and integrated with the outdoors as possible.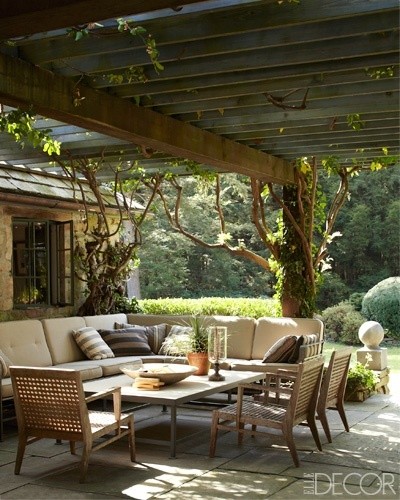 Image: ELLE Decor
7. Don't forget about the outdoor lighting. From lanterns and candles, to lamps – having just the right lighting makes being outdoors in the evenings and at night… incredible.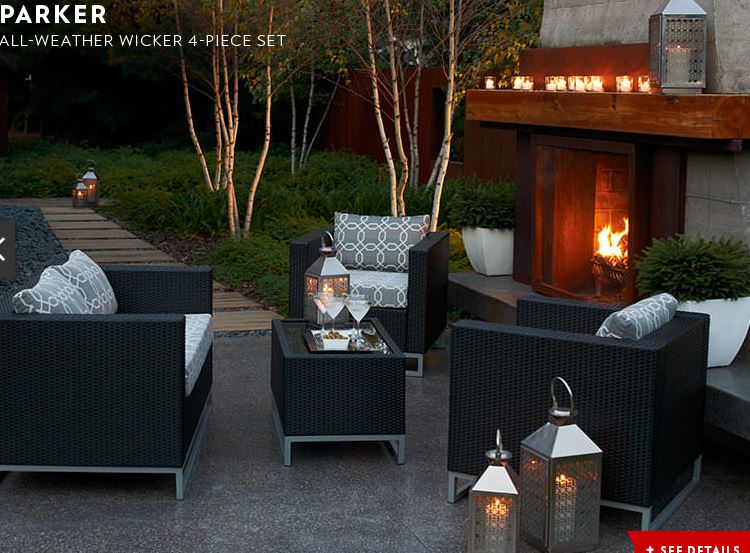 Image: Target
8. You will love this before and after reveal one blogger did, courtesy of Home Depot. The colors she used – stunning! Looking at this just makes me happy.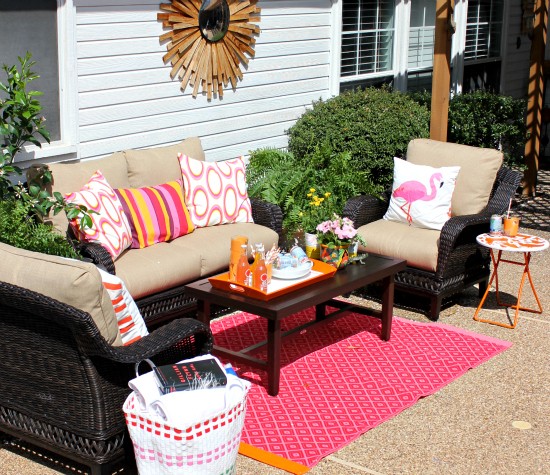 Image: Hi Sugarplum
9. One of my must-haves purchases in the fall was a fire pit. It was used to make many delicious smores and helped host a few nights by the fire, with a guitar. There's something about a fire pit that brings people together and makes you want to sing. Or at least hum.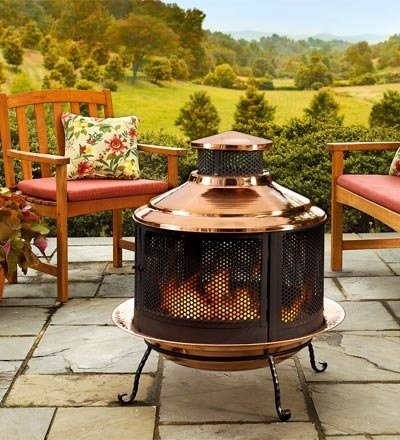 10. This color palette is phenomenal. Bring a pop of color with blues and greens, plus neutrals mixed in and create a space that is ph so inviting. You have to see the before picture of this Hollywood Hills makeover.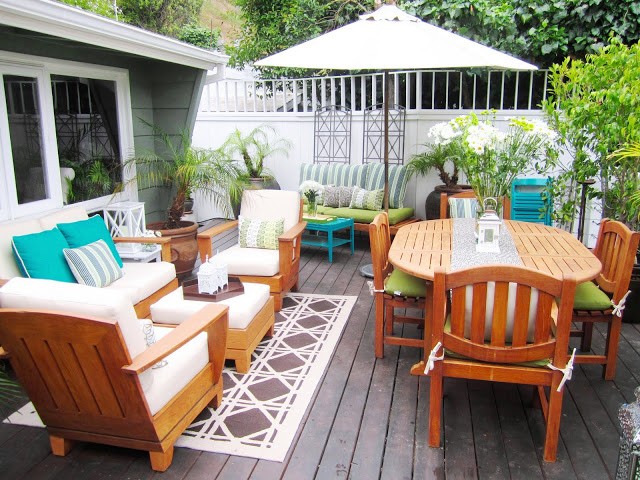 Image: CoCoCozy
11. Dress up your patio table with dishes and place settings with some major color. These dishes from Pier 1 are so pretty.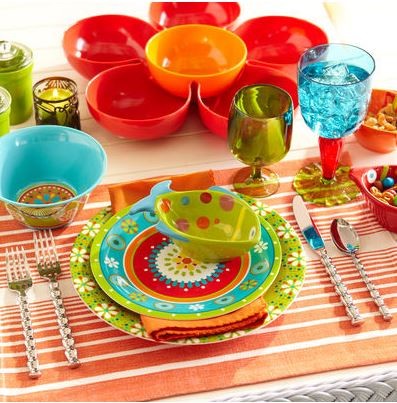 Image: Pier 1
12. This patio is decorated with a modern twist. The black and white stripes give it a very sophisticated look, but not too stuffy. I also love that white ceramic piece to hold a drink or good book.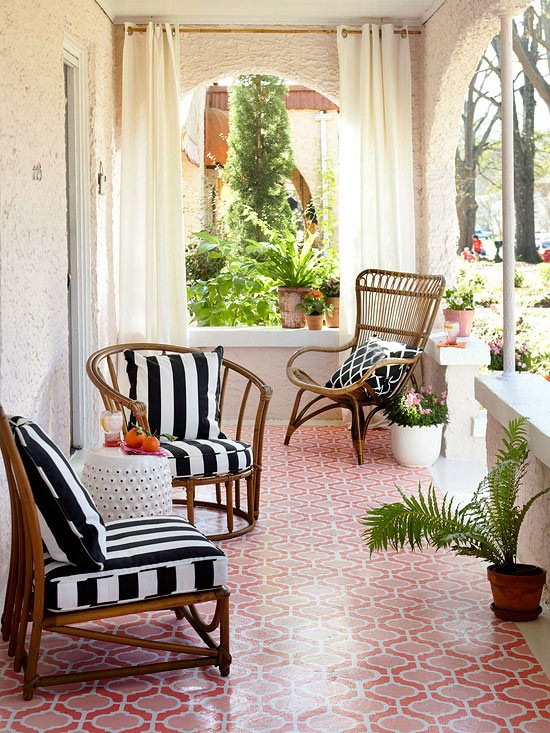 Image: BHG
13. This is one of my dreams for our back yard some day in the near future. A 'drive in' movie. How amazing does this look?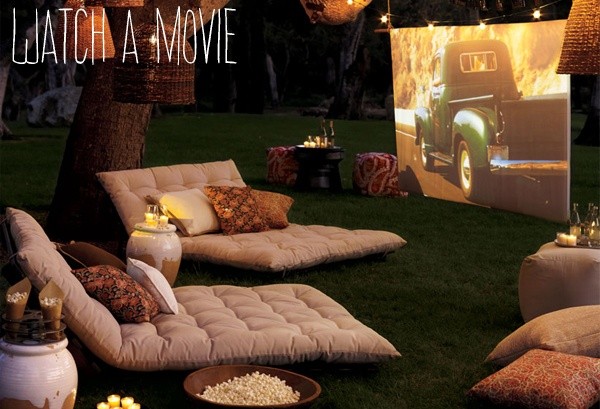 —
Is your back yard space ready for those lazy days of summer? Here are a few affordable tips on how to freshen up the space:
Purchase new pillows in a pattern you love
Add some colorful potted plants
Choose some lighting such as lanterns or candles
Do you need shade for your yard? Invest in an umbrella in a bright color
Adding a few touches to your back yard space will make it an area you love to spend time in.