It's been a while since I've done a Ten Things Tuesday! I have so many great products, books, food and who knows what else to tell you about that I figured it was about time. Today's Ten Things has no rhyme or reason. It's just a list of items that I am absolutely loving right now. Whether it's a good book, a product I'm seeing results from or an article of clothing that I gravitate to every time I step into my closet.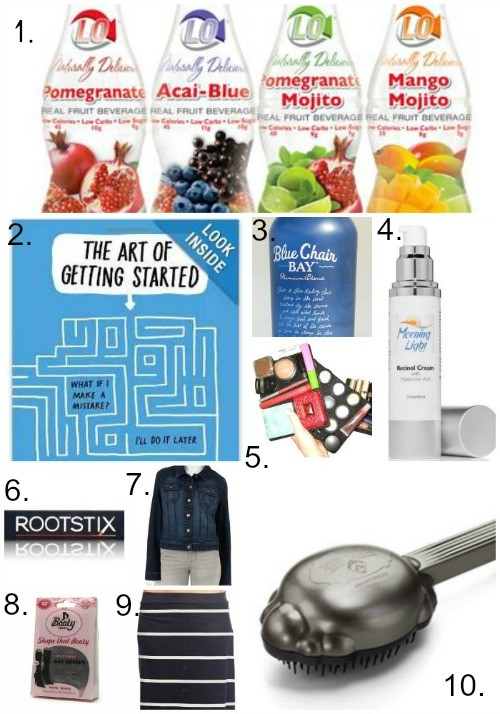 1. LO Fruit Beverage – It's been a good 6 months I think since I've stopped drinking sodas. I have days where I miss them or I'm tempted to grab one, but I've been so happy with the results from not drinking them that I've just stayed away. But every once and awhile, I need/want/must have something else besides water. In the cooler months, I warm up a cup of tea or coffee. But now that the summer months are near and we'll soon start to fill those coolers with – well drinks of some sort – I still want to stay away from sodas and sugary beverages.
Enter LO Fruit Beverages into my life. YUM. LO is a low sugar, low carb, and low calorie juice that tastes great when mixed in a cocktail, added to seltzer, combined with smoothies, or sipped alone. It can even be made into jello or popsicles if you're craving a treat!
These are absolutely delicious! One ten ounce serving of LO contains the same amount of calories (35 – 45), carbs (8 – 11 grams), and sugars (7 – 10 grams) as found in one whole fruit. Additionally, LO Fruit Beverage is a certified low GI (glycemic index) product, as clinically test by Glycemic Index Laboratories, kosher, vegan, and gluten free. You can order these on Amazon here.
2. The Art of Getting Started – If you're a writer, blogger, marketing genius or a person who has to use that creative bone in their body at all through out the day and you tend to get STUCK, you need this book. I've had mornings where all my kids are off to school. I have my coffee hot and ready to go in my favorite cup. I sit down at my computer. Hands at the keys. And then….nothing. Nothing.at.all.happens.
That's when it's time to pull out this little blue book where creative juices flow like milk and honey (Biblical reference….move  on if you don't get it. It's all good.) and scribble, write, doodle and have fun. Try it. Trust me. Check it out here.
3. Blue Chair Bay Coconut Rum – I'm a red wine girl. That makes me utterly sophisticated right? Never in a million years did I think I would be a Coconut Rum girl. But I am. I'm smitten. Ever since I posted about this little cocktail, I have made it again and again and again. Guess what? I now have their White Rum and Coconut Spiced Rum. Have mercy.
4. Morning Light Beauty Retinol Cream – Full disclosure before I talk about this product. I'm a co-founder. Now that we have that out of the way…This retinol cream has changed my skin for the good. You see, I have rosacea and a bit of acne when the universe decides to mess with me. I've been using this retinol cream for a couple of months and I am very happy to report that both my rosacea and acne have decreased significantly. The tone of my skin is completely different and I'm also noticing, ahem, those pesky wrinkles decreasing on my forehead and outer eye area. You can find out more about this product here.
5. Beauty Butler – Is your makeup scattered here, there and everywhere in your makeup bag and on the bottom of your purse? Yep, me too. The Beauty Butler is an all-in-one makeup organizer that fits any type of makeup. Your makeup stays put on the velcro tray and it is so easy to find. I hate digging for my favorite lip gloss! I also tend to change purses and makeup bags quite a bit and the Beauty Butler makes that process much easier. I gave one of these to my teen daughter and she loves it. She carries makeup in her backpack for school and it fits in the front pocket perfectly. The only problem? I need to order more for both of us. 😉 Find out more and order the Beauty Butler here.
6. Rootstix – How would you like to be able to cover up those pesky gray hairs anywhere? Meaning, let's say you're at a party and you're in the bathroom checking yourself out (we all do it) and there it is. Waving at you and taunting you. My hairdresser got on to me for plucking them but oh my gosh they are annoying! Now you can carry Rootstix with you and take care of those gray roots. It's a temporary hair color in a pen and it covers those gray roots fast. I tested out the light golden brown and did exactly what I was hoping it would. Which means this baby has a permanent residency in my purse. Find out more and order here.
7. Elle Denim Jacket – I don't have a lot to say about this Elle Denim Jacket, except a) go see it here where I've already talked about it and b) this isn't the last time you'll see this jacket this week. I LOVE it. I purchased it at Kohl's and right now it's on sale for $39.99, regularly $64. Order one here.
8. Booty Shapers Inflatable Boot Supports – I have a lot of boots and it makes me sad to see them laying there all summer long becoming all misshapen. A few years ago, these Booty Shapers were introduced to me and I've been hooked ever since. I used to use magazines, but it's just not quite the same. Not only does it help keep my closet looking nice and in order, but it keeps my boots in good shape. Find out more about these here.
9. Wet Seal Maxi Skirt – Oh how I love this Maxi Skirt from Wet Seal. So much that I probably need to hide it from myself. It's just so comfortable and it goes with so many things! Like this Elle Denim Jacket I styled it with. 😉 You can purchase this skirt here.
10. Knot Genie Supreme – Do you have problems with tangles and knots while brushing your hair or your kids'? Do I ever have the brush for you! The Knot Genie magically gets rid of knots and tangles without the "ouch". It's perfect for both adults and kids' hair. I have very dry hair and often get awful knots. I love this brush because it's extremely gentle and doesn't tear out my hair. I'm already extremely scared about the amount of hair I see coming out of my head every day (hello 60 year old bald Julie), so I don't need a brush helping out with that in any way what-so-ever.
My teenage daughter also loves this brush and uses it everyday. The handle they added to the "Supreme" version is perfect. She has a very tender head, always has, so something that is gentle for her to use is exactly what she needs. Be sure to check out all of the Knot Genie products here.
Disclosure: MomFabulous received some complimentary products in order to facilitate this review. No other compensation was received.