"I participated in an Ambassador program on behalf of Mom Central Consulting for Kohl's. I received Kohl's gift cards and sample pieces to facilitate my posts and as a thank you for participating."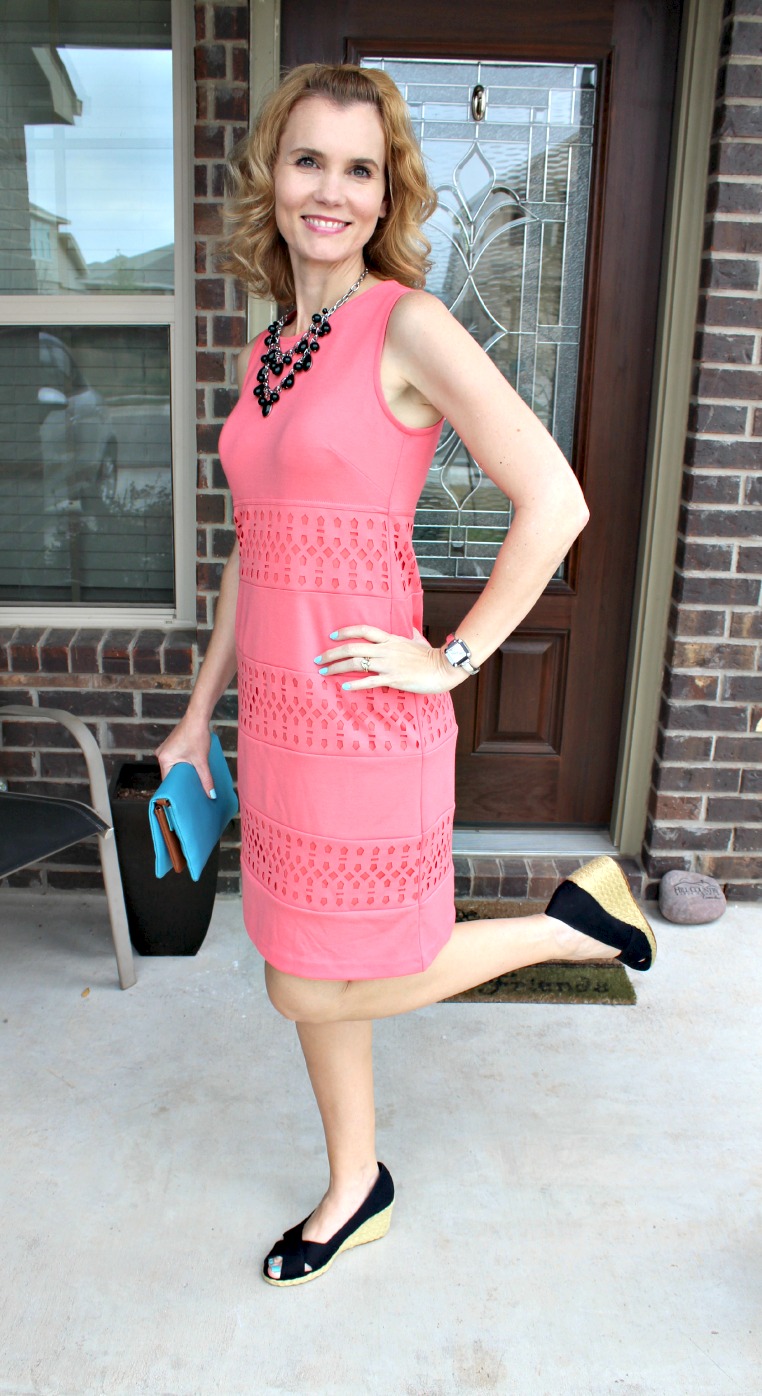 Do you ever walk into your closet and think (or say out loud) "I have nothing to wear!!" even though it's full of clothes? Yep, I've been there and that's when I know it's time to get creative. When you take the time to a) see what you have in your closet and b) try on some things and see if that jacket might go with that skirt – you can breathe new life into that wardrobe of yours.
Side note: Enlisting a friend to help, if this sounds like a nightmare to you, makes this so much more fun!
I had the opportunity to do some shopping at Kohl's and was given the task to purchase two dresses and create six looks from them. I told my husband I would be gone about an hour. Heh. Make that 2 hours. Seriously. Between trying to choose from all of the gorgeous dresses, trying them on and then twirling in front of the mirror (I twirled, I really twirled), this task was harder than I thought it would be. But oh so much fun.
Which 2 dresses did I choose?
2 Dresses, 6 Looks from Kohl's
Dress #1 – Apt. 9® Striped Laser-Cut Panel Ponte Sheath Dress in Sugar Coral
I put together three different looks with this dress, which I have fallen head over heels in love with. It's unbelievably comfortable, very flattering and the laser cut design is beautiful. I've been wanting a sheath dress in a bright color and this coral is perfect for spring and summer. I can see myself wearing this on dates, to church on Easter Sunday and casual business meetings.
Look #1 – The Dress, Apt 9 Black Statement Necklace, Chaps Wedges and Dana Buchman Clutch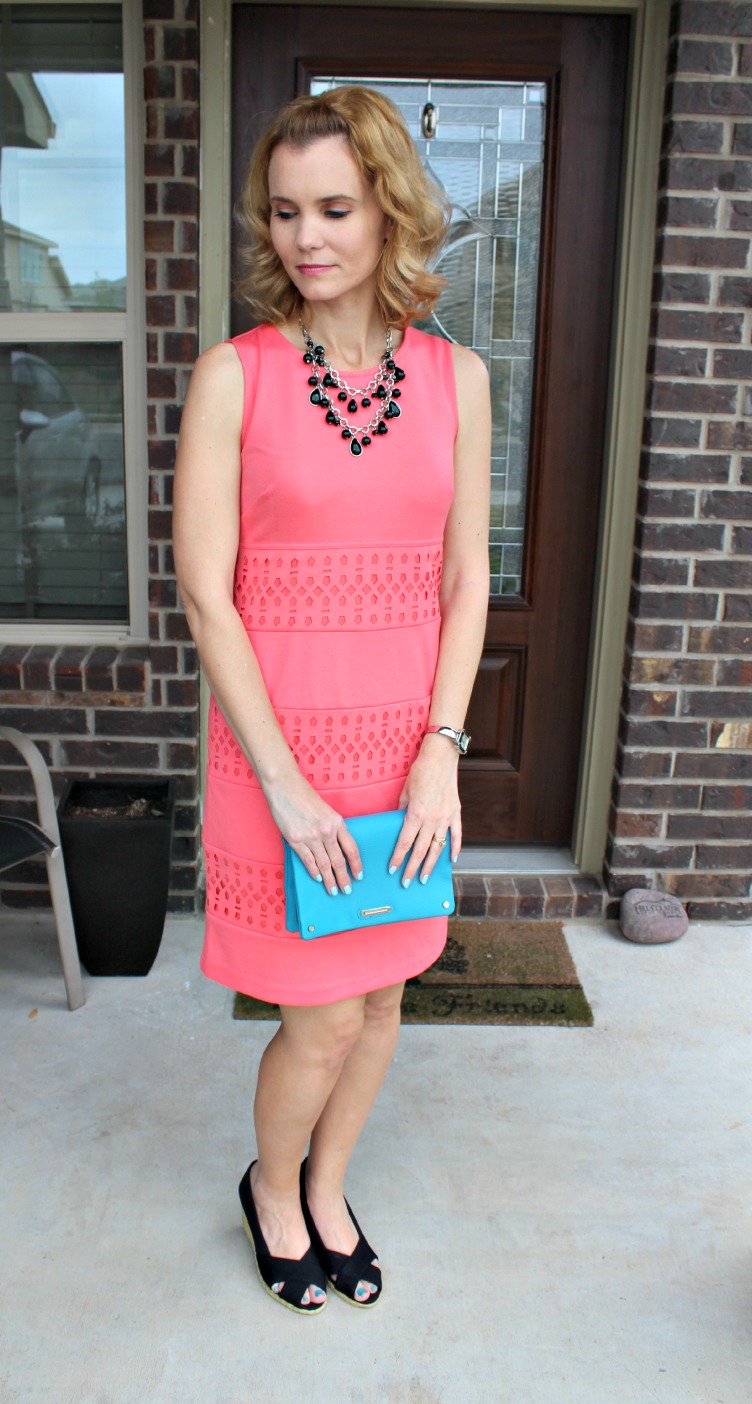 Look #2 – The Dress, Elle Denim Jacket, Apt 9 Black Statement Necklace, Apt. 9 Laser Cut Satchel, Chaps Wedges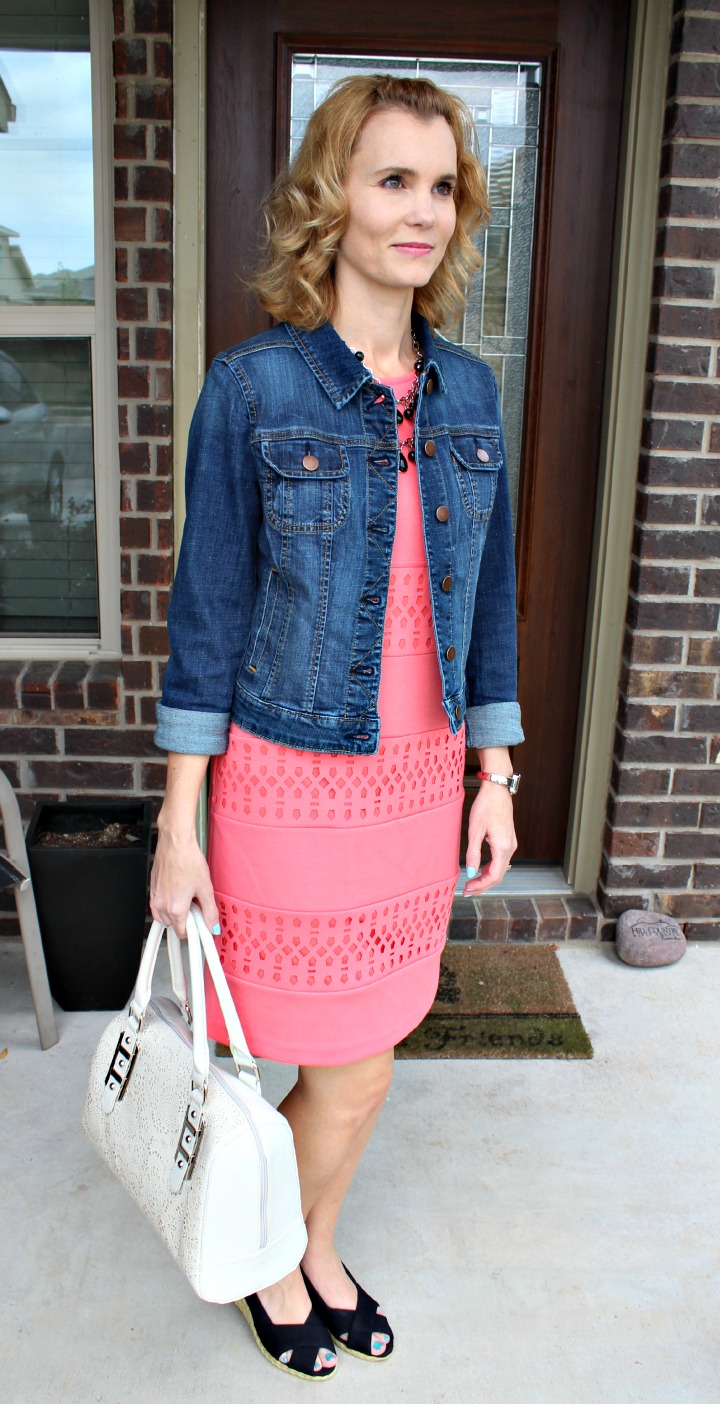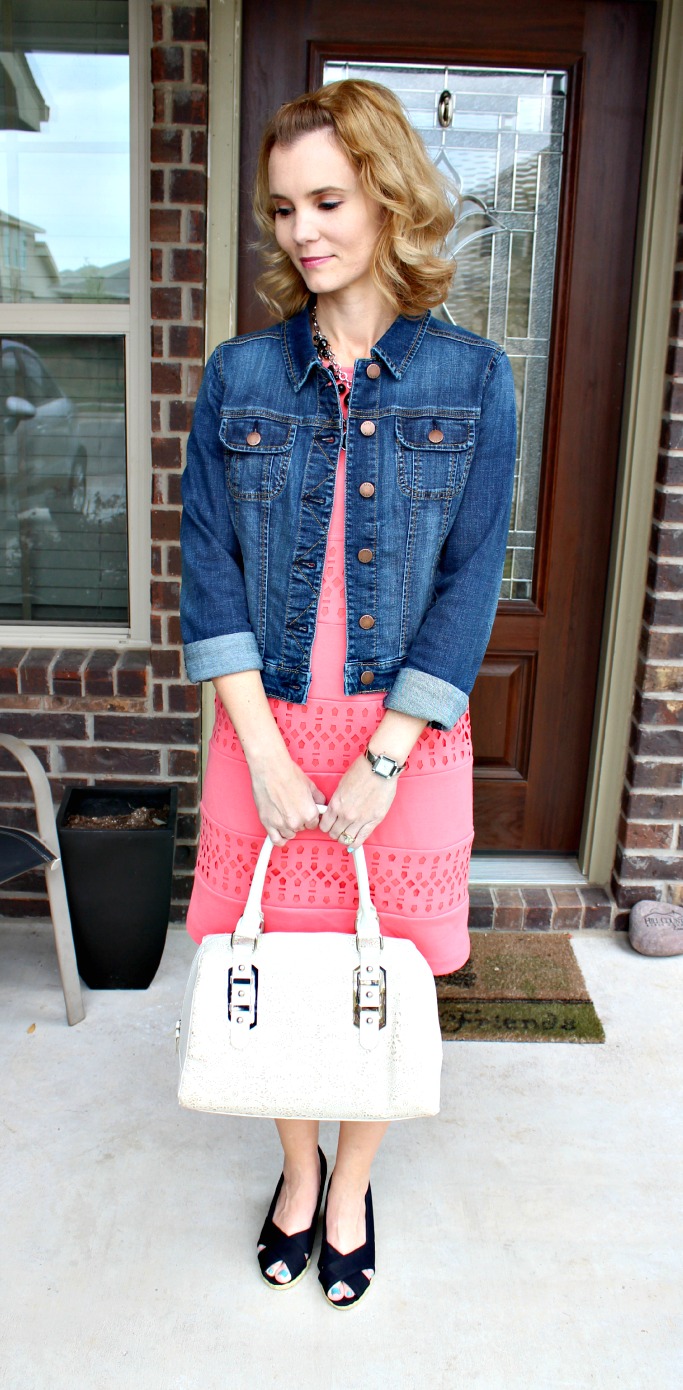 Look #3 – The Dress, White Blazer, Apt 9 Black Statement Necklace, Dana Buchman Clutch, Chaps Wedges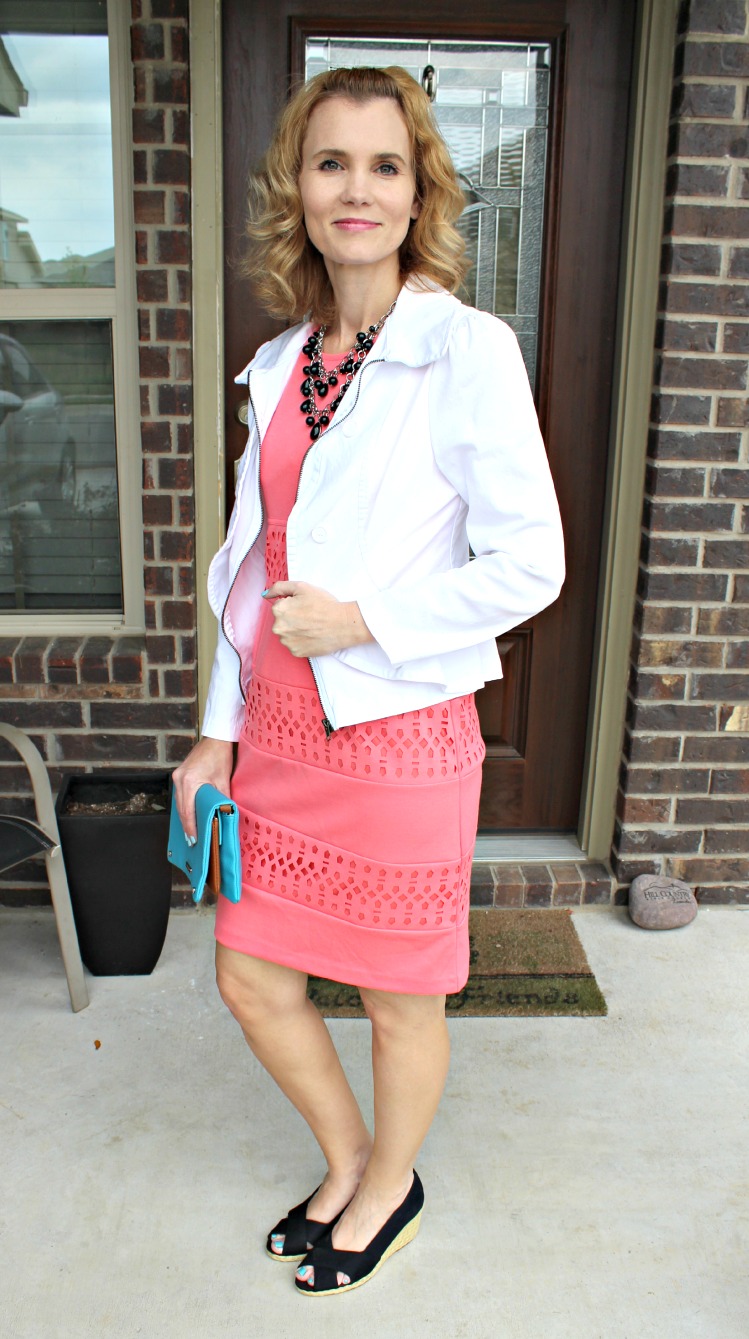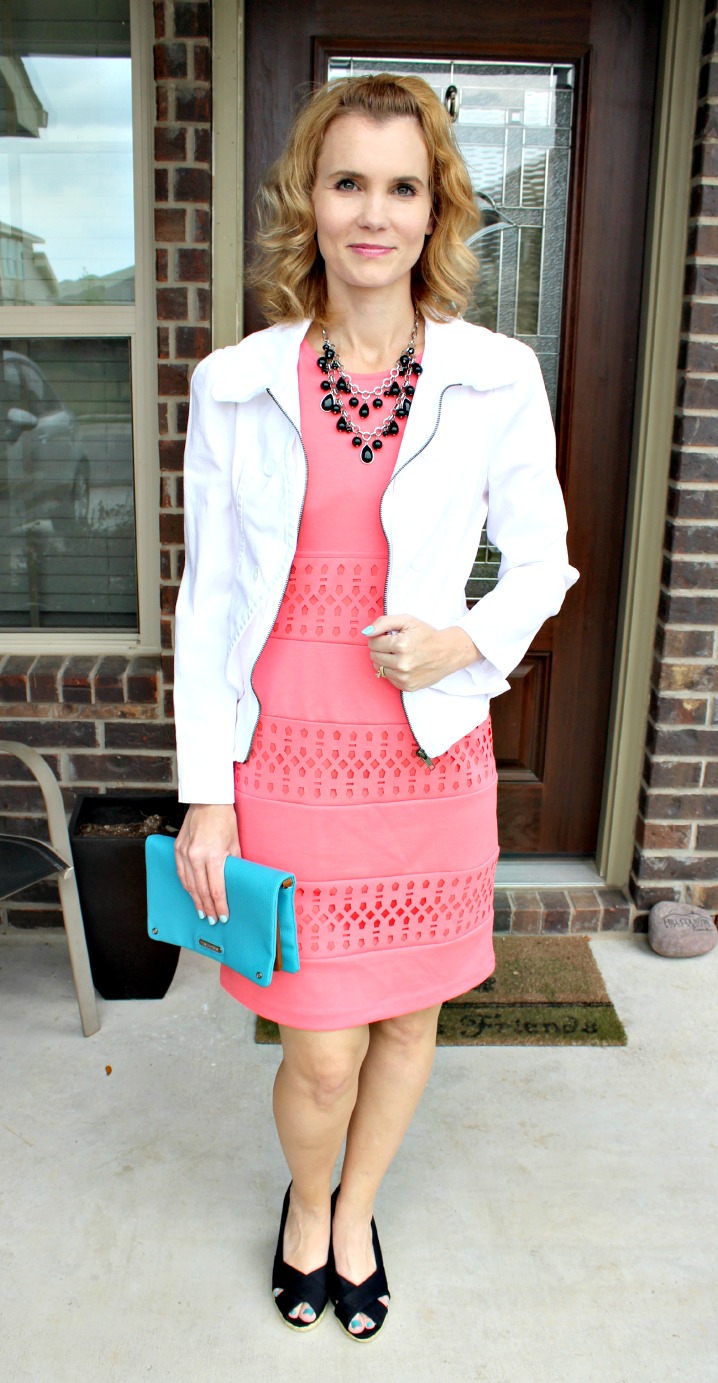 Dress #2 – LC Lauren Conrad Lace Mixed-Media Fit & Flare Dress
The second dress I chose was this beautiful Fit & Flare dress by Lauren Conrad. When I walk into a Kohl's store, I go to her section first. I love the feminine, floral touches her clothes have. This is the dress I was twirling in the dressing room in. It's a twirling dress. 🙂 I can see myself wearing this dress so many places – definitely on a date with the hubs, to an industry event or a Saturday out shopping if I want to dress up a little. This dress is easy to dress up with a cardigan or dress down with a denim jacket.  It's so versatile! Here are my 3 looks.
Look #1 – The Dress, Blue Wedges for a pop of color, Apt 9 Laser Cut Satchel, Very minimal jewlery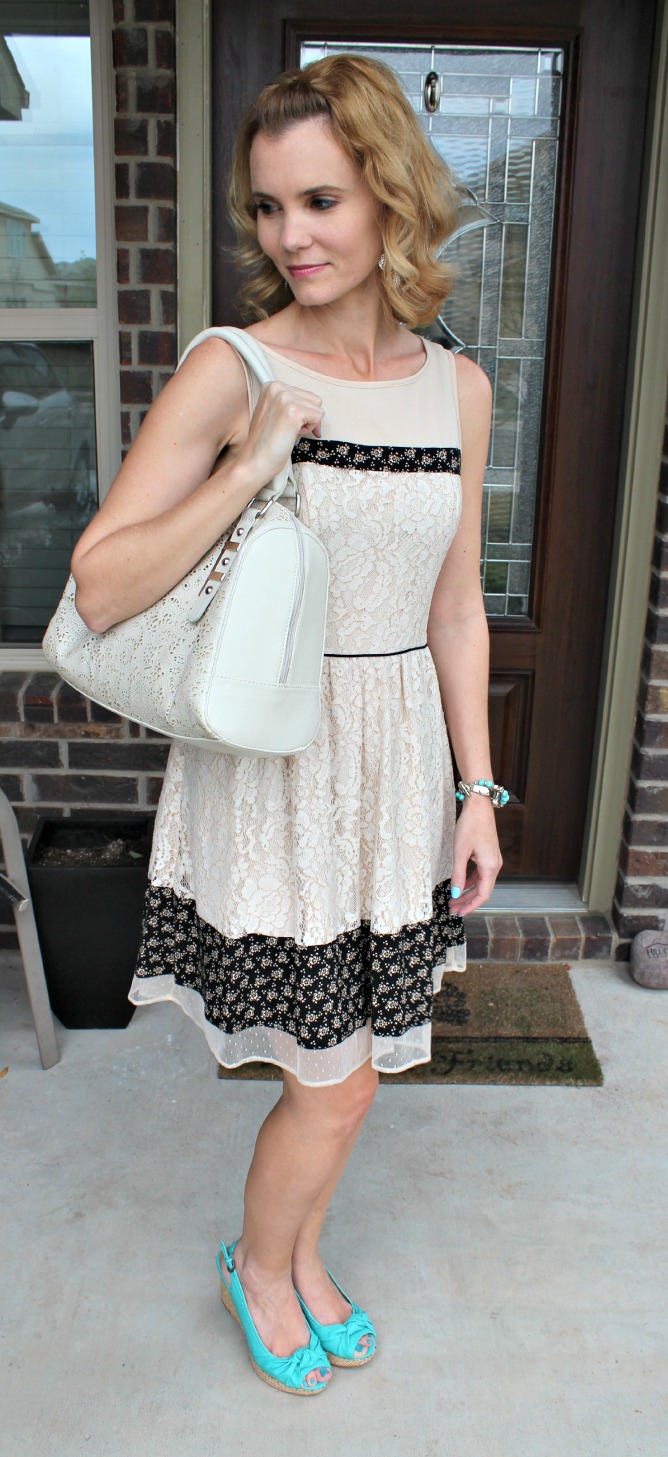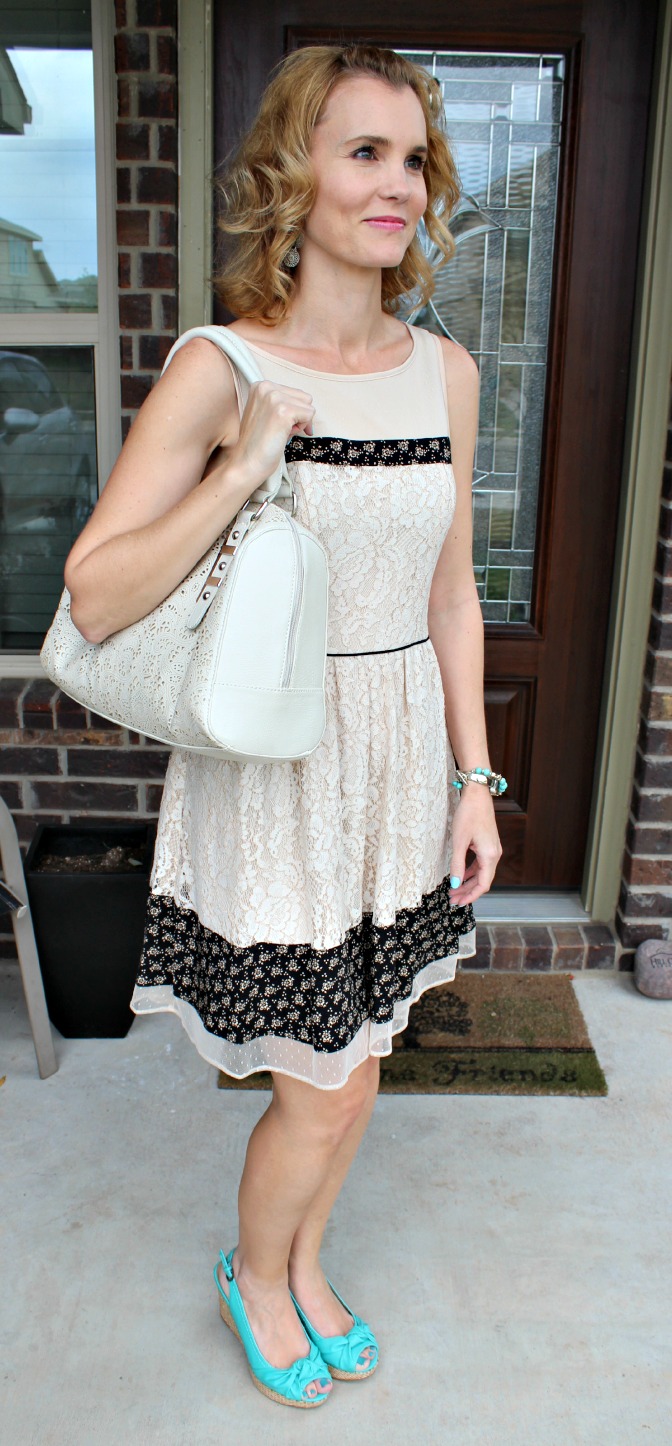 Look #2 – The Dress, ELLE  Denim Jacket, Vera Wang Clutch in Pink, Nude Sandals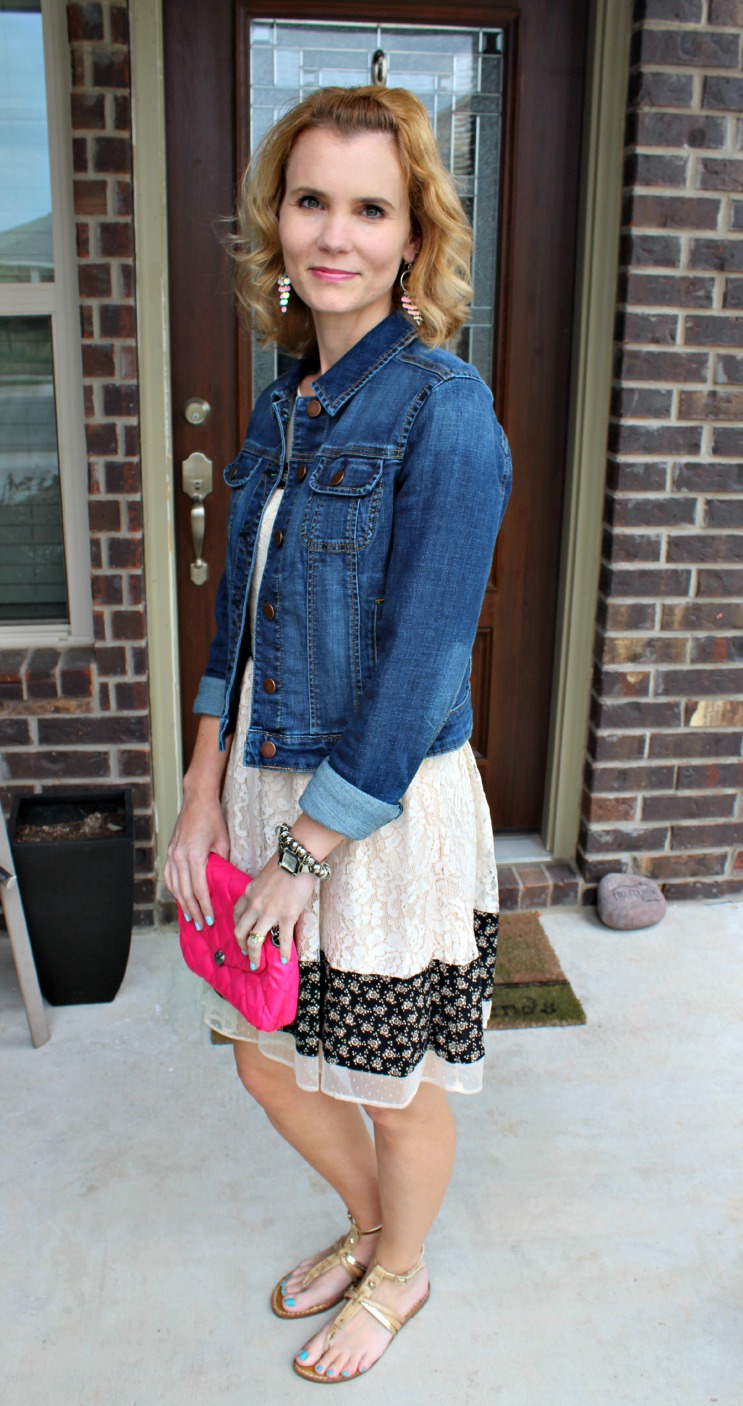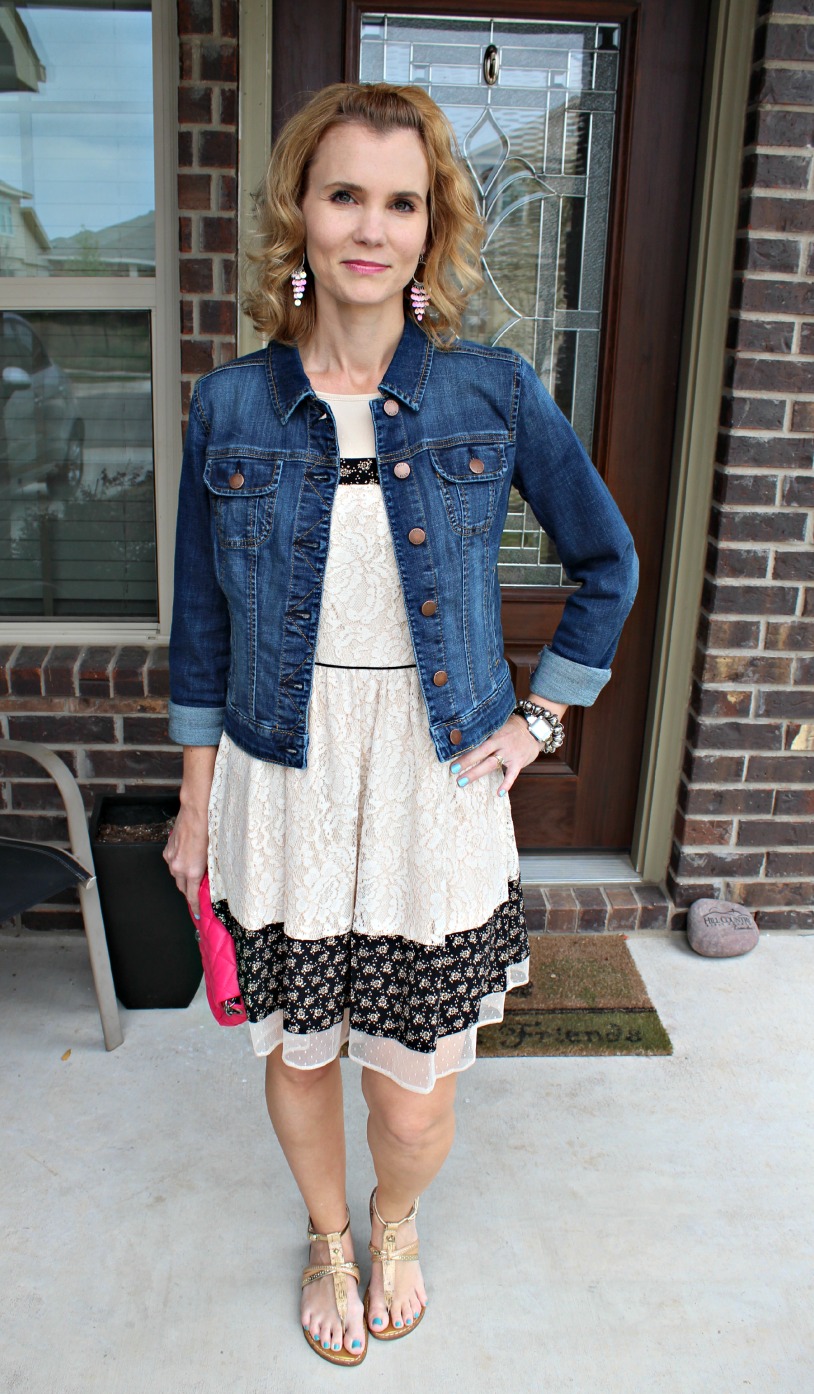 Look #3 – The Dress, Croft & Barrow Black Cardigan, Chaps Black Wedges, My Husband's Car 😉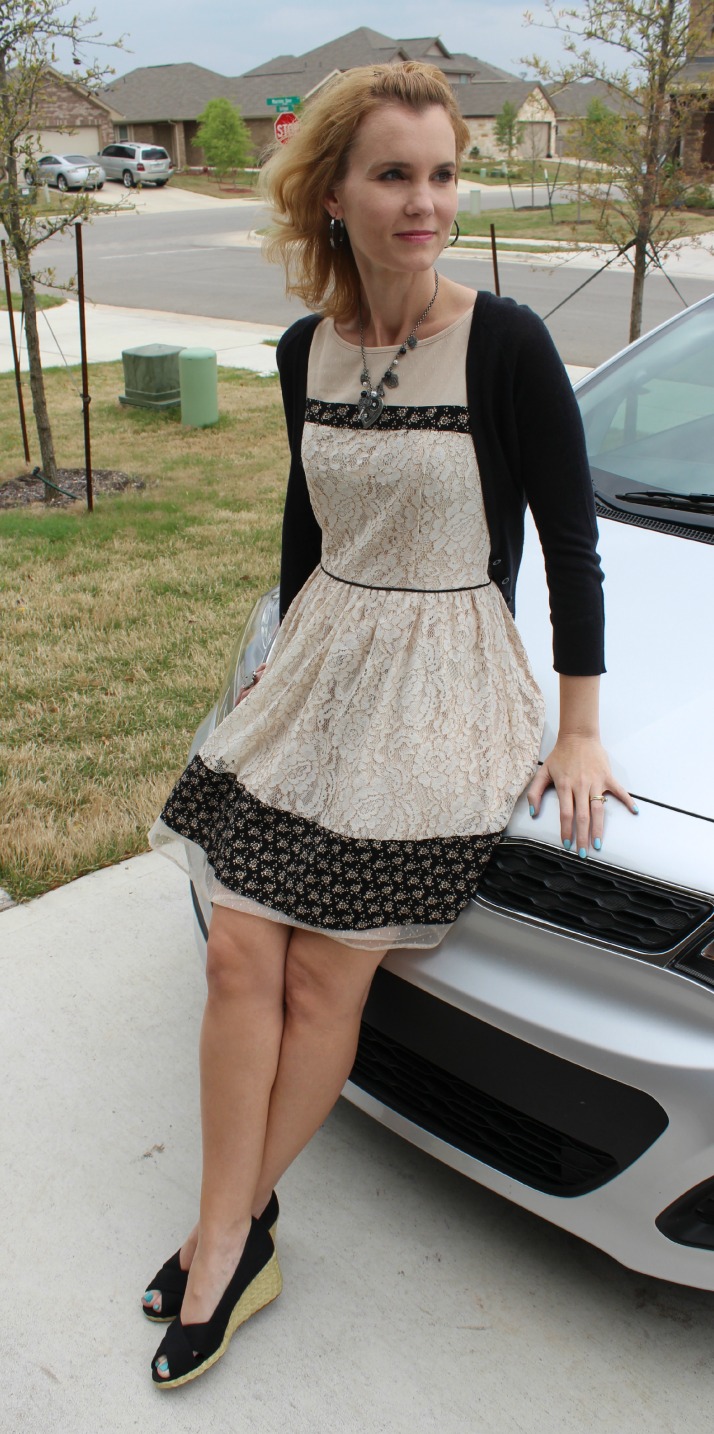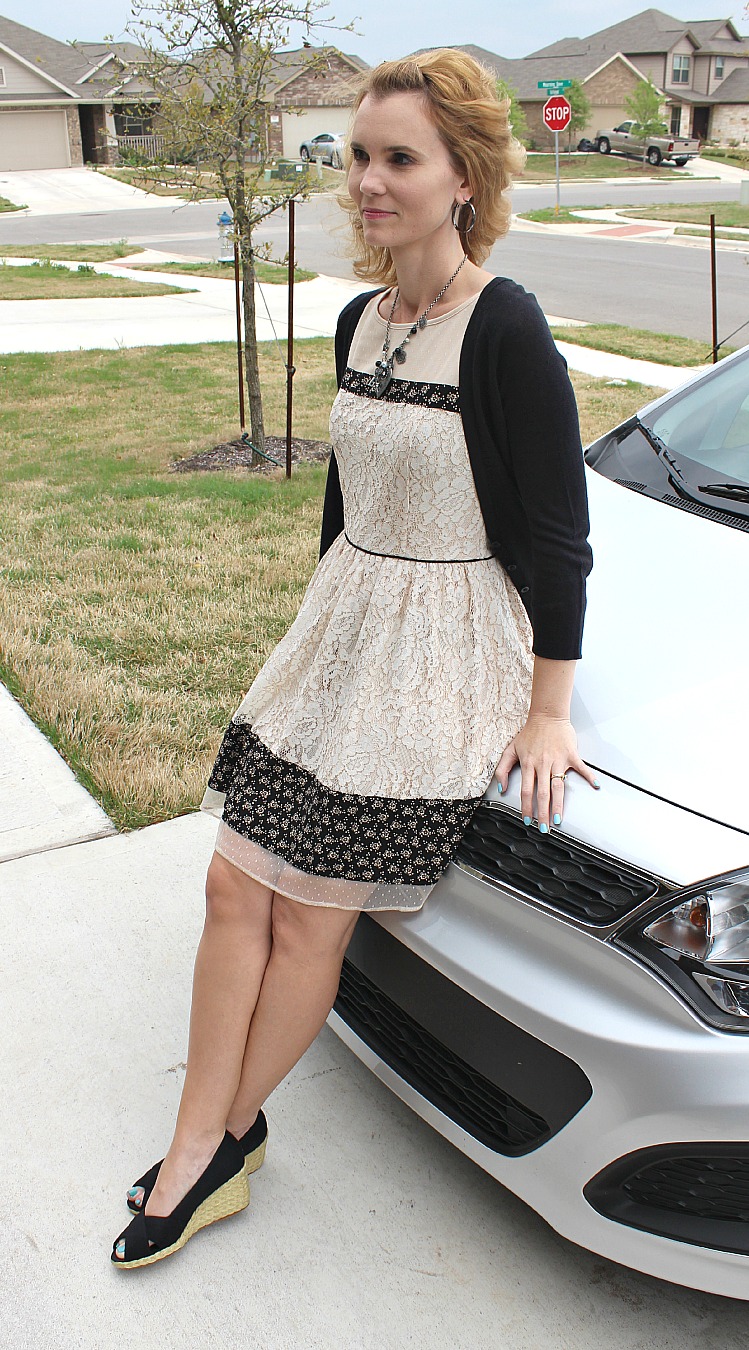 Two Dresses, Six Different Looks…
What do you think of the dresses I chose from Kohl's? Do you think you could create different looks like I did using a few key pieces from your closet? Guess what? I know you can! Head into a Kohl's today and check out all of the beautiful Spring Dresses they have available.
Also, don't forget about the Peter Som for Kohl's pre-sale on April 4th and 5th and the full collection that will be available online April 7th and in-store and online April 10th. You can see my sneak peek here!