If traveling far away to a tropical island or hitting the ski slopes for your spring break trip isn't in the budget, a spring staycation might be exactly what your family needs. It's a chance to save some money, but also explore your city and see what all it has to offer. You just might be surprised at what you've been missing out on!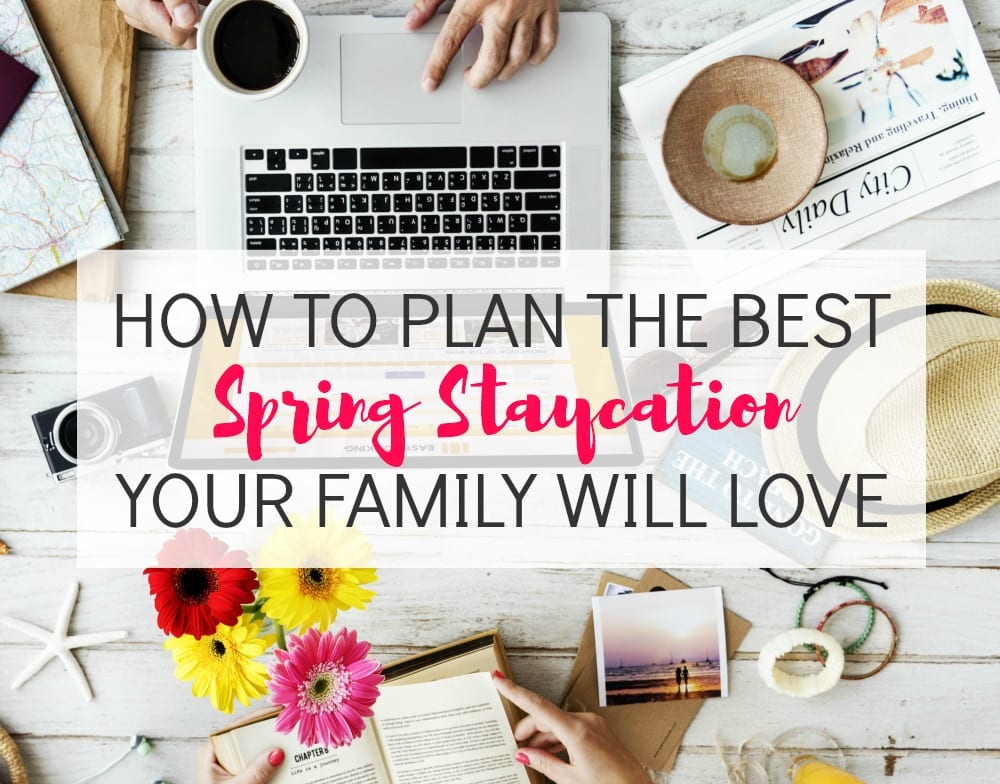 Last spring break, we went on an epic trip to Yosemite and San Francisco. It was a vacation that will go down in the record books as one to remember. It was one of those trips where none of us were ready to leave. Our family loves to travel and we always come back closer to each other, refreshed (albeit tired from traveling) and talking about where we want to go next. We've talked about this trip all year long and I've been dreaming about where we would go this spring break.
Unfortunately, traveling somewhere far away isn't going to happen for spring break this year and although what I really wanted to do was go pout in a corner feeling sorry for myself, my husband suggested we try out somewhere close that we haven't been yet. Like a staycation! So that's what we're doing and I'm actually quite excited about it.
So how do you plan the best spring staycation your family will actually love? I'm glad you asked. Here are some of the best tips and tricks for doing just that.
How to Plan the Best Spring Staycation Your Family Will Love
PLAN IT LIKE A REAL VACATION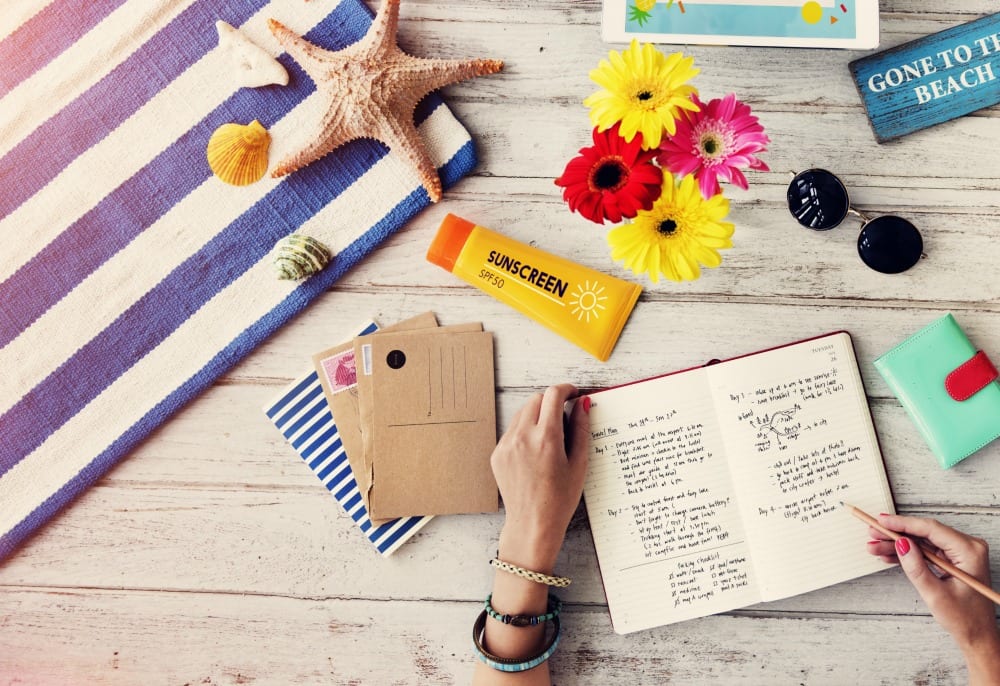 The best way to get yourself and the family on board and excited about a staycation is with some planning. To answer the question, how do you plan the best spring staycation your family will love – it starts with actually planning it!
You don't have to plan every minute of every day, but a general idea of what you're going to do will help put your mind at ease. And if you have kids (no matter their age), you'll have an answer to the question 'what are we doing today?!' which makes everyone happy.
When I've planned staycations in the past, generally we had two to three days we were away from the house and one or two days we were at home. I also knew what days/nights we were eating out and when we were dining at home. Having a plan made it feel more like a vacation.
UNPLUG, REALLY UNPLUG
If you're going to treat this like a real vacation, then treat this like a real vacation and unplug. Resist the urge to check work emails or answer work calls. Better yet, set up an out of office email reply so people know you're out of touch. Let your calls go to voicemail – yes, even friends and family. This is a vacation for you and your immediate family to relax, unplug and do some good 'ol bonding. Outside work distractions and other obligations can wait.
HAVE A FEW AMAZING MEALS
Eat out
Is there a restaurant in your area you've been meaning to take the family to? This is the week to do it! Plan a meal or two out at either your favorite restaurants or at ones you've been saying you want to try. And since you're on vacation, you can get there nice and early to beat the dinner rush. Dinner at 5:00 pm and dessert at home by 8:00 pm? Sounds good to me!
Try new or old recipes
You can also plan a couple of amazing meals at home. Either whip up a recipe you haven't had in awhile or try a new one. Scan your Pinterest board for all of those recipes you've been saving up.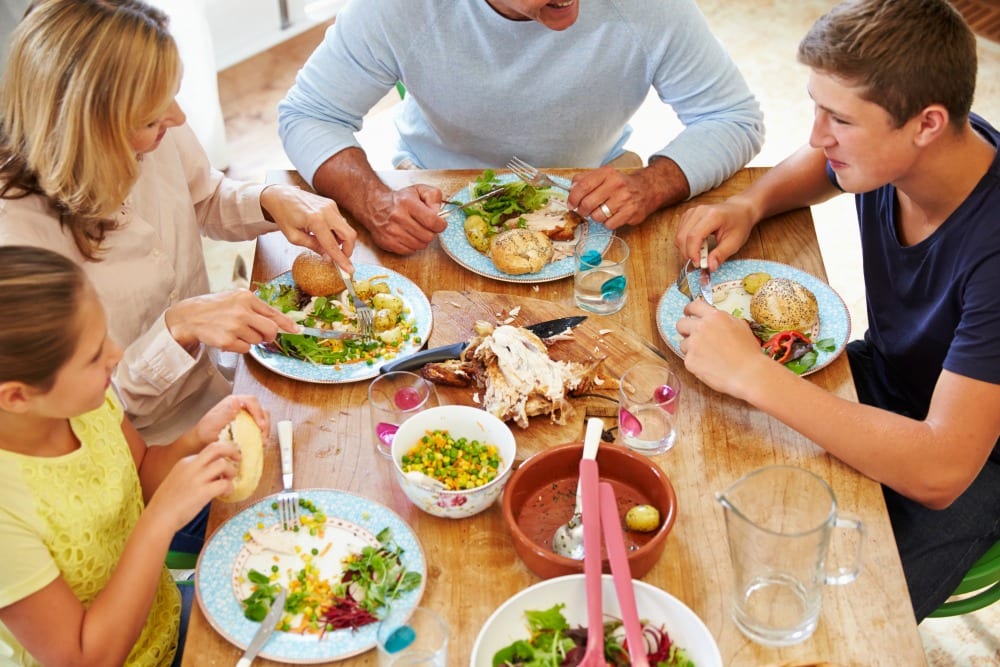 Have your meals delivered
To make things even easier on yourself and add some more adventure to your spring staycation, try a meal delivery service like HelloFresh. You choose from their easy-to-prep healthy recipes each week that are ready in 30 minutes. Be sure to do this ahead of time the week before, at the beginning of the week, so you will have your meals the week of your staycation. You can get up to 50% off your first box + free delivery too, which is the perfect way to try them out! You can sign up here.
Have your groceries delivered
How does avoiding the grocery store while on your spring staycation sound? Amazing right?! Use a service like InstaCart and shop right from your phone or computer. I use this service every week and am a huge fan. While someone else is doing the shopping, you can be doing what you're supposed to be doing on a vacation – relaxing.
BRING THE SPA HOME
When I'm searching for a place to stay on vacation, I always check and see if they have a great tub and envision myself soaking in there reading a good book or catching up on my latest Netflix binge. Why not do the same at home for your staycation? Since you're unplugged and in vacation mode – there's no reason why a night or two soaking in the tub shouldn't be on your staycation to-do list.
You can read all about how to create the Ultimate Bath Experience here. While you're soaking in the tub, sip on one of these detox waters. Are you feeling relaxed yet?
CHOOSE A FEW ACTIVITIES FROM YOUR LOCAL BUCKET LIST
I am always amazed at how many things there are to do in our local city and within a short driving distance. For your staycation, it's time to play tourist but in your own city. Or maybe you've had some activities on your bucket list for awhile and you haven't gotten around to doing them because you've been too busy. Well, this is the week to check those activities off that list!
Here are a few ideas to get you started:
Visit a local Museum
Visit a local or National Park
Visit an amusement or water Park
Visit a Zoo or Aquarium
Go Bowling, Play Laser Tag or Arcade Games
Spend a day at the lake
Go to the movies
Hit the local bike or hiking trails
Get artsy somewhere like Painting with a Twist or a local pottery studio
Go ice skating or roller skating
CHOOSE A FEW AT-HOME FAMILY ACTIVITIES
One of the biggest reasons for planning a spring staycation is to save money. With some creativity and a little planning, you can make staying at home fun for everyone. (Yes, even those teens. Seriously! I've done it.)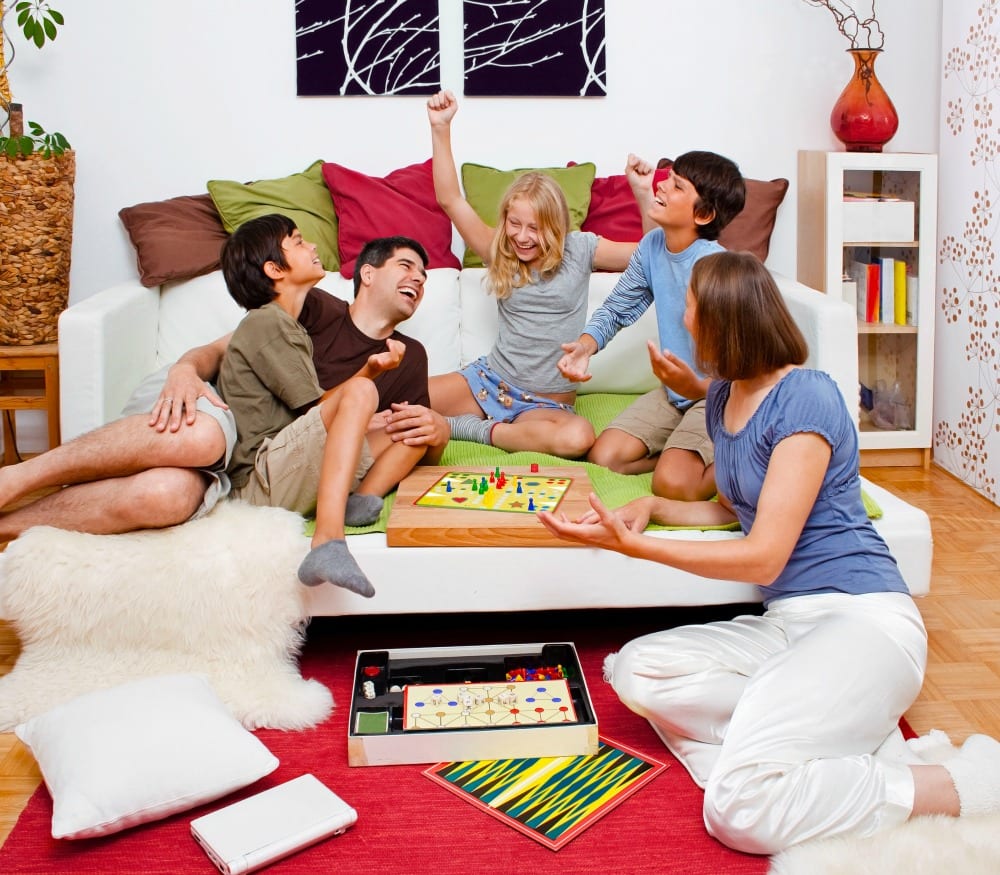 Here are a few at-home activity ideas:
Camp in your own backyard
Have an at-home movie night with movie theater themed food galore
Eat a meal (or two) outside
Play cards or board games
Have a build-your-own dinner night and serve pizza, tacos or set up a potato bar
Buy donuts for breakfast (with sprinkles of course) and stay in your pajamas all morning
Set up your own backyard water park with water hoses or a slip and slide if you have one
TAKE LOTS OF PHOTOS
Just because you're not in a new town or state, doesn't mean you shouldn't document what your family is doing. So get out that phone or camera and snap away! Take pictures while you're out and about exploring your city. Take pictures while you're at home. Even the simplest picture of your kids curled up on the couch, relaxed and watching a movie or around the table playing a board game is something you'll look back on later and be glad you snapped that moment.
—
Have you ever planned a spring staycation? What tips do you have for making it enjoyable for both you and the family? Please share!