*I received complimentary product from Orvis for this review.
This olive dress outfit is perfect for running errands on a warm spring day.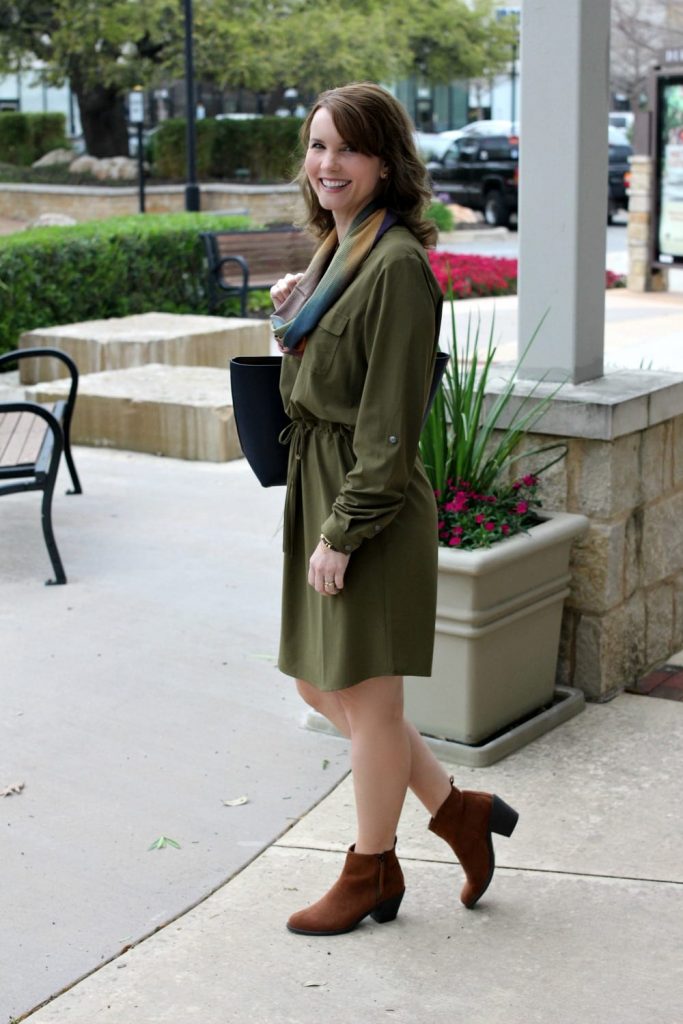 Warmer weather is here and I have spring fashion on the brain. I love this time of year! Everything feels so new and fresh. It's a great time to step back, take a look at your wardrobe and get rid of items that aren't working for you. It's also a good time to add some pieces you've been wanting.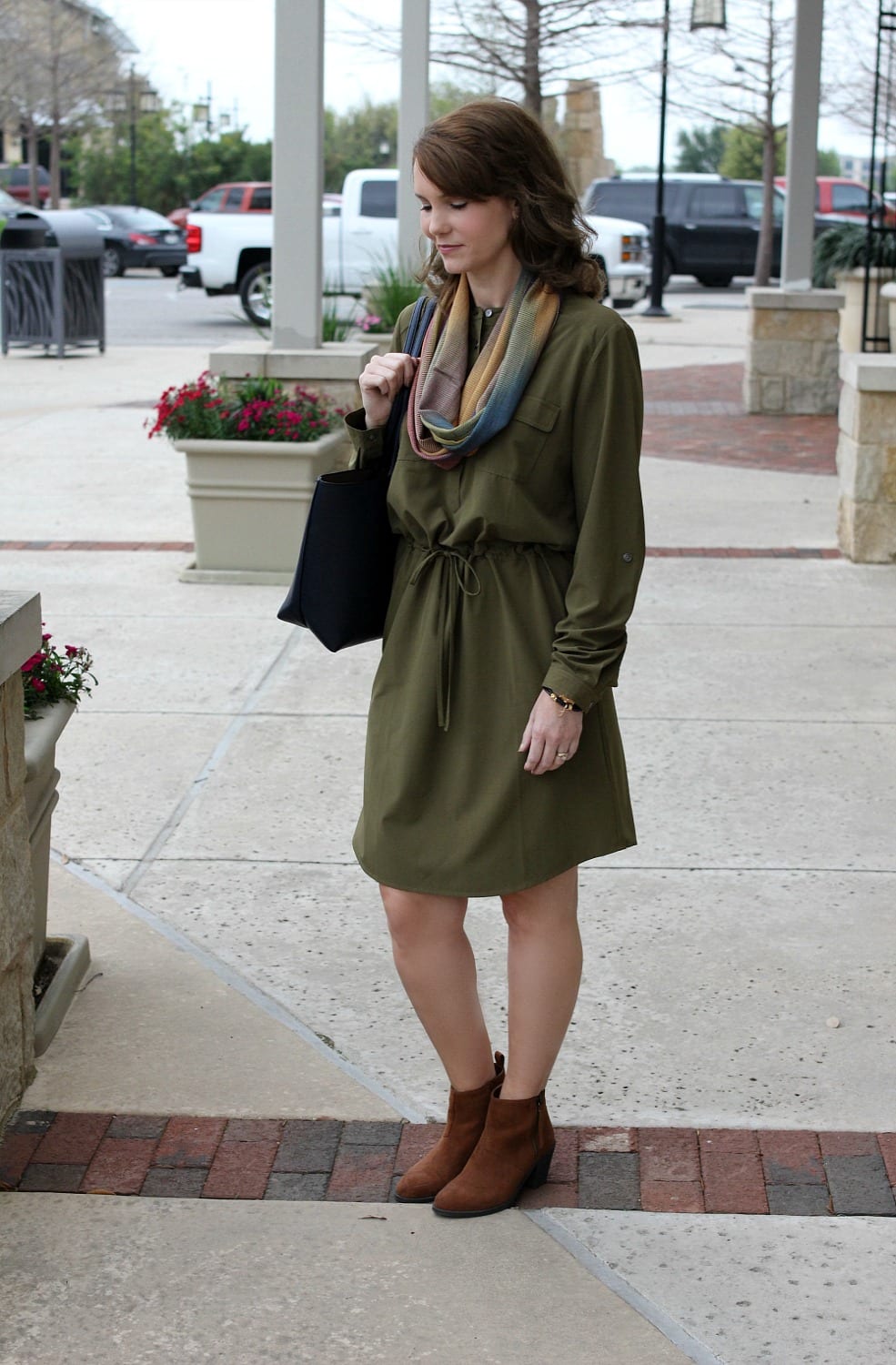 When it comes to my spring wardrobe, I like to include free-flowing fabrics and pieces that are comfortable for every day wear. I've been wanting an olive dress and I am so excited to have teamed up with Orvis.com, to share some pieces from their new spring line.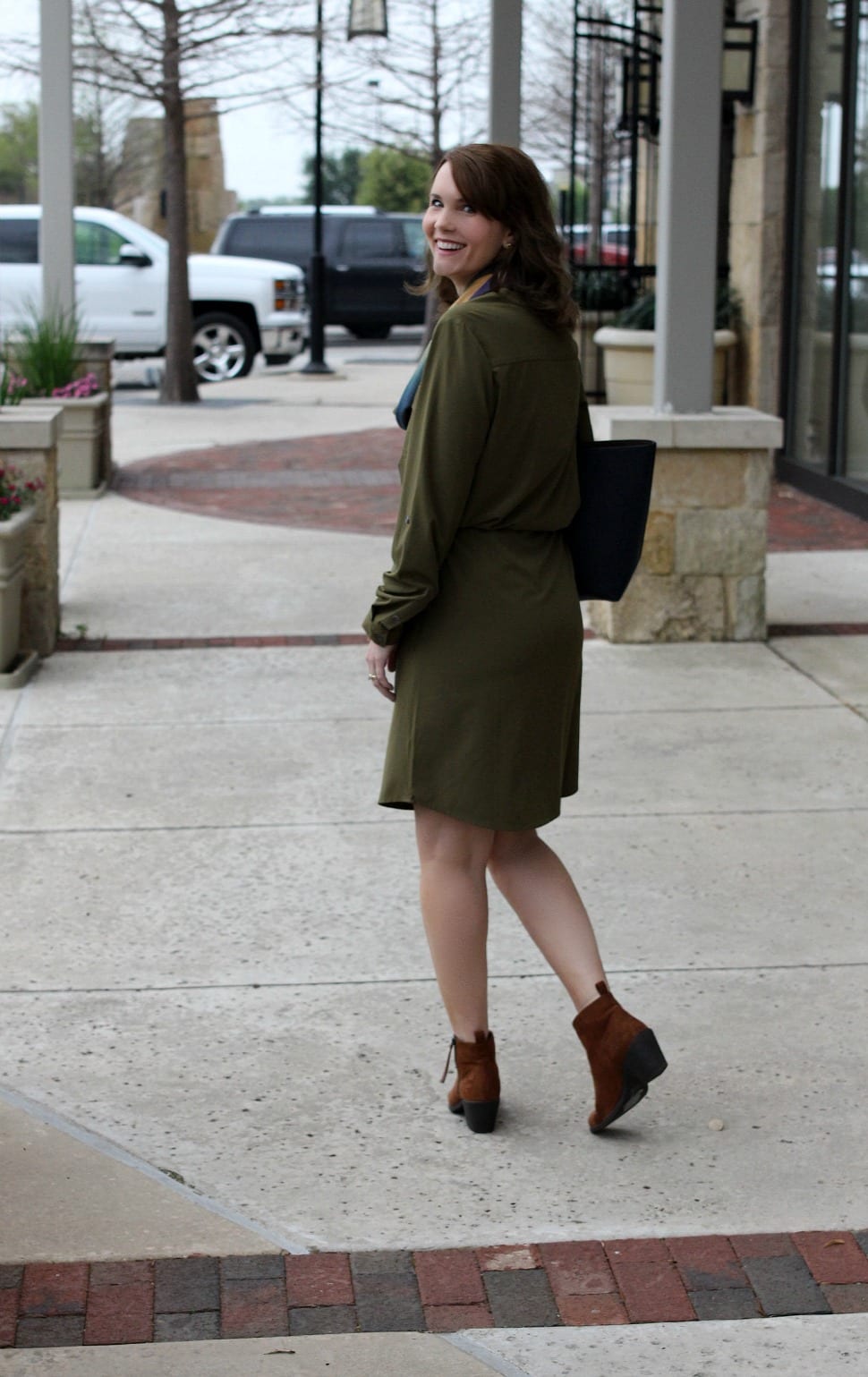 I'm not usually one to gravitate towards clothing that would be considered "outdoor style", but as I looked through the Orvis spring line, there were around 10 pieces that really caught my attention. As I said, I've been wanting to add an olive dress to my wardrobe, because the color suits my skin tone (and new hair color) quite well. Plus, olive is such a fun color to play around with.
I knew the Florence Popover Travel dress was exactly what I was looking for. The more traveling we do as a family (and the higher those baggage rates keep climbing), the more I realize how important it is for me to travel with pieces that do not take up a lot of luggage space, are really comfortable and can be turned into multiple different outfits.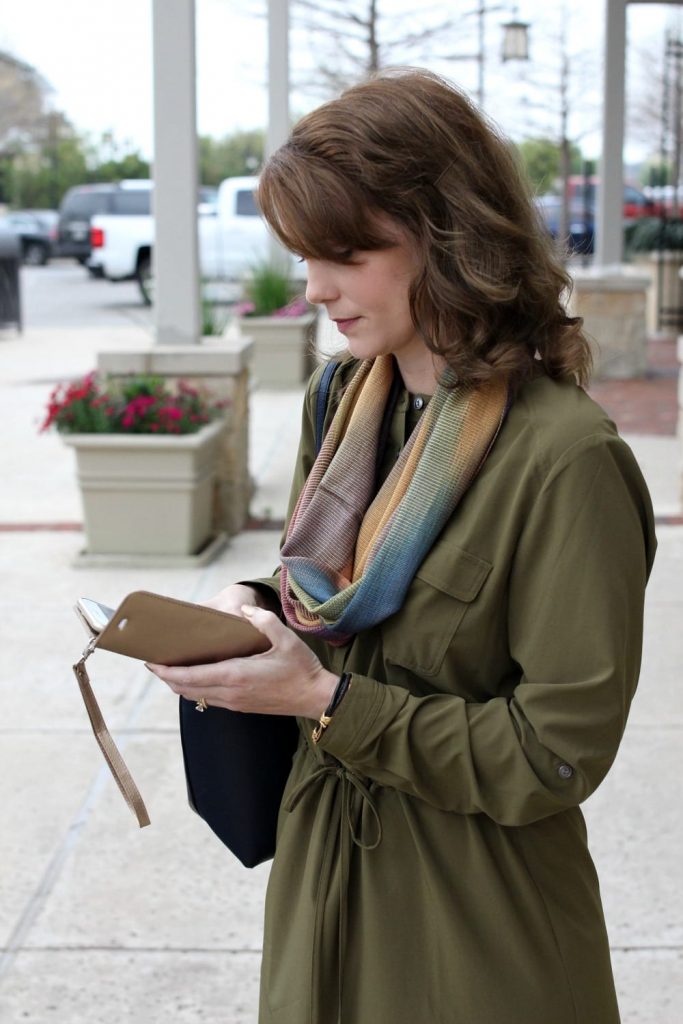 This olive dress is wrinkle-resistant, quick drying and features UPF 50 sun protection. I really could have used this on our spring break trip to San Francisco. Between having to pack five people into 3 bags and dealing with some wet weather and tons (and tons) of walking around the city, this dress would have been perfect.
If you're like me, then you like a dress with pockets. It's just convenient, especially when traveling. At first I didn't notice the side pocket on this dress. They did a really good job at making it very minimalist so it doesn't add any bulkiness to the hip area. That's not something I need help with. 😉
More features of this dress include front flap pockets and a draw-string waist to give that area some definition.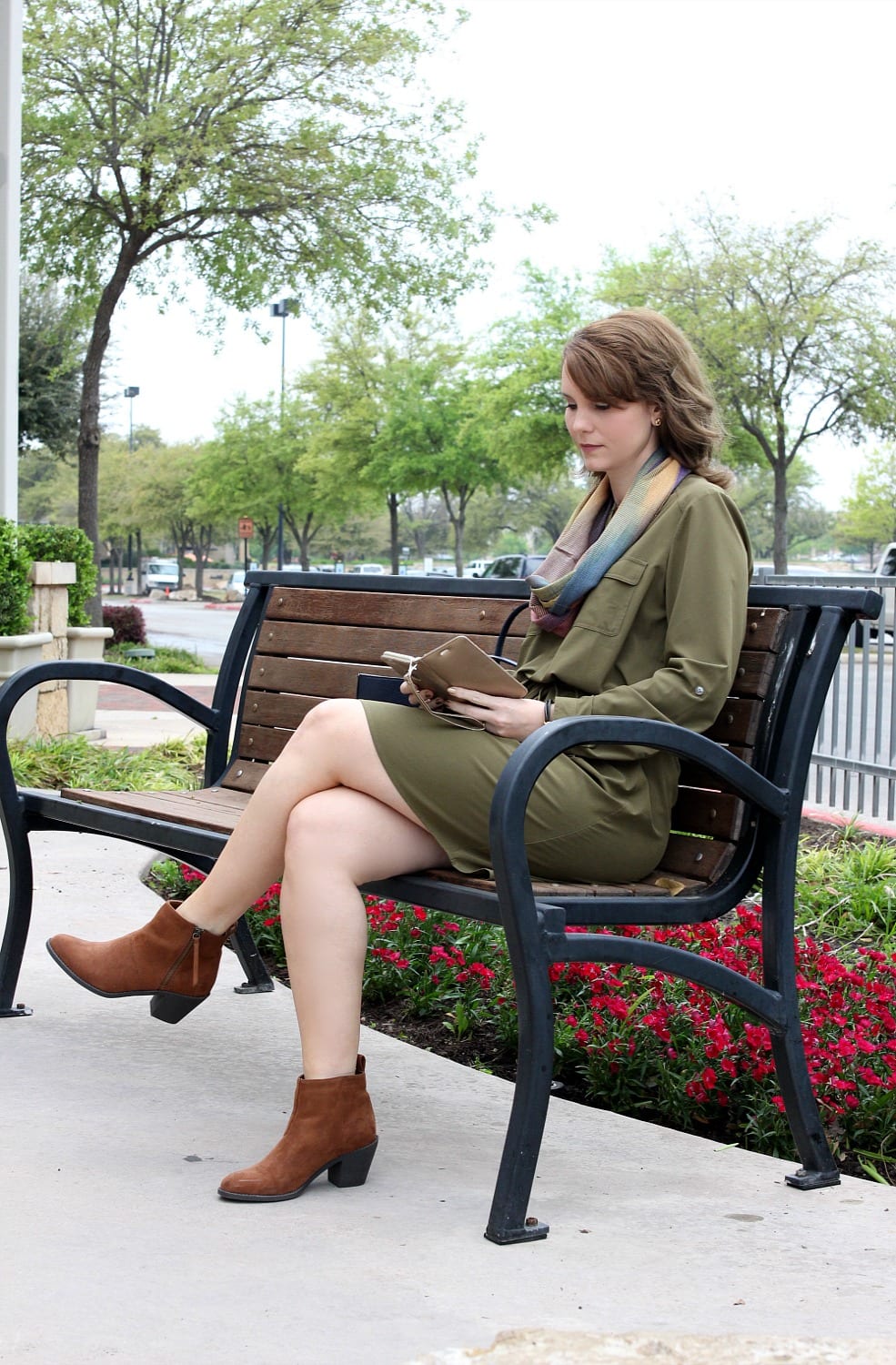 My husband and I got out the other day to run some errands, so naturally I took this as the perfect opportunity to snap some pictures of my new outfit. There's a really nice shopping center in a town close by, filled with every shop you could think of. You just park and walk, and I love it.
"Hang on….let me take this call." 🙂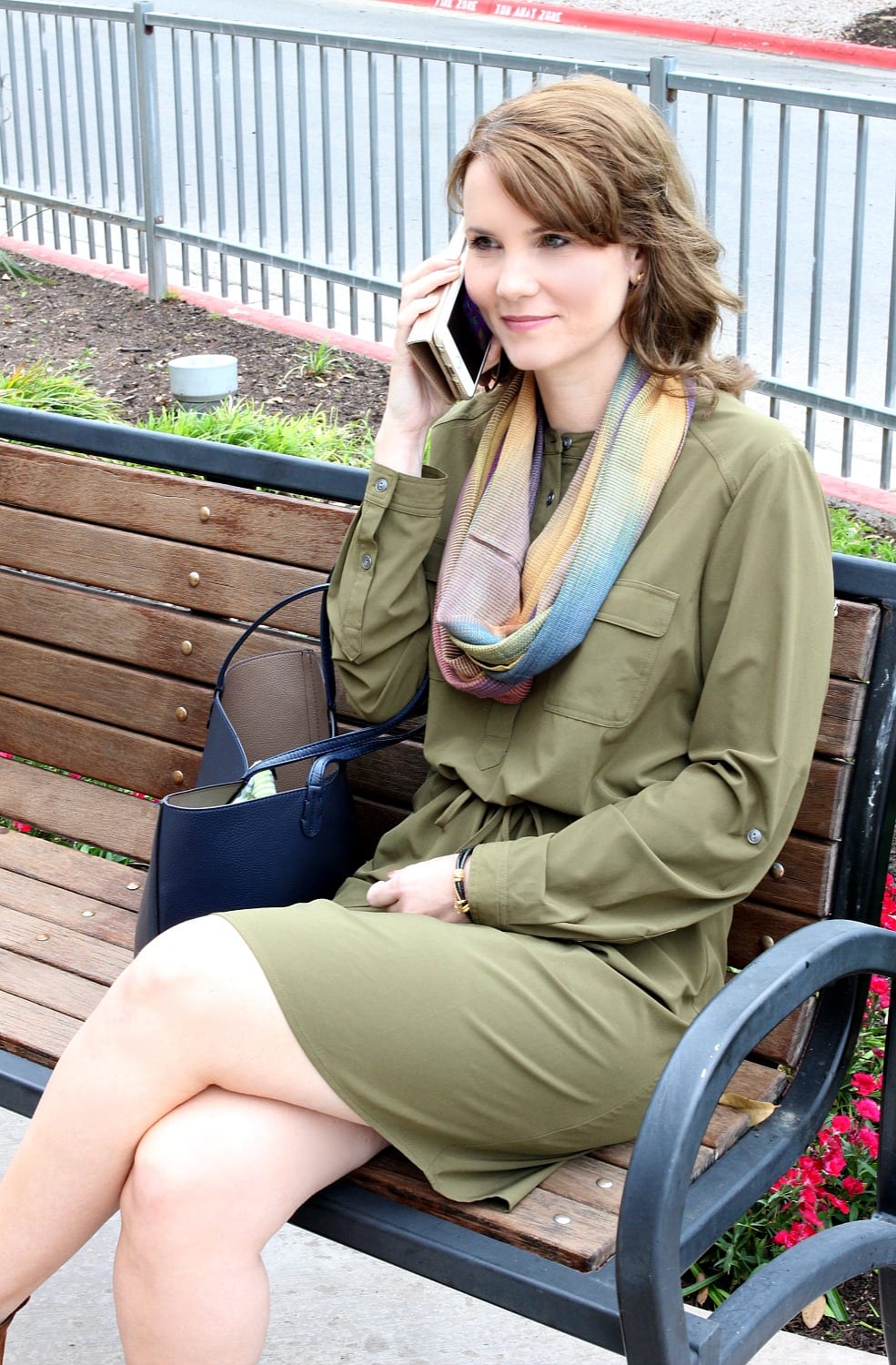 I can think off the top of my head five different ways I could accessorize this dress. For this feature, I paired it with the Orvis Handwoven Bamboo Infinity Scarf. It comes in three different colors: purple multi (the one I'm wearing), blue/green and red/blue. It's a good size to loop around your neck a couple of times, as well as the perfect blend of colors to wear with many things in my closet.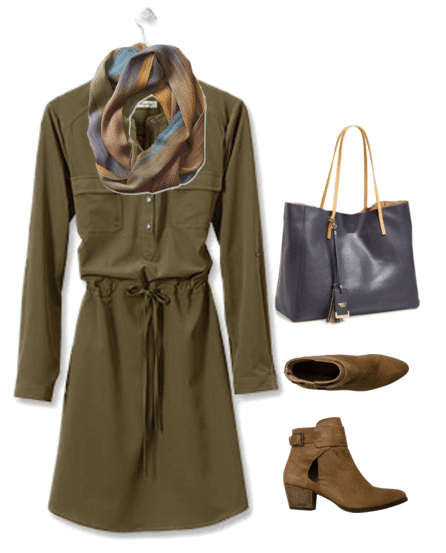 I went back and forth trying to decide what shoes to wear for this shoot. At first I had on my Birks, which looked so good. I also tried it with my rain boots, brown riding boots and a pair of dressier sandals. Needless to say, all of the shoes worked with this dress, but I finally decided on my brown booties.
I am beyond pleased with my selections from Orvis. If you're looking for quality items to add to your spring wardrobe that are fashionable and outdoor friendly, take a look at what Orvis has to offer. I have my eye on these pants, this skirt and this popover tunic. To get $25 off a purchase of $50 or more (good until September 30th, 2016), shop using code ICSPRING.
Would you like an an opportunity to win one of ten $100 Orvis gift cards? If so, enter below! The giveaway concludes on May 2, 2016. Good luck!!
I-C will randomly select 10 winners from all program entries and will handle fulfillment of the winning prizes.