Thank you to Carefree® for sponsoring this post.
Our family is always thinking about that next trip we want to take; whether it's back to Colorado, the state we love and was once called home, or exploring a new city in California. Back in March, we took a family trip to San Francisco and Yosemite. We spent the first half in a cabin enjoying the sights, hikes and amazing scenery Yosemite has to offer, and the second half touring San Francisco. It is definitely up there with one of our best vacations yet.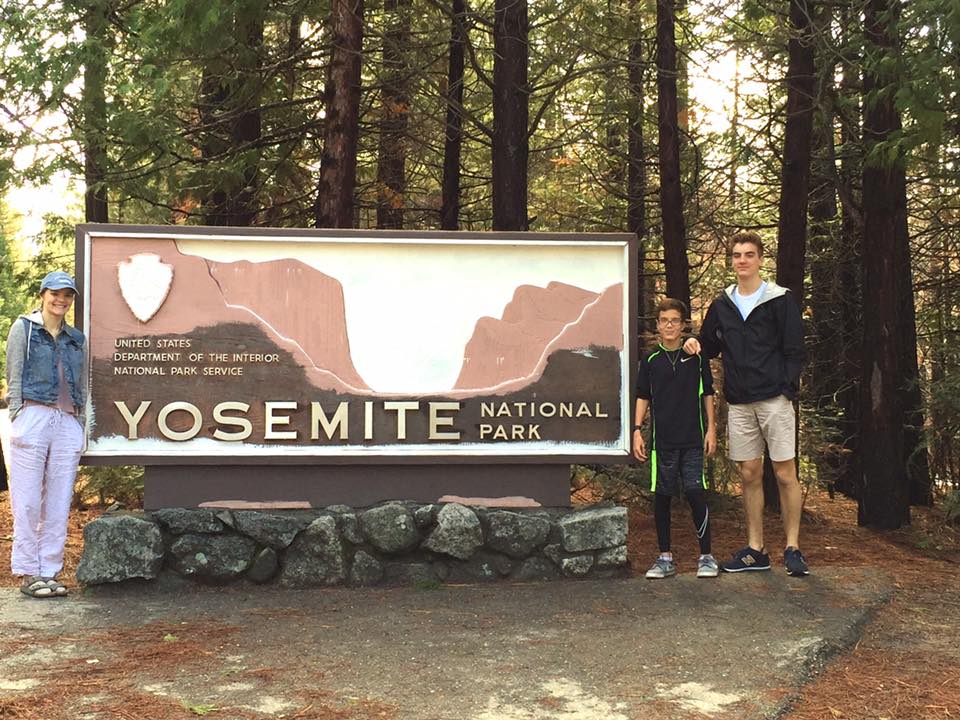 When it comes to traveling, I am one of those women who like to be prepared. I've traveled quite a bit throughout Europe, Mexico and all over the United States in my 40 years of life. One thing I've learned,  is what to pack in my purse or backpack when I know I'll be exploring a new city all day.
From life's little surprises to that moment when I realize if I don't eat a little something I'll pass out, I've learned what necessities I need to pack and what extras to bring just in case.
Here's what I pack in my purse for a day of sightseeing out and about in a new city.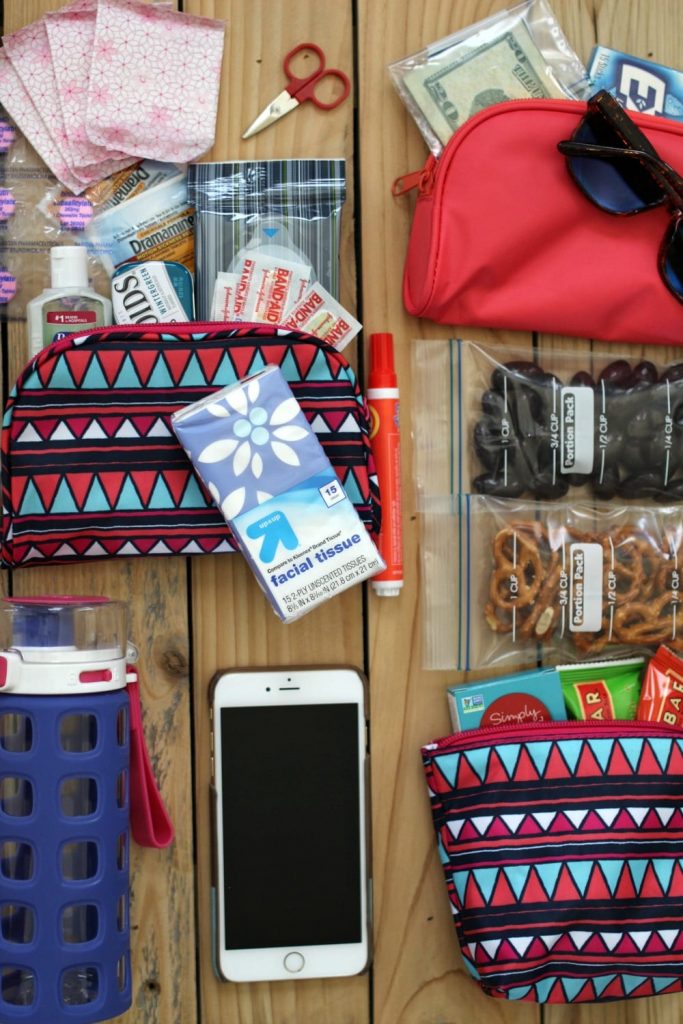 Carefree® Acti-Fresh® liners: These liners are great to pack while traveling and to keep with me all the time in general. As women, our bodies like to surprise us don't they? Whether that time of the month decides to show up unexpectedly or you're not feeling so fresh and need something to help, Carefree Acti-Fresh liners are the perfect travel companion.  And don't let the thinness fool you. These are very absorbent, plus the odor control gives you that boost of confidence you need.
Small Scissors: I bring these with me just because. You would be amazed at how many times I've used this tiny pair of scissors. From cutting tags off new sunglasses to loose threads from a shirt, they come in handy.
Medicines & Bandages: I carry with me my migraine medicine everywhere I go, plus pain reliever, stomach tablets and something for motion sickness. The little mint box you see actually holds pain reliever. I like to store them in tins instead of carrying around a bottle. Bandages are a necessity for life's cuts, scrapes and blisters from wearing the wrong shoes while being on your feet all day. (Yes, I'm speaking from experience.)
Wipes and Hand Sanitizer: Whether it's from a sticky ice cream cone your child just ate or there wasn't any soap in a public restroom, both of these come in handy while traveling. I've wiped down tables at restaurants and given everyone a good dose of hand sanitizer before we've eaten on many occasions.
Stain remover & tissues: I keep these on hand because life gets messy doesn't it? Especially while traveling.
Extra cash, ID and Debit Card: When I'm traveling for the day, I don't like to carry a heavy wallet around with me. I leave my wallet locked in the safe at the hotel and only carry the bare necessities. If you're traveling internationally, you'll want to have your passport with you at all times.
Sunglasses, Lip balm & Gum: These are three essentials for me while out for the day; sunglasses for protecting my eyes from the sun, lip balm for keeping my lips from getting chapped and gum since I can't brush my teeth after meals.
Water bottle: My entire family carries a reusable water bottle in their backpacks while we're traveling. We fill them up before we leave for the day and refill them throughout the day from water fountains and restaurants that are kind enough to fill them for us. When flying, we empty the bottles before going through security and refill them while on the airplane. Keeping ourselves hydrated while traveling saves us from getting headaches and helps keep our energy level up.
Phone: Since I upgraded to a larger phone, I use it as my camera, e-reader, note pad and GPS. I also use it to look up restaurant reviews, fun things to do in the city and to find any other information I might need. This keeps my load lighter, which is always a plus while traveling.
Snacks: I don't know about you, but traveling makes me hungry! It also makes my kids hungry, so carrying a few snacks to tide us over until we can find somewhere to eat a meal, helps a lot. When you mix being hungry + being in a new city + the tiredness that naturally comes along; it can make for some stressful moments. I like to carry with me almonds, pretzels and mini bars for a boost of energy.
Most of these items, excluding the water bottle and phone, fit nicely into small pouches. It keeps my bag organized and helps me find what I need in a jiffy.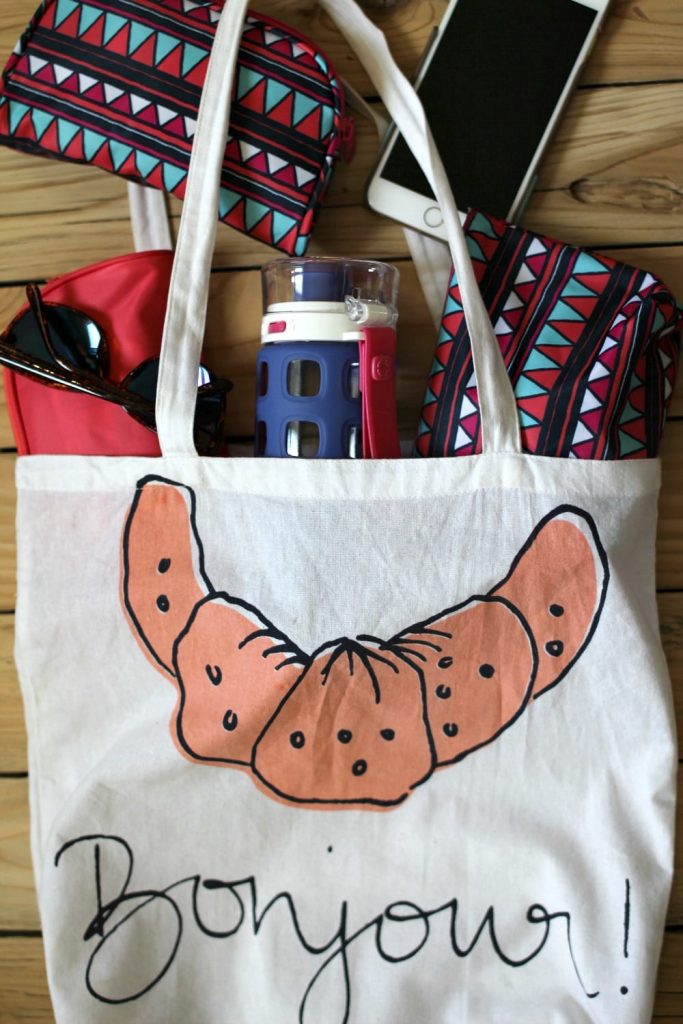 The Carefree Acti-Fresh liners barely take up any space and fit into one of the pouches easily, leaving plenty of room for other items. When I'm traveling, I'll often wear a liner just in case to keep me feeling fresh. It gives me the peace of mind I need, so I focus on the fun day ahead. Because the only surprises I want throughout the day are the exciting sights of the city! Are you with me on that?!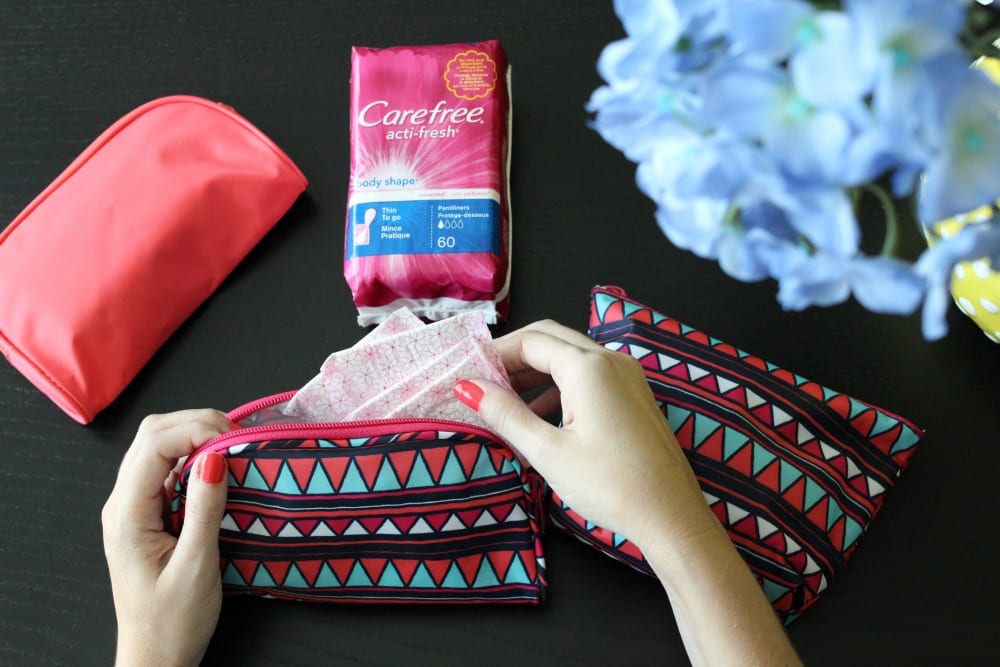 Pick up a package at your local Target or order online. And for some extra savings, be sure to use this Cartwheel offer for 10% off of Carefree products until August 7, 2016.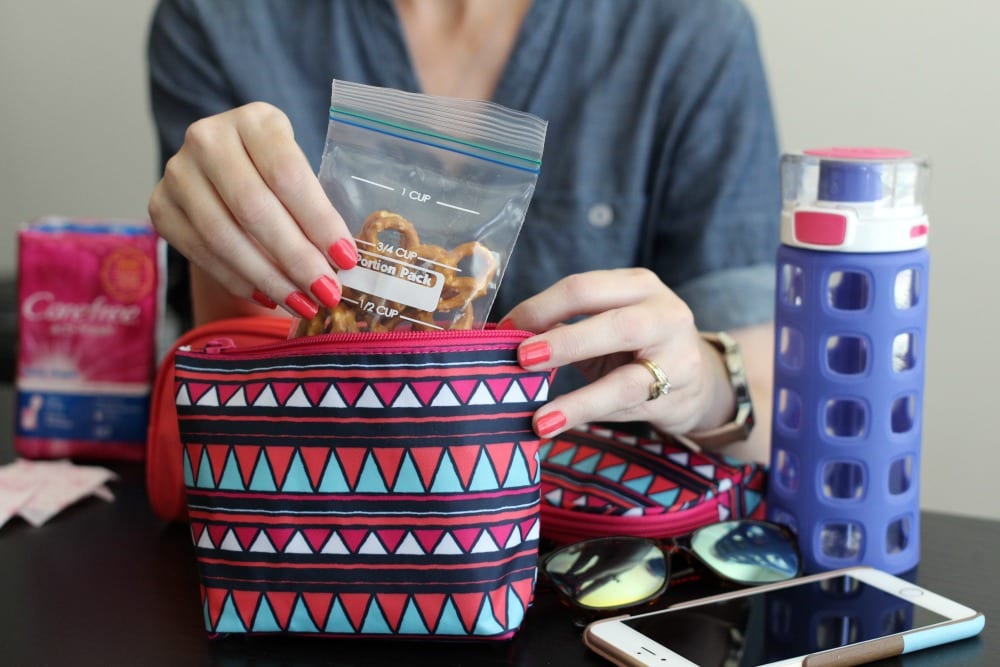 With a bag packed with all of the essentials, I'm ready for a day of travel and fun with the family. I like to carry either a soft cloth tote bag or a back pack instead of a handbag. It's easier on my back and I don't have the extra heaviness that many handbags add.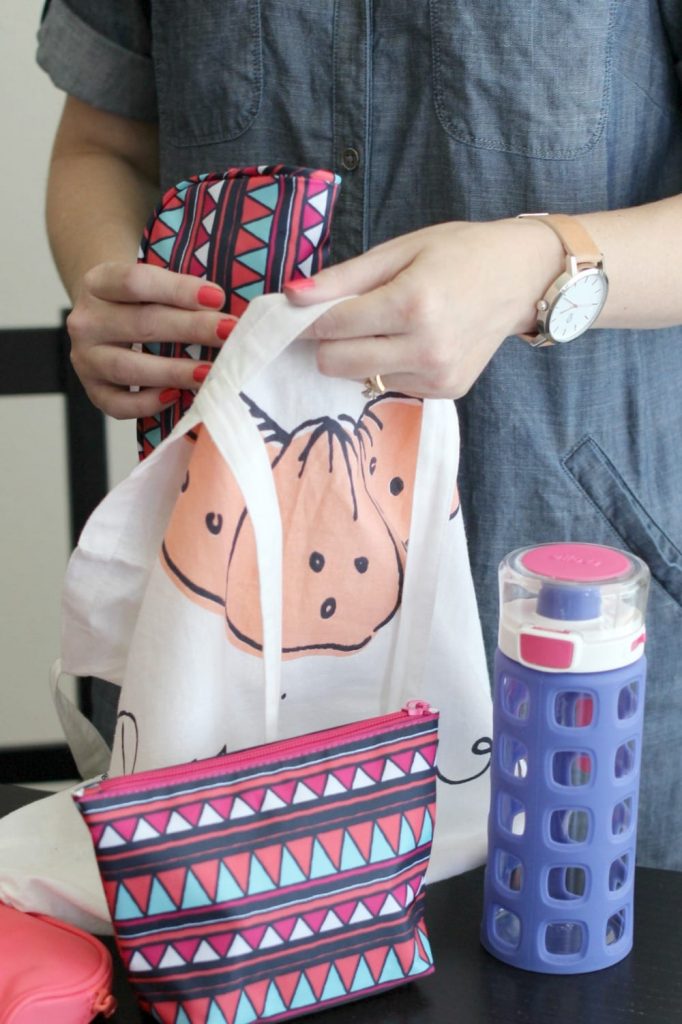 Do you have any tips for what to carry with you on a day of travel in a new city?