When I asked Mom Fabulous readers what their frustrations were when it came to fashion, some of you said figuring out how to wear an item of clothing you really like, but in different ways. You're tired of wearing that one shirt with that same pair of pants over and over, and you want some variety. I get that! I am all about mixing things up to get the most out of my wardrobe.
So variety is going to be one of my main focuses here when it comes to the outfit ideas I share with you. Let's get things started with a denim dress outfit. Or, how about three denim dress outfits? I took my favorite Tilly dress from Lee and am sharing three ways to wear it.
Denim Dress + Plaid Blanket Scarf + Tall Wedge Boots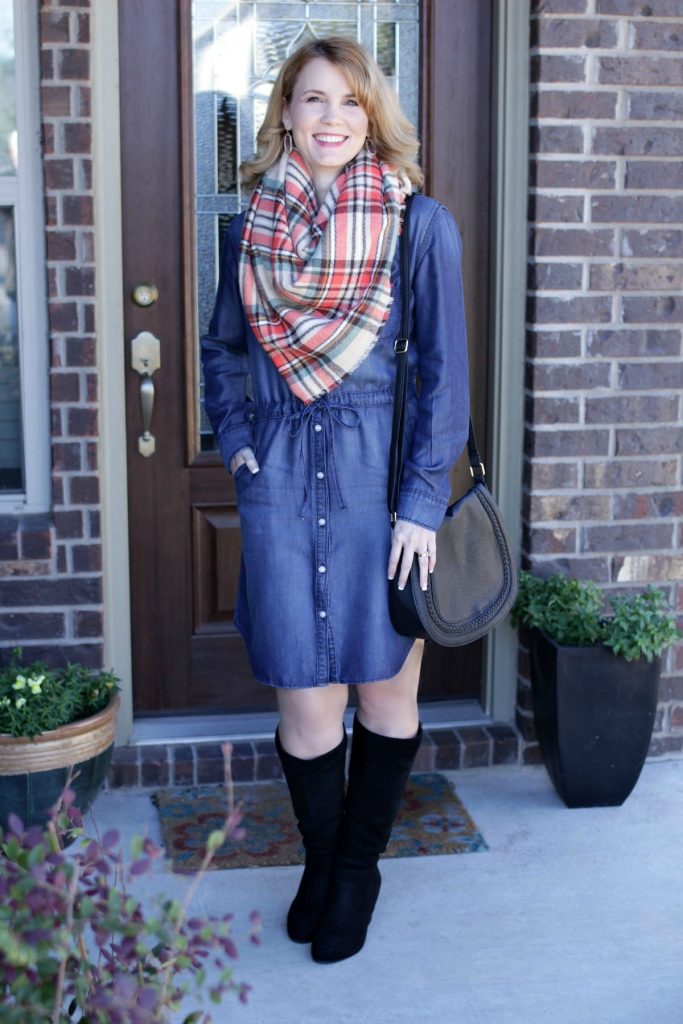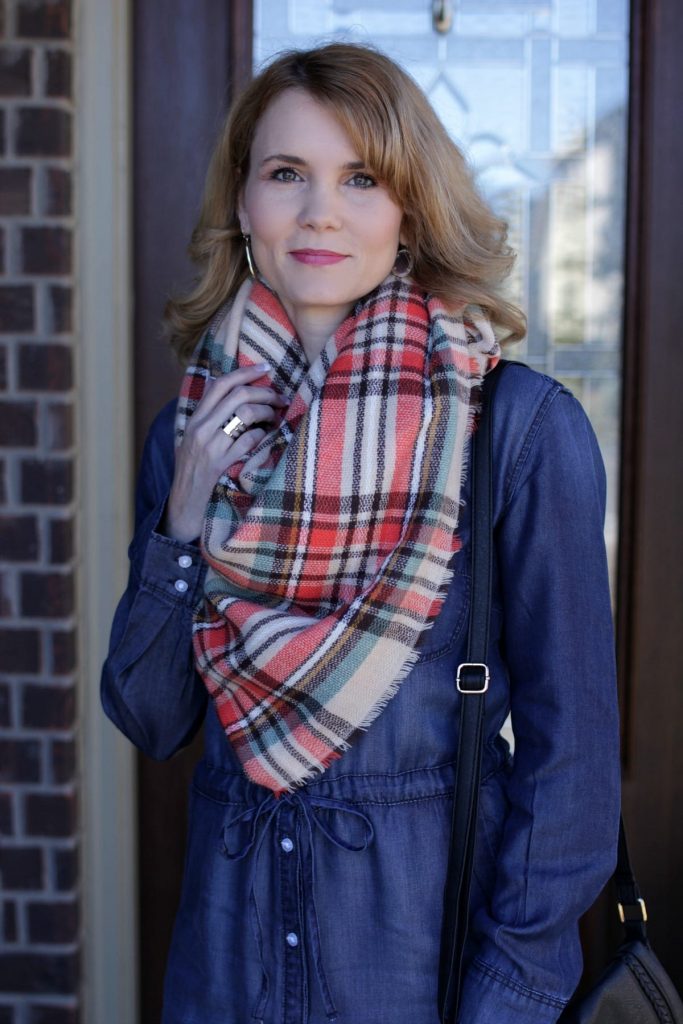 Outfit details: Denim Dress | Blanket Scarf (similar)| Handbag | Wedge Boots
I love throwing a blanket scarf over a dress, sweater or long sleeve t-shirt for extra warmth and style. February through April can be kind of crazy weather wise, and I never quite know how to dress. Especially when the day starts out cold and ends up in the 80s. Layering is one of the best ways to deal with the temperamental spring weather.
If you're new to wearing blanket scarves, or you'd like to buy one but have no clue how to wear it — I shared three different ways to style one and a tutorial here. How I'm wearing it with this denim dress is definitely my favorite way. And I promise, it's super easy to achieve this look.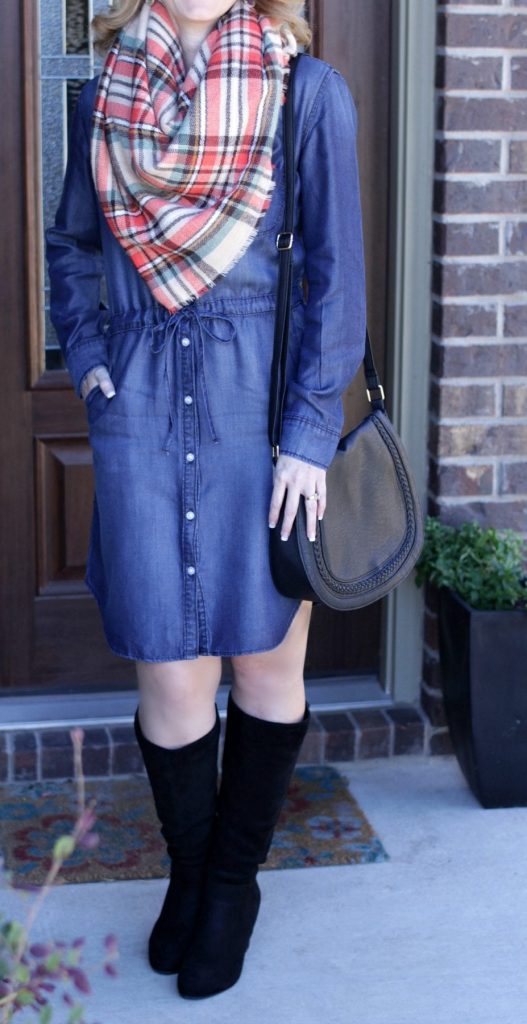 Denim Dress + Striped Shirt + Booties
Outfit details: Denim Dress | Striped shirt (similar) | Fringe Booties (similar here and here)| Watch | Jonathan Handbag from JustFab
I really like how this dress buttons all the up the middle. Adding a striped shirt underneath gives this dress a different look and adds another layer. This denim dress can easily transition to warmer days by rolling the sleeves up and leaving your legs bare.
I broke out my favorite black fringe booties and love how the entire outfit came together. I'm also wearing my new rose gold TUK watch and handbag from JustFab.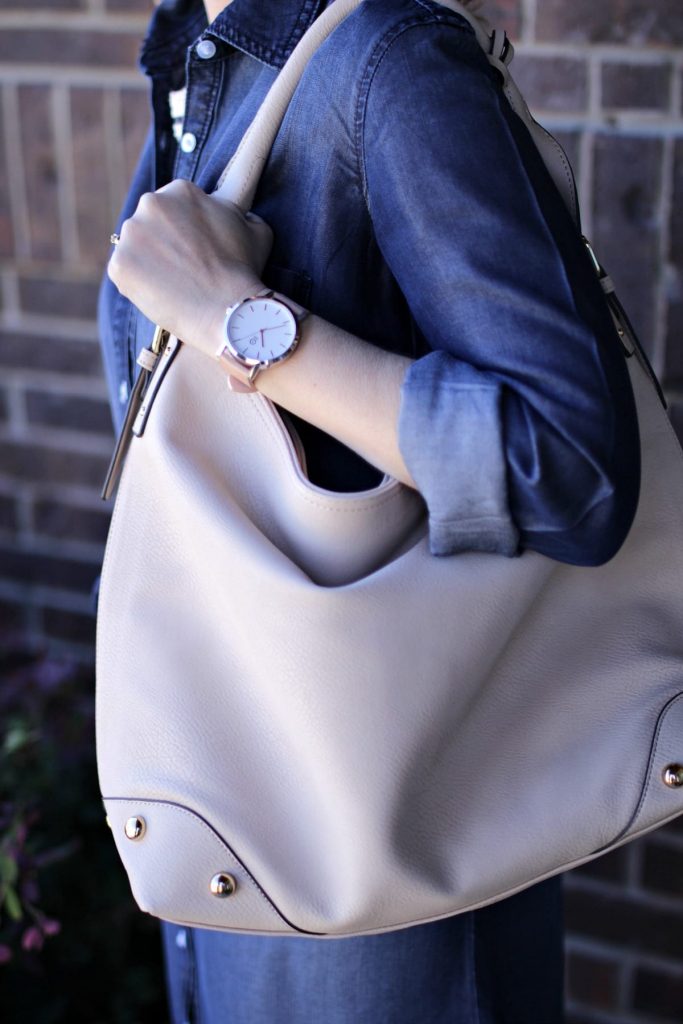 Denim Dress + Wedge Sandals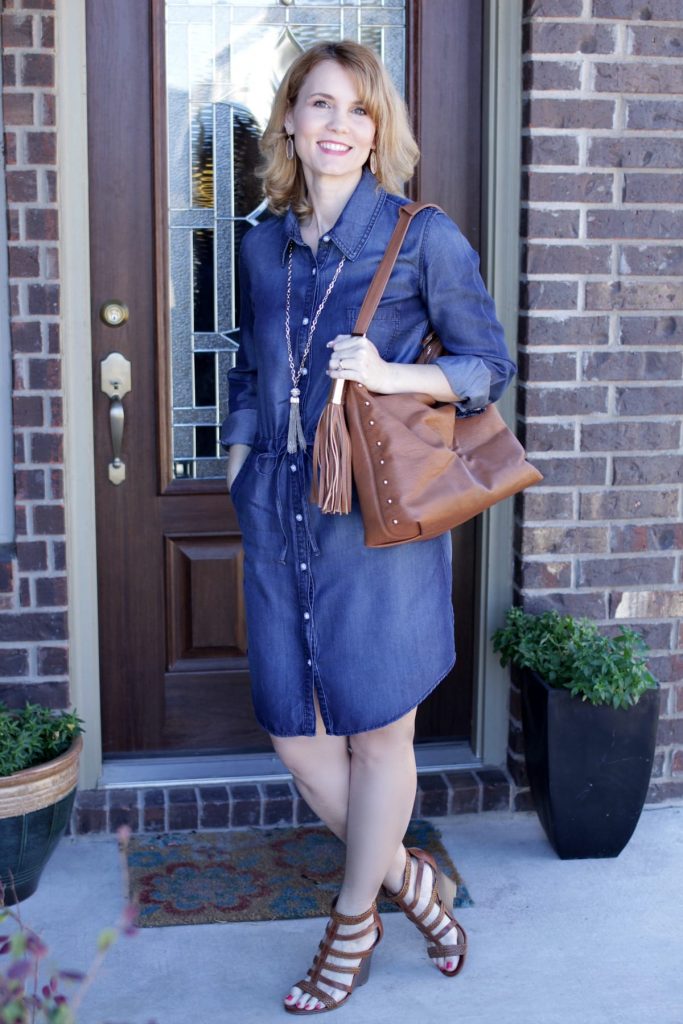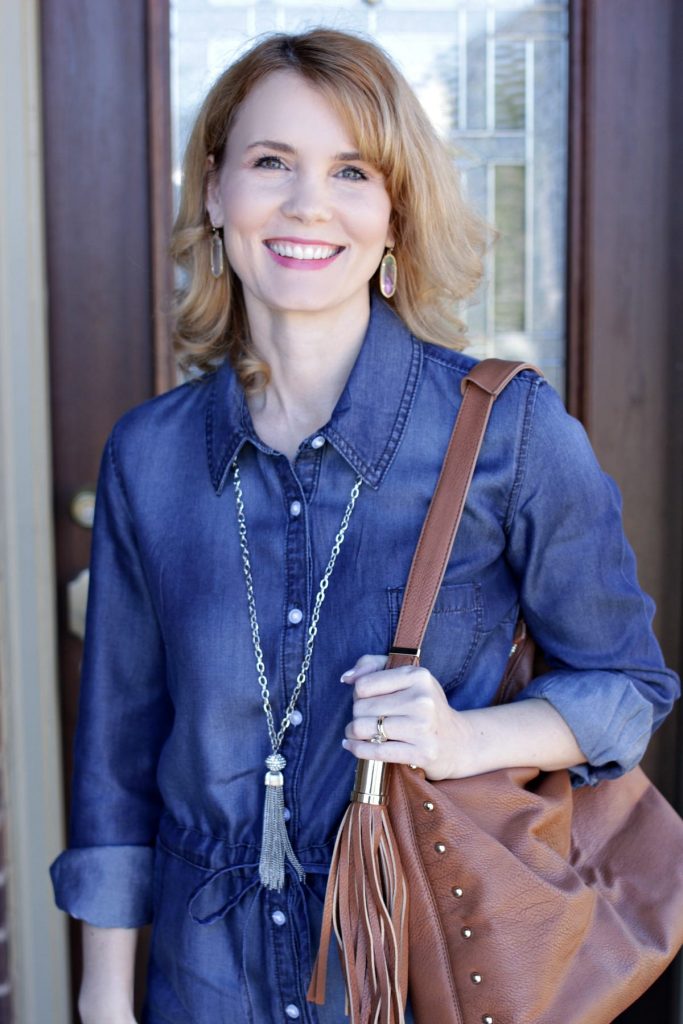 Outfit details: Denim Dress | Necklace (similar) | Tassel Handbag from JustFab | Sandals
The Lee Tilly dress is just as cute completely by itself with a pair of brown wedge sandals, a long tassel necklace and my favorite brown handbag. I have a feeling I'll be wearing this outfit quite a bit this spring.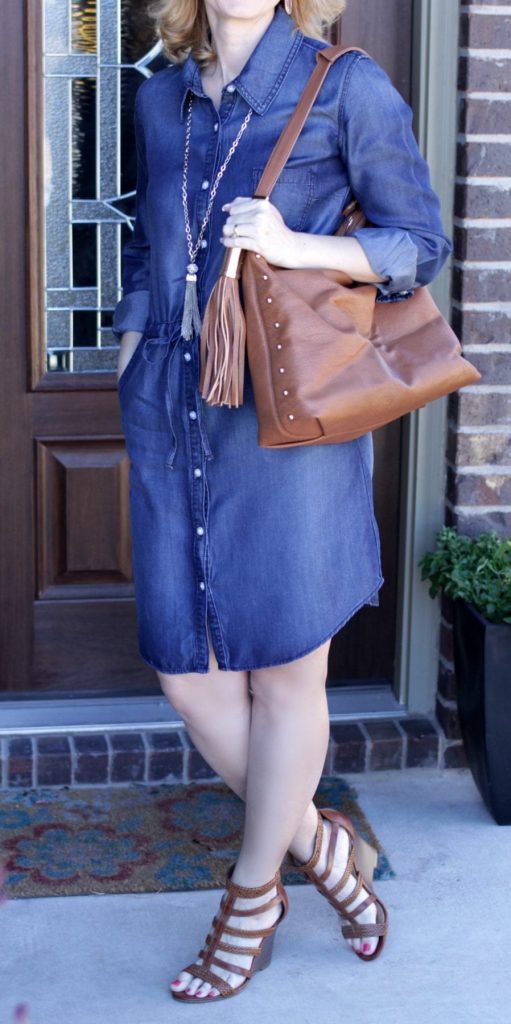 As you can see, by switching up my footwear, rolling up my sleeves, adding different jewelry and accessories — I was able to create three denim dress outfit ideas. I don't think I'll get tired of wearing any of these outfits anytime soon.
If you've been on the hunt for a denim shirtdress, look no further. Lee made this dress with different figures in mind. The drawstring waist adjust to fit you to create an hourglass figure. It sits just above the knee and the super soft lightweight fabric is extremely comfortable. Dress it up or down — it's up to you!
Lee created a really fun image that shows more ways to wear this dress. Click on it to see the image in action. 🙂
Disclosure: Mom Fabulous was sent samples in order to facilitate this post. All opinions are 100% my own.