With spring right around the corner, I've been eyeing all of the flowy blouses and sandals in my closet. I'm a simple girl when it comes to fashion (and everything really), so in the spring time my wardrobe consists of cute tops and jeans, plus a cute dress here and there.
My goal is to get the most out of my favorite pieces, mixing and matching them to create a number of outfits — like I did with this denim dress. I have a couple of things up my sleeve for helping all of you get the most out of your wardrobe, but I don't want to reveal anything just quite yet. Until then, I want to tell you about a floral shirt that will most definitely be a staple in my spring wardrobe. It's from the J. Jill February collection and it.is.stunning.
I created two different floral shirt outfits — one dressy and one more casual.
Two Floral Shirt Outfits: Casual & Dressy
The shirt I'm talking about is J. Jill's Painted Garden Gossamer Top. It's covered with painted poppies, features horizontal pleats at the front and back hemline and a decorative tassel tie at the neckline. It is so soft and beautiful.
First up — the casual outfit.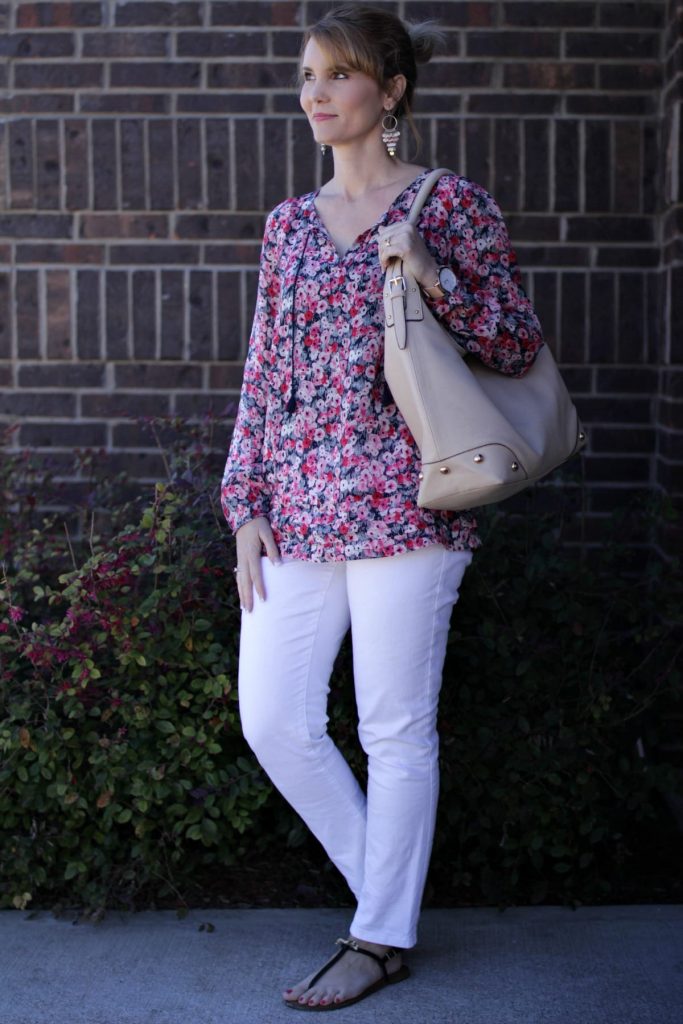 I instantly knew this top would look fantastic with my white slim ankle jeans. I added a pair of black sandals, my new soft pink handbag and rose gold TUK watch.
And let me just add…now that my hair is longer, I have been wearing it in a messy bun non-stop and I love it! 🙂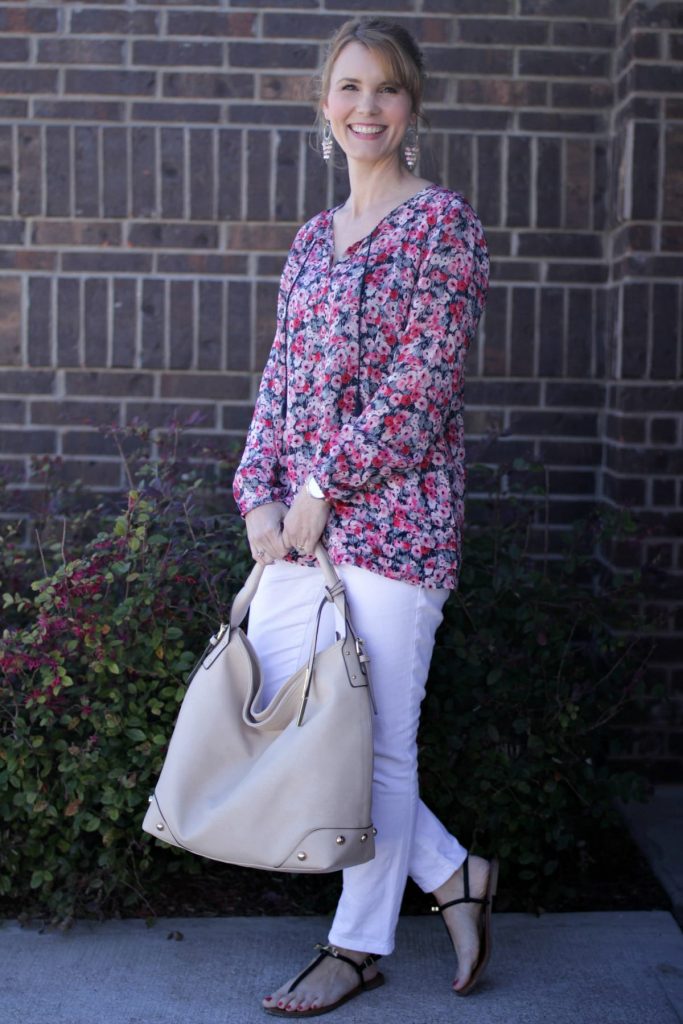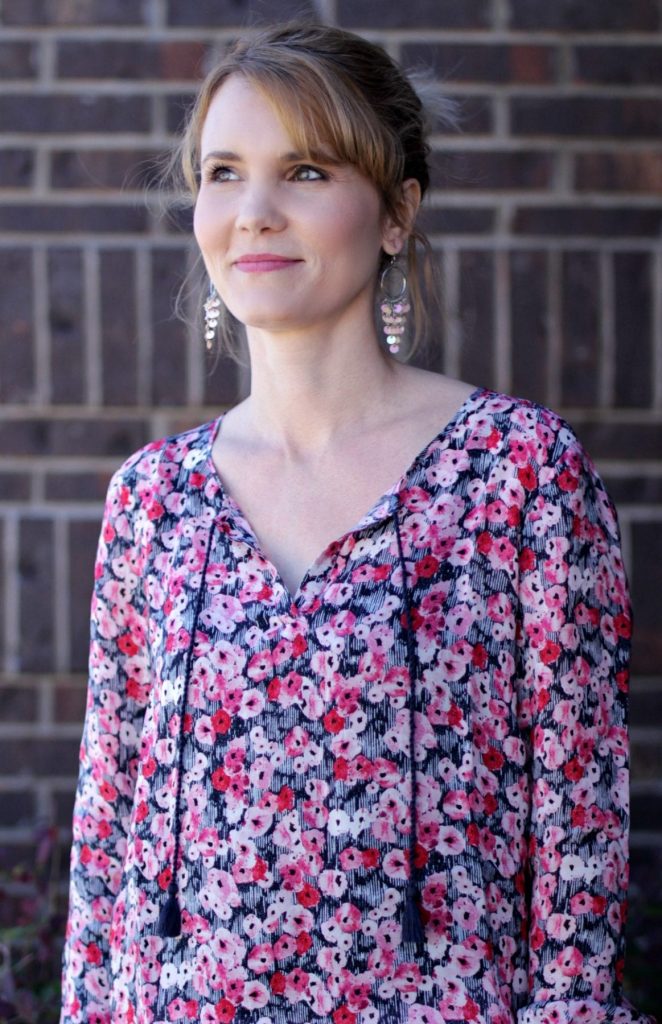 I love the tassel tie at the neckline because I can wear it open, as I did in the photos above, or tied — as I'll show you in a minute. I wore this outfit the other day, since we've been having unseasonably warm weather, which I'm completely okay with.
Now on to the dressy outfit…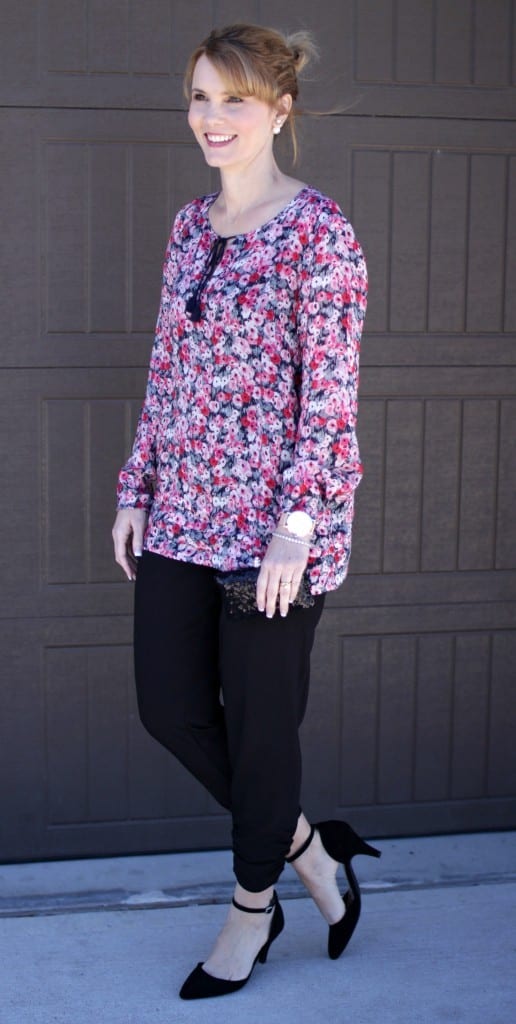 Pardon my crazy flyaways in this photo. I thought about editing it like what's her name Kardashian did, but heck, this is real life. My real life involves crazy hair.
For a dressier approach with the J. Jill floral blouse, I paired it with black dress pants, black heels and pretty sequin clutch. This would be perfect for the office where jeans aren't allowed or a date night out with my husband. I also wore dressier jewelry. These Double Pearl Studs and tennis bracelet are two of my favorite pieces to wear when I want to dress things up a bit.
The tennis bracelet isn't real, but you wouldn't even know it unless you were eyeing it super up close. I've told my husband that if he spends over $1000 on me it better not be on jewelry, but on plane tickets for us to go somewhere!
You can see the gorgeous pleats a little better in the photo above. It really adds a uniqueness to this blouse.
And one more time because I love it so…an up close picture of my new rose gold watch! It's called The Ama and the company is local to Austin, Texas. Their watches are sleek and minimalist, plus they help support a great cause. They work directly with an organization in Cambodia which focuses on education and clean water. Imagine not being able to go to your faucet and get the clean water you need to drink, bathe and wash your clothes in. This is a desperate need there and the founders of TUK are doing something about it.
If you'd like to treat yourself or purchase a gift for someone that has a deeper meaning behind it, please consider supporting TUK Watches. You'll receive a quality watch and together with them we can #watchchangehappen.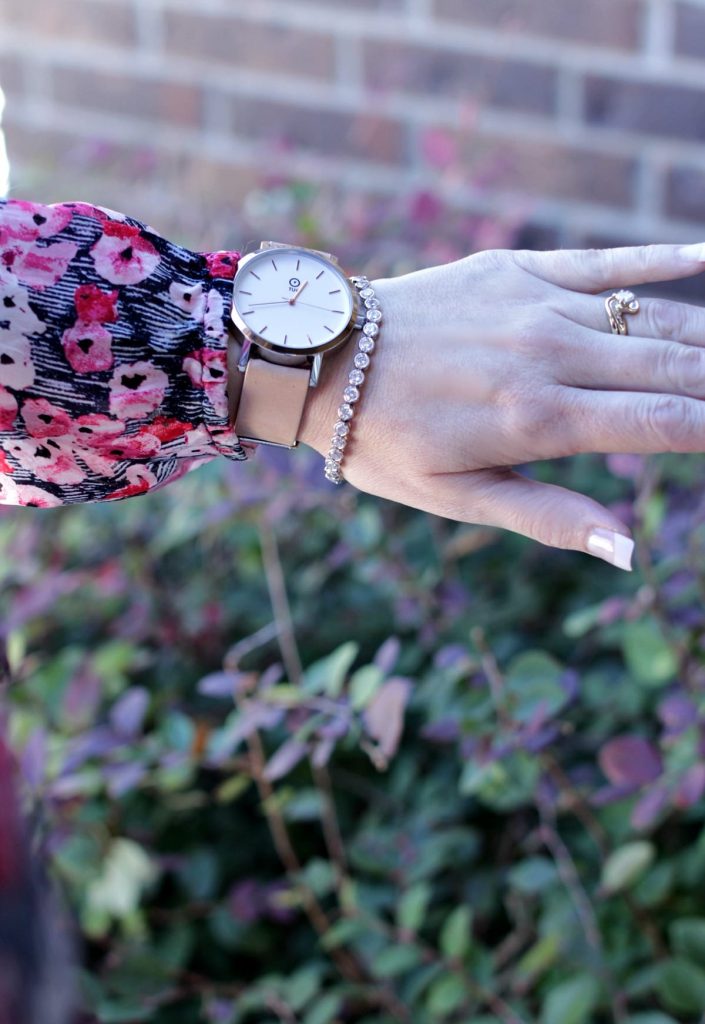 Are your ready for floral blouses and sandals? Bring it!