I am a snacker. I love my snacks and most days you'll find me grazing in the pantry or refrigerator around 2 pm and 8 pm. Usually in the afternoon I want something salty and in the evening I want something sweet. I've been eating a ton of trail mix lately and I am at a point where if I have to look at one more nut, I'm going to actually go nuts.
I was recently introduced to one of Yoplait's seasonal editions and oh.my.goodness it's good. I'm talking about Yoplait Apple Crisp yogurt.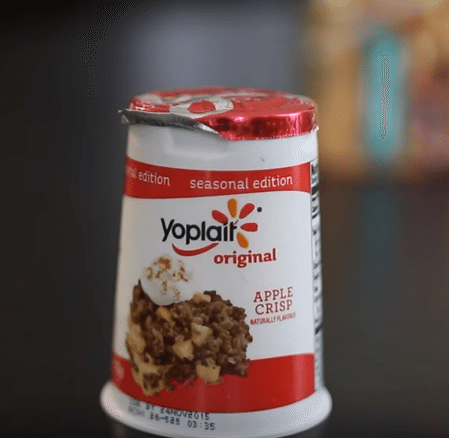 Yogurt has for a long time been a go-to snack and sometimes breakfast for me, but I got a little burnt out on it. But this seasonal edition has me singing yogurt's praises again. It has little chunks of apple and the perfect hint of cinnamon. It's great by itself, but when paired with Nature Valley's Crunchy Oat 'n Honey bars, things start getting real. Real delicious that is. I picked up quite a few yogurts and a big box of the granola bars at Walmart.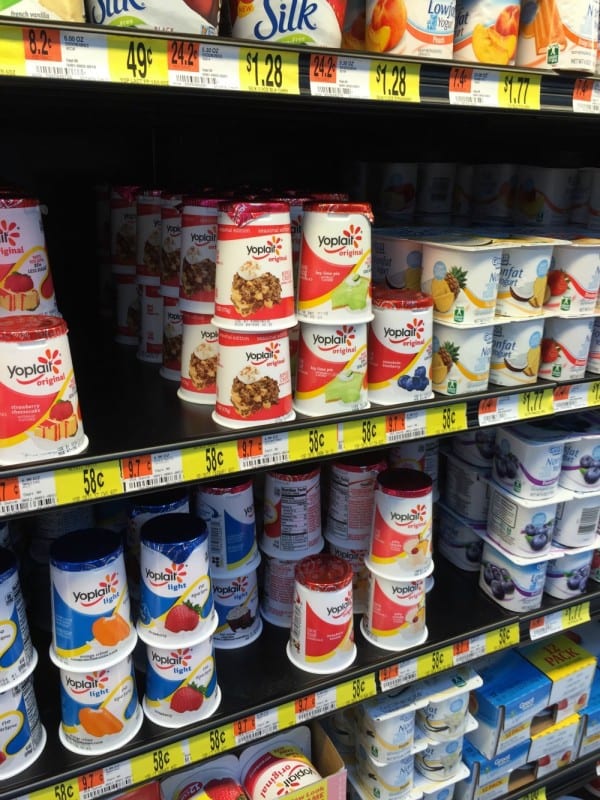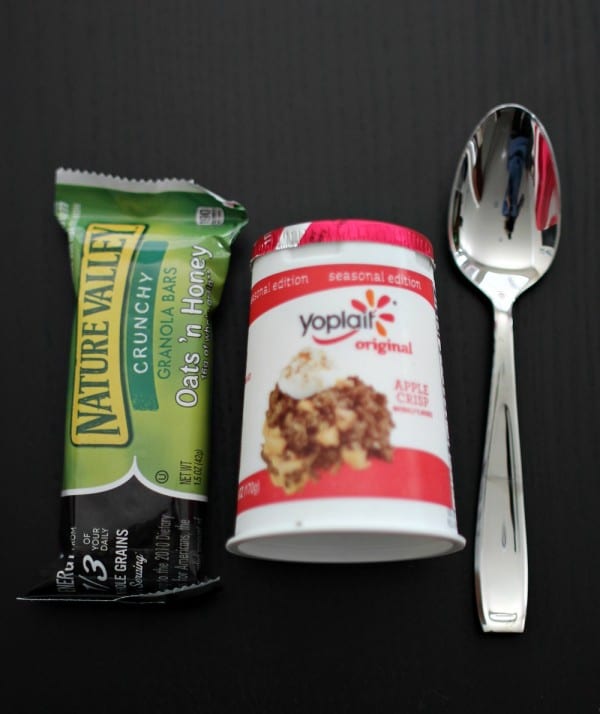 Side note: If you look closely you can see me in the reflection of the spoon. Hi! 😀
Have you seen my Yoplait video yet? No?! Let me set the scene for you and see if you can relate. You open the pantry, peer in looking for something to satisfy your hunger and…nothing. So then you head to the refrigerator hoping you'll have better luck and…nothing. You're left sitting on the floor of the kitchen, eating boring pretzels you end up sharing with your dog. Sound familiar? I know you sit on your kitchen floor snacking with your dog. My solution to a snack that excites me? Yoplait Apple Crisp and Nature Valley bars.
After quite a few people watched my video they said things like why didn't you eat the yogurt with the granola bar or I thought you would forgo the spoon and use the granola bar to dip in it. Well my friends. I took your advice and I'm happy to say, you guys are smart. There is no need for a spoon.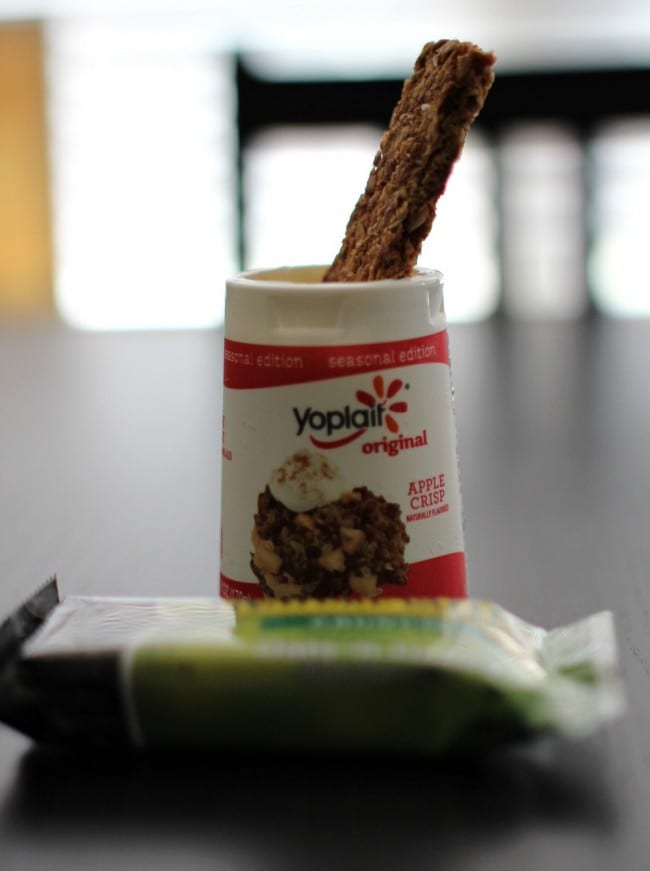 Another idea I came up with was to crumble the granola bar into the yogurt. The results? Messy as heck, but also good as heck. Yoplait Apple Crisp yogurt and Nature Valley Crunchy Oats 'n Honey are the perfect snack pairing for fall. They taste so good together and are very satisfying when I'm craving something sweet.
What's your go-to snack this time of year?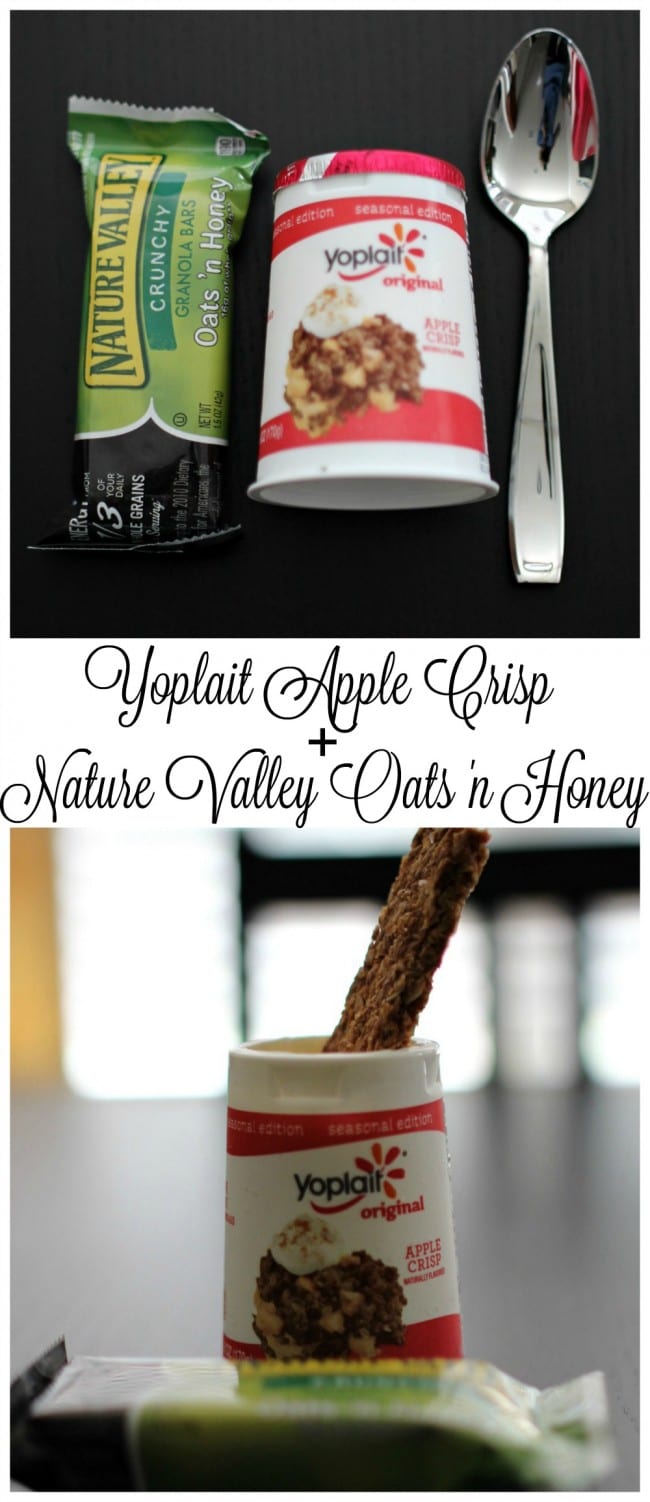 This is a sponsored conversation written by me on behalf of General Mills. The opinions and text are all mine.