I participated in a campaign on behalf of Mom Central Consulting for L'il Critters. I received a product sample and promotional item as a thank you for participating.
I've had a lifelong vitamin dilemma. It's true. Well, I guess saying lifelong is being a little overdramatic, but let's just say I've been having trouble finding a vitamin I can handle since I started getting pregnant and it's been continuing throughout having kids. Through each pregnancy my doctor has put me on kids' vitamins. My body just couldn't handle prenatal vitamins.
Well, now that I have kids and they don't always eat so great, it's been tricky finding a vitamin that they'll eat and not turn their noses up to. It's frustrating!
Vitamins & Healthier Snacking
For the last few weeks, I've been on a mission to completely change our snacking. I haven't bought any fruit snacks or many grab and go snacks similar to that. Instead, I've bought more fruit, nuts, granola bars and have been making some snacks from scratch. It has definitely been a learning experience and is taking some time for all of us to get used to, but I believe the rewards are worth it.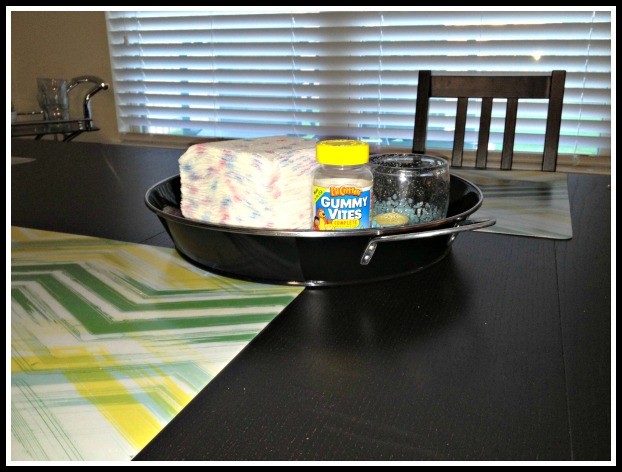 Out of sight out of mind…If your kids can't remember to take their vitamins, put them somewhere they'll always see them or at least somewhere you'll see them so you can remind them.
We've also been trying to get into the habit of taking vitamins again. I'm not sure what our hang up is with taking vitamins, but we just can't seem to 1) find ones we like and 2) remember to take the darn things.
Well, we've figured out both. Ready to hear the vitamins we're taking that my L'il Critters love. (I just totally gave you a hint.)
Yep, we're taking L'il Critters Gummy Vites. Both myself and all three of my kids are taking them.  Although they're obviously meant for younger kids, my teenagers are taking them too, along with my 9 year old.
And since during the summer my teens sometimes miss breakfast (lazy kids – haha just kidding) and during the school year things can be a bit rushed, we decided to take them right before dinner. We're one of those blessed families that usually ends up eating dinner together every night. In fact, we usually have an extra child or two. Yes, we share our vitamins with them if they want one. We're not stingy.
So, why L'il Critters Gummy Vites? Well, I've finally found a vitamin that doesn't taste awful, doesn't have a strange after taste or texture and hello – they're shaped like little bears.  Here are a few facts about the L'il Critters Gummy Vites:
They have a flavorful taste and a whimsical gummy bear shape for kids to love.
They provide a blend of essential vitamins and minerals to support healthy growth and development*.
Nutritious and best tasting vitamins Multi-vitamin that provides important nutrients for kids including, vitamins A, B, C, D and E Colors from plants and vegetables
Comes in natural cherry, strawberry, tropical punch, lemon, orange and white grape flavors
*This  statement  has  not  been  evaluated  by  the  Food  and  Drug  Administration.  This  product  is  not  intended  to  diagnose,  treat,  cure  or  prevent  any  disease.
For more information, visit the L'il Critters' website and go give the Little Critters' Facebook page a 'Like'.
— Do your kids take vitamins? If so, how do you get them to remember to take them every day? And why do you have them take them? I would love to hear how you get your kids to supplement their diet. Let me know in the comments section below or reach out to me on Twitter @juliebonner.