This weekend we went Back to School supply shopping. The weekend before that was all about hunting for Back to School outfits at Burlington. This week is all about getting the house and myself organized for…Back to School. How crazy is this?! I truly believe our Earth is on some fast tracked time schedule and the days, weeks and months really are going by faster. Okay, I don't truly believe that, but I'm beginning to wonder. Regardless of my desire for the lazy days of summer to last a little bit longer, it is time to start getting ready for a new school year.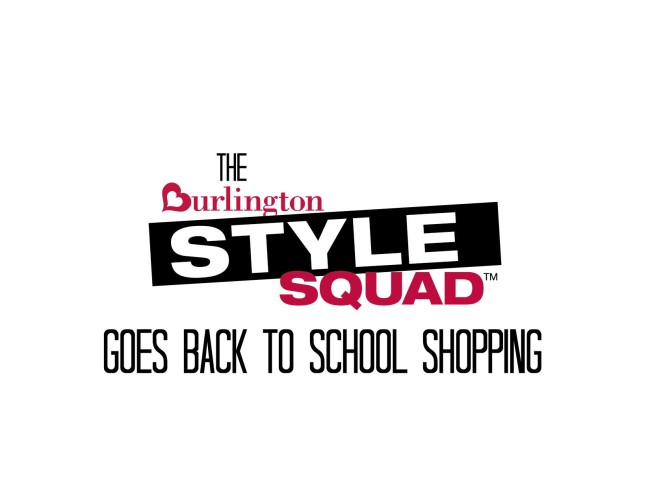 As most of you know, I'm part of the Burlington Style Squad™ where ten lifestyle and fashion influencers share with you our latest finds at Burlington, where you can find great items for up to 65% off department store prices. Last month it was all about me and my summer finds. Today, it's all about Back to School outfits!
Getting your kids ready for back to school is expensive. There have been years we just weren't sure how we would pull it off. Between the school supplies, clothes and the hundreds of other items we're asked to purchase, it can really get to be depressing and overwhelming. It doesn't matter if I have $200, $2000 or $20,000 in my bank account, I will always search for apparel at a bargain.
This was my daughter's first time in Burlington and she kept saying "These are only $3! These are only $6! Mom, these are only…" Yep, she was pretty excited because she's responsible (most of the time) for purchasing her own clothes. This has taught her the importance of getting the most bang for her buck!
Back to School Outfits from Burlington
A big back to school trend for girls this year is leggings. My daughter was shocked at not only the price of leggings at Burlington (she purchased one pair for just a little over $3) but the selection. Both the shirt, floral leggings, and sandals she's wearing above are from Burlington. The entire outfit costs just above $20.
I hope she knows I am totally borrowing that top from her.
Here's another pair of leggings she purchased as well as a chambray shirt. I really like the pattern and colors of these leggings. They just scream fall! She paired the outfit with a simple pair of white sneakers.
The great thing about both of these outfits is they can be interchangeable. She can wear the shirts with both pairs of leggings, creating two more outfits. Leggings are definitely a back to school staple for girls. They can be worn alone with a shirt, or with a long sweater or under a skirt for a fun look. Don't get me started on how many ways she can style that chambray shirt!
My 11 year old wanted to up his game this year when it came to back to school clothes. He picked out some button downs and collared shirts for his back to school wardrobe. He's looking pretty sharp wouldn't you say? (He was thrilled to have his picture taken on this particular day. Can you tell?)
He also purchases a couple of graphic tees for around $7 a piece, which are always a big back to school trend.
My oldest son (not pictured) also found a screen tee and really nice button-down.
Check out my haul video where I share their back to school finds with you:
I'd say my Senior, Junior and 6th grader are ready for another school year!
While you're in Burlington and checking out, be sure to consider donating to DonorsChoose.org, an on-line nonprofit organization that makes it easy for anyone to help classrooms in need. The funds raised at Burlington stores during the duration of this campaign will be used to help classrooms in need nationwide by funding teachers' projects that are posted to the DonorsChoose.org website. How can you donate? You can donate $1 or more at checkout until August 16, 2015.
What kinds of back to school clothing trends are your kids asking for this year?
Burlington Stores sponsored this blog post. The opinions and text are all mine.