It's time for another Cute Outfit Ideas of the Week! For me. fall and denim go hand in hand. I love coming up with new fall denim outfits I might not have thought of before. This year's denim shapes you'll see in stores include flare, skinny, cropped, boyfriend and even denim skirts. For each denim style, I've come up with an outfit idea. Take these ideas and expand on them, creating a fall outfit that fits who you are.
Cute Outfit Ideas of the Week | Fall Denim Outfits
The Skinny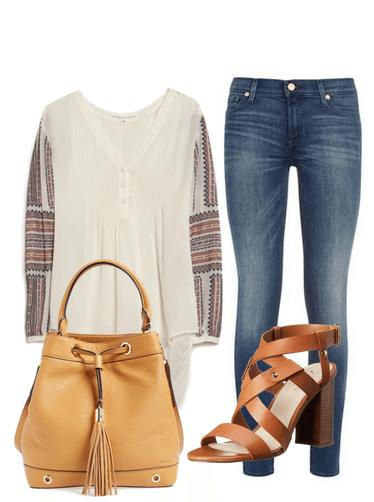 Outfit details: Skinny Jeans | Veronica Beard Top | Bucket Bag | Aldo Dress Sandal
Wear a pair of skinny jeans with a boho top for a cute casual look. Top it off with a bucket bag and a pair of neutral dress sandals and you have an outfit you'll go back to over and over again. I love boho tops and have added a couple to my wardrobe this year. I can't wait to start styling them for fall.
The Flare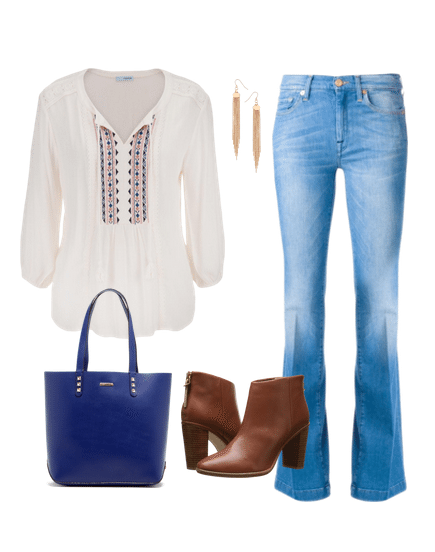 Outfit details: Flared Denim | Peasant Top | Ankle Boot | Rebecca Minkoff Tote | Multi-chain Earrings
Have you tried flare jeans? It's been awhile for me personally, but I am so tempted to purchase a pair so I can wear it with a boho style top and ankle boots. It's the perfect boho chic outfit and it's coming back for fall.
The Boyfriend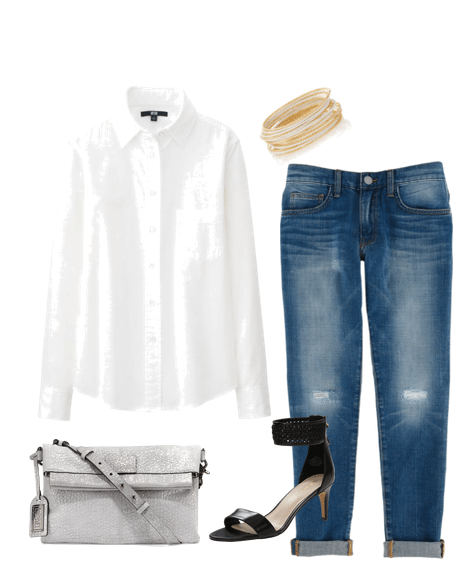 Outfit details: Mercer Boyfriend Jeans | White Button Up | Nine West Sandal | Cross-body Bag | Stacking Bracelets
I can finally say I have joined the boyfriend jean trend. I was skeptical if they would look good on me or not, but I absolutely love them. They're comfortable and really fun to create different cute outfit ideas around. One of my favorite looks is a simple white button up, black sandals, a cross body bag and a pair of gold stacked bracelets.
The Cropped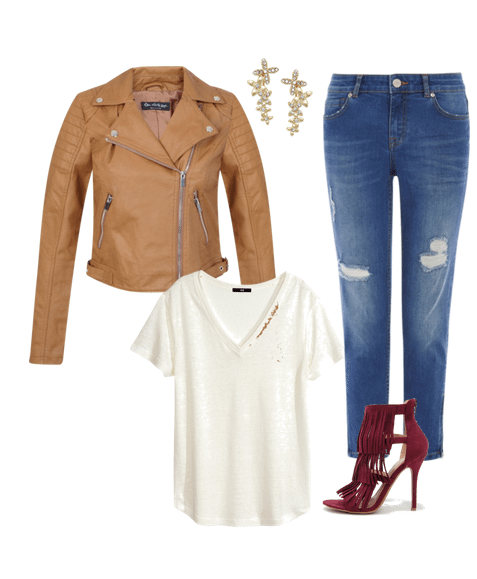 Outfit details: Isabella Skinny Crop Jeans | White Tee | Faux Leather Jacket (similar) | Suede Fringe Dress Sandals | Flower Ear Crawler
Cropped denim is back. I wore denim capris so much in the early 2000s, that I swore I would never wear them again. I haven't added a pair to my wardrobe yet, but after creating this super cute outfit, I just might have to. In the fall, I am all about the denim.
Did you like these fall denim outfits? I hope they gave you some inspiration for creating your own outfits this fall.  Play around and mix and match different tops, jackets, cardigans and shoes with different styles of jeans. You just might find a new style you never knew you liked.