*This is a sponsored post written by me on behalf of 6pm.com. All opinions are 100% mine.
Have you ever put on a coat, or a shirt, or a pair of shoes and you instantly felt you were MFEO? (I'm channeling a scene from Sleepless in Seattle here….MFEO = Made For Each Other.) That was me when this Tommy Hilfiger coat arrived on my doorstep from 6pm.com. It was love at first wear.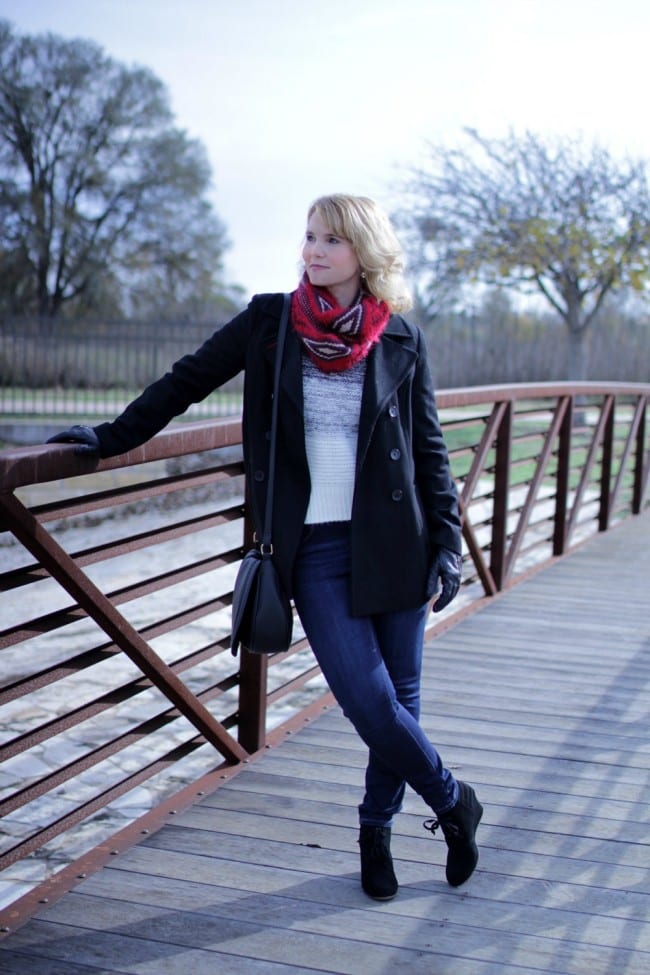 We have a few Holiday outings planned before Christmas, including visiting our favorite outdoor mall, browsing a light display in our city and doing some shopping/eating at a fun little town about an hour away. All of these outings require one thing: a warm, yet stylish outfit. To me, the perfect outfit for staying warm and enjoying these Holiday excursions needs a few elements: comfortable denim, comfortable shoes, a warm sweater, scarf, a handbag to carry necessities, gloves and a great coat.
I decided to add a patterned scarf with some color to contrast all of the black and the stripes on my sweater. It adds a nice warm layer, plus gave my outfit that final touch it needed.
My coat, sweater, boots and handbag are all from 6pm.com. I was beyond thrilled when I found this Tommy Hilfiger peacoat, because it was exactly the style I'd been looking for. It's such a classic look and one that will transition from year to year easily. A good peacoat never goes out of style.
My Bridget Bailey sweater looks great with jeans, but will look equally as great with a black pencil skirt. Like the peacoat, it's a classic style of sweater that I can wear year after year. Plus, it's so soft and comfy, which is always a plus!
I have a pair of tall wedge black boots that have become some of my favorite to wear. They're versatile enough to wear with just about anything and the wedge heel gives me some height, while still allowing me to stay comfortable, unlike a tall heel. So, I have been on the hunt for a black wedge bootie and the Page wedge from Dolce Vita are a fantastic addition to my wardrobe.
My crossbody bag is from Rampage and it's the perfect size to carry around my wallet, phone and other necessities. The crossbody style is so much more comfortable to carry around when I know I'll be doing a lot of walking.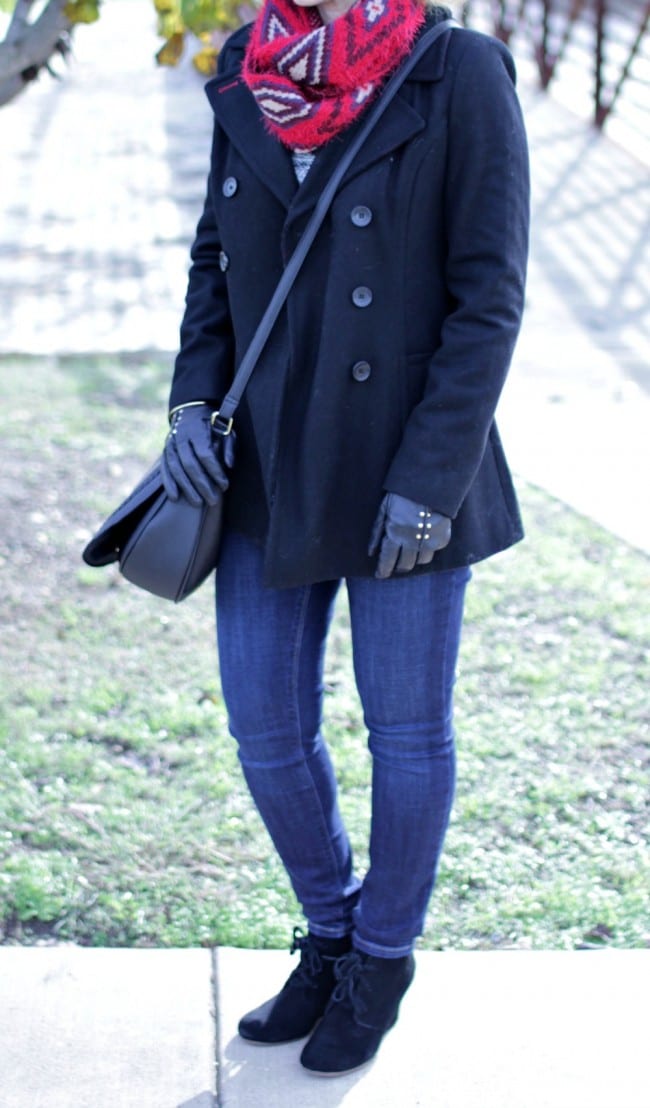 Now all I need is a certain red cup, from a certain coffee place and I'll be ready to tackle the cold for shopping, looking at lights and just enjoying the season.
A few of the items I found on 6pm.com were listed in their holiday gift guide for gift ideas under $100. I love how 6pm.com allows me to buy the name brands I want, but at up to 70% off. I spent a good 45 minutes browsing their website. Their Cyber Week starts today (December 2nd) and goes until December 7th, where they'll be highlighting a new sale every day.
You also don't want to miss their 8 Days of Giving, Green Monday, 12 Days of Giving and After Xmas Sale. For their 8 Days of Giving (Dec. 6 – Dec. 13), they'll be treating us to a new sale everyday. Be sure to keep an eye on their 12 Days of Giving (Dec. 14 – Dec. 25) where it's 12 days and 12 deals.
Whether you're shopping for a Holiday outfit for yourself or some gifts for friends and family, be sure to check out the selection at 6pm.com.
Disclosure: This is a sponsored post written by me on behalf of 6pm.com. All opinions are 100% mine.