This is a sponsored post written by me on behalf of The Hershey Company. All opinions are 100% mine.
As my kids gets older, the importance of family traditions gets bigger for me. I want my kids to be able to look back on our Holidays together as a family, and remember them as fun and stress-free. As a time we shared together celebrating the season and the things that are most important. I don't want them to just remember what was under the Christmas tree, but also the memories and traditions that happened under our roof.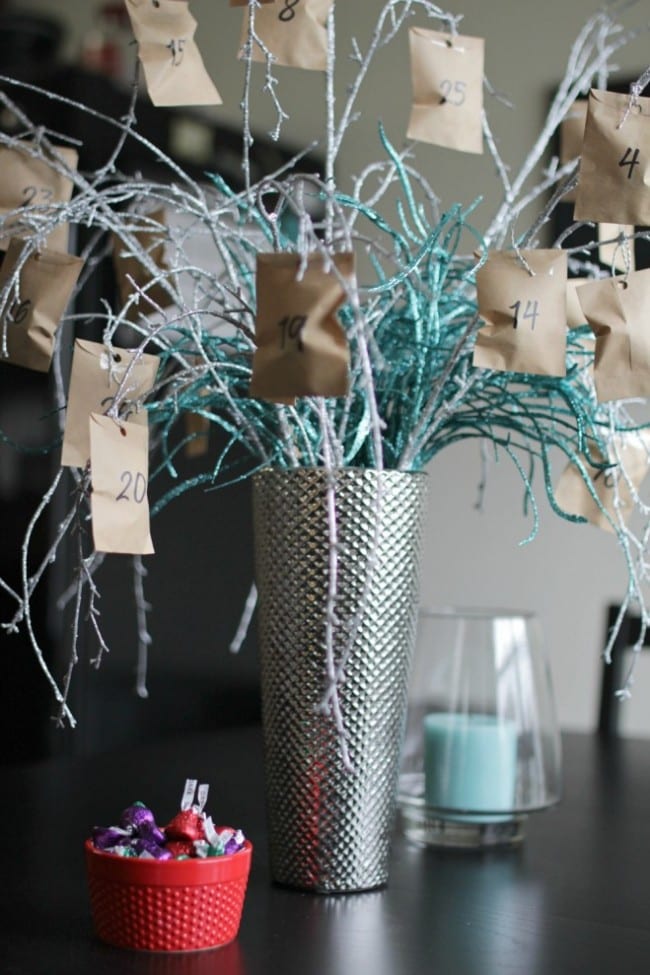 My daughter has been asking for a Countdown to Christmas tradition for as long as I can remember. I've done it a couple times, but it's been awhile. So when she saw what I was creating with Hershey's Kisses Chocolates, needless to say she was quite excited!
With one trip to the craft store, a bag of Hershey's Kisses Chocolates, and some activity ideas for each day – I created a Countdown to Christmas "tree". We're calling it…25 Days of Kissmas because each envelope has a Hershey's Kisses Chocolate and a few of the activities involve using the Kisses.
For us, it's not the Holiday season until we have a bag (or six) of Hershey's Kisses  in the house. Both my husband and I remember them well from our childhood, and now we've carried on the tradition to our family. Whether we're making Holiday goodies or a fun Holiday craft, Hershey's Kisses Chocolates have always been the perfect holiday helper.
To make this you'll need:
small envelopes
number stickers or rub-ons
tape
string or ribbon
branches; natural branches or silver ones
25 Hershey's Kisses Chocolates (unless you want to put more than one in each envelope)
A list of 25 activities (make up your own to cater to your family or use mine below)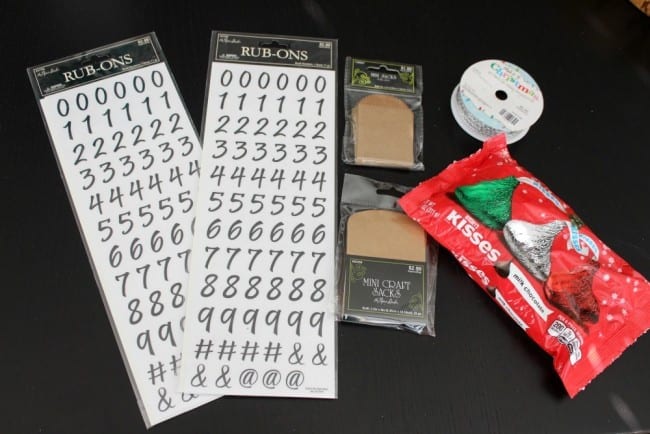 I purchased two different sizes of envelopes because I wasn't sure which size would work best. The larger ones ended up being the ones I needed. Gather your supplies and…
Put the number stickers, 1 – 25, on each envelope.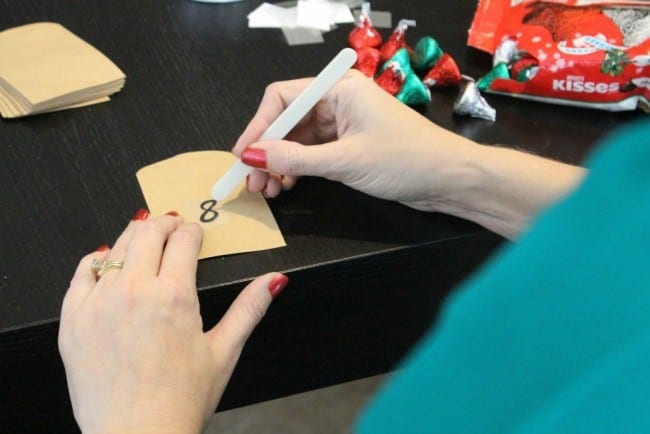 Put a slip of paper with the activity for that day inside the envelope.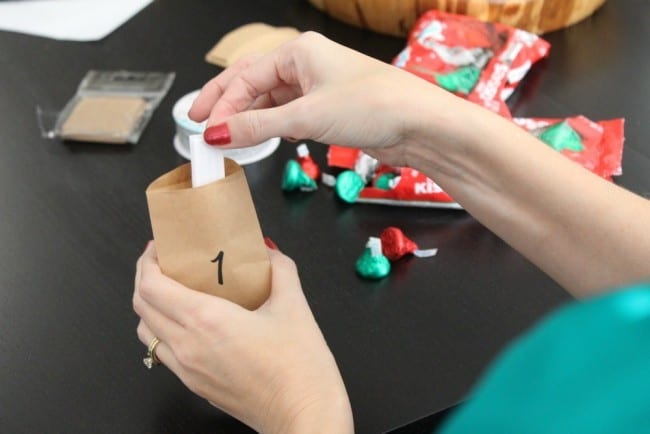 Drop in a Hershey's Kisses Candy.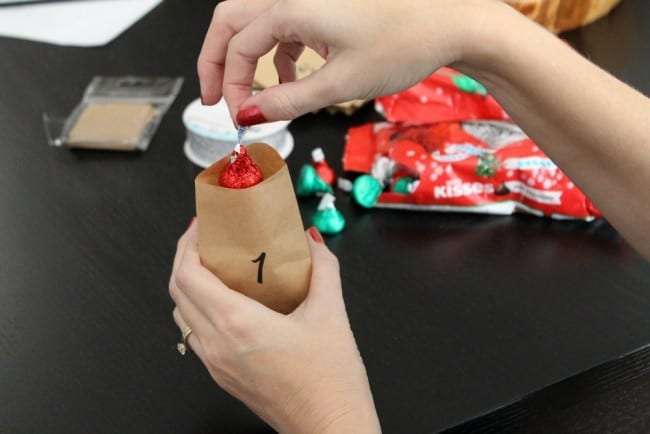 Tape the envelope closed, punch a hole through the top and tie it onto the branches.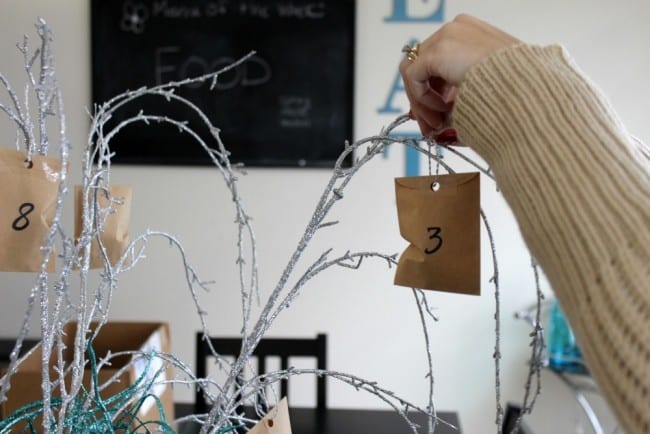 Your kids will be so excited with anticipation over what each envelope holds; from day 1 to day 25.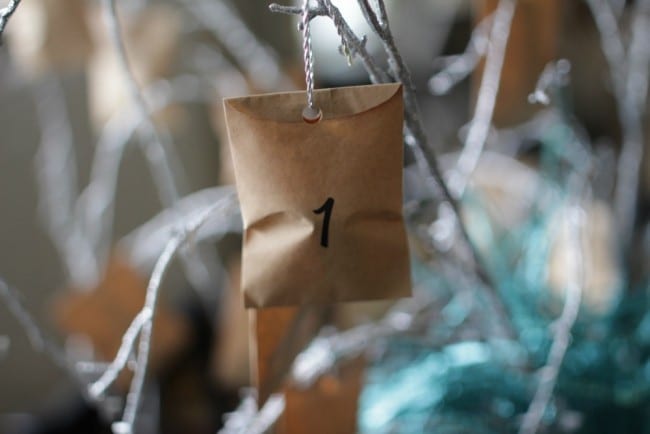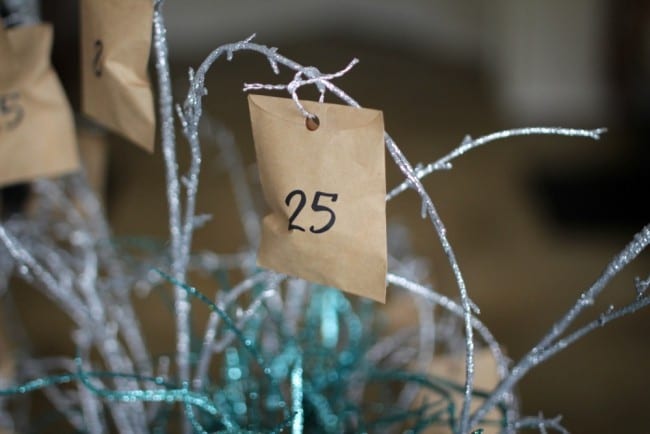 Here are the Countdown to Christmas activities I came up with for each day:
Day 1: Make pretzel Kisses – Line baking sheet with parchment paper. Place square pretzels on baking sheet and one Kiss on each pretzel. Bake at 300 degrees F for 2 ½ minutes, or until Hershey's Kisses Chocolates gets glossy. Remove from oven and top with second pretzel, squishing it down a bit. Place in refrigerator for 15 minutes to set. Eat up and share!
Day 2: Make paper snowflakes
Day 3: Make someone a special gift
Day 4: Make a gingerbread house
Day 5: Give someone a hug. (A real hug and a Hershey's kisses hug.)
Day 6: Draw a holiday picture
Day 7: Make Hershey's Kisses cookies – Either make or buy prepared sugar cookie dough. Place dough (as directed) on cookie sheet and bake as directed. As soon as they come out of the oven, press a kiss in the center. Refrigerate after cooling just a bit, so kisses keep their shape.
Day 8: Give this Hershey Kiss to someone special
Day 9: Donate canned goods to a food pantry
Day 10: Watch a Holiday movie
Day 11: Make Hershey's Kisses brownie bites. Bake bite size brownies. Top with frosting and finish off by placing Hershey's Kisses Chocolates on top of the frosting. Eat and enjoy.
Day 12: Go look at Christmas lights together as a family. (Bring a bag of Hershey's kisses with you!)
Day 13: Make Snowman Soup – Make a cup of hot cocoa. After it's done, add mini marshmallows and Hershey's kisses. Drink, be warm and enjoy!
Day 14: Make a "Kissmas ball". Spray paint the ball silver. Glue a looped ribbon to the top of the ball so you can hang it. Using a glue gun, glue Hershey's Kisses Chocolates all over the ball, covering as much of the ball as you can. Hang from a doorway.
Day 15: Pop some popcorn, grab a bag of Hershey's Kisses Chocolates and watch another Holiday movie.
Day 16: Make reindeer food.  In a small zipper food storage bag, add ½ cup oatmeal, ½ cup sugar, ¼ cup red or green decorating sprinkles. Sprinkle it on your lawn Christmas Eve to make it sparkle bright so Santa's reindeer will see it!
Day 17: Take a neighbor a plate of Holiday goodies
Day 18: Call a loved one just to say hi
Day 19: Watch The Polar Express
Day 20: Roast marshmallows
Day 21: Have breakfast for dinner
Day 22: Read a Holiday story
Day 23: Wear new pajamas to bed
Day 24: Set out cookies and Hershey's Kisses Chocolates for Santa
Day 25: Be thankful for all you have!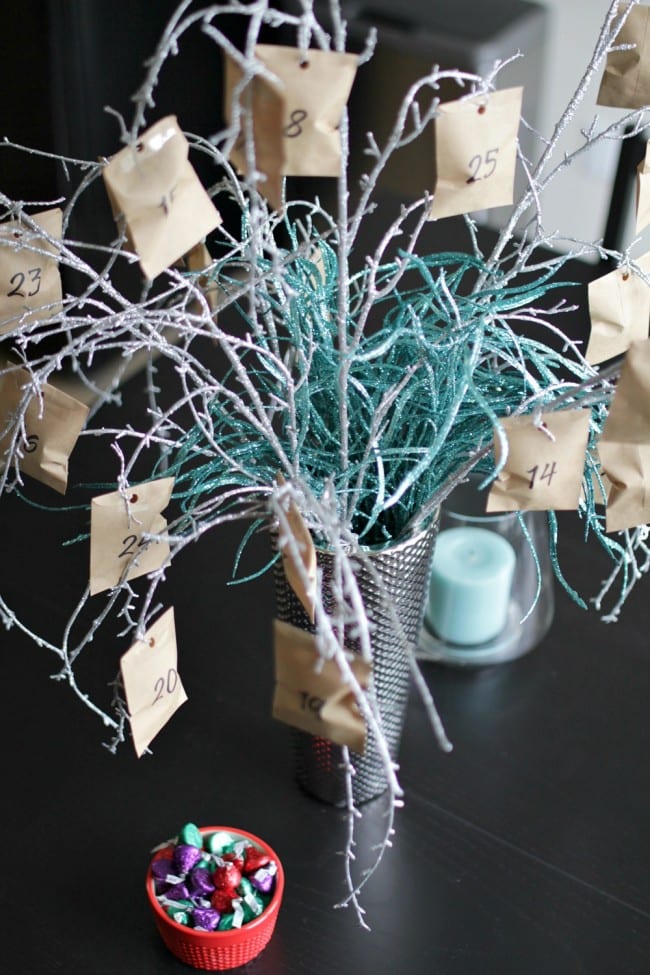 Here's a list of items you need to make and do everything for the Countdown to Christmas:
FOOD:
6 Bags of Hershey's Kisses Chocolates: 2 Hershey's Kisses Milk Chocolates, 2 Hershey's Kisses Candy Cane Mint candies, 2 Hershey's Hugs
One bag of square pretzels
Gingerbread house kit (or graham crackers, icing and candy decorations)
Sugar Cookie Dough
Brownie Mix
Icing
Hot Cocoa
Marshmallows (mini and large)
Popcorn
Oatmeal
Sugar
Red or Green sprinkles
Cookies (for Santa and neighbors)
CRAFTS:
Styrofoam ball
Glue Gun
Ribbon
Silver spray paint (or you could also wrap ball in foil)
MISC.: New pajamas for the kids (and maybe you too!)
Do you have any holiday traditions in your family? Please share! I can not wait until December 1st!
For more great ideas, visit The Hershey Company.