I'm so excited to share with you four dressy summer looks I put together from my shopping trip to Burlington. As I mentioned last month, I'm part of the Burlington Style Squad™ along with nine other fashion and lifestyle influencers. I can't wait to show you what I came home with from my first shopping trip!
If you're looking for something dressy to wear this summer to a wedding, event or any occasion that requires you to step it up a notch, Burlington is a fantastic place to shop. You'll find the latest trends, name brands and fashionable merchandise at up to 65% off department store prices every day. I could not believe what I walked out with, and all for just shy of $100!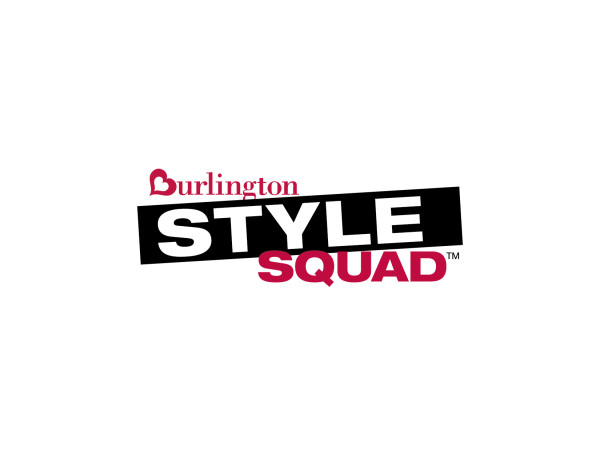 My Dressy Summer Looks from Burlington
The LWD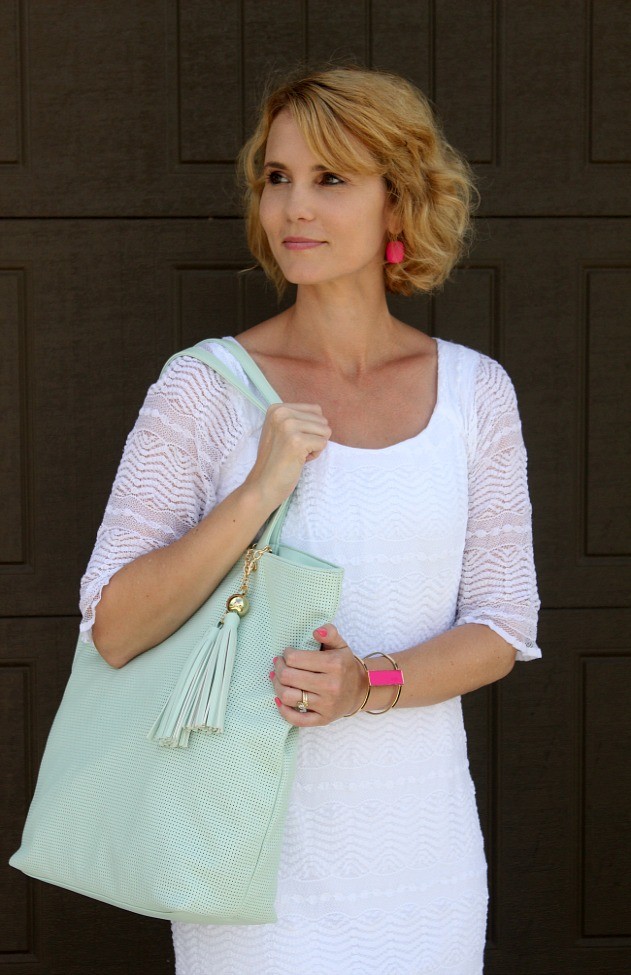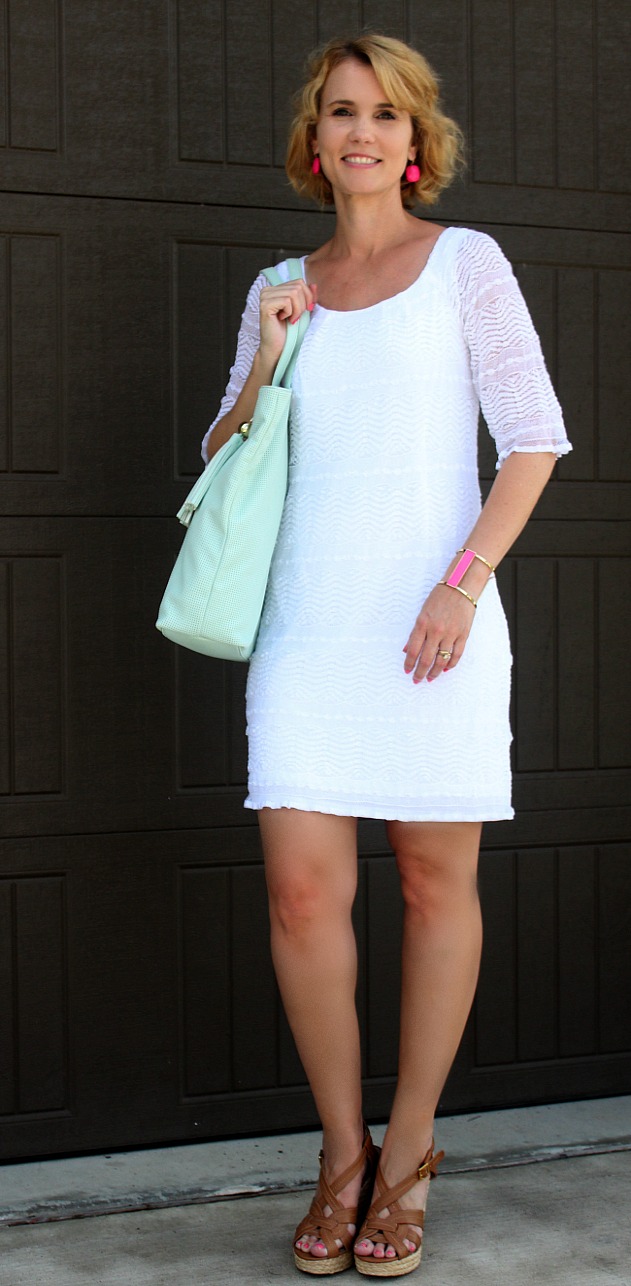 This is one thing I feel is a must-own piece of clothing for summer – the little white dress. Lace and LWDs are a big trend this summer and this one falls under both categories. I purchased it for only $17.98 and love the way it fits. It slips over my head for easy wear and is lined with a well-made fabric. It's a little stretchy, which makes it even more comfortable.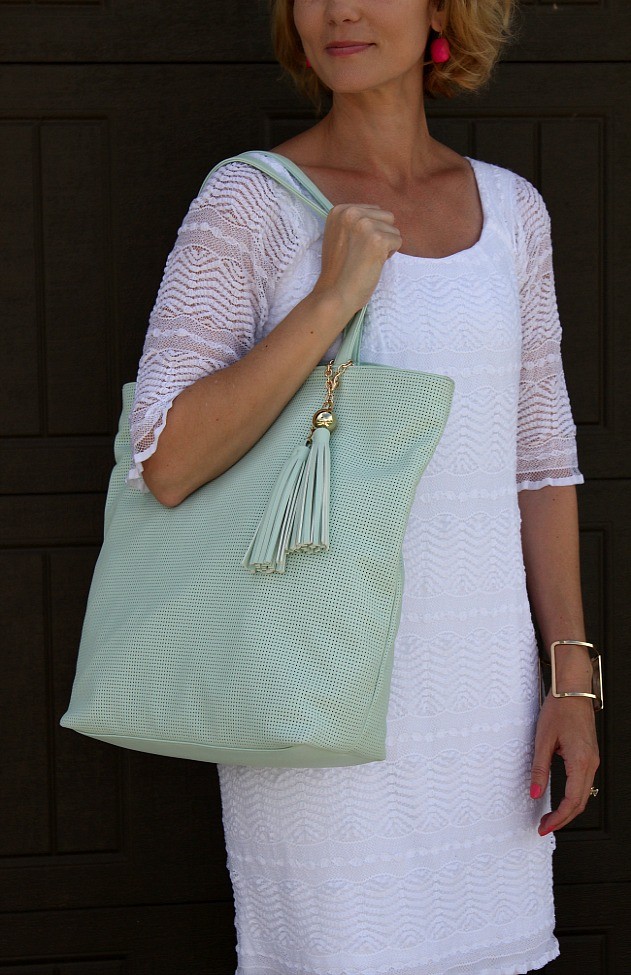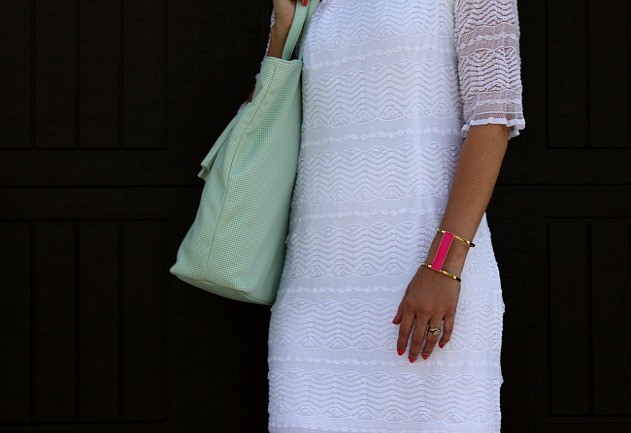 I would wear this to a dressed up back yard BBQ or a summer party. The all white makes me look like I have a nice summer tan, even though I really don't!
The mint purse with tassels you see was also purchased at Burlington. It was actually the most expensive item I bought priced at $29.99, but well worth it! It's so soft, has enough room to carry summer essentials and compliments my outfit perfectly. I've always liked white and mint together.
The Dressy Jumpsuit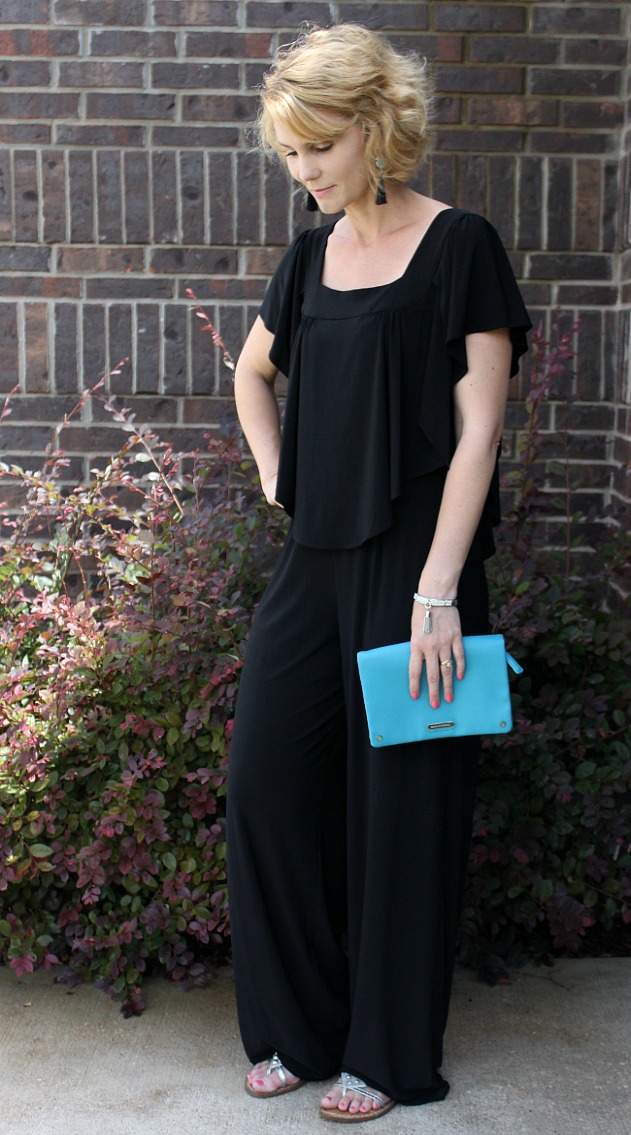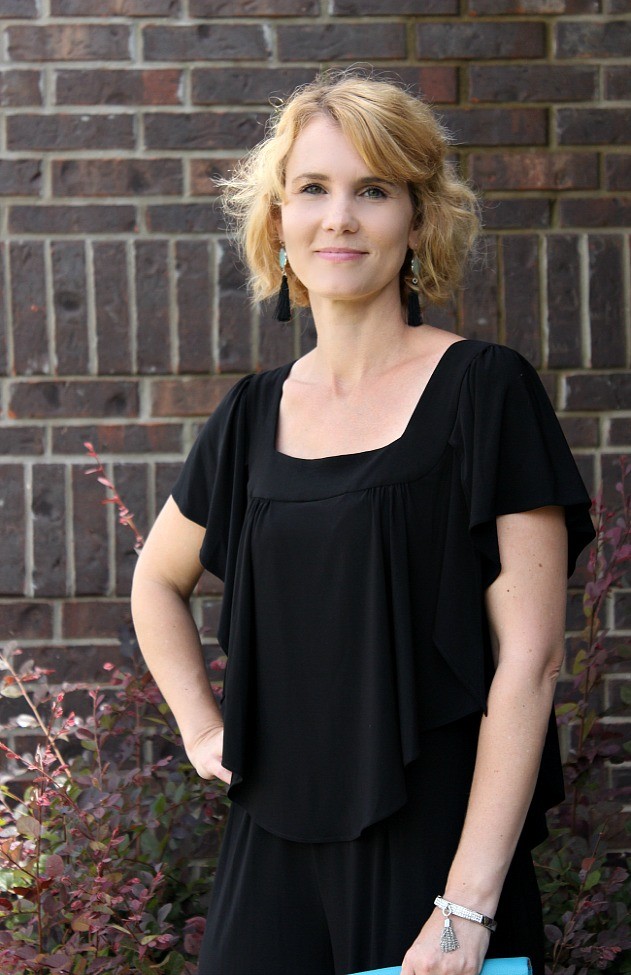 I ordered a dressy jumpsuit online a couple of months ago and was so disappointed in it. The fabric was very thin and it just didn't fit right. I loved the idea of having an outfit like this that's so easy to throw on, add some jewelry and go. But I thought I just wouldn't find one that worked for me, until I stepped into Burlington's fitting room with this number.
It was on the clearance rack for only $14.98 and I could not believe it! It's so well made and fits me perfectly. My husband and I have our 19th wedding anniversary coming up and I plan on wearing this out to dinner. I love an all black classic look where you can add pops of color with your accessories, or go more neutral with gold or silver.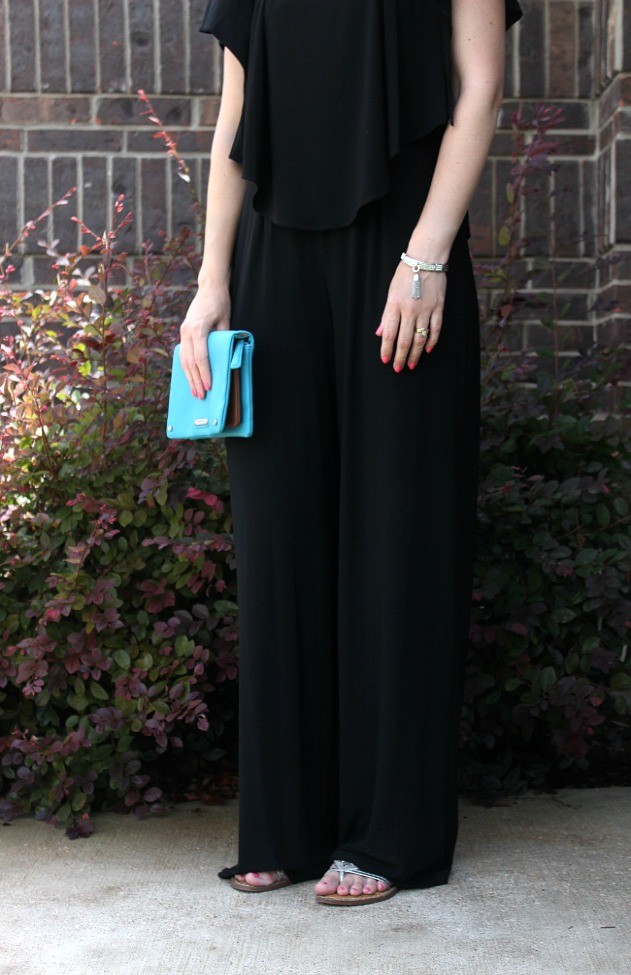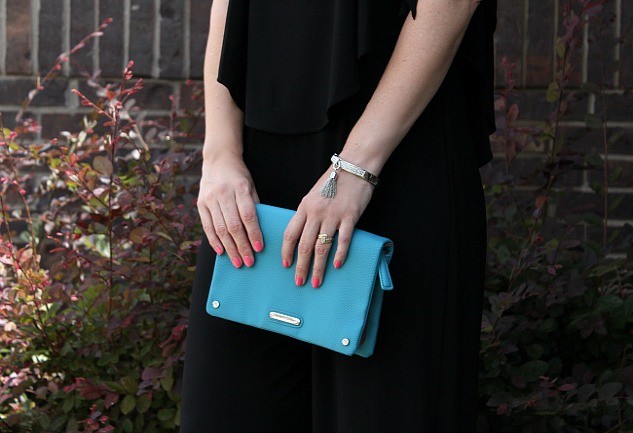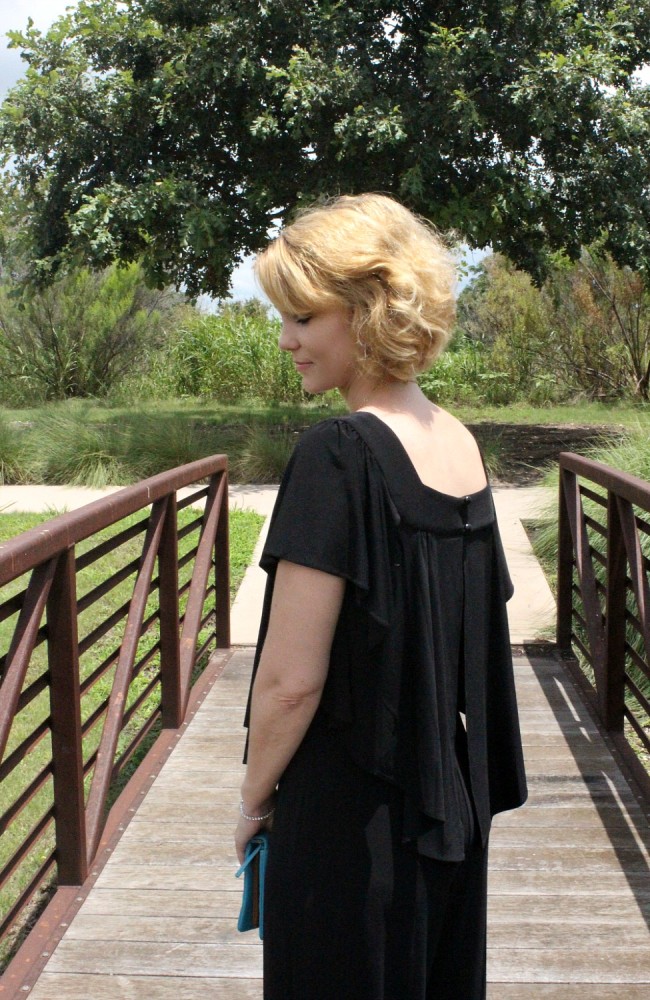 The Lace Tank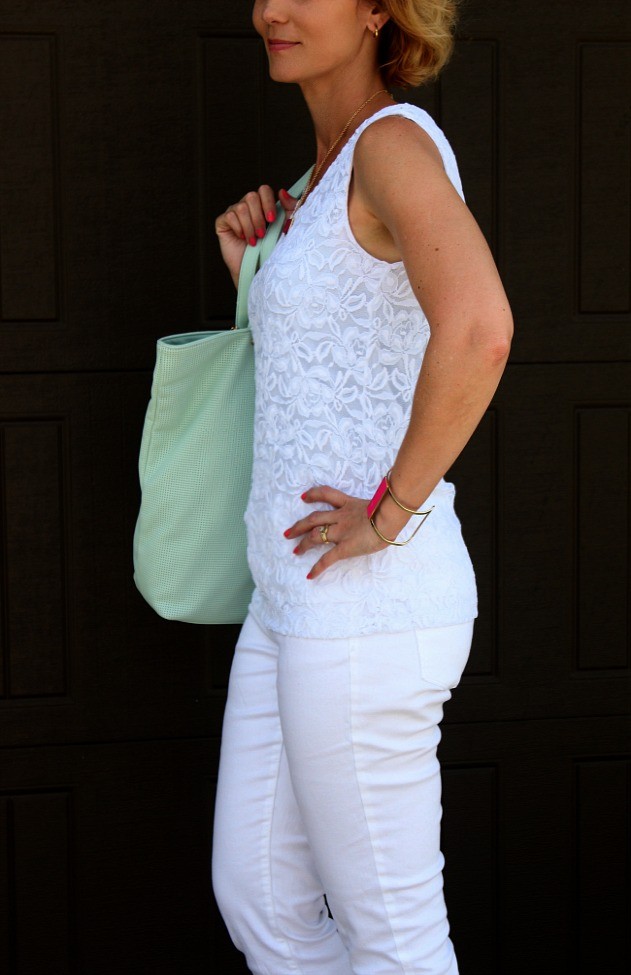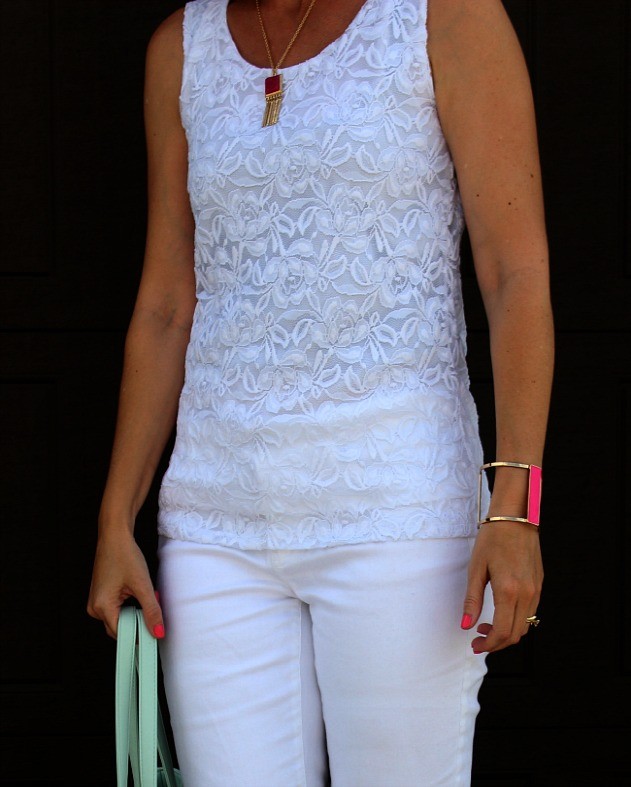 Like I mentioned before, lace is a big summer trend this year. I have a couple of other dressy white tanks, but not a lace one. This can be worn with a skirt, jeans, dressy shorts and also under a cardigan or lightweight blazer. It's a very versatile piece and one I have a feeling will see a lot of wear this summer. I purchased it for only $9.99.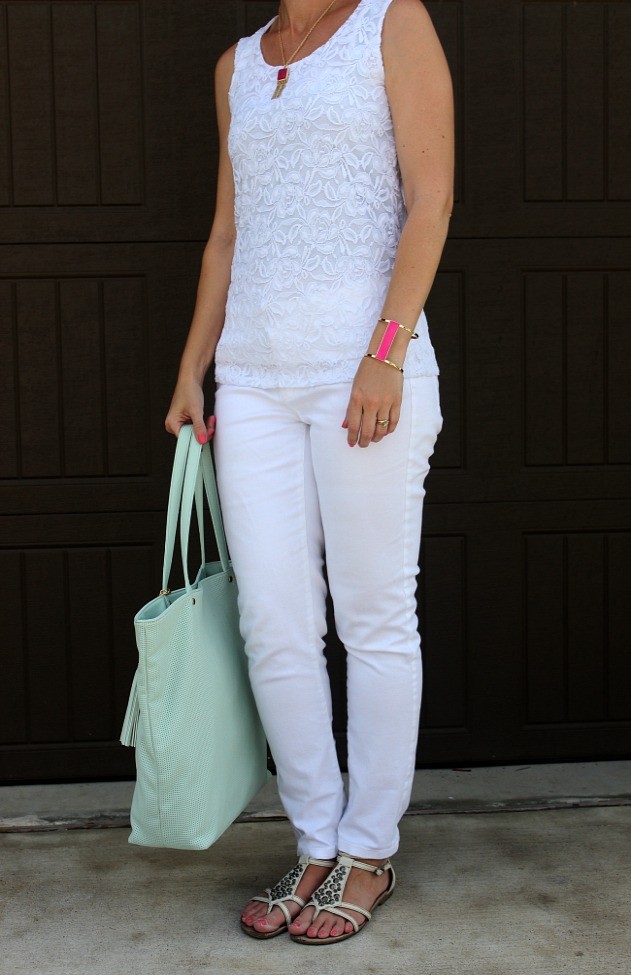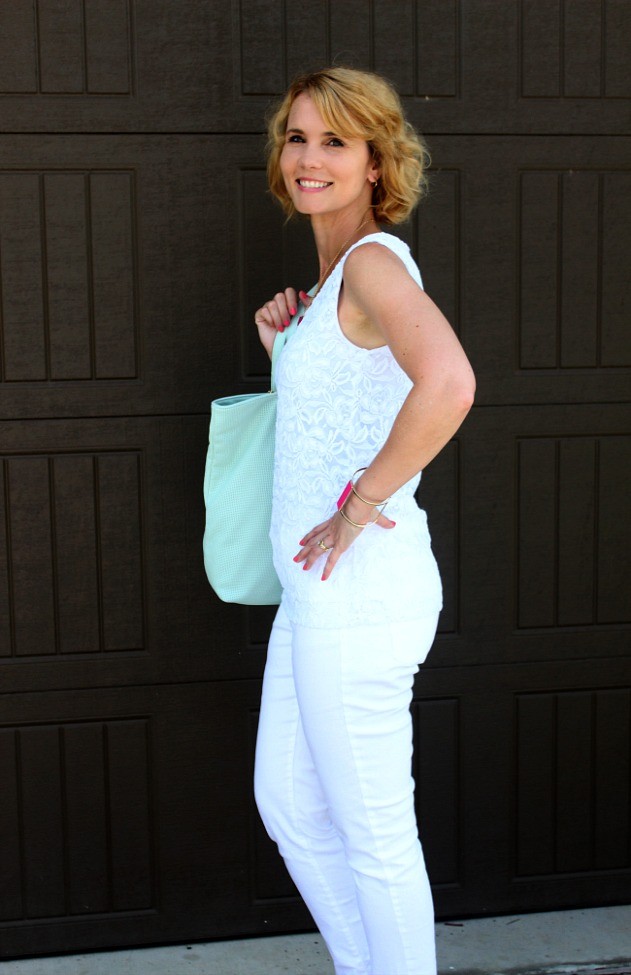 The Long Romper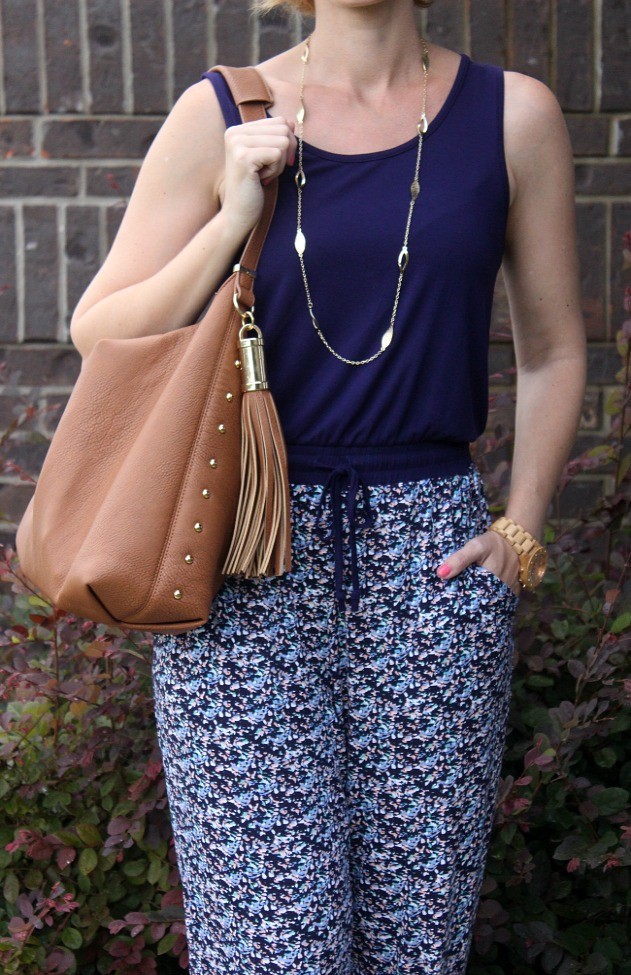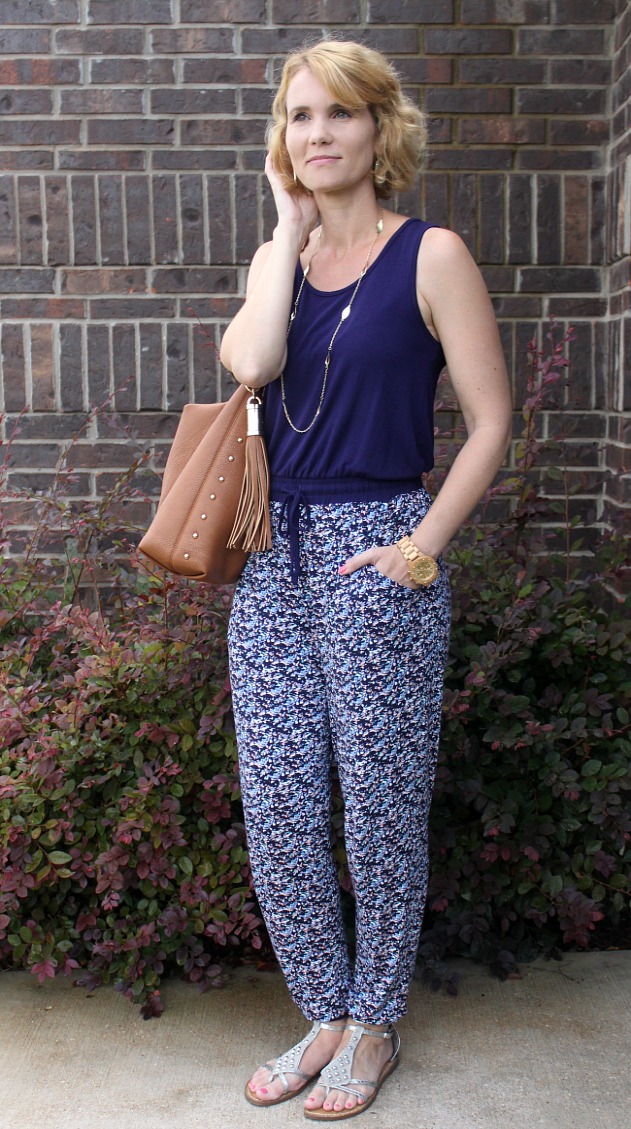 This next piece is now officially in my top 5 favorite items hanging in my closet. My boys call it my onesie. They're so funny. As I was browsing through the racks at Burlington, this long romper caught my eye but at first I decided it might not be for me. Then I thought why not try it and I am so glad I did! For one, it was only $16 and two, it fits me perfectly.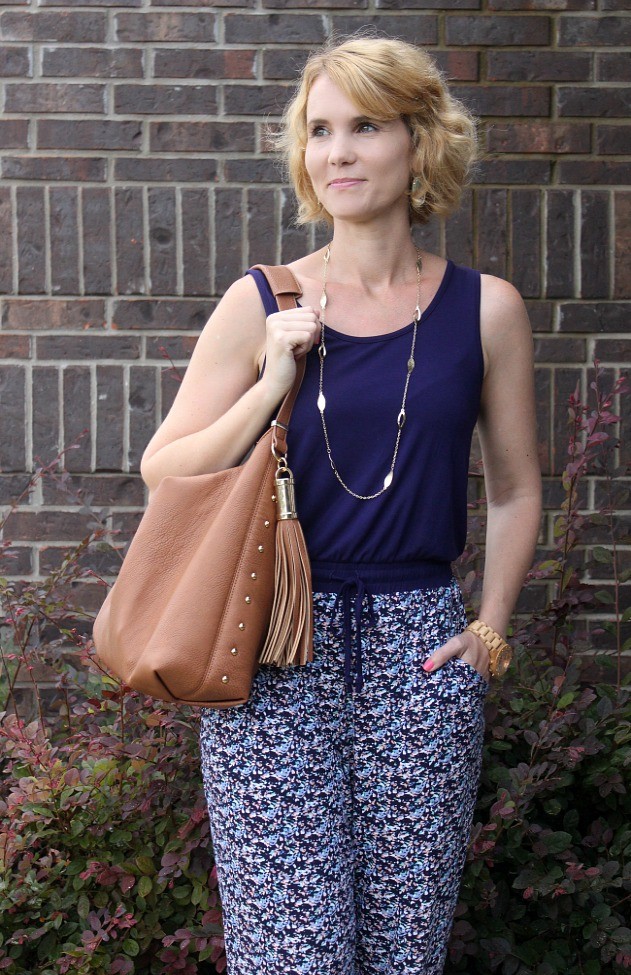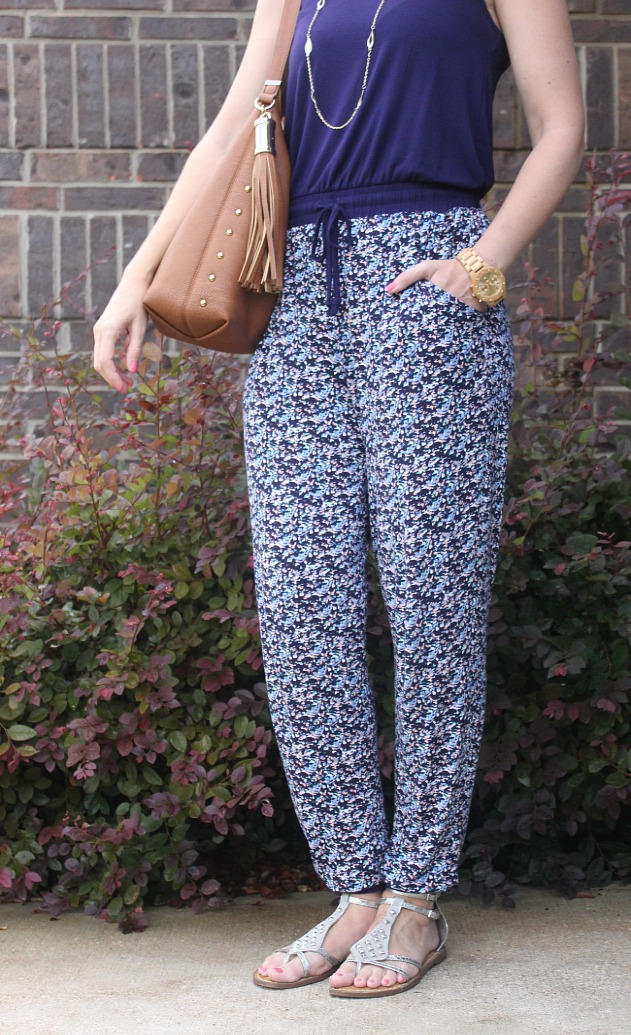 What I love about a long romper like this is you can dress it up or down so easily. I wore it to an event where I knew I would be outside for a while and it was so comfortable. But if I wanted to wear it to a summer party, or a dressier occasion, all I would need to do is add a lightweight jacket or cardigan, wedges and dressier jewelry.
What do you think about these dressy summer looks? You can purchase similar looks at your nearby Burlington or shop online at www.burlingtonstores.com.
For my first shopping trip as a Burlington Style Squad™ member, I purchased:
A Dressy Jumpsuit (Paid $14.98 on clearance, Would be $39.99 in department store) – similar styles available online including an Illusion top one that is gorgeous
A LWD (Paid $17.98 on clearance, Would be $53 in department store) – similar styles available online
A Lace Tank (Paid $9.99, Would be $18 in department store) – several similar styles available online
A Mint Tote with Tassels (Paid $29.99, Would be $80 in department store)
A Floral Long Romper – (Paid $19.99. Would be $49 at department stores) – available online – search "Blue Floral Sleeveless Jumpsuit"
A few other summer trends I noticed at Burlington as I was browsing were kimonos, patterned shorts and a lot of florals.
Are there any items you would like to add to your summer wardrobe?
My "Haul" from Burlington
Burlington Stores sponsored this blog post. The opinions and text are all mine.