Mealtime is one of the (if not the) most important moments in our home. Most nights we eat together as a family and that involves eating a healthy meal, sharing about our day and just kicking back. My kids laugh at me because some nights I'll say "let's do as the Italians do and slowly enjoy our meal tonight – which means no rushing!". Too many times dinner is gobbled up with no thought as to what you're eating and who you're eating it with. So some nights I make them stay at the table just a little bit longer to chat and relax.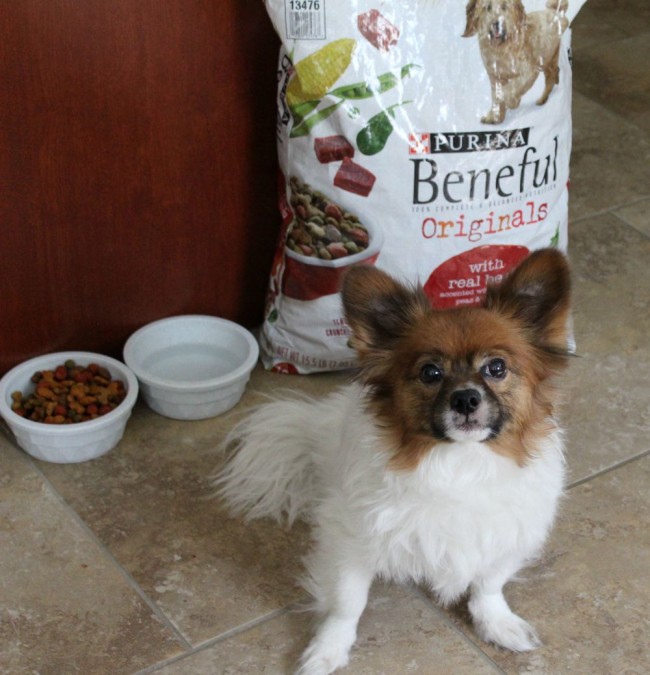 It's not just the five of us who enjoy mealtime together. Our dog Dart joins in on the family activity and eats at the same time we do. I think it was about a year ago we noticed that he started eating his meal when we ate ours. Unfortunately I can't teach him the art of taking it slow and enjoying his meal, but I do know he's eating healthy as he gobbles down his bowl of Beneful dog food.
Here's how mealtime goes. First he gives us the side eye as we start eating, waiting for some morsel of human food goodness to be dropped on the floor.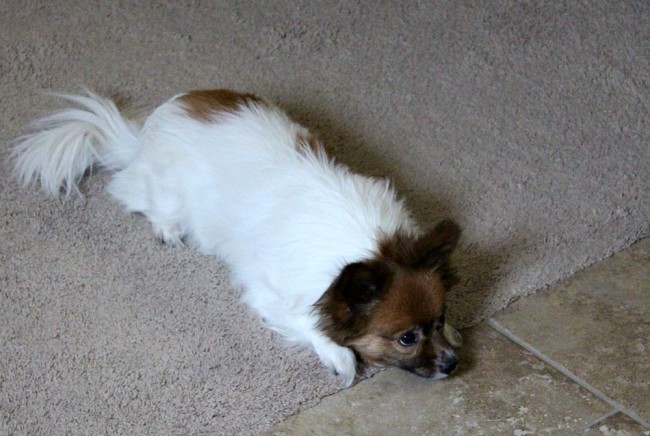 Then he heads over to his bowl of Beneful and takes a few bites in his mouth and drops them on the floor. He sniffs each one and decides which to eat first.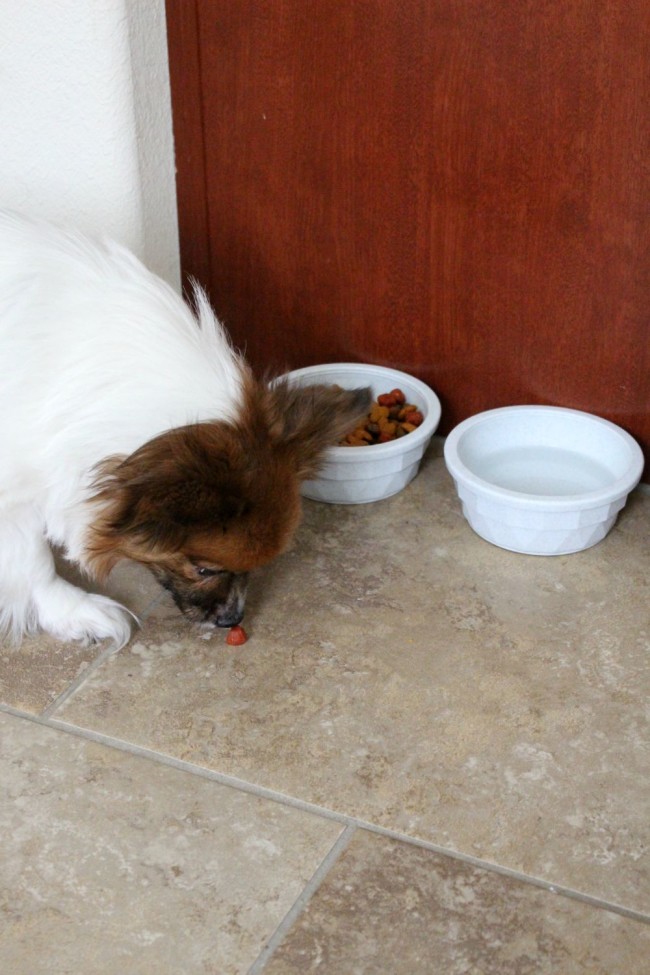 Then he eats it, crunching as loud as possible.
After doing that a few times, he digs in and eats the entire bowl of food. Sometimes he even travels to the living room with his food and eats it in his bed. Does your dog do that or have any funny eating habits?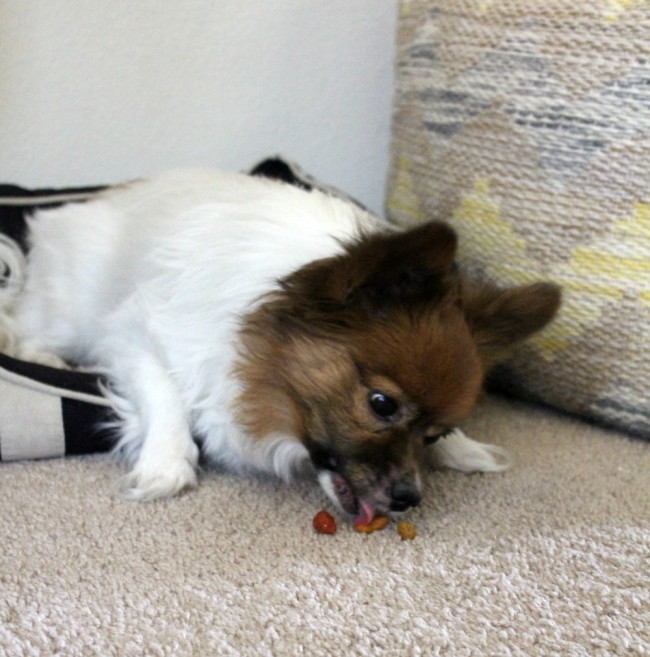 I love that Dart wants to eat at the same time as we do. It shows he knows he's a part of the family and a family that eats together, stays together. Am I right?
I also love Beneful's tag line "Healthy with a side of happy" because that's exactly how our mealtime goes as a family, including our dog. My goal is to feed my family as healthy as possible, but still with foods we enjoy. Especially as the kids get older and make more choices on their own. The older they get, the less I have a say in what they eat. That makes our meals together even more important!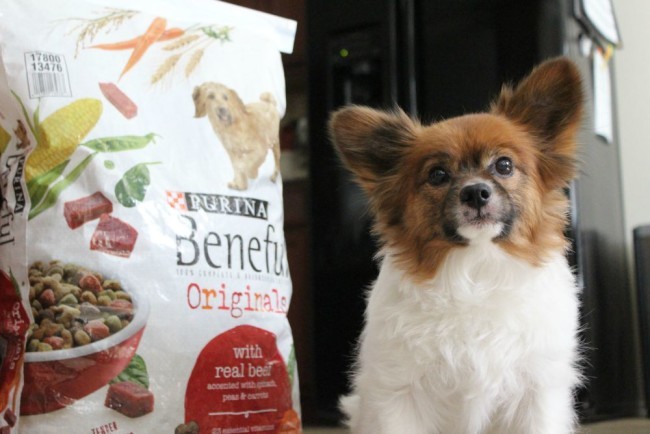 When it comes to our dog Dart, by feeding him Beneful I know he's eating dog food he enjoys that is made with good-for-him ingredients like real meats and vitamin-rich veggies. There's so much variety with Beneful and as far as I can tell from how much my dog loves it, it's full of flavor. He's snubbed the dog food I've put in his bowl a time or two! He eats the Beneful Originals with real beef. That means his bowl is full of antioxidant-rich nutrition with a mix of tender and crunchy bites he loves. I mean, why wouldn't I want to feed this adorable face healthy food that tastes good? Just.look.at.him.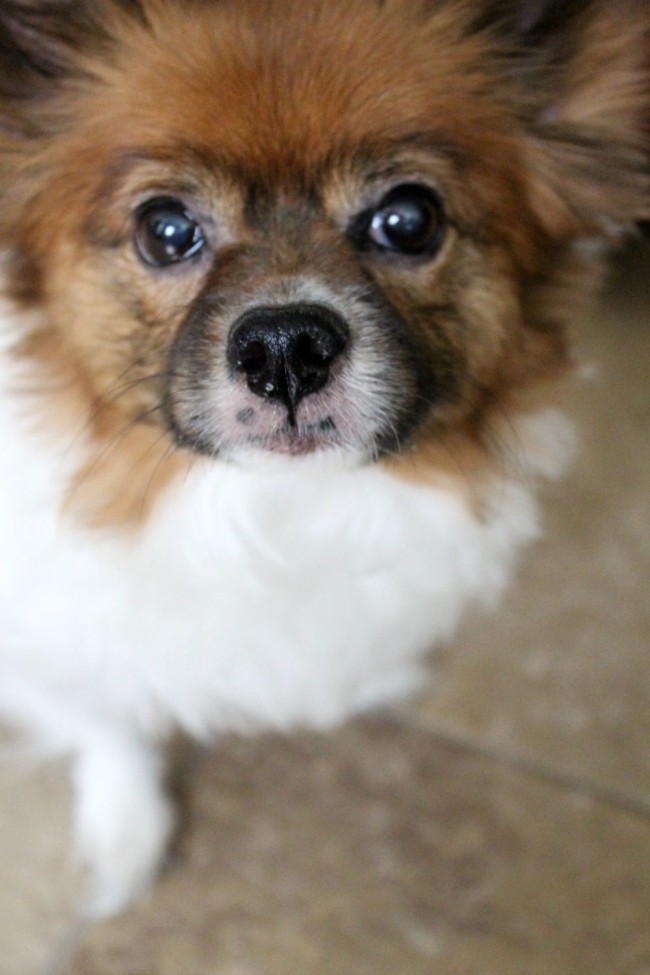 Dart and I have a special bond and I still remember his first night at our house. We were giving him to our kids as a Christmas present, but they thought we were just dog sitting a 6 week old puppy. His first two nights with us he cried, obviously missing his mom and siblings. So I slept out in the living room with him, reassuring him everything was going to be just fine. He adjusted really quickly and a week later on Christmas morning, a card sat under the Christmas tree with a note to our kids that Dart was in fact, ours. I will always remember that morning and how excited our kids were. That was almost 10 years ago!
I'll always have a special bond with this little guy, and he shows me just how much he loves me by following me everywhere I go. Literally everywhere. 🙂
Do you have any fun mealtime stories to share about your pooch? I would love to hear them!
Beneful dog food brings your best buddy tons of tastes & textures to nourish both inside & out. For more information, please visit beneful.com.
This is a sponsored conversation written by me on behalf of Beneful. The opinions and text are all mine. For more information on healthy foods for dogs and pets, visit Petconsider.com