Welcome to Day 21 of 31 Days of Fashion – Tips, Tricks & Outfit Ideas
Today is dedicated to the quilted vest outfit.
I went through a phase in high school where I think all I wore were vests. My mom is an incredible seamstress and she made me some that I would wear over and over again. Then I went through another vest phase when we lived in Alaska, mainly out of necessity because it was so very cold. I was all about the layering and a vest was perfect for that. It's taken me awhile to get to where I even wanted to look at a vest, much less wear one. But lately, I have been absolutely loving them.
This J. Jill Herringbone quilted vest is the perfect addition to your fall and winter wardrobe. Wear it over your favorite  sweaters and tees for a gorgeous layered look. The colors of the vest will allow me to wear it with just about anything. I tried it with a chambray shirt and a cream colored sweater as I was experimenting with different outfits in my closet. This orange cable knit sweater has been a favorite of mine since I purchased it several years ago. I've taken really good care of it, so I can see it lasting at least a couple of more years, if not longer.
Under the sweater, I'm wearing my J. Jill two pocket white linen shirt I got in the spring. I love layering it under sweaters because it's more comfortable and lightweight than some of the other button ups I have. This shirt is currently on sale for a great price and since they have so many colors, I'm thinking about snatching up a couple more. You can see how else I styled this shirt here.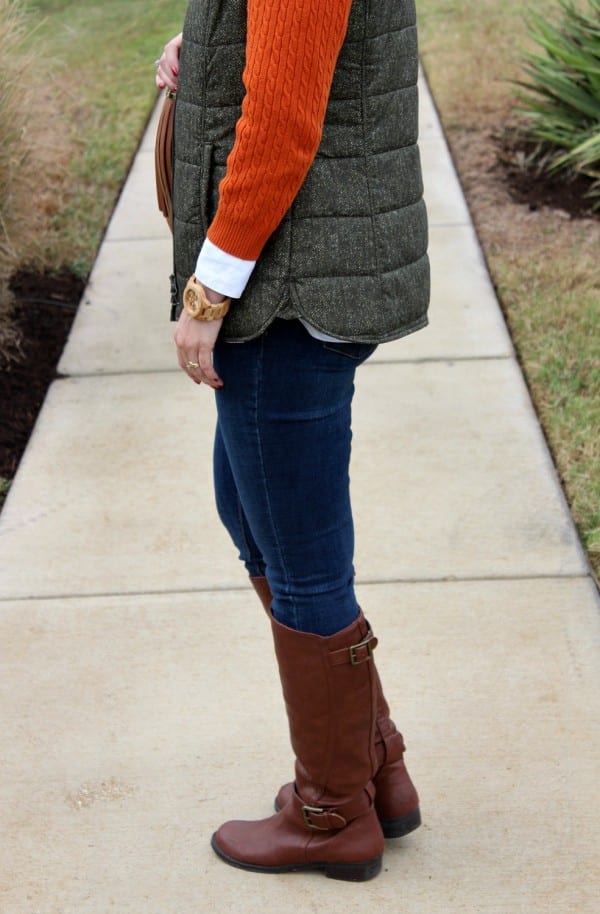 Outfit details: Herringbone Quilted Vest | White Linen Button Up Shirt | Cable Knit Sweater (similar here and here) | Lee Jeans | Riding Boots (similar here and here) | Tassel Handbag (similar here and here)
Do you have any vests in your wardrobe you like to break out in the fall and winter?