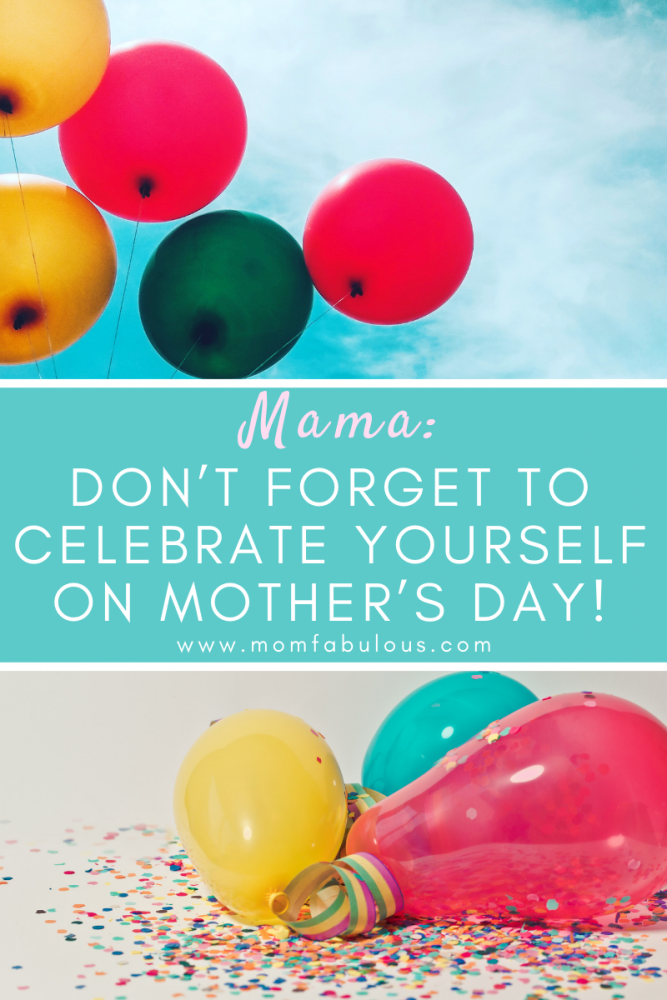 Happy Mother's Day! Don't forget to celebrate yourself! After all, Mama knows best.
As Mama, you're focused on staying best friends with your husband and loving on your kids. Your focus is elsewhere on others. When was the last time you thought about yourself for more than 5 seconds? Allow yourself some time on Mother's Day!
This is the day reserved for honoring Moms, serving and loving her well, making her feel extra special and valuable. And perhaps what Mama needs most this year is a sliver of space to love herself.
Tell your family what you want.
Flowers and chocolates and handwritten cards are lovely, but what do you actually want? Is there a new pair of shoes you've had your eye on? A yummy restaurant you've been wanting to try for weeks? A gym you would join if it wasn't so expensive? A book on your night stand that you've been hoping to read for months? Ask!
Dinner that wasn't prepared by you? Not changing diapers for the day? Sleeping in?
Remember that you family (or husband) are allowed to say "no." But it never hurts to ask! Mother's Day is about Mothers – and you're a Mama…so ask for what would make Mama happiest on this day.
Celebrate yourself
.
What if you're a single Mama, or your requests couldn't be met due to a tight budget, or your husband said, "No, sorry babe." Although that's not ideal, it doesn't mean that Mother's Day is void. You're still a Mama worth celebrating!
Find a way to squeeze in whatever would honor yourself. Can you put on a movie in the morning so you can sleep an extra hour without worrying about your kids? Could you read a book by yourself before bed? Can you schedule a massage or manicure, even if it's during the week while you're kids are at school? Even hiring a babysitter so you can take yourself out for dinner is acceptable.
Consider what would remind you of your value as a Mama, and make that happen. Protect that time and sacrifice so that you can be celebrated. Plan it on your calendar the same way you write in sports practice or schedule an appointment.

Reflect over the years.
You may have babies in your arms or teens hiding in their rooms or young adults moving away to college. No matter how far you are into the journey of motherhood, reflect over you season as a Mama. "The days are long but the years are short."
Set aside the momentary exhaustion, emotional frustration, or lack of patience. Remember the precious snuggles, moments bursting with motherly pride, situations where you couldn't believe your child was a mini-me, and sentimental vacations or family memories. Cherish the joys of motherhood. Adore the children that are a gift (even though they may require hard work or produce stress).
Spend Mother's Day being mindful of the gifts of motherhood. Celebrate how far you've come from day one of being a Mama.
Love other Mothers.
It can be more joyful to give than to receive, so give to another Mama on Mother's Day. Invite another Mama and her family over for lunch or dessert. Reach out to a lady who was an influential mentor throughout your motherhood years so far. Volunteer at a local women's shelter. Donate time to relieve a foster mother. Research organizations that support Moms to give back to others on this special day.
Write yourself a love note.
Don't laugh at this! Writing yourself a love letter can be cathartic and appreciative. Remind yourself of your identity as a Mom, why you are valuable, and how you deserve to be honored. Express your gratitude for the things you do, honor your character, and write about how you have positively influence your children. Share funny stories or moments that you never want to forget. Highlight yourself as Mama.
Happy Mother's Day!
Enjoy today as a mother. Ask for what you want, celebrate you as a Mom, reflect over your season of motherhood, love other Mums out there, and write yourself a love note to fully celebrate Mother's Day this year!
You may also like…