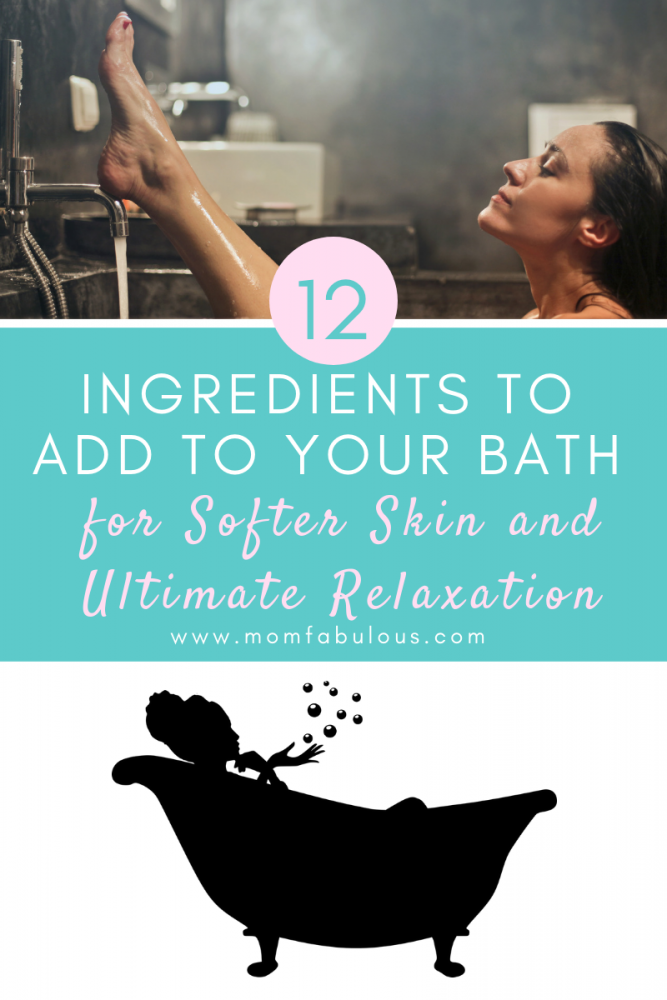 After a long day, stressful week, or complicated family situation, a bath is the perfect way to relax. Plus, the bathtub is one place that a busy Mama can be alone! (Assuming your children are asleep or being watched by someone else.)
Taking a soak in a warm tub of water has numerous benefits:
It's good for your lungs.

The water helps alleviate tense muscles or

joint pain

.

Your skin, hair, and nails are cleansed, soothed, and nourished.

Bath water can regulate your body temperature.

A hot bath can even help your body

burn as many calories as a 30 minute walk

!
But don't feel restricted to a bath of only warm water, or even warm water with a bit of bubble bath. Expand your bathtime horizons with one of these add-ins!
#1: Salts
.
Salts are perhaps the most common ingredient that women dash into their warm bathwater. Salts not only exfoliate and soften your skin, but also ease sore muscles, help your mind de-stress, and allow your body to relax. Some Mamas even claim that bath salts reduce the appearance of fine lines and wrinkles! Try epsom salt or a lavender scented salt for the most relaxing bath.
Directions: Add 1-2 cups of salts to warm bath water and stir until dissolved. Relax and soak for at least 15 minutes.
Try it: Epsom salt, Ahava minerals, or Dr. Teal's lavender salts.
#2: Essential oils
.
In case you haven't heard, essential oils have amazingly beneficial properties! So it makes sense that they would be excellent bath additives. You inhale the aromas to ease your mind while your body relaxes through absorption of the oils in the water. Many essential oils are safe for a bath because they are heavily diluted by the water, but not all. Avoid oregano, mint (any kind), cinnamon, thyme, or clove.
Directions: Water and oil don't combine, so first combine your oils with a carrier oil such as coconut oil, jojoba oil, olive oil, or witch hazel. Use approximately 10 drops of oil and 1 tablespoon of carrier oil. Then mix this solution into your warm bath water.
Note: Essential oils have not been shown to be safe for use by pregnant women or babies. Please consult a physician for more information.
Try it: Add lavender to relax, add lemongrass to soothe sore muscles, or add eucalyptus to relieve respiratory issues.
#3: Oatmeal.
Oatmeal baths have been around for years, and are a common method to reduce irritated skin. If you battle skin allergies, dry patches, or itchiness, oatmeal could be the solution you're looking for.
Directions: Grind one cup of oatmeal (any kind) in a blender until you get a fine white powder. Then add this to warm bath water. Mix well and soak for 10 minutes. Rinse off after.
Try it: These old-fashioned oats would be great!
#4: Apple cider vinegar.
If you're a regular reader, then you know how much we love apple cider vinegar. This liquid is like magic in a bottle! The benefits are too long to list, making it an obvious ingredient for your baths. Apple cider vinegar can reduce discomfort due to sunburn, remove toxins from your body, remove dead skin cells, and tone your skin.
Directions: Add one cup of apple cider vinegar to your warm bath water and mix to combine. Soak for 5-10 minutes.
Try it: Bragg Apple Cider Vinegar is a trustworthy brand. Make sure you buy a high quality organic brand since you will be soaking in it.
#5: Baking soda.
Here's another ingredient from your pantry! Baking soda is naturally gritty, making it a natural exfoliant. Adding baking soda to your bath can soothe distressed skin, reduce body aches, and even help detox your cells.
Directions: Add ½ cup of baking soda to your warm bath water. Mix to combine and dissolve. Soak in the tub for at least 10 minutes.
Try it: Opt for aluminium-free baking soda.
#6: Lemon.
Lemons have an outstanding ability to shrink pores, tighten skin, heal blemishes, lighten scars, and even out skin tone. What's not to love about lemons? Every Mama's skin will be revived, healed, and youthful after this bath!
Directions: Slice 5 or 6 lemons into your bathtub (or you ½ cup of all-natural lemon juice).
Try it: Organic lemons or lemon juice are the best route for a bath with lemons.

#7: Honey.
While your honey (husband) may be a nice addition to your bath, we're referring to honey from bees. Similar to lemons, honey has potent impacts on cleaning out your pores and moisturizing your skin.
Directions: Pour two cups of honey into the tub while you're running warm bath water. Soak for 15 minutes in this relaxing solution.
Try it: Raw, pure, unfiltered honey is the best kind for your bath.
#8: Oils.
Not to be confused with oils, we're referring to oils like coconut or olive. They are perfect for nourishing and moisturizing dry skin. But oils have also been know to maintain collagen, reducing the appearance of wrinkles or fine lines, and keeping your skin looking full and fresh. Plus your skin will be silk smooth after this bath! (Your honey won't be able to keep his hands off of you!)
Directions: Mix 1-2 tablespoons of oil (coconut, oil, almond) into your bath.
Try it: We love Italian olive oil, pure almond oil, or Garden of Life coconut oil.
#9: Herbs.
Fresh or dried herbs have a similar effect on your bathwater as essential oils. Certain herbs bear relaxing properties and others are soothing while others are rejuvenating.
Directions: Place herbs (dried or fresh) in a bag of cheese cloth or tea ball. Either steep in a large bowl of water and then pour into your bath, or steep directly in your bath. Soak for 10-20 minutes.
Try it: Lavender, rosemary and chamomile are excellent herbs for a bath.
#10: Tea.
Imagine how calming it is to sip a hot mug of tea. Translate that to your bathtub! Pick your favorite tea: green tea, chamomile, or lemon ginger. These help detox your skin and body, plus promote shiny hair (if you dip your head back in the bath).
Directions: Sleep 3-5 tea bags in your bath. Keep them in for your entire bath (20-30 minutes).
Try it: Bigelow green tea, Tazo chamomile, and Stash lemon ginger are amazing additions to every bath!
#11: Ginger.
We mentioned ginger tea in #10. Ginger bears antibacterial properties and helps you sweat, therefore removing toxins and increasing your core body temperature. Sweat out your cold, flu, or head congestion in a ginger bath. Feel warm to your bones on a chilly day with a ginger bath.
Directions: Grate ½ cup of fresh ginger, or use 1 teaspoon of dried ginger. Mix in your bath and soak for at least 20 minutes.
Try it: Either use steeped ginger tea or organic fresh ginger root.
#12: Milk.
Who would imagine that cold milk makes a great bath? The vitamins, fats, and proteins moisturize and soften your skin. Cow's milk is a common choice, but goat's milk is even better!
Directions: Add a few cups of milk (cow or goat) to a warm bath, then relax for 15 minutes.
Try it: Try out powdered goat's milk for your relaxing bath!
Take a Mama bath
Mama, you deserve a break – take a bath! Relax, sit back, and feel the tension slip away as these natural bath ingredients heal and restore your body!